You guys are going to LOVE this family favorite, Fast & Easy Penne Primavera Pasta Recipe! Fresh ingredients mixed with your favorite pasta and andouille sausage is a quick dinner idea that will please the whole family.
Penne Primavera Pasta Recipe
As an ambassador for Dreamfield Pasta, I have shared a few of my favorite recipes. First I shared my copycat deli salad, Pesto Pea Salad, and then my Broccoli Pasta Salad. Both are so perfect for summer gatherings and BBQs.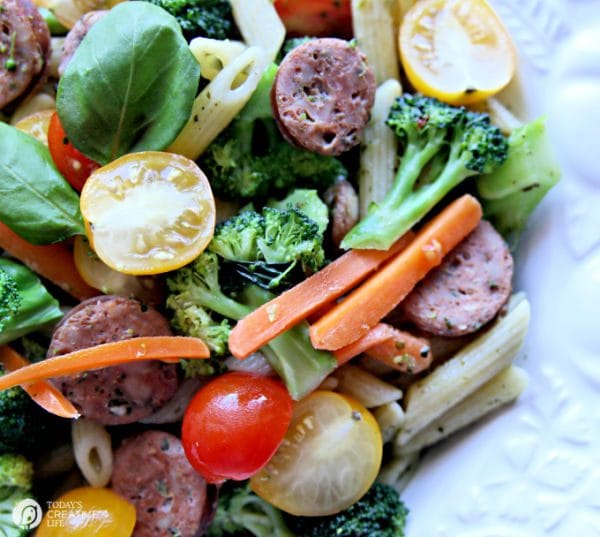 My recipe is something I make on those nights when you don't know what to make for dinner. You know those nights when you stare in your cupboards or refrigerator and it feels like you can't make anything with what you've got. I hate that!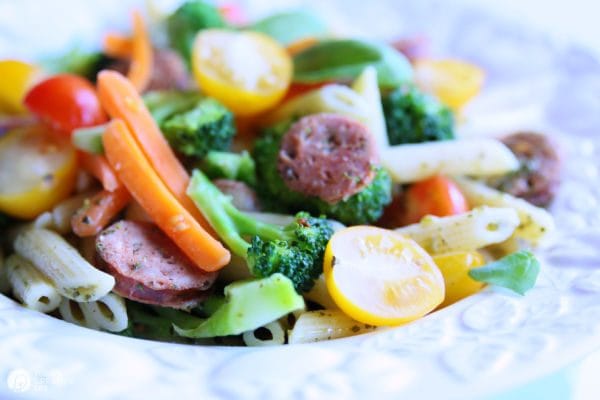 What Vegetables can I put in Pasta Primavera?
Broccoli
Carrots
Zucchini
Tomatoes
Snap Peas
Mushrooms
Squash
This recipe only needs a few ingredients, but has a lot of wiggle room, allowing you to use specific vegetables or just what you have left over in your fridge.
I ended up using broccoli, carrots, and tomatoes for my veggies and happened to have some chicken sausage for my protein choice. but you could swap out with what you've got! Chicken or Shrimp are also fantastic!
It's simple to put together and you can have dinner on the table in just a few minutes. Really!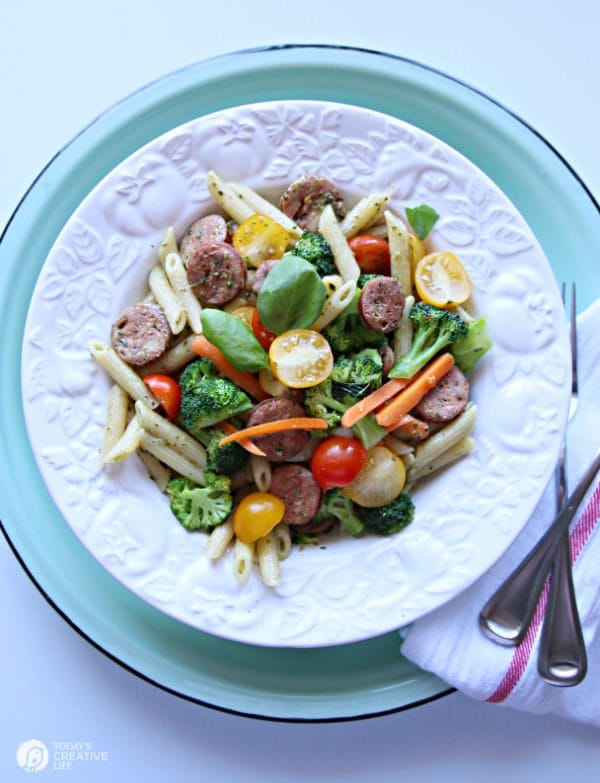 I used store-bought pesto, even though I prefer my easy homemade pesto, the store bought is perfect in a pinch.
How to Make Penne Primavera Pasta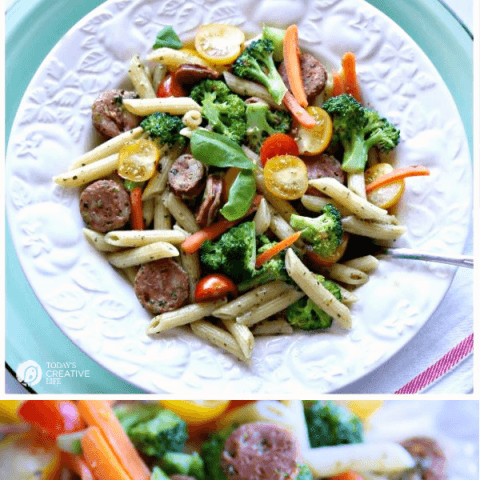 Penne Primavera Recipe
Ingredients
1 box Dreamfields Penne Rigate
1/2 to 3/4 cup store bought or homemade basil pesto
3 tablespoons olive oil
2 cloves garlic, crushed
1/2 cup low sodium, fat-free chicken broth
4 pre-cooked Italian sausages, sliced
2 cups chopped broccoli
1 cup baby carrots (sliced any way you'd like)
1 pint red and yellow cherry tomatoes, halved
Instructions
Cook pasta according to package directions. Place pasta in large bowl; stir in pesto.
Heat oil in large skillet over medium heat until hot. Add garlic; sauté 2 minutes, stirring frequently.
Add chicken broth; bring to a simmer.
Add sausages; cook 3 minutes.
Stir in broccoli and carrots; cook 2 to 3 minutes, covered, just until tender.
Stir in tomatoes; heat through.
Add sausage-vegetable mixture to pasta; toss to combine.
Notes
Swap out your meat for cooked chicken, cooked steak or cooked bacon.
Swap out or add any veggies you'd like.
Nutrition value would change of course.
Nutrition Information
Amount Per Serving
Calories 570
Total Fat 30g
Saturated Fat 7g
Cholesterol 30mg
Sodium 960mg
Carbohydrates 56g
Fiber 8g
Protein 21g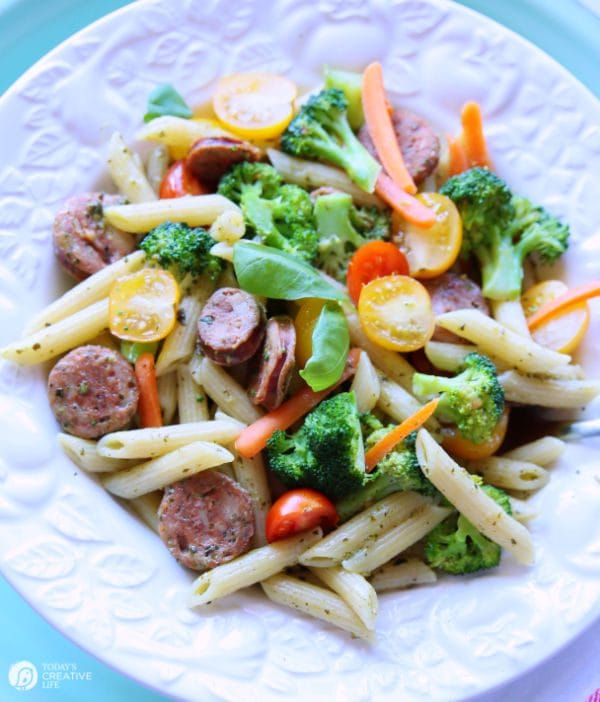 How to Cook Pasta to Perfection?
Don't add Oil to your Water!
I grew up adding oil to my water when boiling pasta. I was taught that it prevented it from sticking together, which isn't true, but it also doesn't allow sauces to fully blend in with the noodles.
Stir Pasta the First Minute
The only way to stop pasta from sticking together while cooking is stirring. That first minute in boiling water is when all the starches release and that's what can cause it to stick.
Season Water with Salt
One tablespoon salt (kosher is best) for every gallon of water used is the general rule. Adding salt helps water reach a higher boiling point.
How to Tell When it's Done
Package instructions are just a guideline. Take the taste test. About 3 minutes before the package suggests it's finished, use a slotted spoon to remove a noodle or two. Allow to cool and taste it. You want it to be tender, yet firm, al dente. You'll learn quickly what texture to achieve.
Using these guidelines will only help make this Penne Primavera Pasta Recipe even better!
Follow along on Instagram | Pinterest | Facebook
---
More Pasta Recipes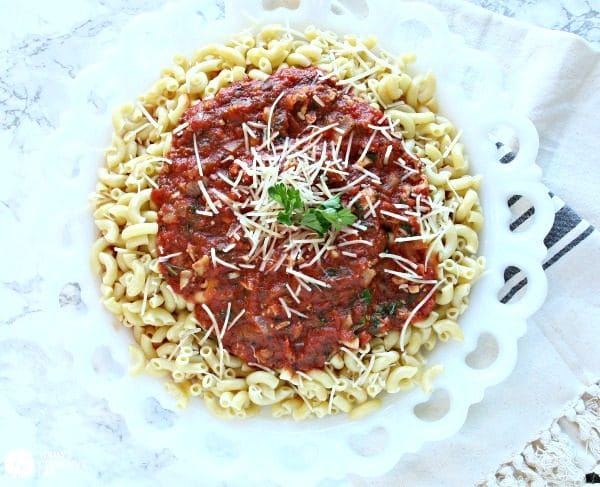 Pasta with Clam Sauce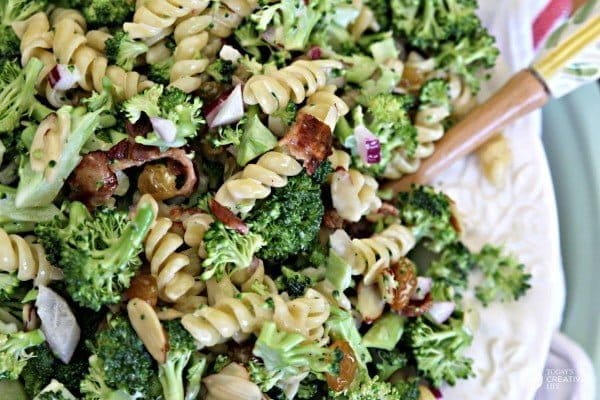 Broccoli Salad with Pasta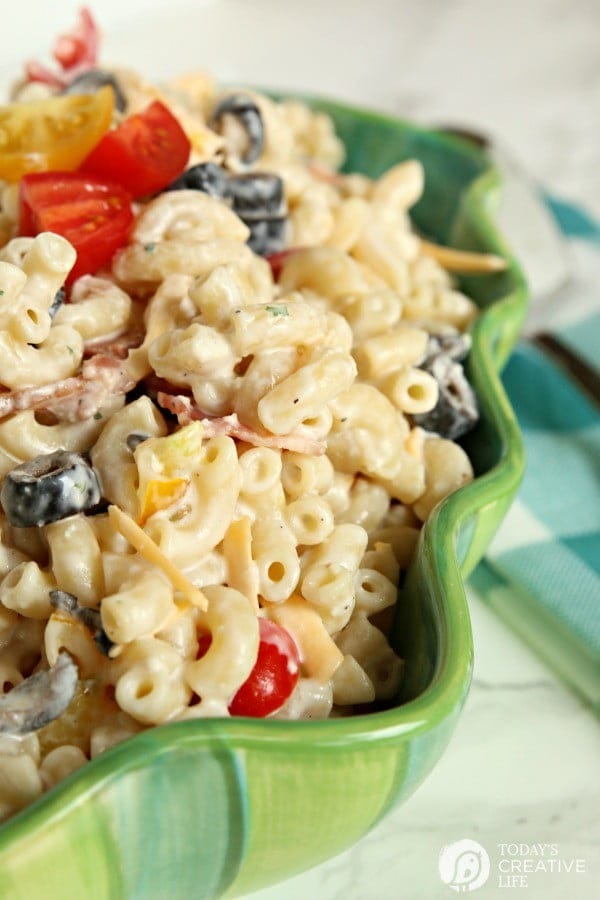 Bacon Ranch Pasta Salad