I've got the best Bacon Ranch Pasta Salad made mayo, sour cream, olives, parmesan, cheddar, bacon and more! Perfect BBQ or summer side dish! Full of flavor!
You know how you're always craving the perfect pasta salad or my broccoli pasta salad for spring and summer? Or is that just me? Once spring makes an appearance, there are so many events to gather for! Mother's Day, Father's Day, graduation parties, Memorial Day, BBQs, 4th of July. With all those gatherings… you're going to need a good pasta salad in your arsenal, and lucky you, I have the perfect one!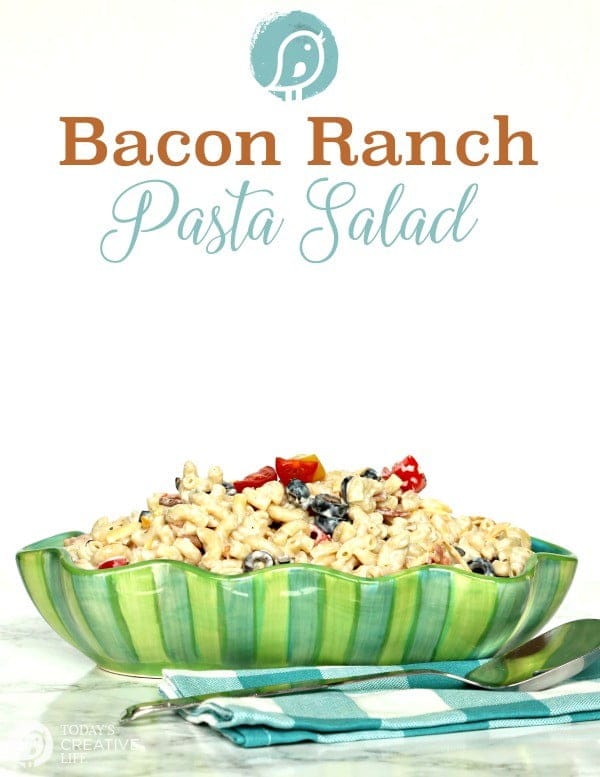 Bacon Ranch Pasta Salad
This Bacon Ranch Pasta Salad can be your main dish for a simple meal, or as a side dish. It's the perfect recipe, that's also easy to make and everyone loves it!
You can make it just like I have listed in the recipe, or you can get creative and add your favorite ingredients. This makes it so versatile to cater to each event. My secret ingredient is Hidden Valley® Original Ranch® Salad Dressing & Seasoning Mix. I can do anything when I use that magical package of goodness. So when I was asked to partner with them and develop a recipe beyond the typical garden salad, I knew exactly what I'd make!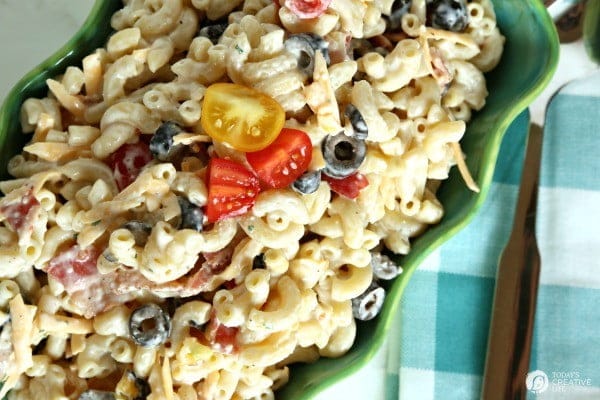 I keep a few packets in my pantry at all times. I use it in my Cafe Rio Chicken recipe and my Crockpot Mississippi Roast recipe. You'd be surprised with how many ways you can use Hidden Valley® Original Ranch® Salad Dressing & Seasoning Mix in recipes that aren't for dressings and dips.For this Bacon Ranch Pasta Salad, I use these main ingredients. Of
For this Bacon Ranch Pasta Salad, I use these main ingredients. Of course, you can add extra veggies.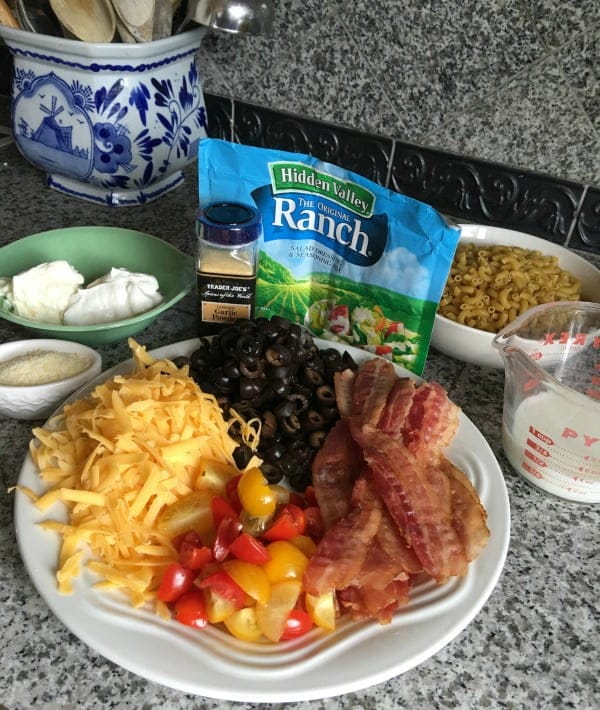 Bacon Ranch Pasta Salad Base Ingredients
Pasta
Hidden Valley® Original Ranch® Salad Dressing & Seasoning Mix
Cheddar Cheese
Parmesan Cheese
Bacon
Tomatoes
Garlic Powder
Optional Ingredient Ideas
broccoli
artichoke hearts
avocado
carrots
pickles
try anything you think sounds good!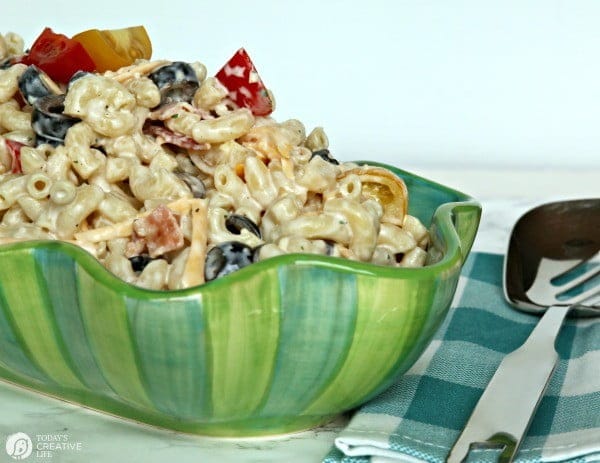 This pasta salad can be put together within 30 minutes. It doesn't require extra chilling before serving, so that's a plus. I usually get all my ingredients ready and mix up the Hidden Valley® while my pasta is boiling.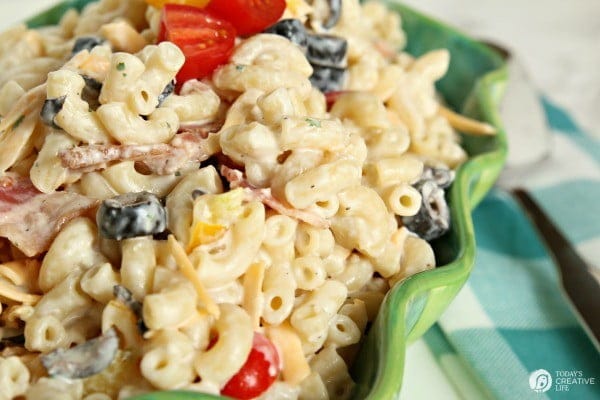 Once the pasta is done, I rinse it under cold water until it's completely cooled. Then you just mix it all together and serve right away, or put it in the fridge for later. How's that for versatility?
Bacon Ranch Pasta Salad
Yield: 8
Prep Time: 25 minutes
Total Time: 25 minutes
Everyone's favorite BBQ side dish!
Ingredients
1 box elbow macaroni or any pasta cut (12oz)
1 packet Hidden Valley® Original Ranch® Salad Dressing & Seasoning Mix
½ cup mayonnaise
½ cup sour cream
½ cup milk
½ teaspoon garlic powder
2 cups sliced yellow and red grape tomatoes
1 package (8 or 9 slices) precooked bacon
2 small cans sliced olives (or one large one)
½ cup grated Parmesan cheese
1 cup shredded cheddar cheese
Instructions
Boil your pasta according to package instructions. You want the pasta to be al dente so it's not over cooked.
While your pasta is boiling, gather all your other ingredients.
In a medium bowl, mix up your Hidden Valley® Original Ranch® Salad Dressing & Seasoning Mix with the mayo, sour cream, milk and garlic powder and set aside.
Place all other ingredients in a large bowl.
Once your pasta is finished, rinse under a cool stream of water until all the pasta is cool.
Place the pasta in with the other ingredients, add the dressing and toss until well coated.
Chill or serve right away.
Notes
Use any cut of pasta. Rotini, penne, or elbow. I use precooked bacon from my grocery store, but you can cook some up ahead of time if wanted. Any tomato will work. I just prefer the small cherry tomatoes sliced. Add additional ingredients that you love.
Nutrition Information
Yield 8
Serving Size 1
Amount Per Serving
Calories 293
Total Fat 22g
Saturated Fat 7g
Trans Fat 0g
Unsaturated Fat 13g
Cholesterol 37mg
Sodium 418mg
Carbohydrates 14g
Fiber 1g
Sugar 2g
Protein 9g
Easy Salad Recipes
Easy to make salad recipes for a quick side dish or meal.
Bacon, avocado, egg, and chicken! This protein-packed salad is a full meal.
I just cut up all the fruits I want to use. For a large fruit salad, you'll need about 6 or 7 cups of fruit.
Cherry tomatoes with buttermilk vinaigrette will be your summer go to salad! Great way to use your own homegrown cherry tomatoes! Fresh, tangy and sweet!
Waldorf Salad was first made from Waldorf Astoria Hotel in 1893. This crunchy salad consisting of apples, grapes, walnuts and celery in a mayonnaise dressing is a classic.
This classic spring salad is great for Easter brunch.
Use this recipe in a sandwich or on top of greens.
Everyone's favorite spring and summer salad.
Fresh, crunchy and full of healthy nutrition.
This post was sponsored. All opinions, of course, are 100% mine. I love Hidden Valley® Ranch and was thrilled to partner up!