My go-to natural cold remedy is ACV Lemon Honey Water. It's just a hot cup of Braggs Apple Cider Vinegar, honey, lemon and really hot water. This may not cure my cold, but it sure helps me feel better.
My son shared his cold with me. I'm on my first day. You know…..sneezing, clearing your throat, can't breathe kind of day. My mother would be proud because I've been sipping on my ACV Lemon Honey Water. I'm full of remedies this month! First, with the Dry Skin Remedy I shared and now this.
ACV Lemon Honey Water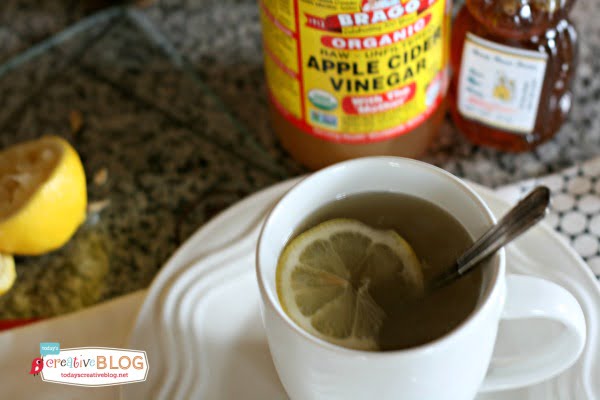 Hot of course! For as long as I can remember, my mother has been an Apple Cider Vinegar pusher. She had a paperback book when I was small that talked about the miracles of ACV. She was constantly making us drink it, rinse our hair, rinse our pimply faces, etc… It became a family joke.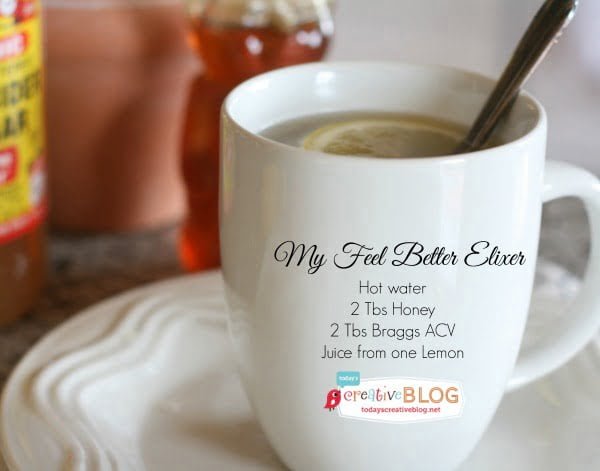 Well, she is back at it, but touting even more benefits from ACV that has the "mother" like Bragg Apple Cider Vinegar
or any other unfiltered Apple Cider Vinegar. So when I'm feeling crummy, I reach for the ACV. Today I'm sipping on my hot water concoction of honey, a squeeze of a lemon and ACV. It keeps my throat clear and my nasal passages clearer. It's not a cure…….at least I don't think so, but it IS healthy for me and it makes me feel better.
I alternate between this and green tea all day trying to push liquids to hopefully make this virus leave my body as quickly as possible.
ACV Lemon Honey Water
Yield: 1
Prep Time: 3 minutes
Cook Time: 2 minutes
Additional Time: 2 minutes
Total Time: 7 minutes
Enjoy a cup of this immunity-boosting ACV and lemon drink!
Ingredients
Hot Water
2 Tablespoons unfiltered Apple Cider Vinegar
2 Tablespoons Raw Honey
Juice of a lemon
Instructions
Fill your mug with boiling water.
Slice your lemon and squeeze into your hot water - don't worry about the seeds, they'll sink to the bottom.
Add Honey and ACV
Stir
Enjoy.
Notes
You can also try this over ice for a refreshing drink.
Recommended Products
Affiliate links for products listed are for your convenience only. This costs you nothing extra. If you happen to purchase anything as a result of clicking, TCL will receive a small percentage. Thank you for your support. This allows me to continue to offer you free content. 
Nutrition Information
Yield 1
Serving Size 1 cup
Amount Per Serving
Calories 145
Total Fat 0g
Saturated Fat 0g
Trans Fat 0g
Unsaturated Fat 0g
Cholesterol 0mg
Sodium 13mg
Carbohydrates 38g
Fiber 0g
Sugar 36g
Protein 0g
Natural Common Cold Home Remedies
Other remedies my mother pushed is Vicks on your feet at night. Oh, how I hated that. It's supposed to help with coughing. You slather Vicks on your feet, put on socks, and miraculously you stop coughing. Works for me I'd say about 80% of the time. My dad swore eating raw onion and raw potato sandwiches would get rid of sickness……… I'd rather be sick.
Just to be clear…..I am not a doctor. I don't even play one on TV. So if you think this is medicine to cure whatever you have……I'd talk with your doc first. I'm just a blogger girl getting through the day and sharing what works for me.
Can you Use White Vinegar
I've never tried it with white vinegar. I always use the unfiltered apple cider variety, which is said to have the nutrients.
Can I Drink ACV Lemon Water Cold
There is nothing stopping you from pouring this concoction over ice. Many find it very refreshing.
What cold remedies work for you?
Homemade Beauty Recipes
Make your own beauty recipes for a homemade spa! Simple non-toxic ingredients.
Fresh homemade body scrub with grapeseed oil and oranges.
Remove and clean hands after gardening with this easy-to-make hand scrub.
Homemade body scrubs with cocoa butter and coconut oil are the main ingredients for smooth skin.
Homemade body wash is simple to make and healthy for your skin.
This soaking recipe is great for homemade gifts too.
Easy to make body sugar scrub with vanilla. The scent will be your favorite.
Get ready for fall with this homemade sugar scrub recipe. Makes a great gift too!
Essential oils give this body scrub that invigorating scent!