I have been wanting to try Crockpot Caramel Sauce or Dulce de Leche using sweetened condensed milk for a long time. With one ingredient, a can of sweetened condensed milk, and a few hours in the slow cooker, you'll have a creamy and delicious caramel sauce to enjoy so many ways.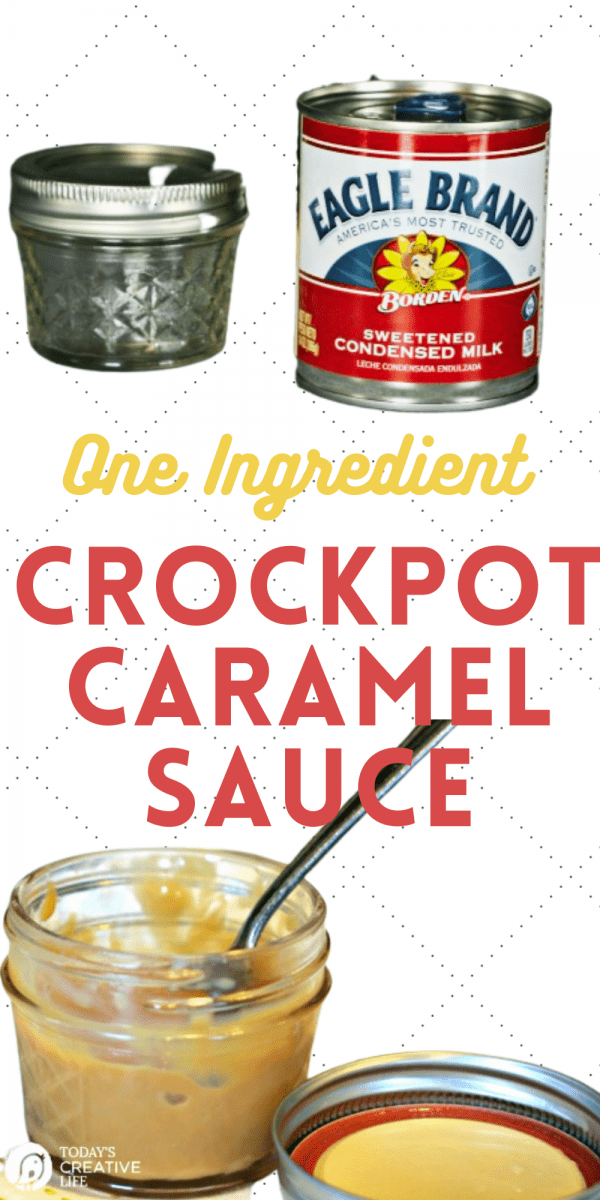 Crockpot Caramel Sauce Recipe
There is something mystical about using one ingredient with a simple cooking method for this amazing outcome. Caramel sauce or Dulce de leche, no matter what you call it, it's delicious! I am amazed every time I make this. If you love caramel as much as I do, you would also love these Salted Caramel Cupcakes made with dulce de leche caramel.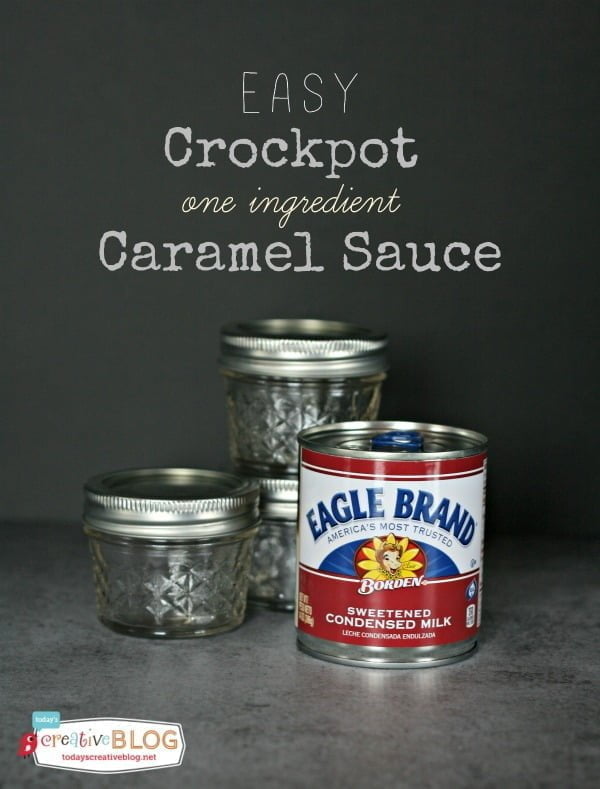 How to Make Slow Cooker Dulce de Leche Crockpot Caramel Sauce
You'll need:
Crockpot – I used a 6 qt.
Can of Sweetened Condensed Milk
Small canning jars if desired.
Water
You can place just the can in the crockpot and cover with water or open it up and pour it into small canning jars. I liked the idea of making cute little gifts of homemade caramel or Dulce le Leche. I found the free printable labels World Label.
If you're using the can method, I'd would line the bottom of your crockpot with tinfoil in case it rusts or if the pop top cans explode. Slim chance, but it's certainly a risk. I found a little rusting on the lids of my jars.
It literally took no skill or effort, except pulling the crockpot out of the cupboard. Creamy caramel goodness. It actually reminds me a little more like pudding…….it's delicious. I could just eat it by the spoonful and can't wait to try it in my morning coffee.
Sprinkle a little sea salt on top and you've died and gone to heaven. Smooth, creamy OH SO GOOD!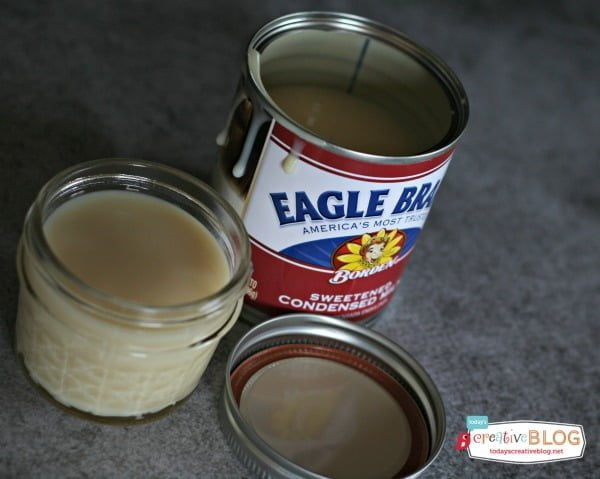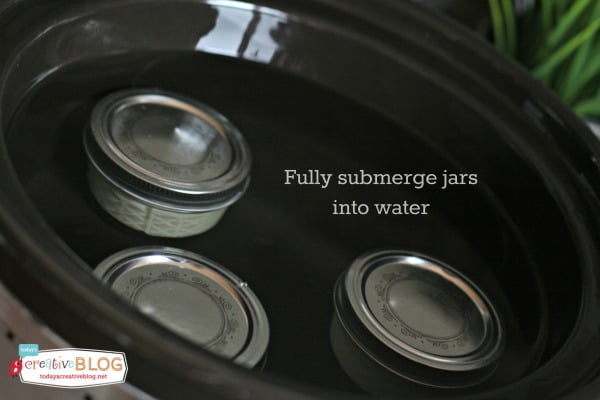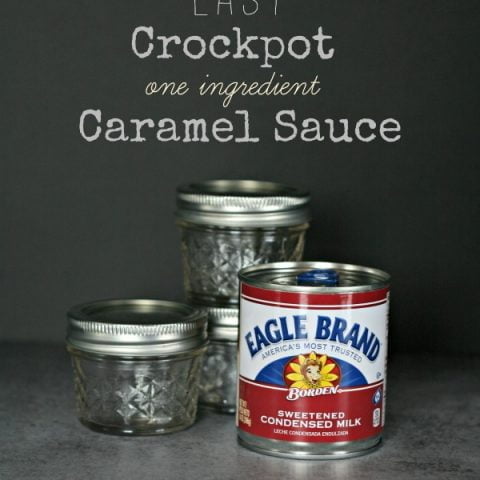 Slow Cooker Dulce de Leche Caramel Sauce
Yield: 1 can
Prep Time: 10 minutes
Cook Time: 8 hours
Total Time: 8 hours 10 minutes
Turn a can of sweetened condensed milk into Caramel Sauce or Dulce de Leche using your slow cooker or stove top.
Ingredients
1 can sweetened condensed milk
Instructions
SLOW COOKER
If you're using jars, one can will fill 3 small jars.
Fill your crock insert with enough water so the water line will be higher than the milk line of your jars. If you're using just a can, you'll want the can to be fully submerged doing the finger check. Water should go to the second knuckle. Place the lid on.
Cook on High for 4-5 hours
or cook on Low 8-10 hours
Mine didn't start turning tan until after about 5 hours on high.
The longer you cook the darker the caramel.
If you cooked in the can, you must allow the cans to cool completely before opening. Opening too soon can result in splattered caramel and burning yourself.

STOVE TOP
Remove the labels from the can and any visible chunky glue.
Place the can into a large pot and fill with water. Do the finger check, making sure the water is at least 2 knuckles above the can.
Bring to a boil for about 3 hours.
Check often and add more water when needed.
When finished, remove the pan from the heat and fill with cool water. I let the water continue to fill, overflowing the pan. The cans will be pressurized until they cool. Opening too soon, while still pressurized can result in splattered hot caramel putting you at risk for burning yourself. Allow the cans to cool for at least an hour before opening. You can submerge in ice water for 30 min for a quicker method.
Notes
Because the cans are pressurized. Do not open while hot. Allow to cool.
Recommended Products
As an Amazon Associate and member of other affiliate programs, I earn from qualifying purchases.
Nutrition Information
Yield 4
Serving Size 1
Amount Per Serving
Calories 31
Total Fat 1g
Saturated Fat 1g
Trans Fat 0g
Unsaturated Fat 0g
Cholesterol 3mg
Sodium 12mg
Carbohydrates 5g
Fiber 0g
Sugar 5g
Protein 1g
We do our best to calculate, however, nutrition information may not be accurate.
Can You Make Caramel Sauce or Dulce de Leche On the Stove Top?
Yes! You can definitely make this recipe on the stove top. Remove the labels from the can, place in a large pot and fill with water until about two knuckles above the can. Boil for about 3 hours and then remove from the heat to cool. Do not open cans while still hot. The caramel can explode and splatter.
For a quicker way to cool, submerge the cans into ice water for about 3o min.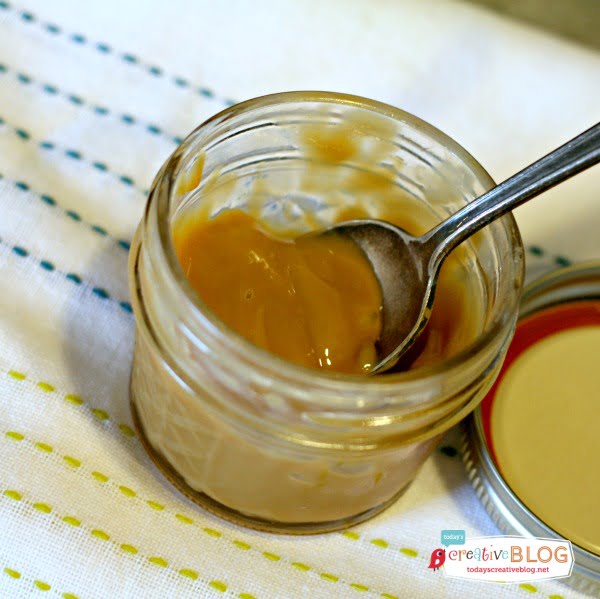 How to Use CrockPot Caramel Sauce
Ice Cream Topping
Fruit dipping – Apples and bananas are delicious dipped in caramel
Caramel Popcorn
Spoon into your coffee
Drizzle over pancakes
Spread over warm toast
Have I convinced you to make some yet?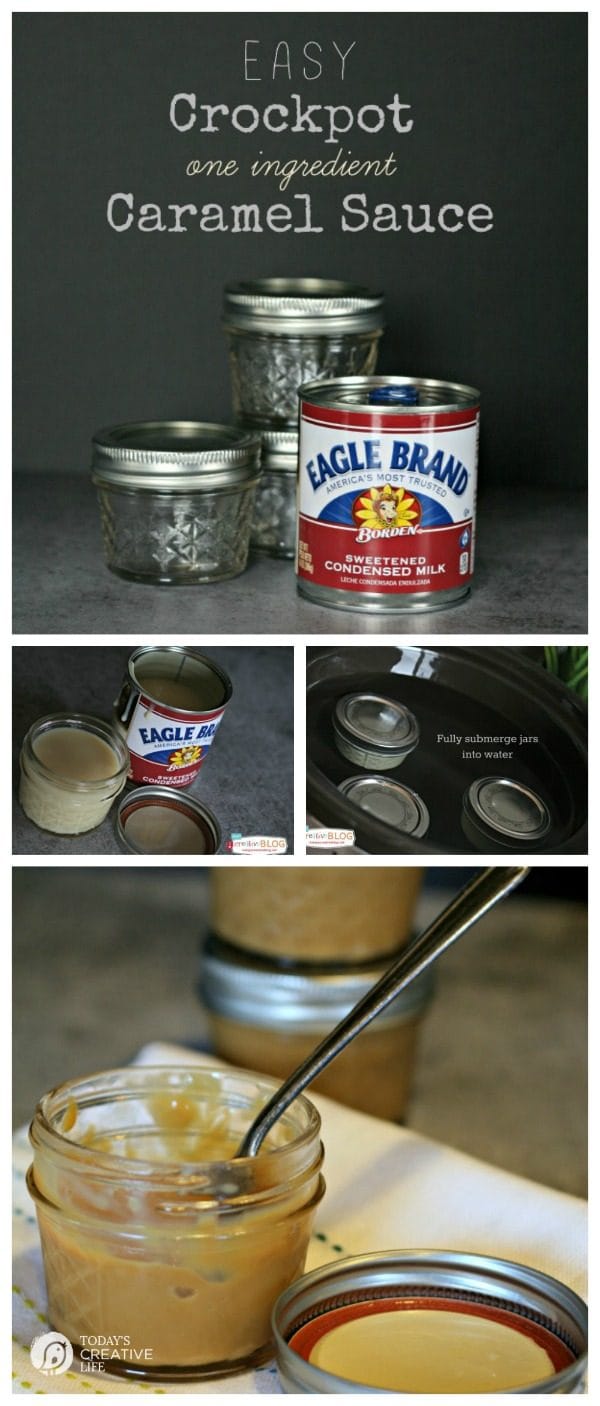 Crockpot Dessert Recipes
Easy to make Slow Cooker Dessert Recipes.
Follow me
Facebook | Pinterest | Instagram | Twitter
---