It's the season for Fresh Strawberry Pie! A few years ago, I remember searching "How to Make Strawberry Pie" and I was stunned by how easy the recipe is. How could the best strawberry pie with jello be this easy? This time, I've decided to make it a slab pie,  throw in a few blueberries, and use a graham cracker crust.
Fresh strawberry desserts are always on my list early summer, even better when they are no bake!  I have another no bake pie you may also love.  Enjoy this  No Bake Strawberry Dreamsicle Pie.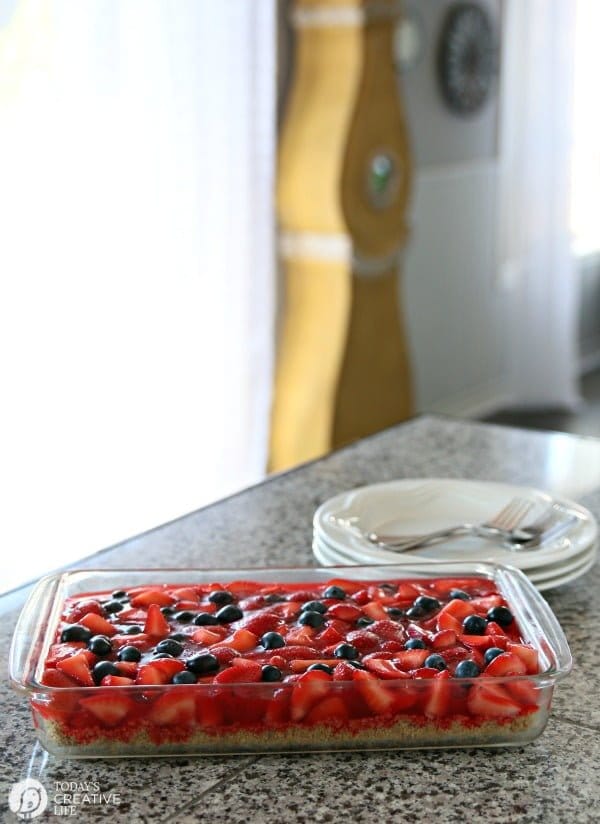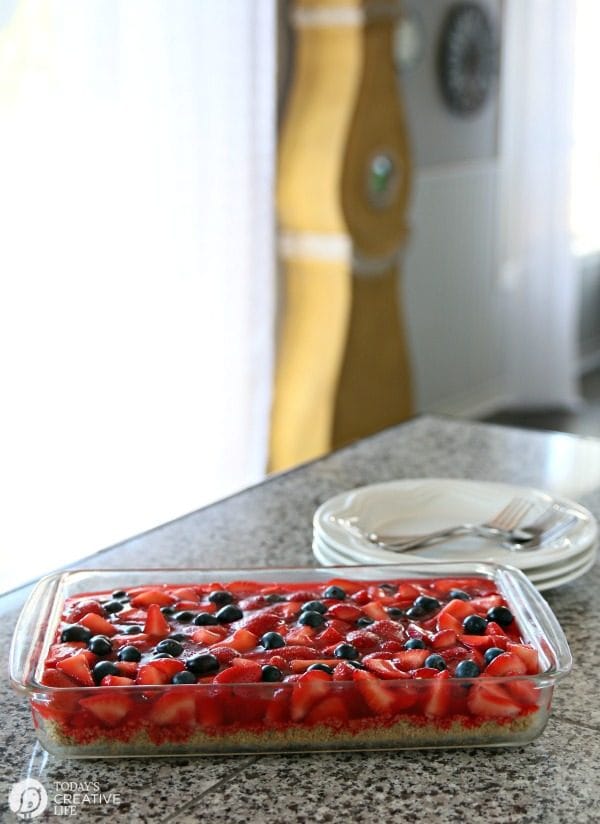 Strawberry Pie Slab with Blueberries
I didn't set out to make it a strawberry & blueberry slab pie with a graham crust, it's just because I was lazy.
I was too lazy to go the store for pie crust and I sure as heck wasn't going to make my own. Even with my friend's perfect pie crust tutorial, I was not interested in trying yet. I already had the strawberries and I had a few boxes of graham crackers for any last minute bonfire S'More's party.
I also had a few blueberries, so why not add those too, right?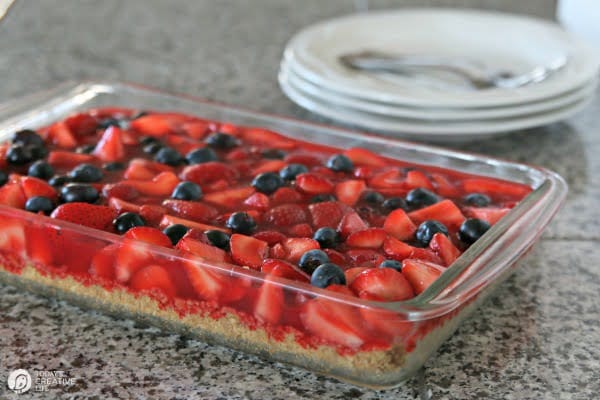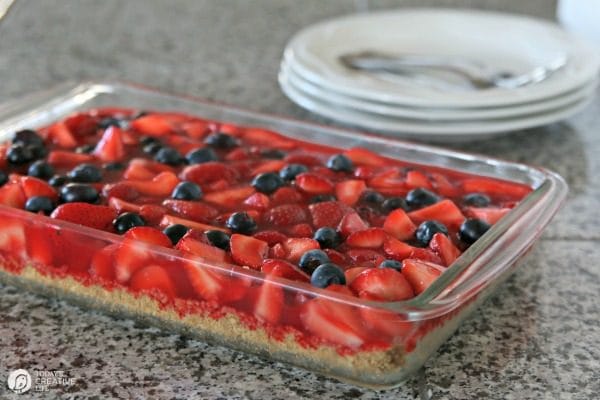 To make this strawberry pie even better? I had some sugar free strawberry jello already in my cupboard. I was destined to make some strawberry slab pie!   
If you want to use regular jello, that works too, but if you're trying to cut some sugar from your diet, the sugar-free jello works great.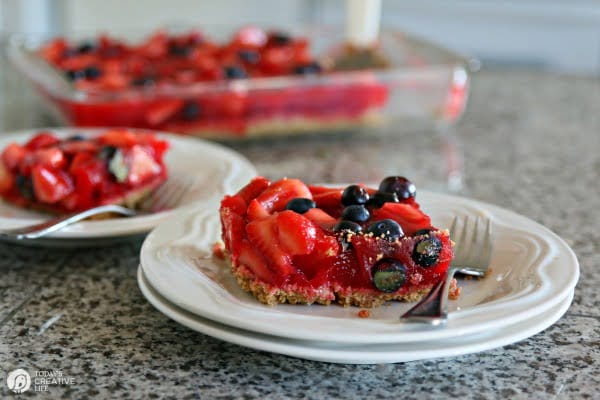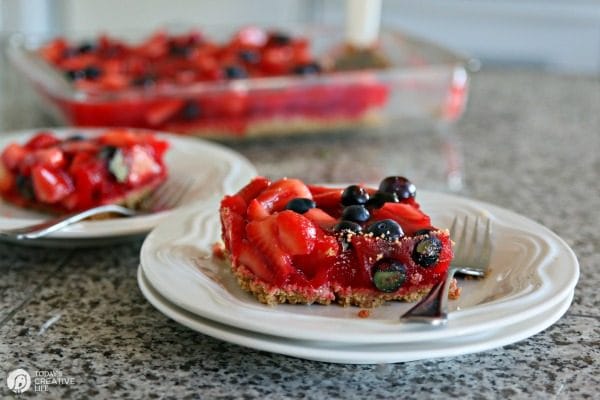 I love that I can make this strawberry pie in its regular form or in a slab form.
My family finished this slab pie off in 2 days. I may have had a couple of pieces myself.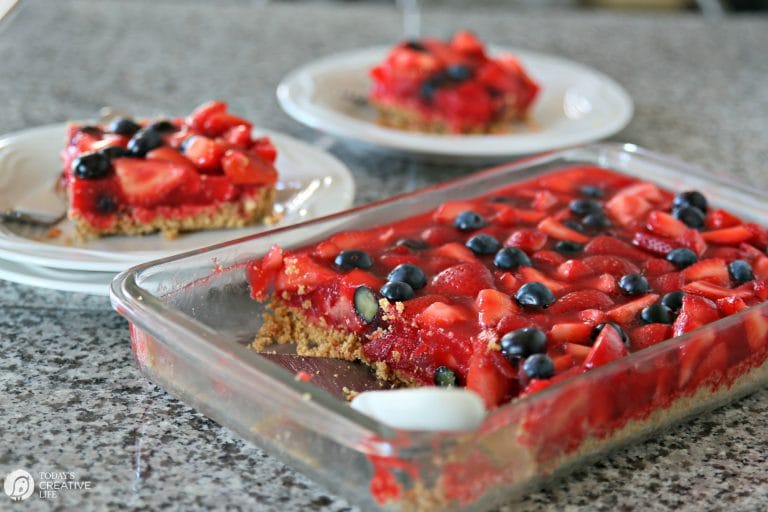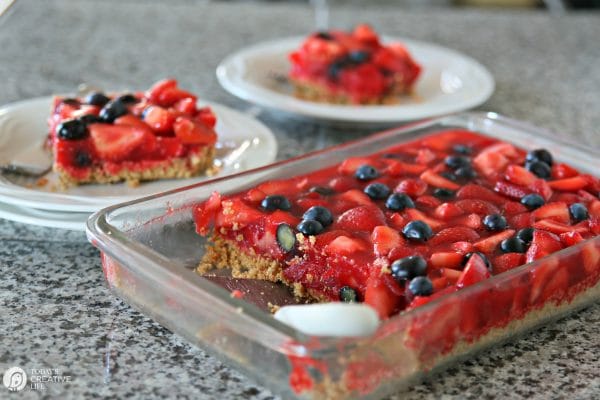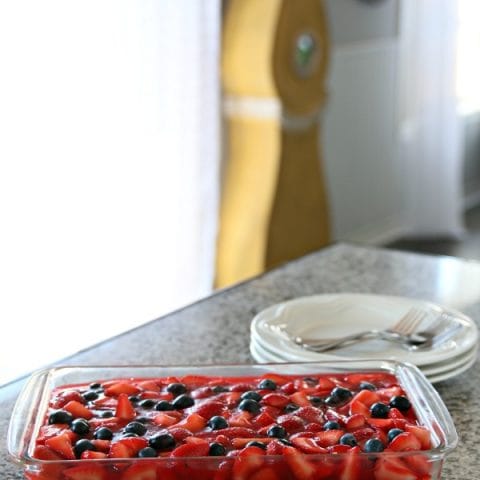 Strawberry Pie
Yield: 10
Prep Time: 20 minutes
Cook Time: 10 minutes
Total Time: 30 minutes
Ingredients
Crust
2 packets of graham crackers - my box came with 3.
1/2 cup butter
1/4 cup sugar
Strawberry Filling
2 cups water
2 cups sugar (Because I used sugar-free jello, I added 1 cup of Truvia. I'm not even sure it needed it )
6 tablespoons corn starch
1 (6 oz.) strawberry jello. I used sugar-free
2 pounds sliced and stemmed strawberries. - I used 2 of the regular store bought plastic cartons of fresh strawberries.
Instructions
CRUST
Crush your graham crackers. There are 2 ways I do this. Use your food processor or place the crackers in a ziplock bag, seal and use a rolling pin.
Add sugar - because I was making mine a lower sugar version, I used Truvia. You use half the amount of regular sugar.
Add melted butter and mix all together until you've got a crumbly texture.
Pour into your glass baking dish. Mine was a 12x7in dish. A slightly larger one would work just fine.
Use the bottom of a glass or measuring cup to press the graham cracker mixture down until it's firm and no longer loose.
PIE
Using a medium saucepan, bring water, sugar, and cornstarch to a boil. Stir consistently once it heats up because it can burn easily. When the mixture is getting thick and clearing up, remove from heat.
Add strawberry jello, mixing well.
Let it cool for about 10 min.
Fold in your fruit, then pour into your baking dish.
Place in the fridge for at least a couple of hours before serving. If it's not completely set, it needs more chill time.
Notes
Nutrition information is approximate and taken from using MyFitnessPal for a full sugar version.
Because I was using sugar-free jello, I only used one cup of Truvia. But, I don't even think I needed that.
Nutrition Information
Amount Per Serving
Calories 512
Total Fat 18g
Carbohydrates 56g
Sugar 36g
Protein 6g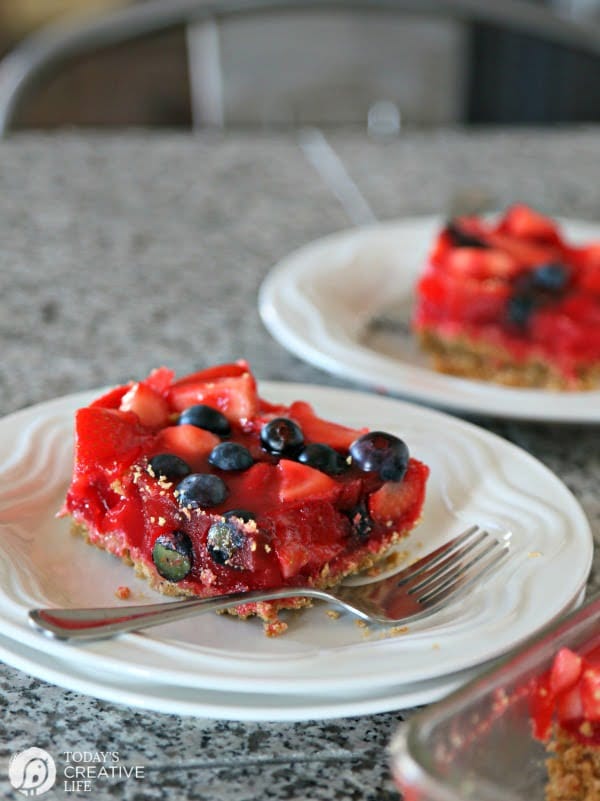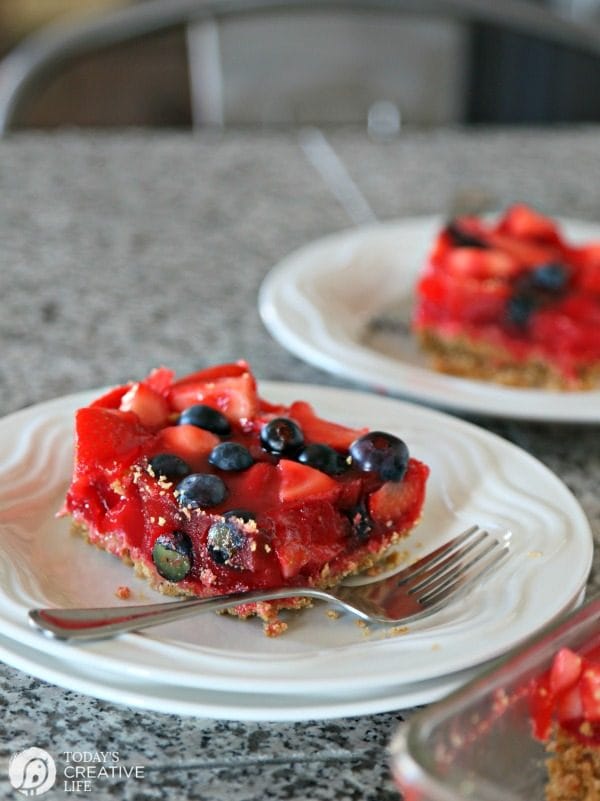 I'm not much a whipped cream kind of girl, so I always forget that some may expect it. As in my husband. His first question before taking a bite was "is there whipped cream?"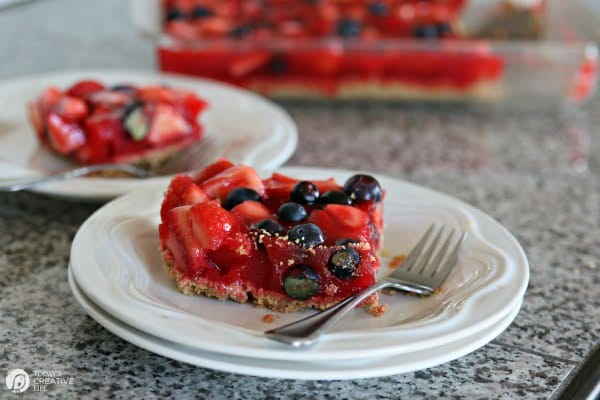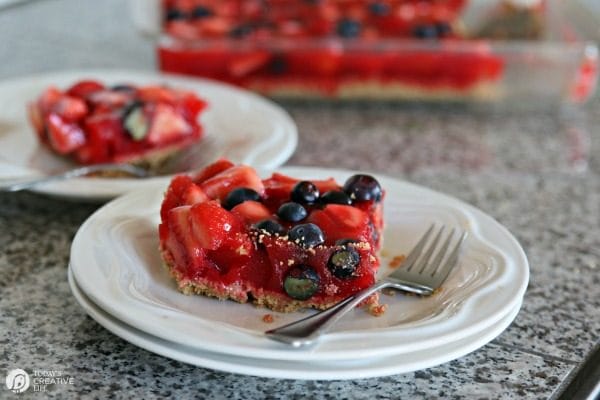 So by all means, if you want, slather on a layer of whip topping over the top after it's chilled. Completely optional. We didn't have any, and he still managed to eat half of the pan.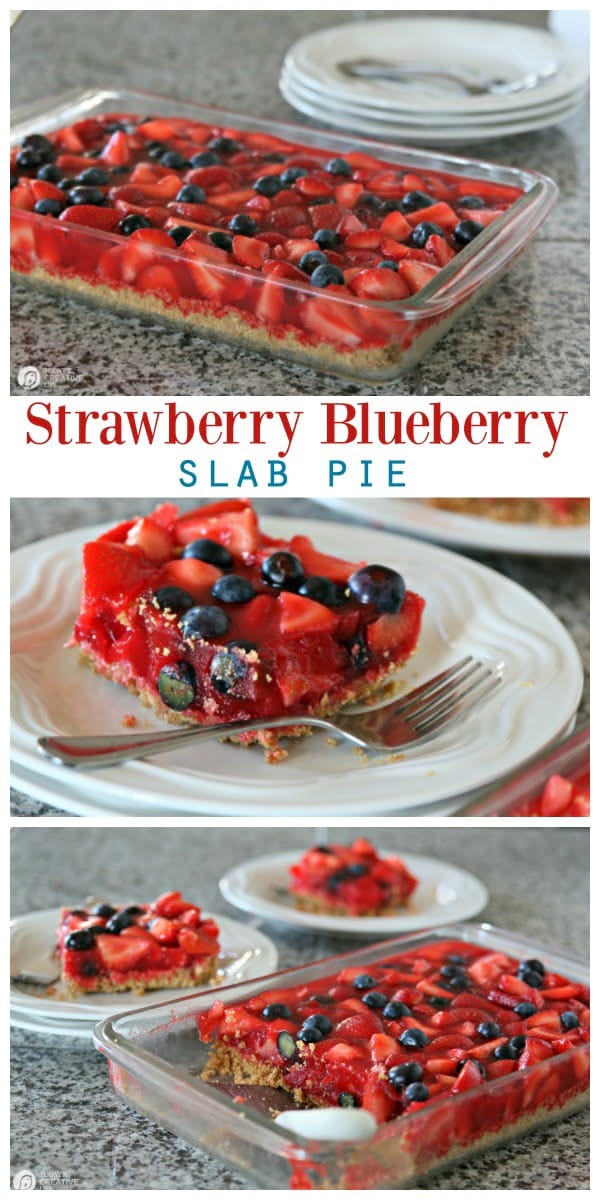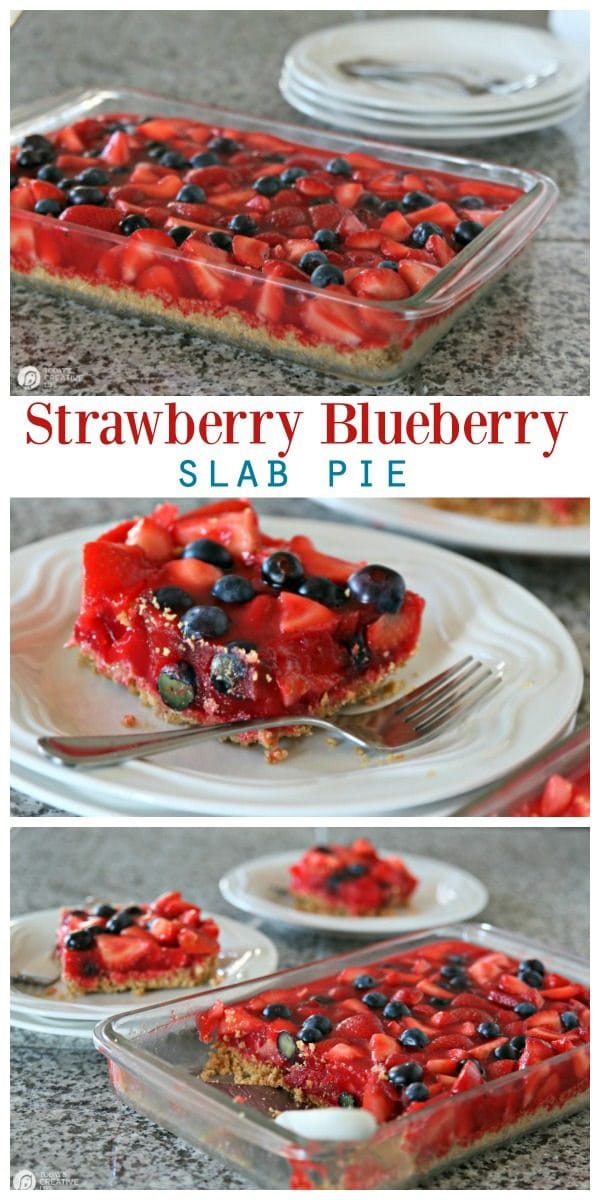 I have a feeling we'll be making the sugar-free version of this Strawberry Pie Recipe a lot this summer!
---
More Berry Recipes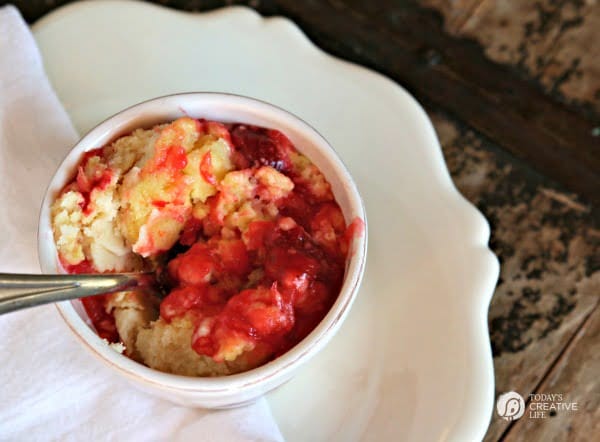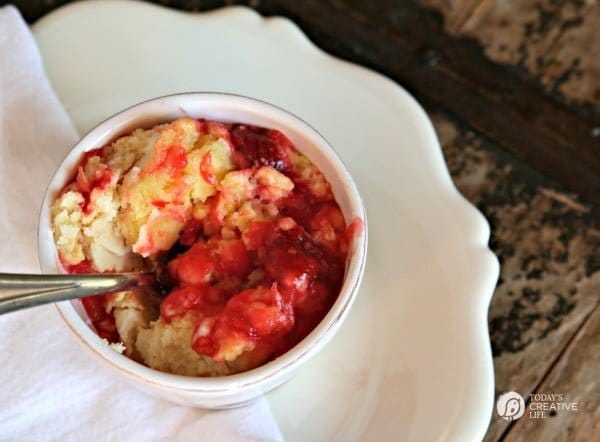 Slow Cooker Strawberry Dump Cake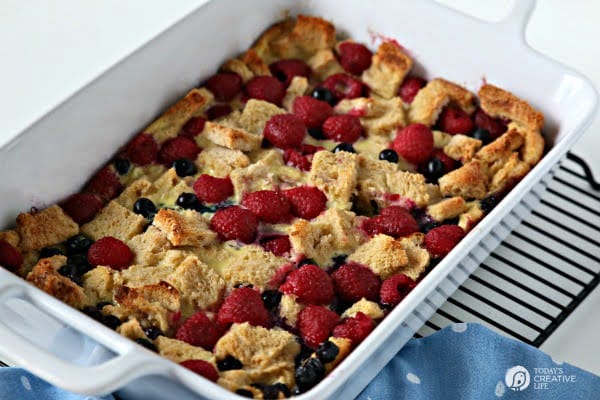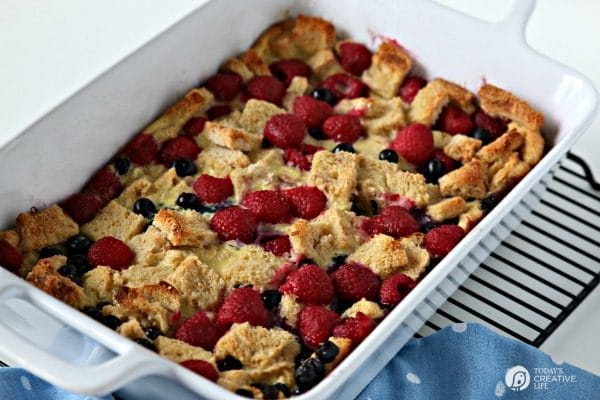 Mixed Berry French Toast Casserole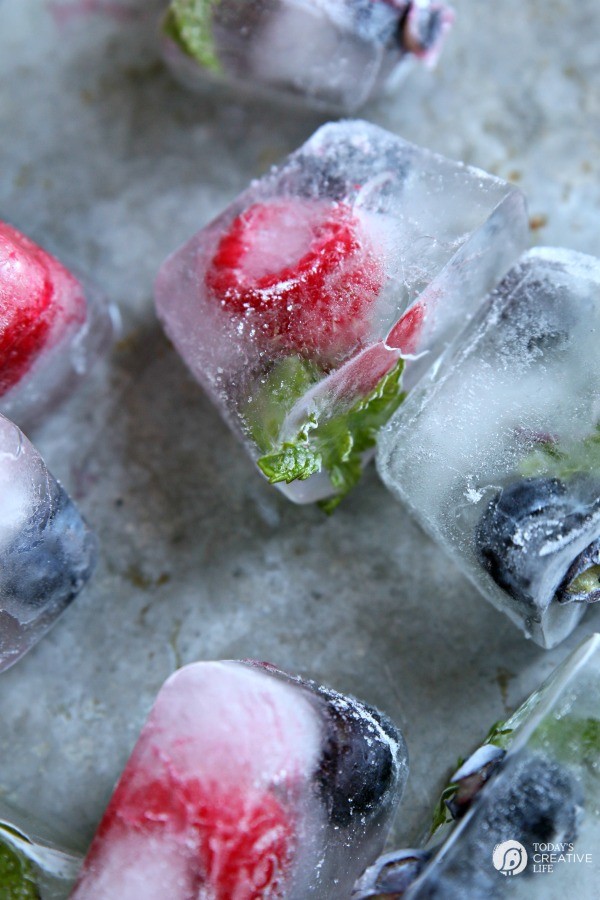 Fruit Filled Ice Cubes