This Mixed Berry Baked French Toast Casserole Recipe for breakfast or brunch is a family favorite. Put it together the morning of or make-ahead the night before if wanted.
So when Fred Meyer stores (Kroger) asked me to develop a recipe using one of their new Private Label Dash of That products to cook or bake in, I knew exactly what I wanted to try. Being inspired by my Overnight Blueberry French Toast Casserole and this Cinnamon French Toast casserole, I used their 4-quart rectangle baking dish in white to create another family favorite French Toast Recipe that is easy and tasty. I knew this French Toast Casserole with Blueberries & Raspberries would look gorgeous! (printable recipe below)
French Toast Casserole with Blueberries and Raspberries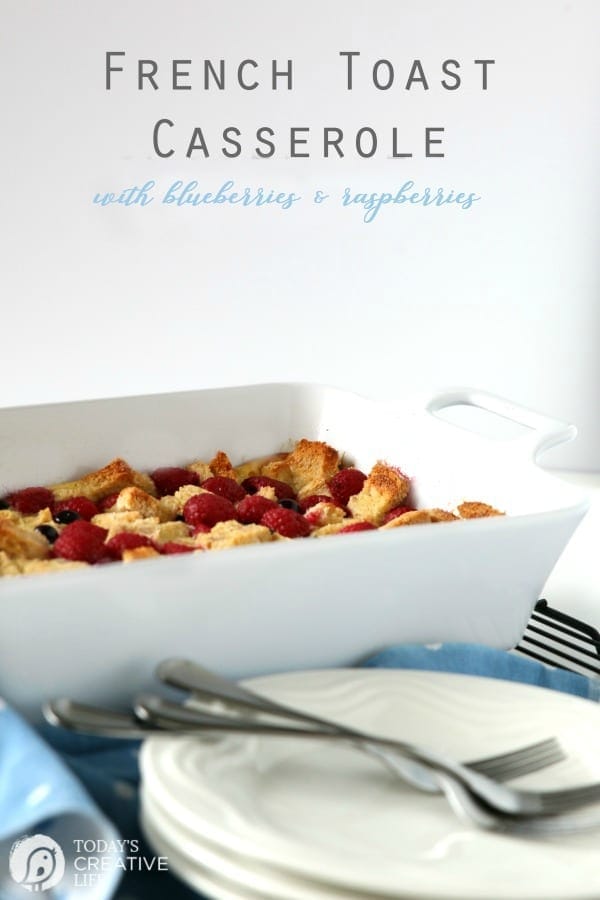 I've been wanting a large casserole dish with handles for a while. I can't wait to make my Easy Blackberry Cobbler Recipe in it too!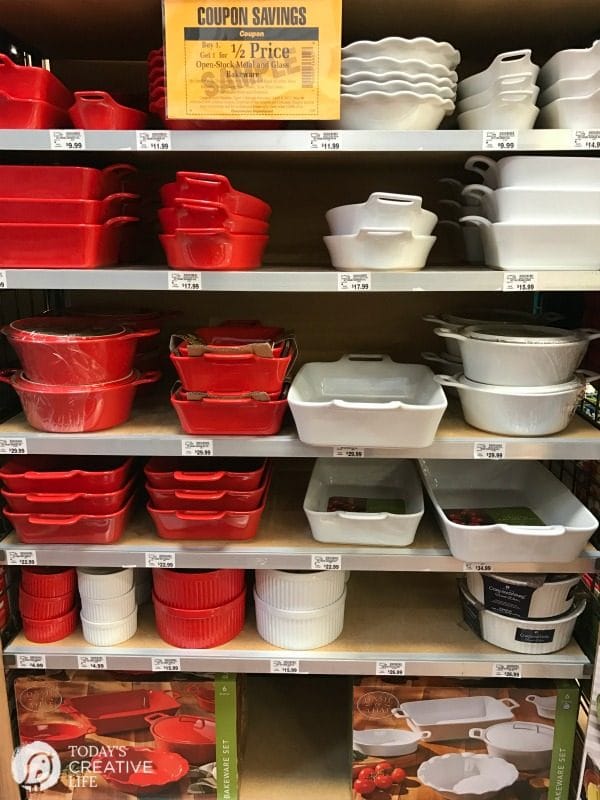 What Kind of Bread to use in French Toast Casserole?
French Bread
A big loaf of French bread is perfect for this breakfast casserole. You can slice it yourself and then cube it, or buy it already sliced in the bread aisle.
Baguette
This works too. Any dense bread is great for soaking up the egg mixture.
Challah
One of my favorites because of its sweetness.
Regular Sliced Sandwich Bread
This will work if it's all you've got at the moment. White or wheat will still make a delicious breakfast.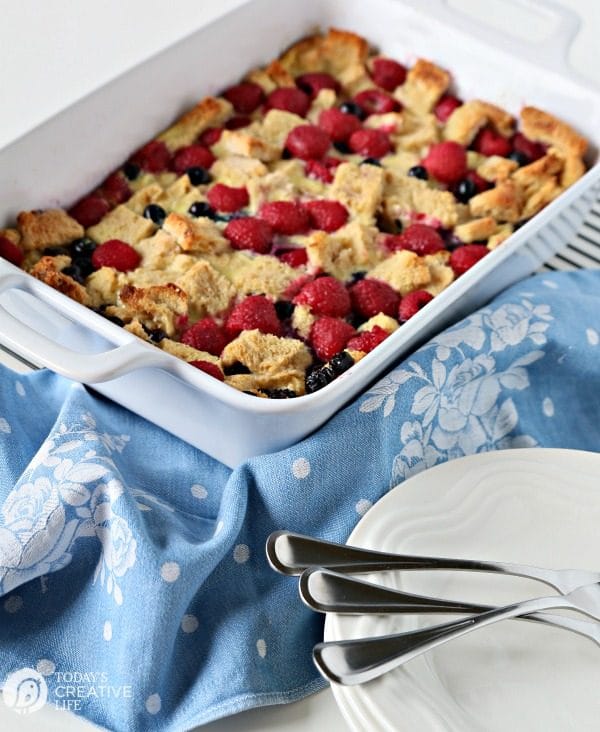 This Baked French Toast Casserole is a little custard-like. It's light and fluffy! You'll want to serve it right away because it does deflate a little once you remove it from the oven.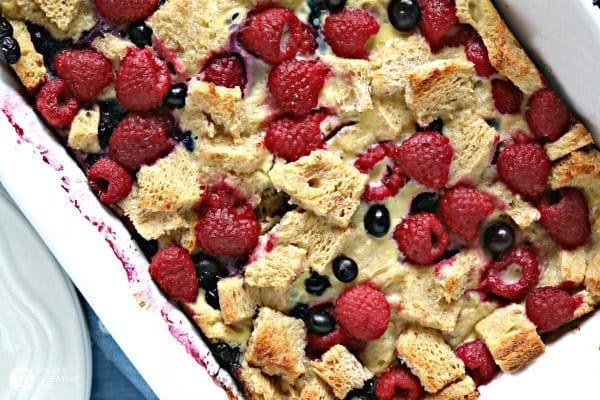 I used raspberries and blueberries, but you could also add blackberries or strawberries! The more berries, the better! Or use other fruits like this Peaches and Cream French Toast.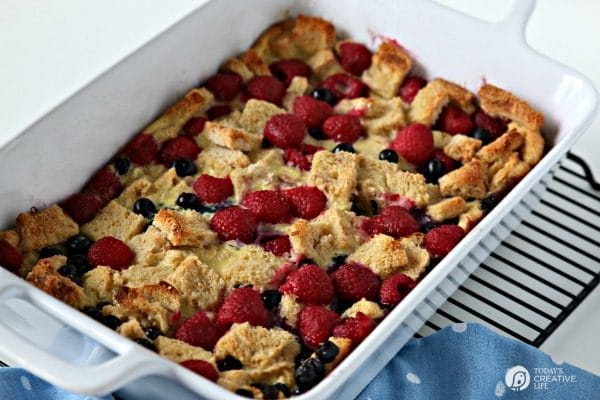 Can You Make French Toast Casserole the Night Before?
Breakfast casseroles make weekends that much more relaxing. They're easy, but still, offer something special. This could also be made up the night before and baked in the morning. So easy! Just assemble the recipe as noted and place in the fridge overnight. The bread really has a chance to soak up all the egg mixture.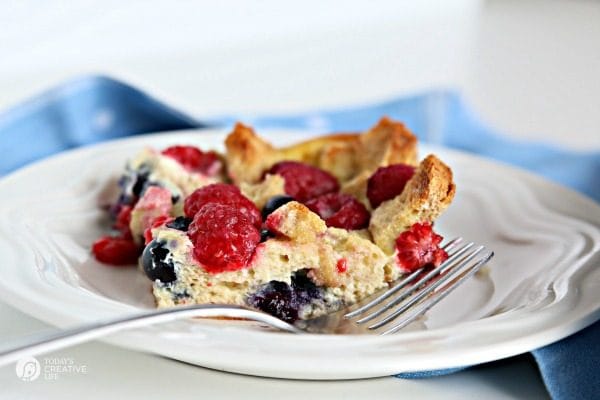 The custard-like texture with the sweet berries melted in your mouth! No syrup needed.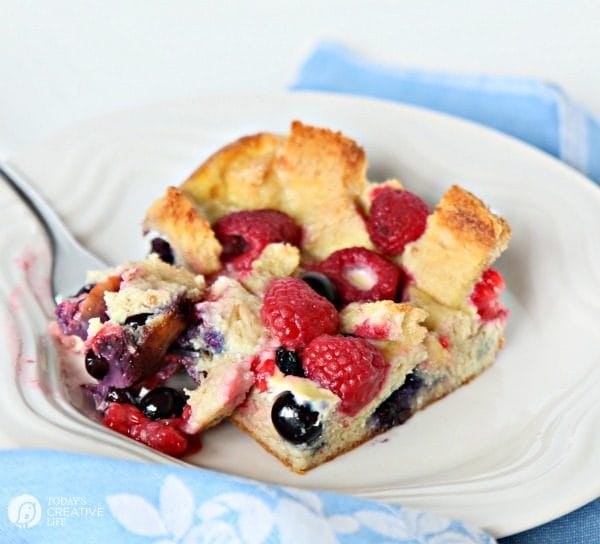 Can You Save Leftover French Toast Casserole?
It's tricky when wanting to save french toast of any type. The heavy moisture tends to risk it getting soggy when stored in the fridge after it's baked. We rarely have any leftover, but if you do and you want to keep it for the next day, I would place in the fridge covered with plastic wrap or foil. Bake the next day uncovered to eliminate some of the sogginesses.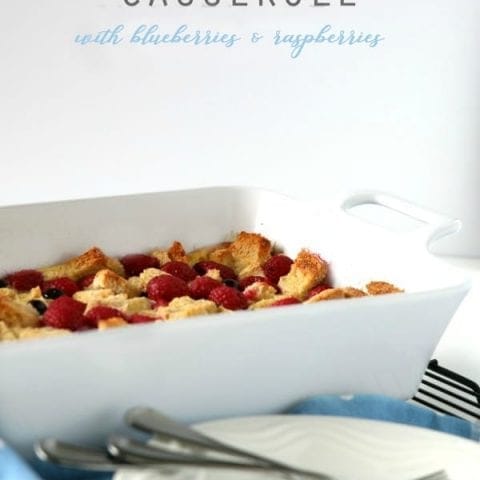 French Toast Casserole Recipe
Yield: 6
Prep Time: 15 minutes
Cook Time: 40 minutes
Total Time: 55 minutes
Easy to make French Toast Casserole with Mixed Berries.
Ingredients
1 loaf bread, about 12 slices - I used Private Selection Whole Wheat Bread
4 Tablespoons softened butter
4 large eggs
1 1/2 cups whole milk
1/3 cup sugar (and maybe a teeny bit more to sprinkle on the top)
2 teaspoons vanilla
1/2 teaspoon salt
1 cup raspberries
1 cup blueberries
Instructions
Preheat oven to 350 degrees.
Cut the crust off each piece and butter one side of each slice.
Stack a few slices of bread and cut into cubes.
In your greased casserole dish (I used a 4-quart dish) Place 1/2 of the cubed bread, then sprinkle half the berries, then add the rest of the cubed bread and top it off with the remaining berries.
In a large mixing bowl, mix eggs, milk, sugar, vanilla and salt.
Pour over the bread mixture.
Sprinkled a tablespoon or so of sugar over the top (optional).
Cover lightly with foil and bake for about 20 min. Remove the foil and bake for an additional 30-35 min.
If you still see visible liquid, you'll need to bake longer. Inserting a butter knife or toothpick into the center can let you know if it's finished. If it comes out pretty clean, you're good.
Notes
Other bread types may be used. Try a french bread or challah for something different.
Nutrition Information
Yield 6
Serving Size 1
Amount Per Serving
Calories 572
Total Fat 17g
Saturated Fat 8g
Trans Fat 0g
Unsaturated Fat 8g
Cholesterol 150mg
Sodium 951mg
Carbohydrates 85g
Fiber 6g
Sugar 25g
Protein 18g
We do our best to calculate, however, nutrition information may not be accurate.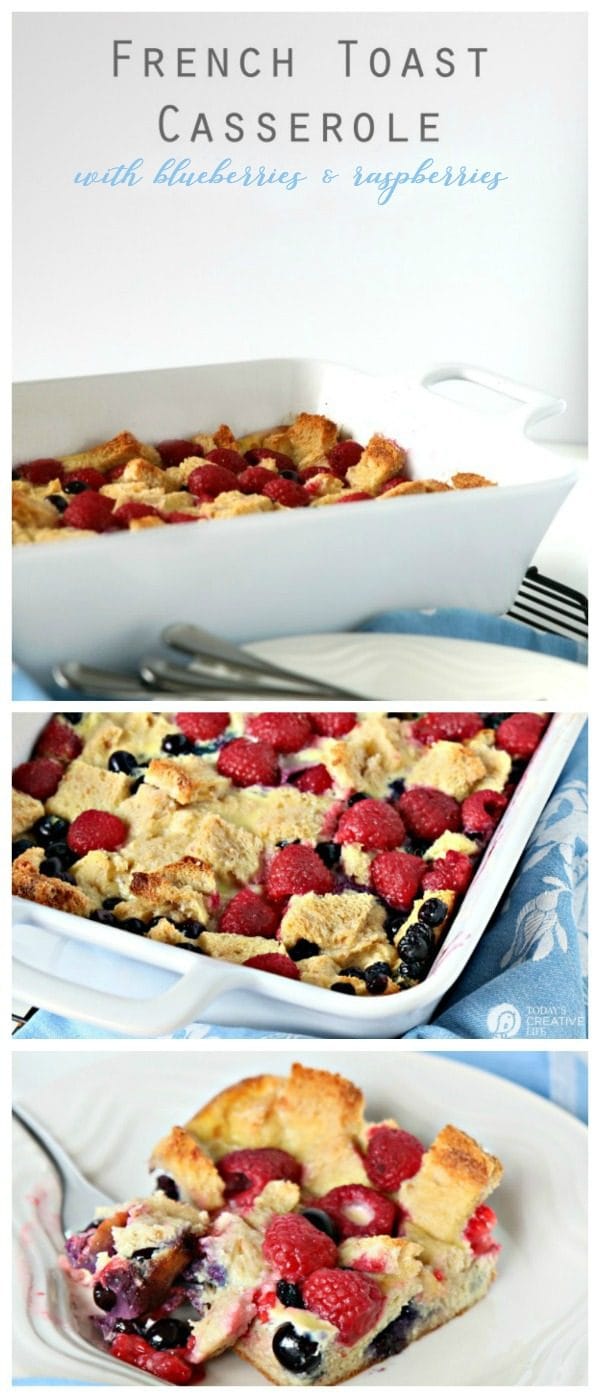 Who's ready for brunch?
This post is sponsored by Fred Meyer. I was compensated for my time and products. The opinions and the recipe I share are 100% my own ideas.
French Toast Recipes
An all-time breakfast favorite! You'll love all the different French Toast recipes TCL has to offer.
Find several recipes for French toast right here!
Add all the berries you want!
Decadent Autumn brunch recipe idea!
Another great slow cooker breakfast idea.