You're going to LOVE this Peach Nectarine Galette from Creative Contributor Allyson from Domestic Hero! Allyson is a master in the kitchen (remember her baked french toast?) and swears this is simple! Fruity desserts are perfect for spring and summer and sometimes even a Simple Fruit Salad is all you need.
---
Peach Nectarine Galette
Hey y'all! It's Allyson from Domestic Superhero, and I have another delicious recipe for you. I have been contributing to Today's Creative Life for a couple of months now, and I always look forward to these posts. I whipped up a delicious rustic Peach Nectarine Galette last weekend, and I couldn't wait to share it!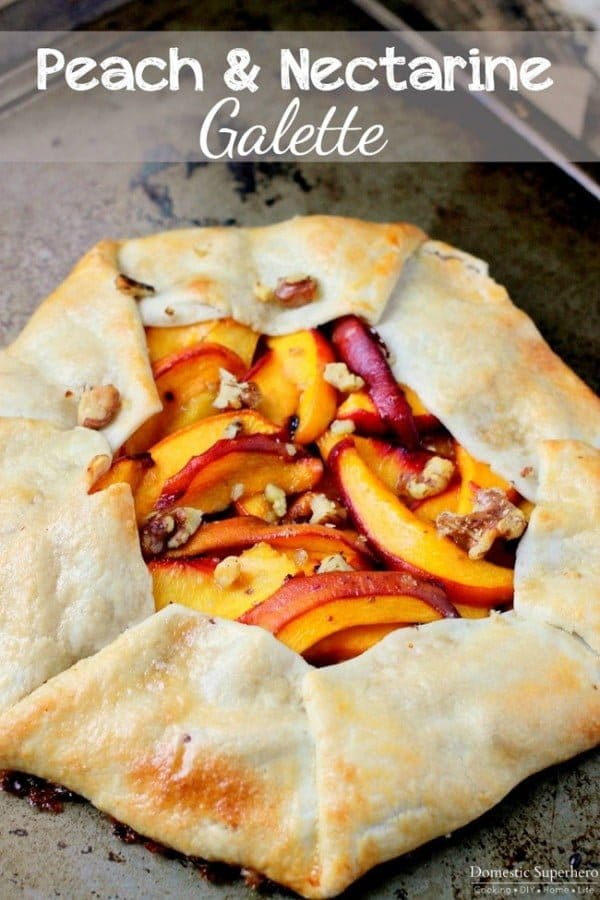 I have been on a galette making kick lately. Since you don't follow my blog (but, you totally should), Domestic Superhero, you don't know that I actually hate baking. Mostly because I am terrible at it. I always burn, undercook, don't add enough baking powder, too much sugar, or whatever it is…I do it. I am the worst baker. I even coined the hashtag #iamnotabaker on Instagram. Seriously, it's bad.
With that said, I learned how to make a galette, though, because let me share a secret with you…it's SO super easy. So easy, that you don't even have to make a crust (hello Pillsbury)! Don't tell any serious bakers that secret, or you might see a few eyes rolling, but, like I said, #iamnotabaker.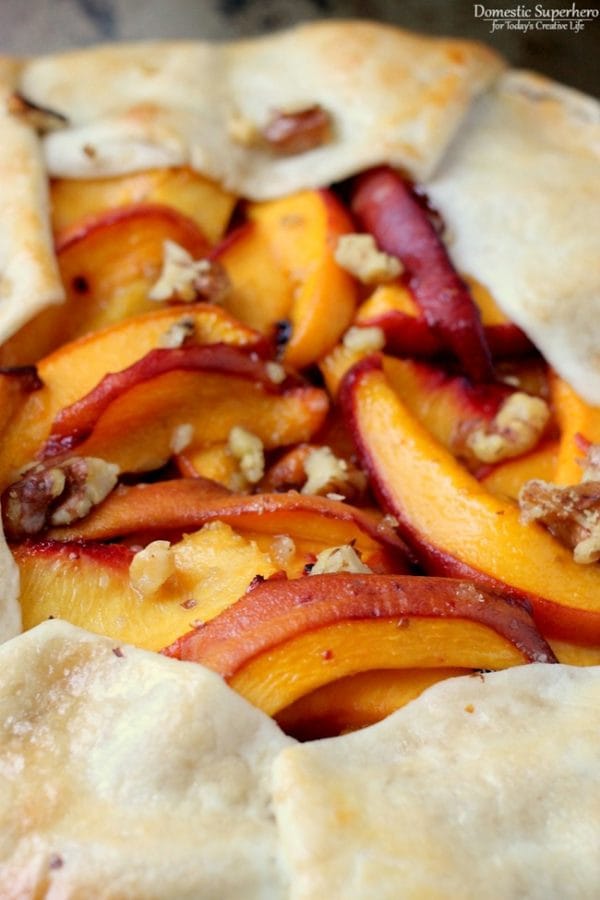 How to Make a Peach Nectarine Galette
So you have your pre-made crust, and then all you need to do is let your fruit hang out with some sugar and orange juice for a bit. Kick back and catch up on your Real Housewives, I won't tell anyone; by the time it's over, your fruit is ready to go! Toss it all in the center of your pre-made pie crust, wrap the sides of the crust up over the edges of the fruit, brush with a little egg wash, and then liberally sprinkle some sugar over the top…easy, right?! Like I said, #iamnotabaker.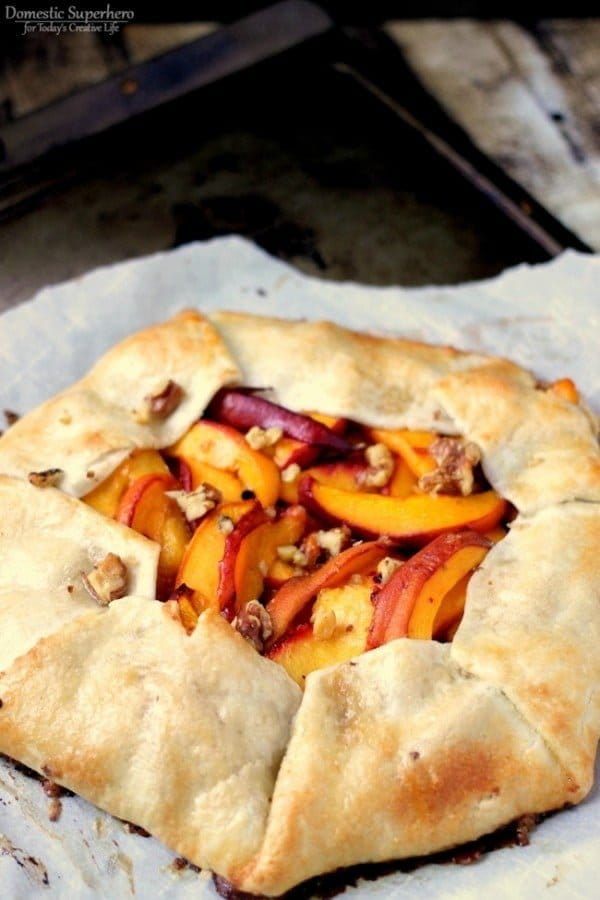 Turn on another episode of your favorite RHW and then pop this bad boy into the oven for 25-30 minutes or until it's golden brown. Slice it up like pie, and share with your fellow reality TV lovers. Easy peasy.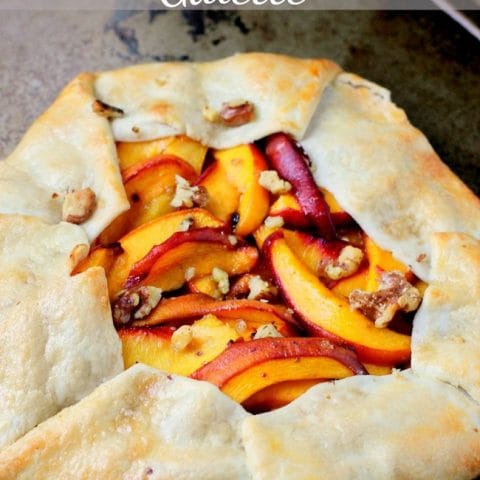 Peach & Nectarine Galette
Ingredients
1 pre-made pie crust (or use your family favorite homemade)
1/4 cup sugar, plus extra for topping
2 peaches, pitted and cut into slices
1 nectarine, pitted and cut into slices
1 tsp orange juice
2 TBS cornstarch
1 TBS butter, cut into little pieces
1 egg
1 tsp water
Instructions
Preheat oven to 425.
In a medium bowl, add peaches, nectarines; sprinkle with sugar, orange juice, and cornstarch; gently stir to coat. Set aside for about 15 minutes.
On a floured surface, roll your dough out a bit, set onto a parchment lined baking sheet; set aside.
Spoon peaches, nectarines, and juice into the center of the dough leaving about 1.5-2 inches at the edges (so you have dough to fold up and over).
Fold the dough up and over the sides of the fruit, working your way all the way around.
In a small bowl, add egg and water; whisk quickly for 15-30 seconds or until frothy. Using a pastry brush, brush egg wash over all visible dough. Sprinkle dough/egg wash with a light layer of sugar. Add butter pieces to the top of the fruit, scattering around.
Place in the center of the oven, and bake for 25-30 minutes or until crust is beginning to brown and fruit is glazed.
Allow to cool for 20 minutes, slice, and serve!
Enjoy!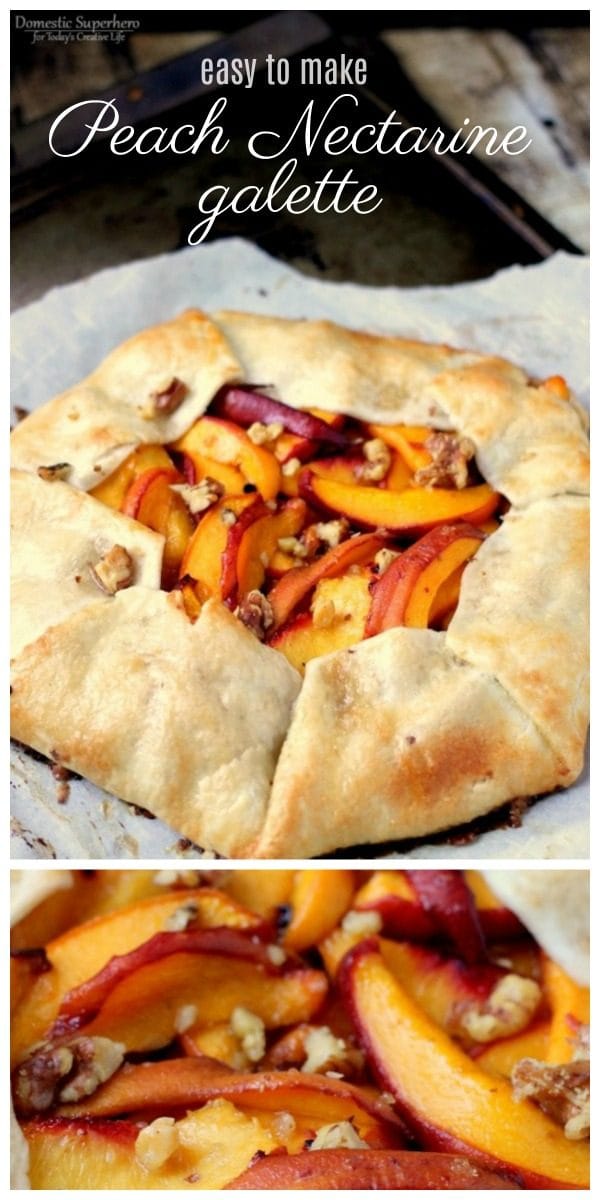 ---
More Easy Dessert Ideas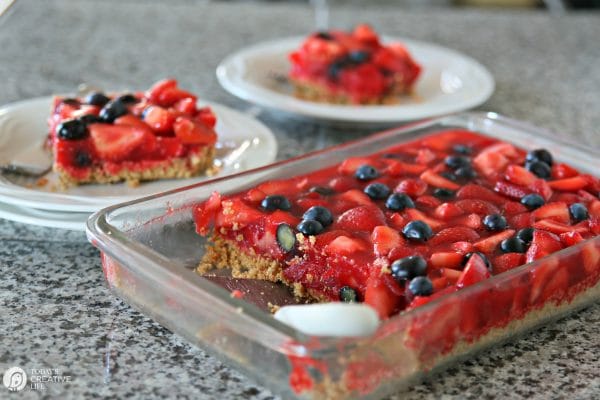 Strawberry Slab Pie Recipe
Slow Cooker Chocolate Lava Cake
You can also connect with me here:
Thanks for visiting!
– Allyson