I know how you guys LOVE French Toast! So when Creative Contributor, Allyson from Domestic Superhero suggested she share these Individual Overnight Baked French Toasts, I couldn't say YES fast enough! These remind me of my other well loved French Toast Recipes.
Individual Overnight Baked French Toasts
Hey y'all! It's Allyson, from Domestic Superhero, to share with you another delicious recipe! I absolutely love French toast, and luckily, so do my kids. I love making it for them on the weekends, however, they are always coming to my plate and stealing mine, and I end up with no breakfast! Not cool, but, if you have kids, I am sure you understand. So, a couple of weekends ago, I thought to myself, 'why don't I make individual French toasts, THEN they can't steal mine'. Guess what? It worked! These Individual Overnight Baked French Toasts came out amazingly delicious, and everyone loved them!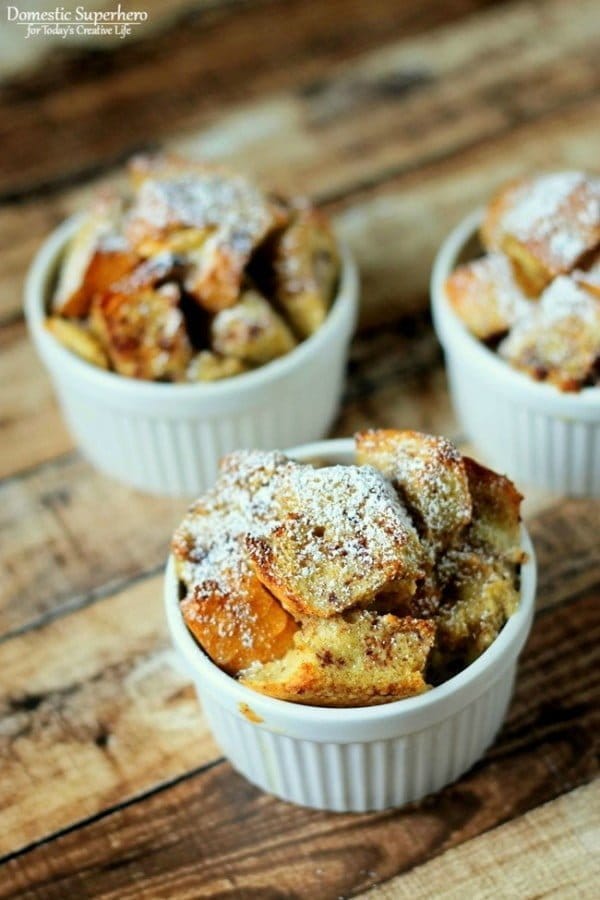 One thing I really like about making these French toast bakes, is that he kids can help. My son loves cooking, and I love letting him help…when it's not going to ruin the recipe. He's only 4, so there's only so much he can do! However, this is a recipe that the kids can really help with! They love pulling the French bread apart, and then throwing it in bowl with the wet ingredients. My son even got his hands dirty (which he normally hates), and scooped the bread out of the bowl and into these adorable ramekins. With all the cooking skills I'm teaching him, I hope he will love to cook as much as I do when he grows up!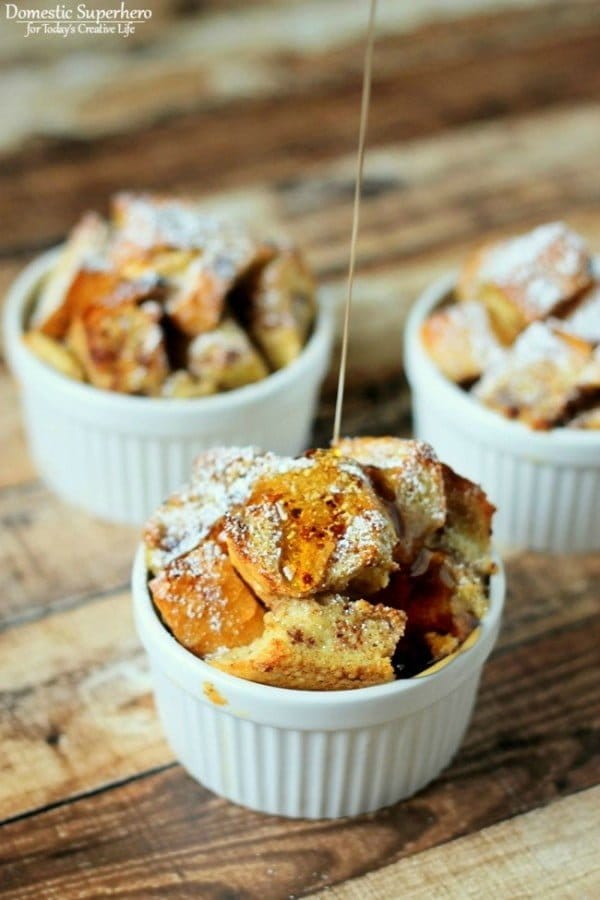 Like I said, this recipe is REALLY easy. You basically whisk the wet ingredients, add the bread, let it soak a bit, then dump the bread into the ramekins and let sit overnight, then when you wake up – bake! It's super simple and so tasty!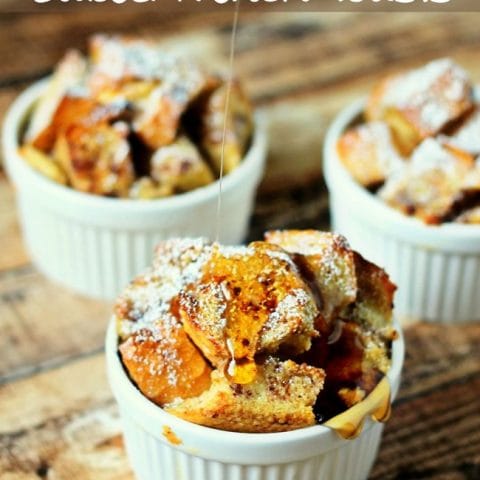 Individual Overnight Baked French Toasts
Ingredients
1/2 loaf fresh baked bread (such as french or italian bread), cut into bite sized pieces
2 eggs
1/2 tsp vanilla
1 tsp cinnamon
2 TBS orange juice
2 TBS maple syrup
1/2 cup buttermilk
confectioners sugar
maple syrup for serving
Instructions
In a medium bowl, whisk together eggs, vanilla, cinnamon, orange juice, maple syrup, and buttermilk.
Add bread pieces to mixture and lightly fold to coat bread. Set aside for 30 minutes.
Spoon about 1/2 cup french toast pieces into ramekins (or fill as high as you want), cover with plastic wrap or press n' seal, and place into fridge. Allow to sit overnight.
Preheat oven to 375 degrees F. Remove covers from french toasts, then place into oven. Bake for 20-25 minutes or until top is slightly browned.
Sprinkle sugar and pour maple syrup over the tops. Serve immediately.
Enjoy!
Like breakfast as much as I do? Check out these other delicious recipes on Domestic Superhero:
You can also connect with me here:
Thanks for visiting!
– Allyson