A while ago, I saw a recipe circulating around Facebook for "easy apple dumplings", so naturally I had to try it. They were right. This was a quick and easy apple dumpling recipe that tasted really really good.
This recipe uses Pillsbury crescent rolls, which my son has adopted as his favorite snack lately.  He eats all 8 smeared with Nutella. I figured he'd enjoy them doctored up like this too.
Quick and Easy Apple Dumpling Recipe with Crescent Rolls
I am always looking for Apple Recipes like my Apple Cream Cheese Bread since we have 2 apple trees. I'll be sharing my crockpot apple butter recipe this week for Slow Cooker Sunday, so be on the lookout. If Fall had a flavor, it would be my apple butter.

I picked a couple of apples to use, peeled and sliced into 8 wedges. Gathered the rest of my ingredients and realized I only had a diet sprite instead of a regular lemon lime soda. I went with the diet, but I could see that it wasn't setting up as nicely once it had cooled. If I had used the full sugar version soda, it would have cooled to a thicker glaze…..no soupy. Lesson learned…… always use full sugar soda in a recipe when it calls for it.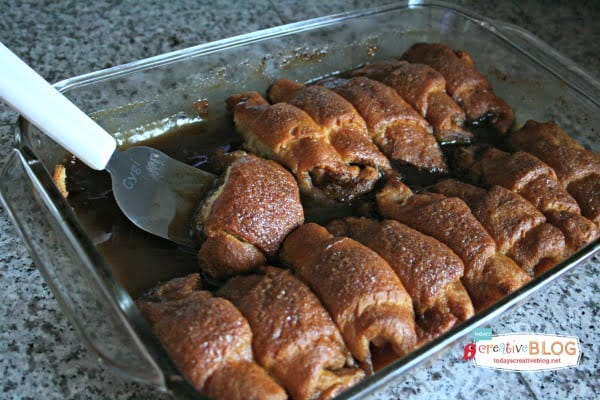 These are perfect for a quick weekend breakfast / brunch or surprise the kids with these on a school day.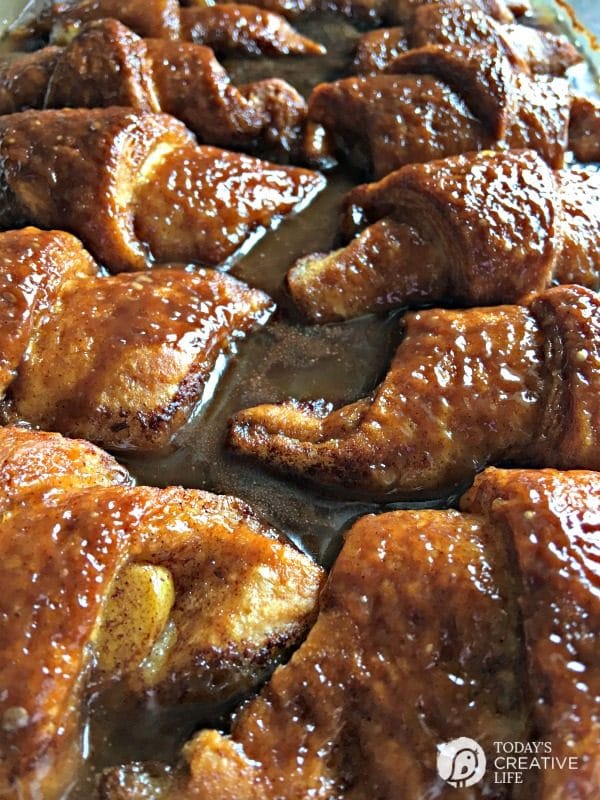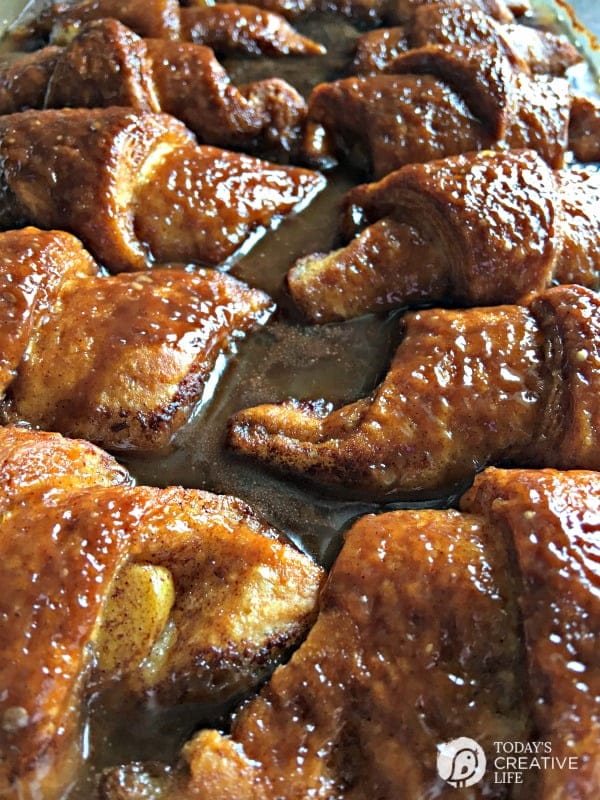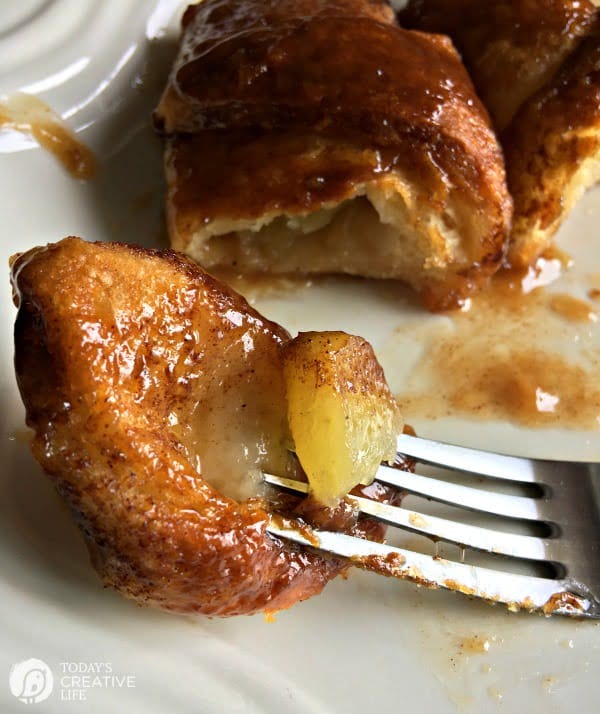 Even if it's after school. They'll think you're the best mom ever! (they probably already do)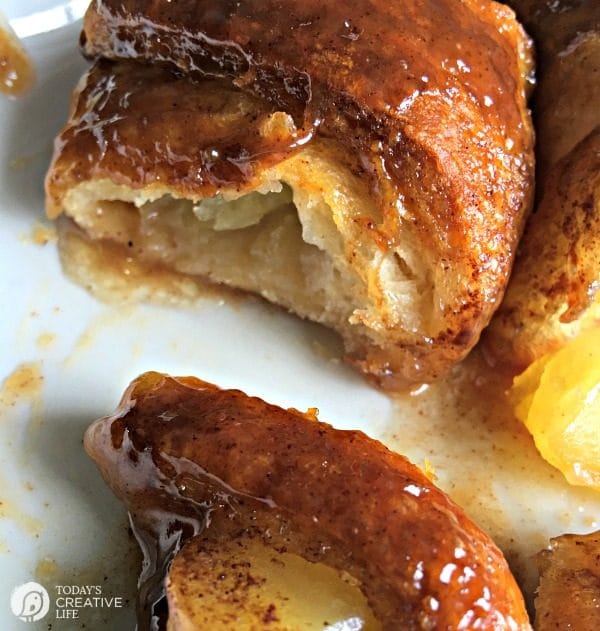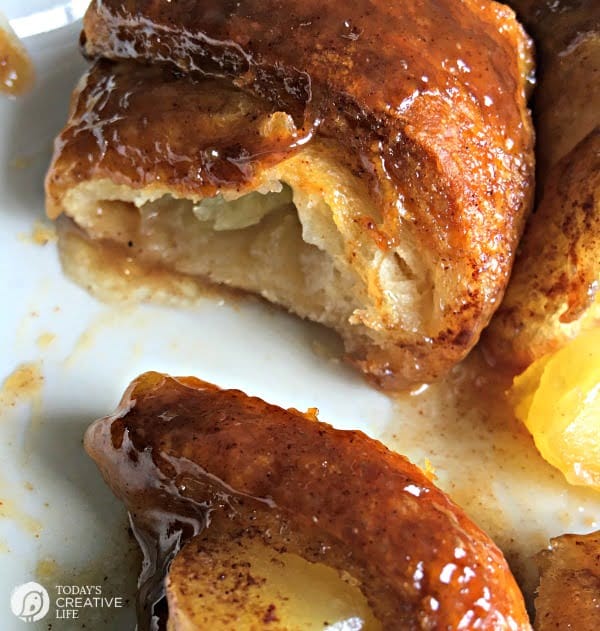 This treat tasted like a delicious apple pie. It was a great recipe to transition from summer to fall. Isn't that the hardest thing to do?  Transition?  I LOVE LOVE LOVE summer and I don't mind fall, but I miss out on part of it because I'm too busy whining about summer being over. Anyone else like that?
Quick and Easy Apple Dumpling Recipe
Ingredients
2 cans Crescent Rolls
1 cup butter (2 sticks)
1½ cups brown sugar
1 teaspoon cinnamon
1 teaspoon vanilla
1 can 7-up or Lemon Lime soda - NOT DIET
2 apples - peeled, cored and cut into 8 wedges each.
Instructions
Preheat oven 350°
Grease or butter 13 x 9 in baking dish.
Roll one apple wedge in each crescent roll triangle, then place in your baking dish making 2 rows.
In a sauce pan, melt butter on medium heat, stir in sugar, vanilla and cinnamon. Continue stirring until thickened.
Remove from heat and pour over the crescent rolls.
Pour soda in between the rolls down the middle and around the edges of the pan. Do not pour over the rolls.
Bake for 35-40 minutes until golden brown.
Serve warm with ice cream, whipped cream or alone.
Enjoy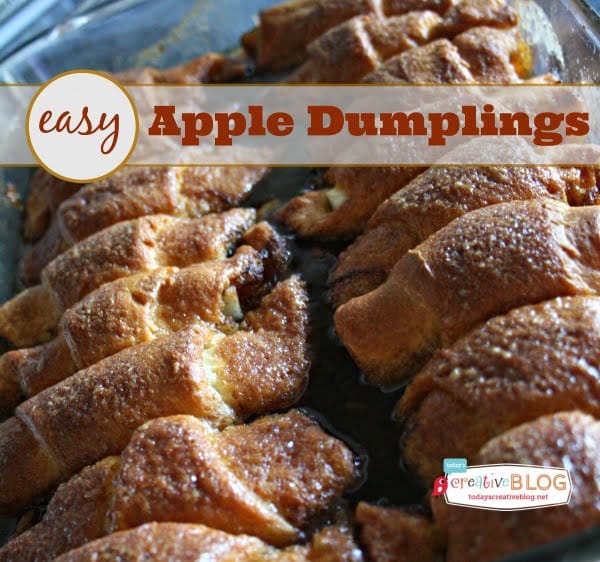 ---
 Find more Apple Recipes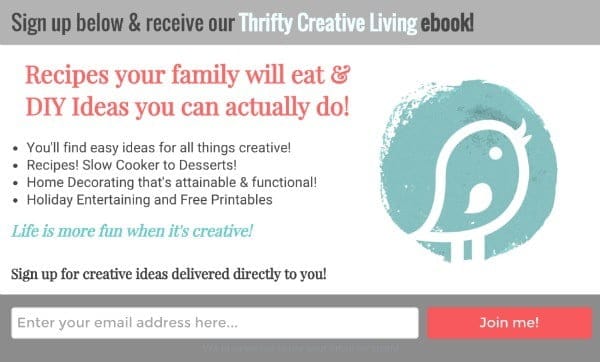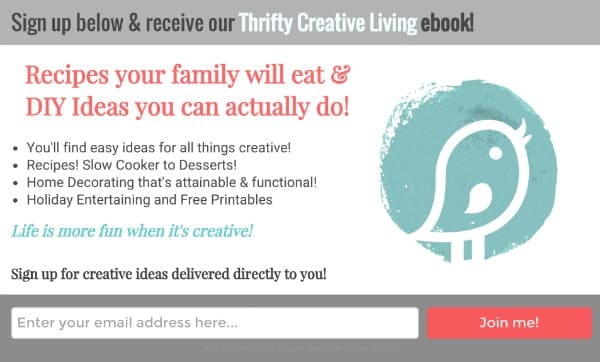 Follow me
 Facebook | Pinterest | Instagram | Twitter
---