This Apple Quiche Recipe made with cheese, eggs, heavy cream, cinnamon and more make a delicious brunch recipe for weekends or holidays. Make the morning more special with this easy to make quiche.
I've had an old recipe book for about 25 years, it's a recipe book that features recipes from different PNW Bed and Breakfast Inns. This Apple Cheese Quiche Recipe caught my eye. Apples, cheese, and pie crust? Yes, please! This brunch recipe, like my cinnamon apple muffins, is simple and delicious!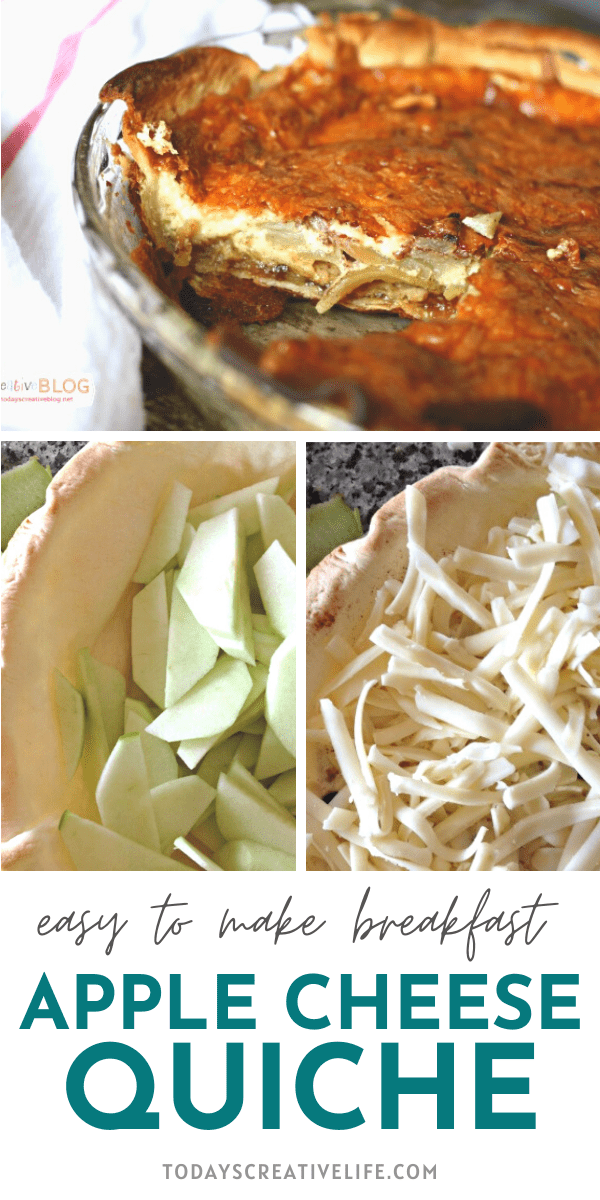 Apple Quiche Recipe
This Apple Quiche recipe is from the Chambered Nautilus in Seattle Washington. I've never been there, but I'd love to go! It looks beautiful and if they serve recipes like his Apple Quiche for brunch, then I know they have great food too! (I'm sure theirs looks better than mine)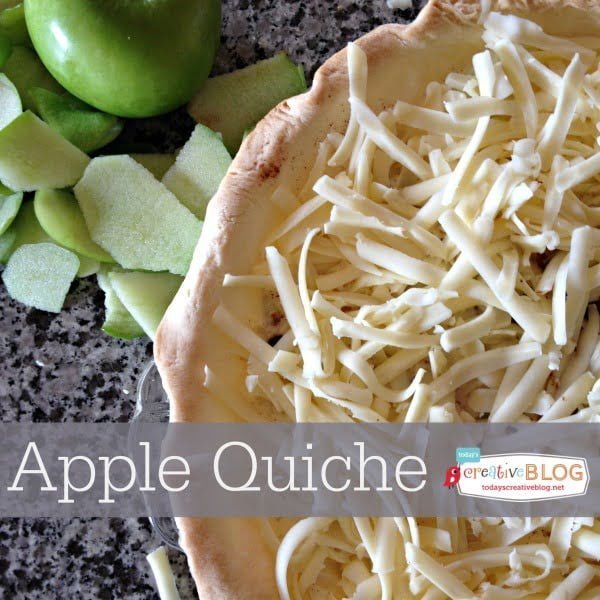 This was my first time making a quiche. Gasp! At least I can't really remember making one, but this one I kept flipping back to, reading the ingredients, wondering how it would taste. So I finally just made it.
Like my Old Fashioned Popovers with Orange Zest Butter, this would be PERFECT for an Easter Brunch or weekend breakfast. It wasn't hard to make, although I'm hoping the next time I make it, it will look prettier.
I bought my pie crust, cut up my apples, shredded the cheese and was thinking "WOW! This IS easy…….I could totally run a bed and breakfast".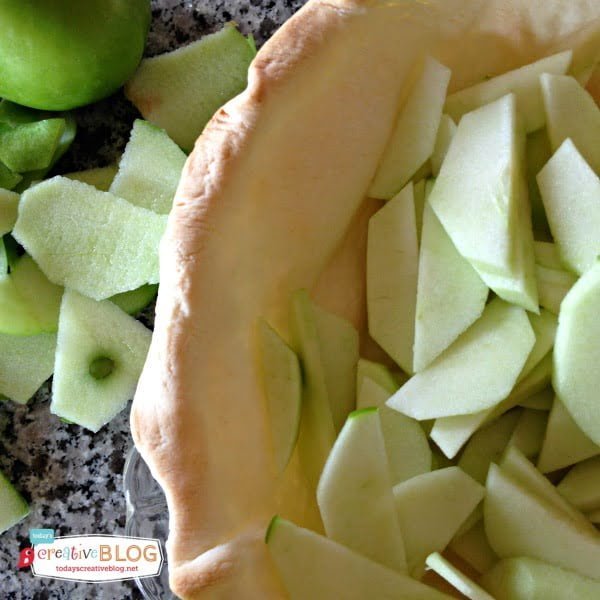 After baking my pie crust I assembled the apples in the shell, topped with the brown sugar and cinnamon, whipped up the eggs and cream, poured it over the apples, added the cheese and popped it in the oven.
If I were to make this again, I'd stir the brown sugar and cinnamon around before placing the cheese on top. I'd also place a foil tent over the top since mine got a bit brown. I'd also practice making fluted pie crust like I was taught as a child. I just kept breaking the edge off when pulling it out of the oven.
Good food doesn't always have to be pretty……I say so.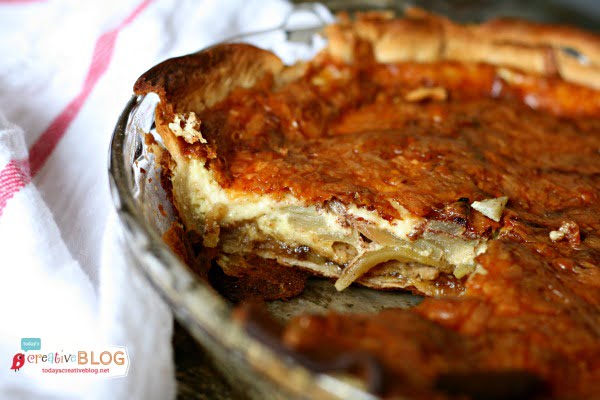 It was delicious. It had a french toast kind of taste, then you got a hint of the crusted cheese topping. My husband liked it and because I have no business eating so much of this stuff, I texted my neighbor who likes all my leftovers.
How to Make Apple Cheese Quiche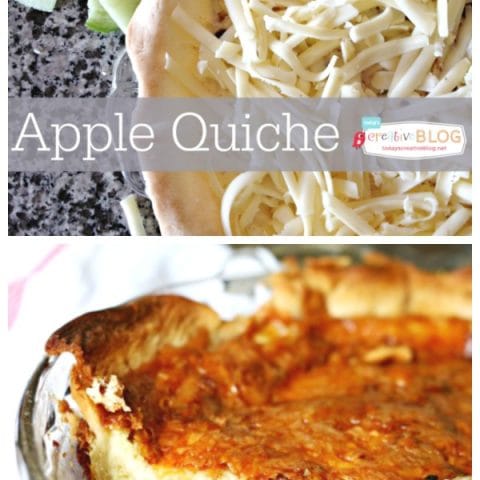 Apple Cheese Quiche
Yield: 8
Prep Time: 15 minutes
Cook Time: 1 hour
Additional Time: 10 minutes
Total Time: 1 hour 25 minutes
This rich and delicious apple cheese quiche is great for weekend brunch or holidays!
Ingredients
1 deep dish or pie shell (9 inch)
3 cooking apples (I used granny smith), peeled, cored and thinly sliced
1/2 cup brown sugar, lightly packed
2 teaspoons cinnamon
1 cup heavy cream
2 or 3 eggs, beaten ( I used 3)
8 ounces monterey jack cheese, shredded
Instructions
Prebake pie shell in a preheated oven at 400° until lightly browned. Leave oven on.
Heap apples into the pie shell.
Sprinkle with brown sugar and cinnamon and mix throughout the apples.
In a separate bowl, beat the cream into the eggs. (don't beat so long that the cream whips)
Pour egg mixture over apples and top with shredded cheese. Make sure all the apples are covered with the cheese.
Bake at 400° for 1 hour until apples are tender and custard is set.
Remove from oven and let the quiche sit for about 10 min before serving.
Notes
I would add a tin foil tent over the top for around 40 minutes since my pie crust edge and cheese topping was too brown.
Nutrition Information
Yield 8
Serving Size 1
Amount Per Serving
Calories 372
Total Fat 23g
Saturated Fat 13g
Trans Fat 0g
Unsaturated Fat 8g
Cholesterol 129mg
Sodium 240mg
Carbohydrates 32g
Fiber 2g
Sugar 22g
Protein 11g
We do our best to calculate, however, nutrition information may not be accurate.
Save and print this Apple Quiche Recipe to have on hand for any weekend breakfast!
Can I Use a Different Cheese for this Recipe?
Although I haven't tried a different type, I don't see why a sharp or white cheddar wouldn't work. You could even throw a bit of bleu cheese with the cheddar if you'd like. Using a mixture of your favorite harder cheeses would always work.
Can I add Ham?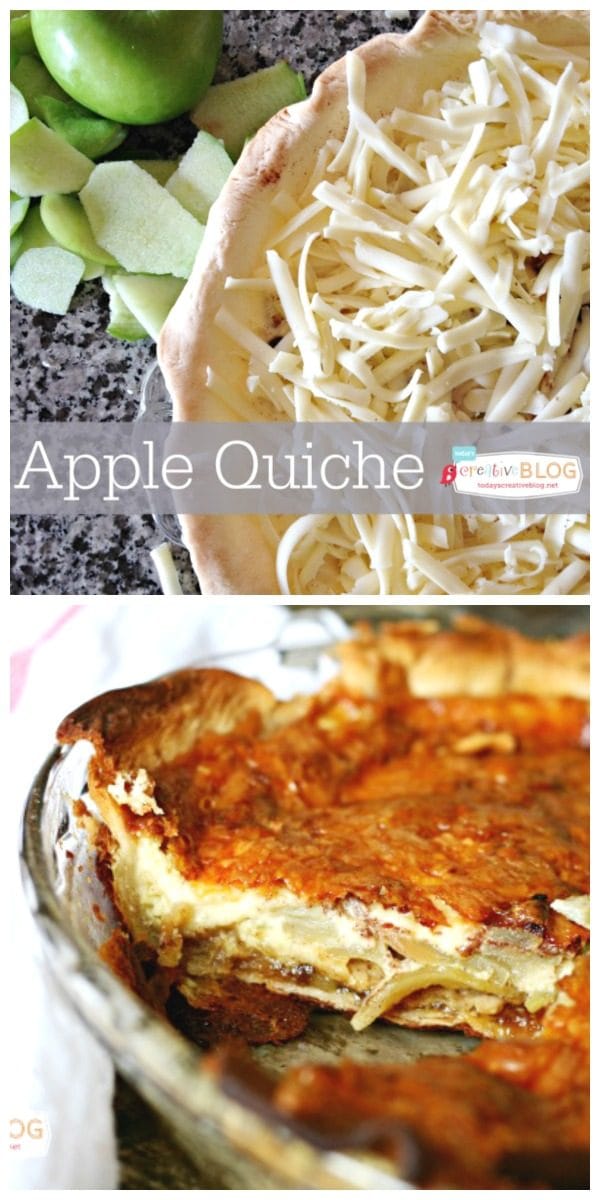 Sure! Adding any pre-cooked breakfast meat would be delicious. I'd probably add a cup, mixed in with the apples. With or without, this recipe makes a hearty meal for breakfast or dinner.
Follow along on Instagram | Pinterest | Facebook
Recipes with Apples
Find a variety of irresistible apple recipes from crockpot applesauce to quick and easy apple dumplings.
The moist apple cream cheese bread is so full of flavor!
Apple muffins with cinnamon make a delicious fall snack. One of our all-time fall favorites for snacks and breakfast.
Cocktails made with apples are perfect for the fall season.
Quick and easy apple dumplings made with sprite and crescent rolls make a fast weekend breakfast idea.
The sweet and savory chicken salad makes a delicious lunch.
This cheesy apple dip makes a unique party dish.
Making apple butter in the slow cooker is a great way to use up apples. This also makes a great homemade gift from the kitchen.
Slow Cooker Oatmeal in 2 hours! Easy breakfast recipe that is tasty and nutritious.
Another fall favorite recipe with our own apples.
Sweet and tangy apple cake can be made in any shape.
Make this simple apple crisp recipe using your crockpot for a seasonal Fall recipe.