This simple from scratch Carrot Cake Recipe with Pineapple, covered with a tangy-sweet cream cheese buttercream frosting is the best carrot cake you'll ever taste. Extremely moist and delicious with every bite.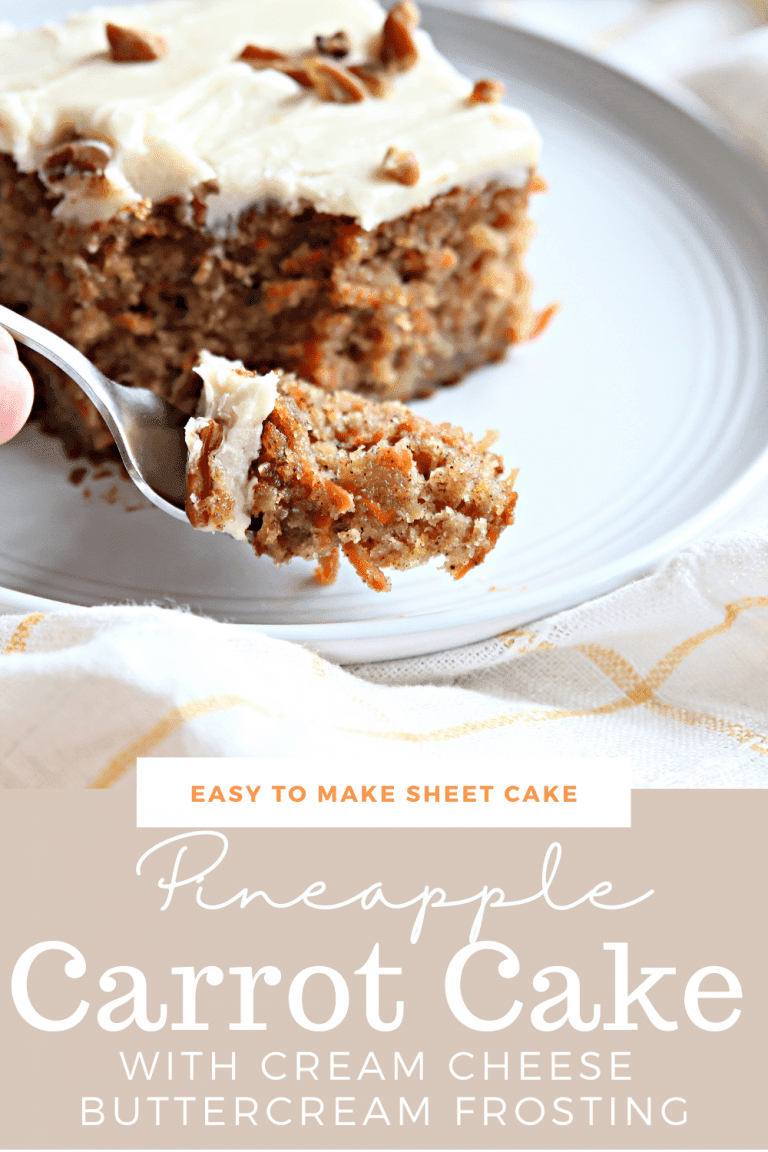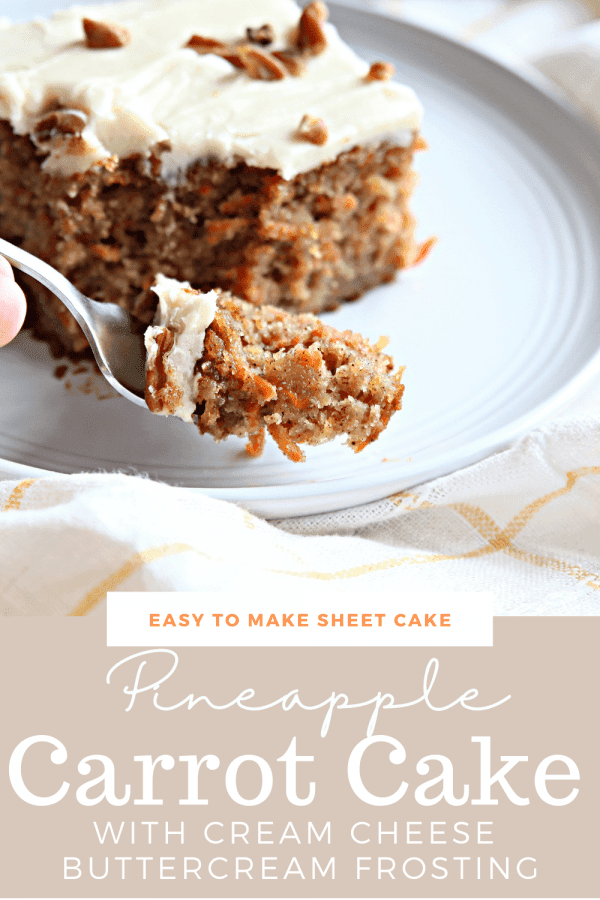 Carrot Cake Recipe with Pineapple Sheet Cake
I had been craving carrot cake for a full week, so I gave in and baked a recipe found in my late mother's recipe box. I thought about making my Crockpot Carrot Cake or the Pioneer Woman's carrot cake, but my mom's recipe won out. I had all the ingredients, including the crushed pineapple, which I admit sounds so odd to add to cake batter, but trust me. Adding pineapple gives it extra moistness and flavor, unlike any other cake I've made. You can use canned or crush your own, but you won't want to skip this ingredient.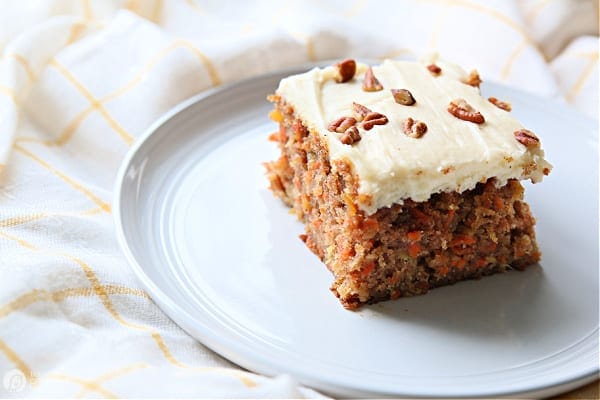 Sheet cakes make cake baking so easy. There's no stress with layering or decorating and you still get a delicious dessert. This carrot cake recipe with pineapple could be made as a layered cake if desired, but I'm all about making it simple.
Whether it's a stacked layered cake or sheet cake this carrot cake is the most delicious and moist cake you'll ever taste. The cake its self is so good, I considered leaving it plain, without frosting. It's THAT good!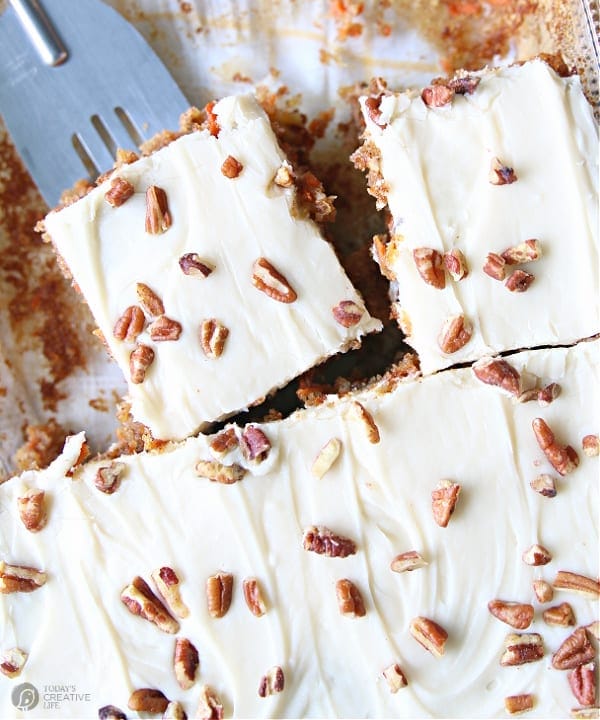 Supplies for Making this Carrot Cake Recipe with Pineapple
cake pan or 13×9 baking dish
large & medium mixing bowls
measuring cups and spoons
wooden spoon
mixer – optional
shredded carrots – It took me a long time to shred carrots, and then I remembered I had a vegetable shredder.
crushed pineapple
sugar
vegetable oil
eggs
flour
baking soda
cinnamon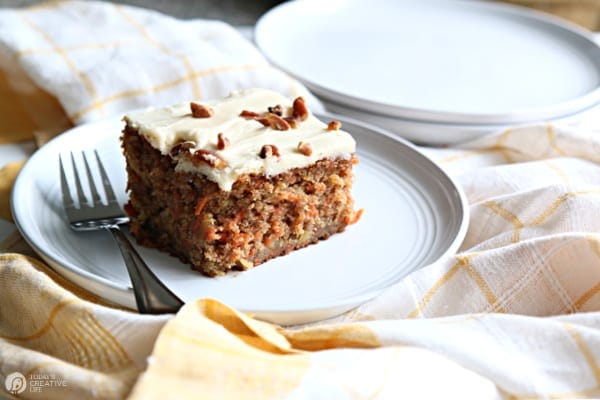 Carrot Cake with Pineapple Cupcakes or Muffins
You can make this carrot cake recipe with pineapple as cupcakes or muffins. The baking time would obviously change. For muffins or cupcakes, shorten the bake time to about 13 minutes. You can use cupcake liners if you desire, or just a well-greased muffin tin.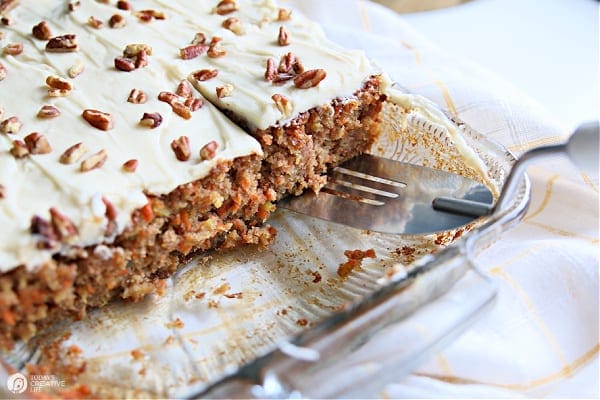 How to Store Carrot Cake?
I don't do anything fancy, other than use aluminum foil, plastic wrap, or the lid that may have come with your cake pan. I store it in the fridge, but I also don't worry about it being out on the counter for a few hours.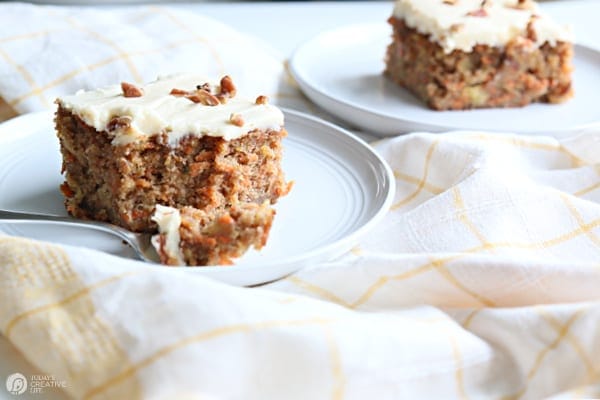 How Long Does Carrot Cake Last?
In my home? Not very long! If you happen to find you have leftover cake, keep it stored as mentioned above in the fridge. It should keep well for up to a week.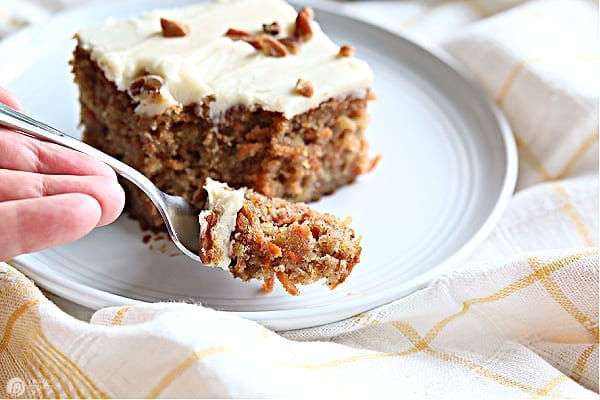 How to Make Carrot Cake Recipe with Pineapple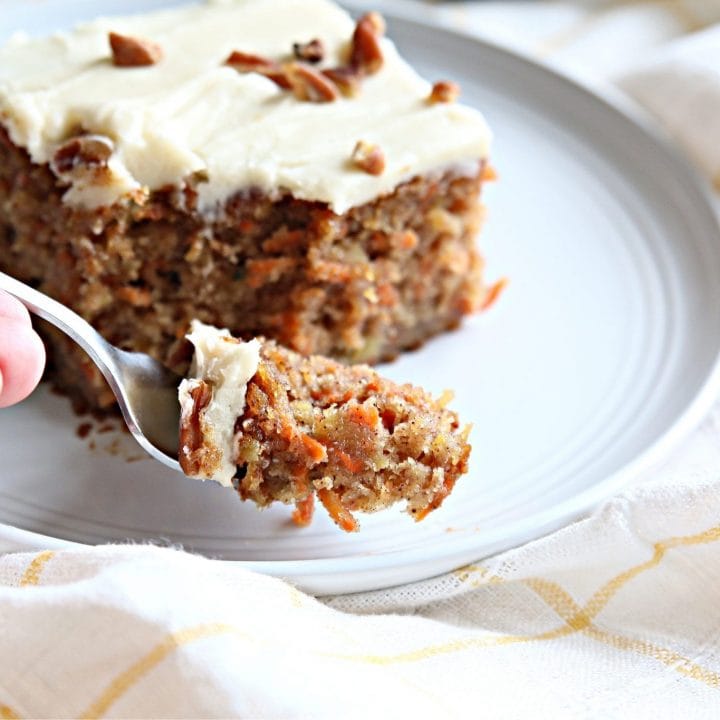 Carrot Cake with Pineapple Recipe
Yield: 12
Prep Time: 20 minutes
Cook Time: 40 minutes
Total Time: 1 hour
Ingredients
3 cups shredded carrots
1 can crushed pineapple, drained well
2 cups white granulated sugar
1 cup vegetable oil
4 eggs
2 cups all-purpose flour
2 tsp. baking soda
2 tsp. cinnamon
CREAM CHEESE BUTTER CREAM FROSTING
1 pkg (8oz) cream cheese, room temp
1/4 cup butter, softened
2 tsp. vanilla extract
3 3/4 cups powdered sugar (confectioners sugar)
1/4 cup chopped pecans
Instructions
Shred your carrots. This takes a bit of time.
Grab a large bowl and add the first 5 ingredients, beat until well blended.
In another bowl, mix together flour, baking soda, and cinnamon.
Gradually add flour mixture to carrot mixture, mixing well.
Pour batter into a greased 13-in. x 9-in. baking pan.
Bake at 350° for 35-40 min, or until golden brown and no jiggle in the middle.
Place pan on a cooling rack.

FROSTING
After the cake cools, grab another large bowl (I used my KitchenAid mixer) and beat cream cheese, butter, and vanilla until completely blended. Slowly add powder sugar until is smooth and creamy. Spread onto the cake. Sprinkle pecans over frosting. Cover and refrigerate any leftovers.
Notes
Add 1 cup chopped pecans to cake batter.
Substitute pecans with walnuts
Make cupcakes instead and alter baking time to about 13 Min.
Recommended Products
As an Amazon Associate and member of other affiliate programs, I earn from qualifying purchases.
Nutrition Information
Yield 12
Serving Size 1
Amount Per Serving
Calories 609
Total Fat 26g
Saturated Fat 5g
Trans Fat 1g
Unsaturated Fat 20g
Cholesterol 74mg
Sodium 300mg
Carbohydrates 90g
Fiber 2g
Sugar 72g
Protein 5g
We do our best to calculate, however, nutrition information may not be accurate.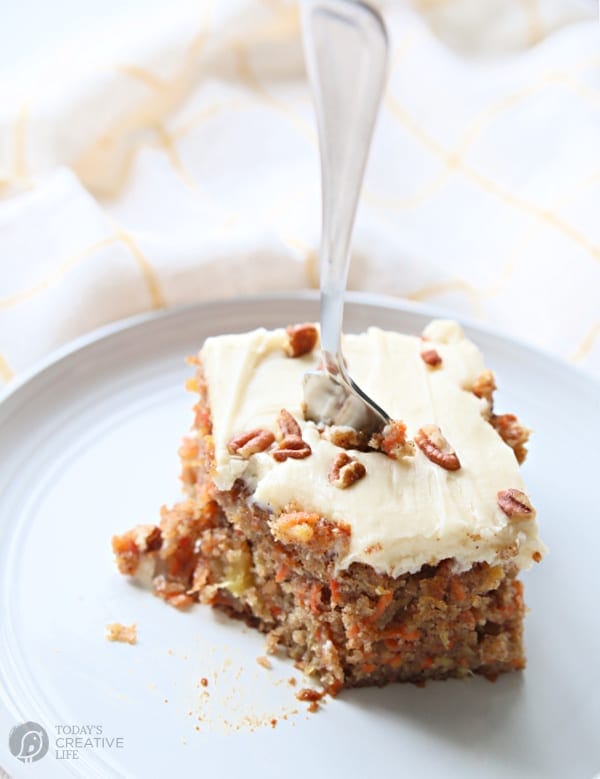 Can You Freeze Carrot Cake?
I have never tried freezing a cake before, but I have bought a frozen carrot cake from Trader Joes and it's amazing. I found these instructions on how to freeze cake.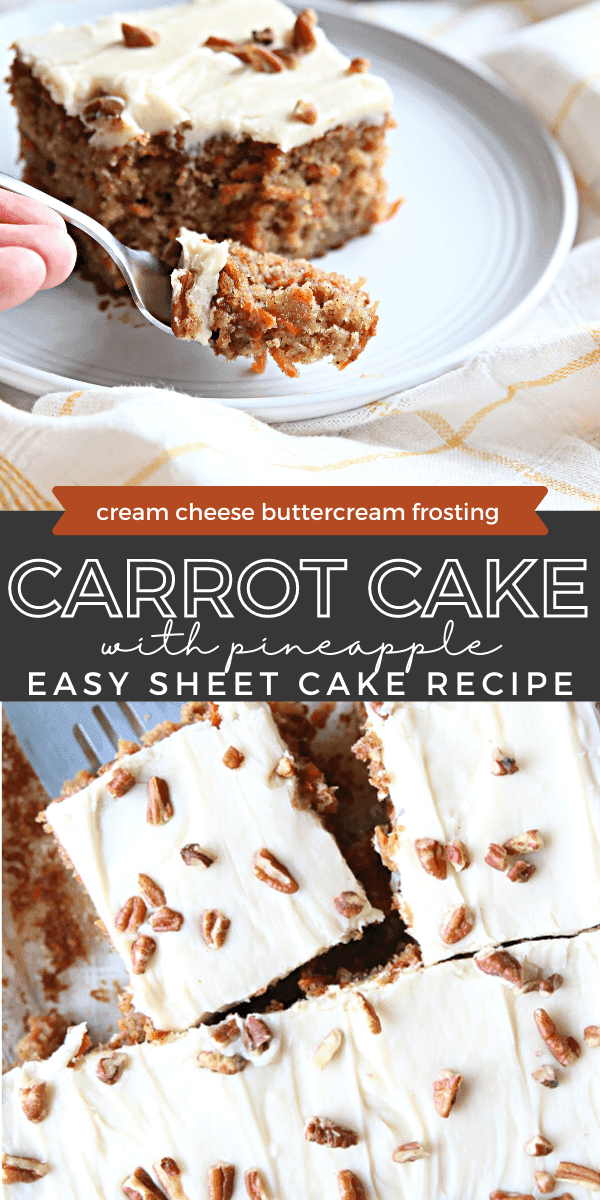 Rich and chocolatey! The mayonnaise makes this chocolate cake one of the moistest cake you'll eat.
Kind of like a cobbler, but it's not. Simple and easy.
Pumpkin Crunch Cake is the ultimate cake mix dump cake for fall.
Great for making a layered fruit and pudding trifle.
Yes, you can make desserts and cake in your crockpot.
This cake mix hack is a keeper.
You'll never go back to shortcake biscuits for your Strawberry shortcake after tasting this recipe.
This warm and gooey dessert is the perfect blend of sweet and tangy!
This recipe combines two favorite flavors for the most delicious cake ever!
Baked with plenty of apples and flavor. This cake is perfect with a good cup of coffee.
Crockpot cakes are one of my favorite ways to make dessert.
This cake mix hack is for all the chocolate peanut butter fans.