Grab some yellow tissue paper, a glue gun, craft scissors and a small branch because I'm showing you how I made Tissue Paper Flowers for making DIY Faux Forsythia Branches and blooms. Decorating for spring just got easier and budget-friendly.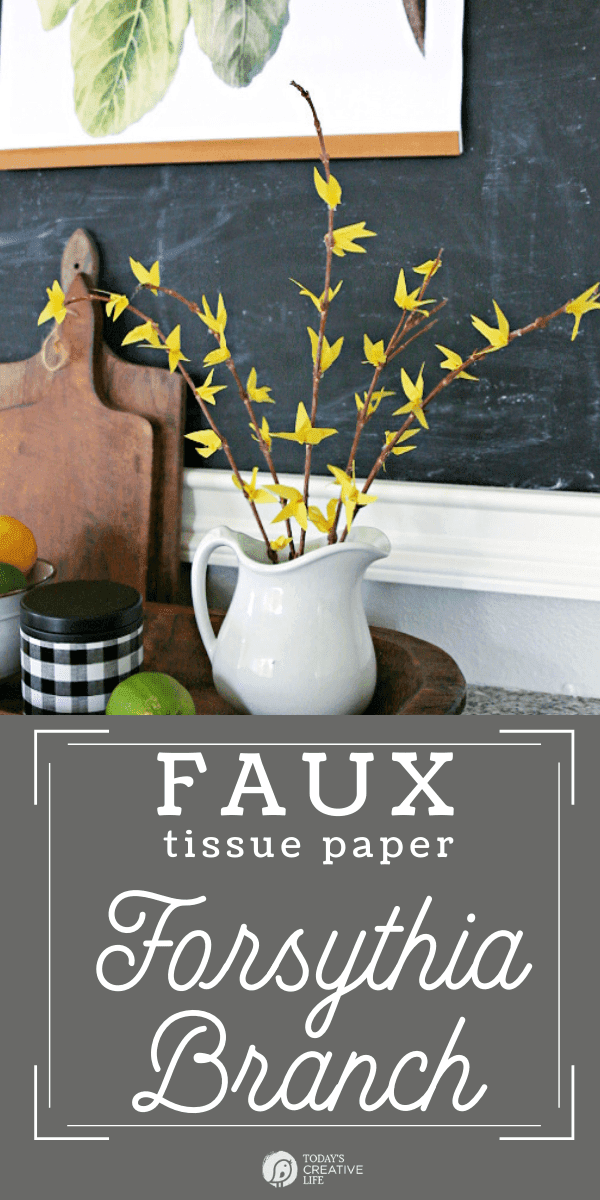 DIY Faux Forsythia Branches
I've made many DIY tissue paper flowers in many shapes, but I had never made tissue paper forsythia blooms. Maybe because I've always usually just clipped a branch or two from my mother-in-law's yard. This is the first spring after she moved and I quickly realized my spring decor wasn't complete without them. So I made my own faux forsythia branches that will last a lot longer.
Don't they look amazing? I was shocked by how real they look. I styled them in my kitchen next to my DIY Chalk Board and a new spring printable botanical wall hanging, which you can find in my shop.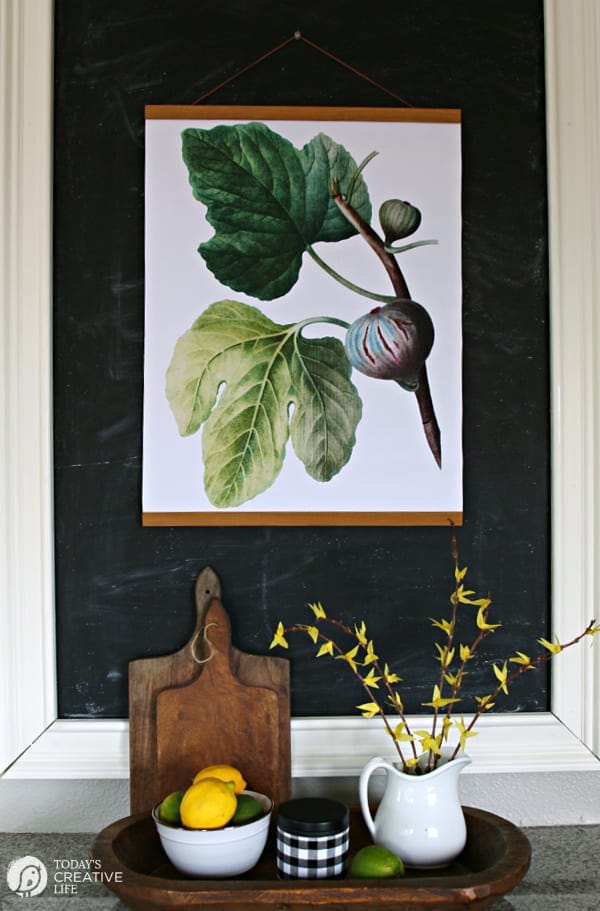 DIY Tissue Paper Flowers Supplies
Tissue Paper – or crepe paper.
Craft Scissors
Glue Gun
Branch – if you're making blossoms that are usually on a bush or tree, like forsythia or cherry blooms.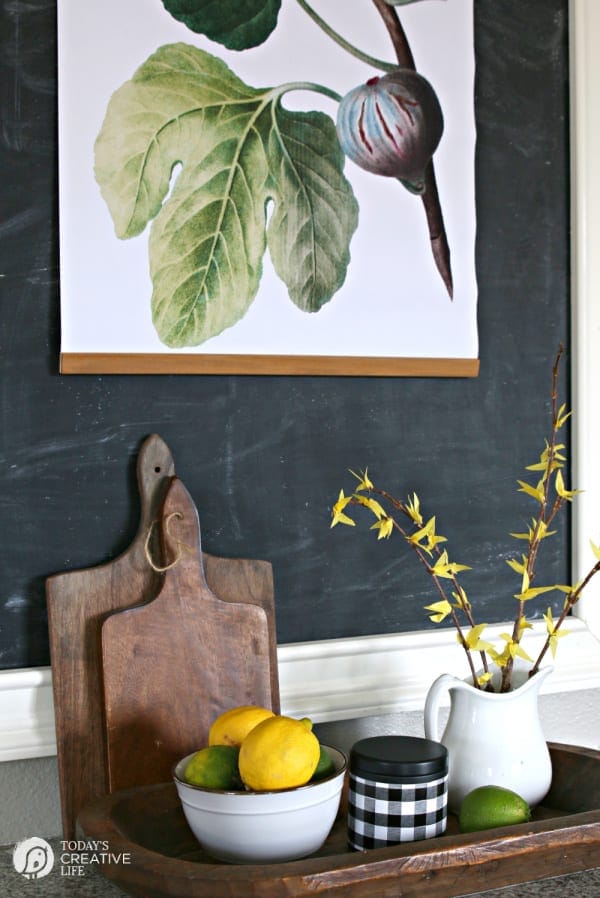 How to Make Tissue Paper Flowers
Tissue paper flowers are a popular spring craft, especially for kids. My friend Lia Griffith has many amazing paper flower patterns that go way beyond any kid's craft, they will blow your mind.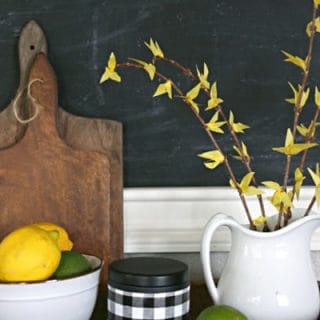 DIY Tissue Paper Forsythia Flowers
Yield: 1
Prep Time: 5 minutes
Active Time: 30 minutes
Total Time: 35 minutes
Difficulty: Easy
Estimated Cost: $10
Make easy spring home decor with these DIY tissue paper flower forsythia branches.
Materials
Yellow Tissue Paper
Small Branch
Tools
Glue Gun or Pen
Craft Scissors
Instructions
Gather your supplies: Tissue paper, scissors, glue gun and branch.
Stack 2 or 4 sheets of unfolded tissue on top of each other. Cut a 1/2 inch strip along the edge.
Cut the long strip into 1 1/2 or 2-inch pieces.
Cut from the corner and down along the edge. The black marker line shows the cut mark direction.
You'll end up with 2 small pieces that are pointed on each end.
Cross the cut tissue strips into an X.
Gently fold the bottom part of the X, upwards.
Fold or pinch the bottom.
Glue a small dollop of hot glue onto the branch where a bloom would naturally be.
Place the bottom portion of the bloom on the glue. I will often use a pointed tool to then push the bloom into the glue to position it correctly. This way I don't risk burning my fingers.
Repeat until you have the number of blooms on a branch. Make as many branches as you desire.
Once the glue has dried, you can remove any glue strings or extra blobs.
Notes
The glue from a Hot Glue Gun is VERY hot. Be careful not to burn your fingers by using either finger silicone covers or a pointed tool for positioning.
Recommended Products
As an Amazon Associate and member of other affiliate programs, I earn from qualifying purchases.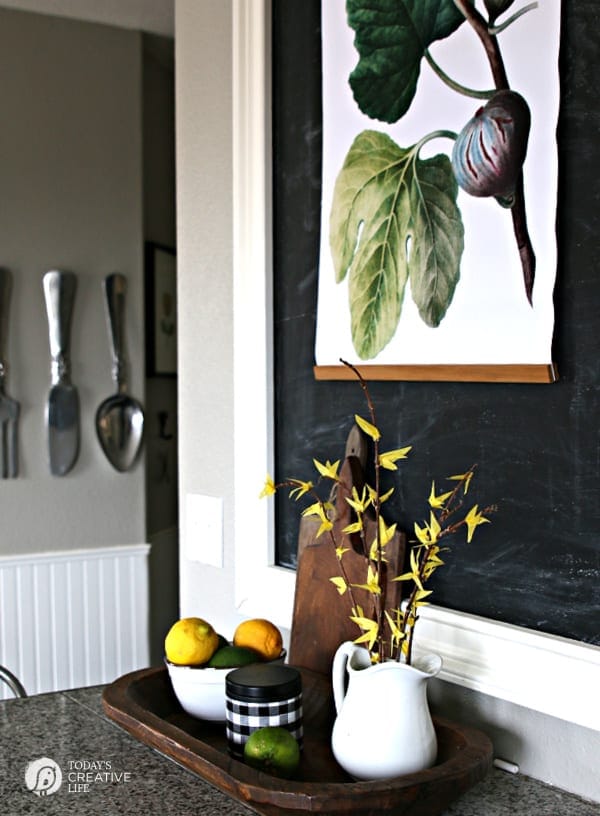 How to Use DIY Faux Forsythia Branches
Because forsythia bushes usually start blooming in the spring, they are perfect for spring decorating. Here are a few ideas on how to use these beautiful tissue paper flowers.
Create a Bouquet – Make at least 5 faux forsythia branches and place them in your favorite vase. Your vase will determine the length of branches you'll need. I'm using a cute ceramic farmhouse pitcher which looks great in my kitchen.
Make a Wreath – Depending on the flexibility of your branches, you could make a wreath by adding your new forsythia branches to a grapevine wreath. You could also try adding the tissue paper flower forsythia blooms directly to the grapevine wreath too.
Gather and Hang – Make up a few and turn upside down and gather the ends, tie the bottom ends together with a ribbon or twine, and hang on your door for a stunning spring door.
Make Garland – You'll have to make up quite a few for this project. Start layering and lining them up into a garland, securing them to each other with floral wire.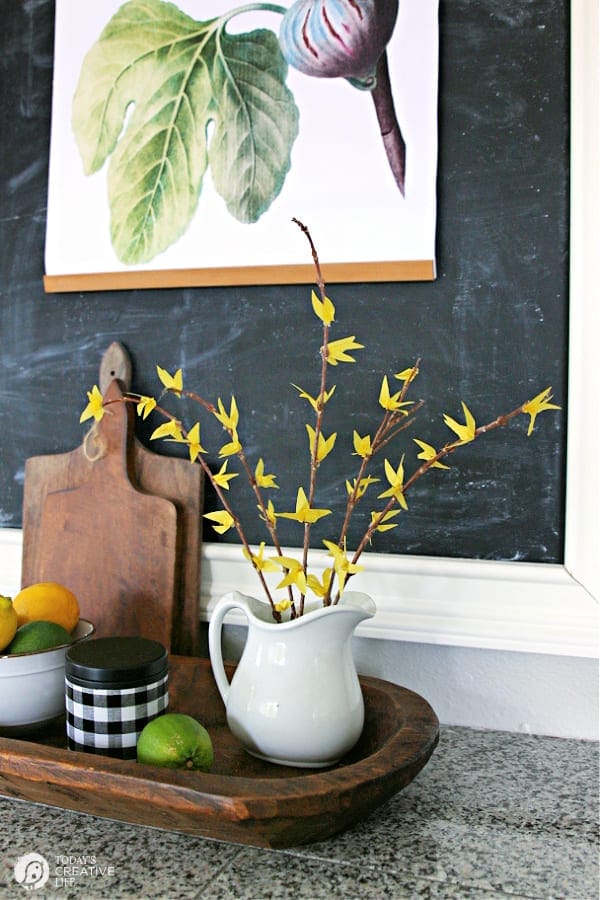 How to Store DIY Faux Forsythia Branches and Tissue Paper Flowers
Very Carefully! Because tissue can get smashed easily, it's all about protecting the paper blooms. For my faux forsythia branches, I'll store them upside down with the ends tied together and then hang them in the basement. Other paper flowers will do better in a plastic storage tote.
Happy Crafting!
DIY Home Decor Ideas
Create your own style with DIY Home Decorating Ideas.
Easy wall art made with printable botanicals for all seasons. See them in my SHOP.
Springtime botanical wall art printable for a farmhouse vibe. Find it in my shop.
Printable floral designs make the best home decor.
This is a fun DIY craft for unexpected home decor.
Spring Decorating is easier with printable ideas.
For the Vintage and Modern farmhouse style.
Create a monogram for your spring door.
Doily flowers the kids can help make.
Another springtime kids craft you can use for home decor.
A simple and beautiful table centerpiece for your spring table.