I have been wanting to make these DIY Botanical Coasters for a long time! 
I already had the tiles a friend gave me, along with botanicals found on The Graphics Fairy, I couldn't stop thinking about them! See my latest Shibori Tie-dye inspired DIY Drink Coasters. 
DIY Botanical Coasters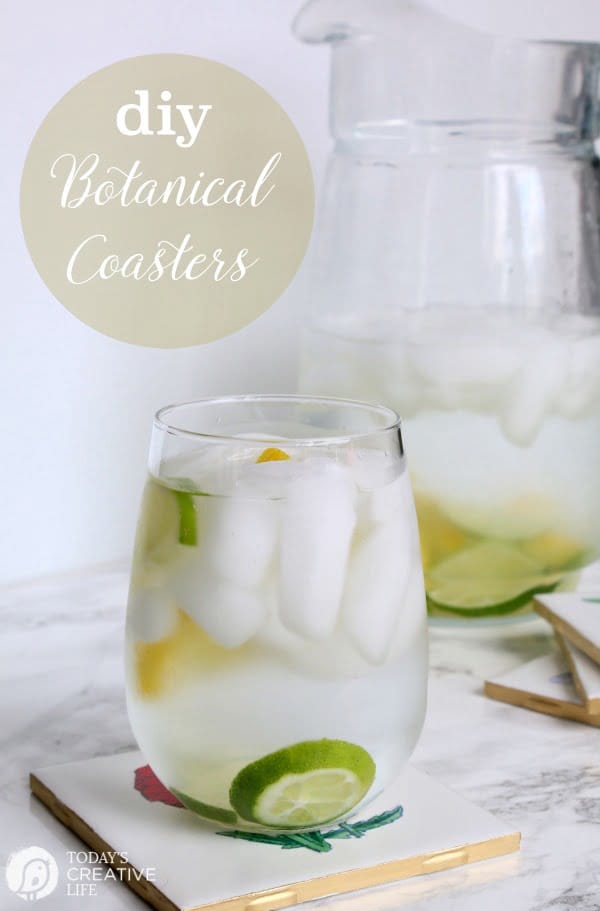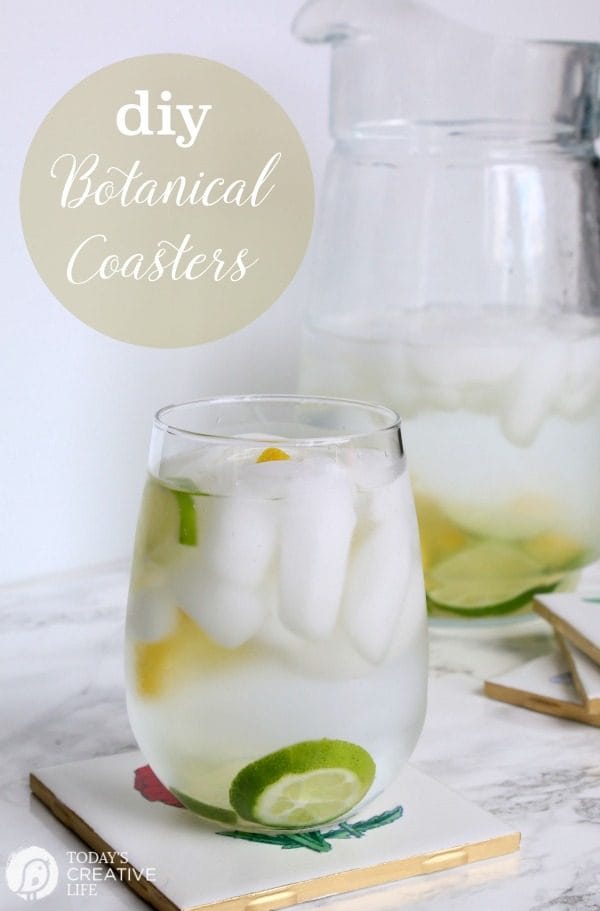 The funny thing is….. We don't really even use coasters in our home. Well that's not entirely true…. I have one on my desk and one on my bedside table. But other than that….. nope, we don't use them.


Before you imagine my tables with water rings all over them, you'll be happy to know, we have an old trunk in our family room where our drinks end up. It doesn't need a coaster.
That being said, I can't explain my obsession with making coasters, maybe because they're so easy! And they make great gifts. Remember my Plaid Coasters? Or my Holiday Coasters?
To find the perfect botanical images, I headed to my favorite image site, The Graphics Fairy. I knew I'd find something there and I did! I was so excited to get started on this project that had been swimming around in my head for weeks, but quickly realized I needed a new ink cartridge in my printer. DARN IT!  We had been planning on getting a new printer and I was dragging my feet on buy new cartridges. Those things can be so spendy and I just didn't want to commit to my old printer for one more round.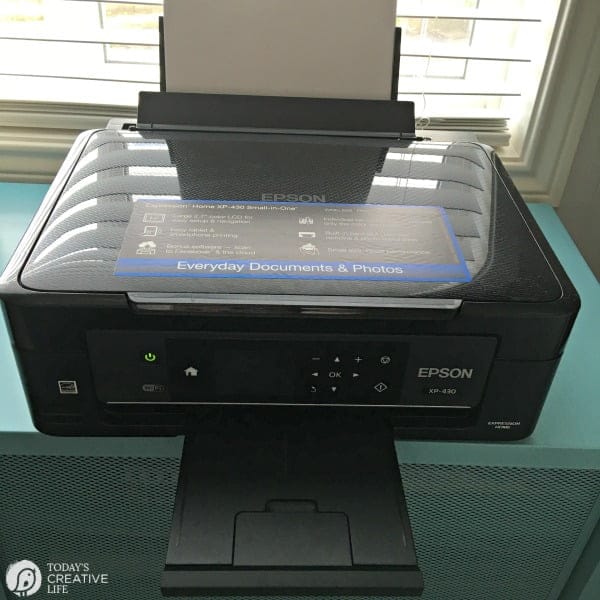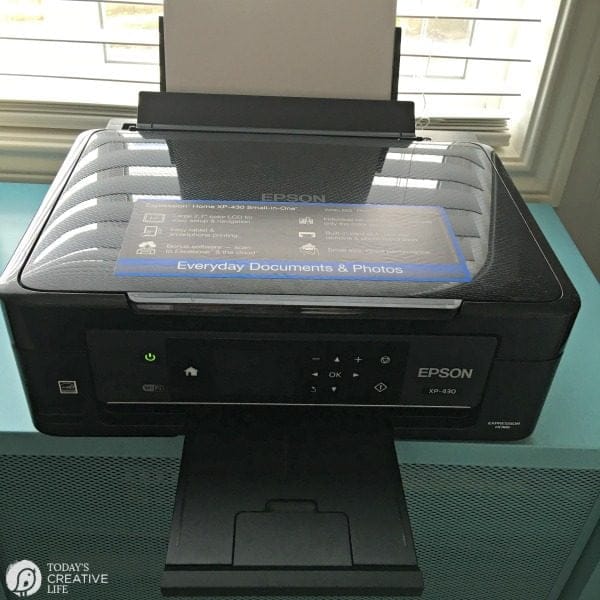 As luck with have it, I opened my inbox and saw an email from Epson, asking if I would like to review their Epson Expression Home XP-430. What timing! Of course I would and they put it in the mail that day! When it arrived a couple of days later, I was worried it would be hard to set up since it's wireless. Boy was I wrong. It was probably one of the easiest printers I have ever set up. It was ready to print within 10 min after taking it out of the box! Gotta love that!
Ultra-Compact, Wireless, Epson Expression Home XP-430 Delivers Affordable and Convenient Small-in-One Capabilities with Seamless Printing from Facebook, Instagram and more!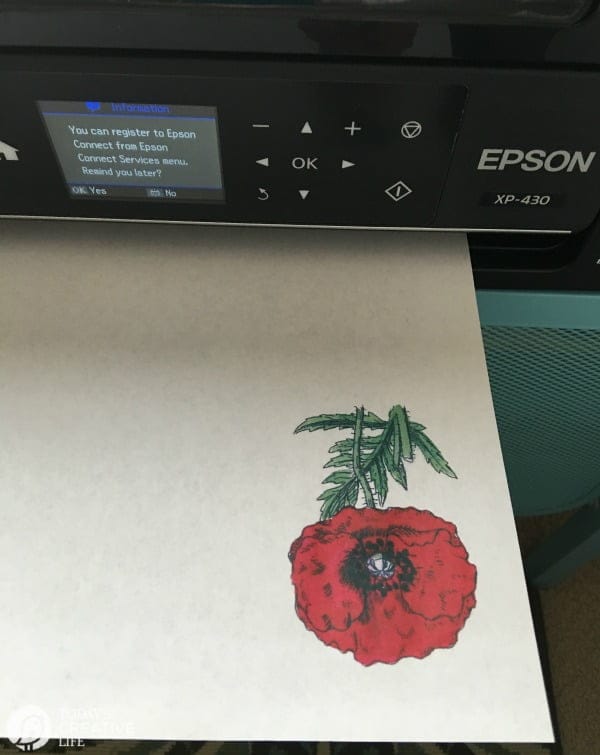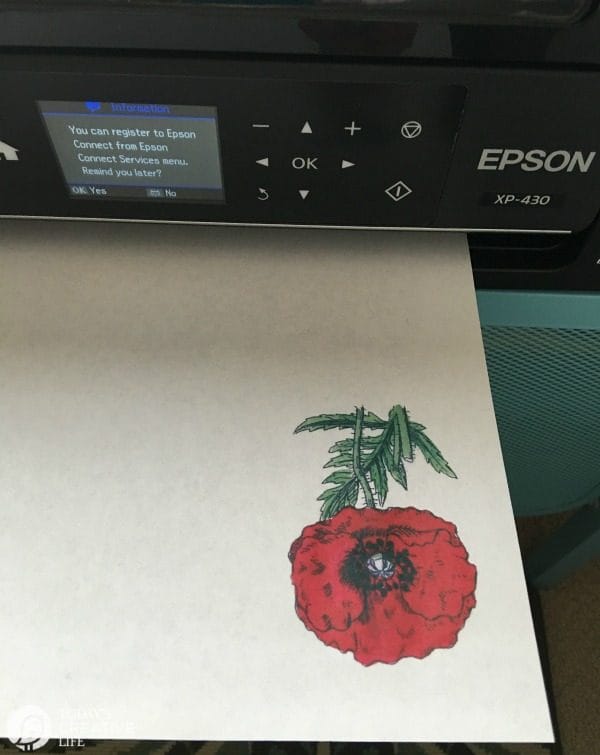 I had my botanicals printed that afternoon and was ready to get started on my project!
How to Make DIY Botanical Coasters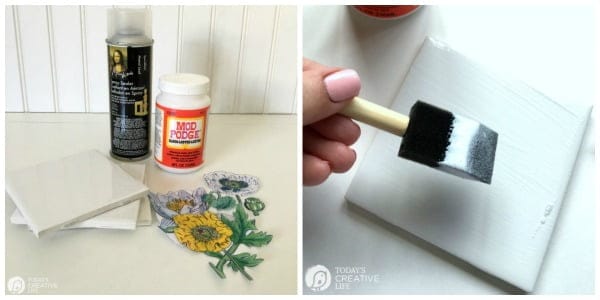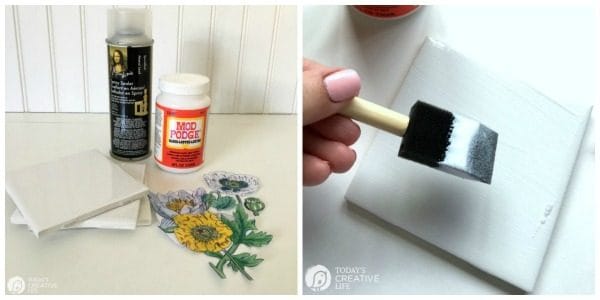 1. Gather your supplies
2. Decoupage Coat One
Using any type of craft brush, brush on your first coat of Mod Podge, covering the entire top portion of the tile.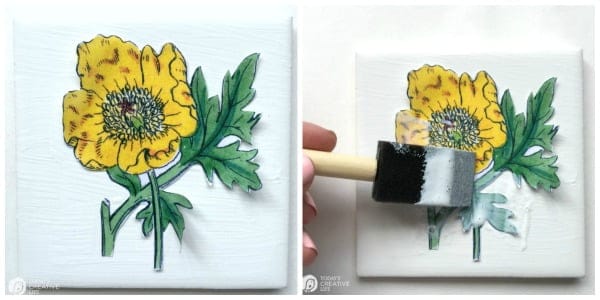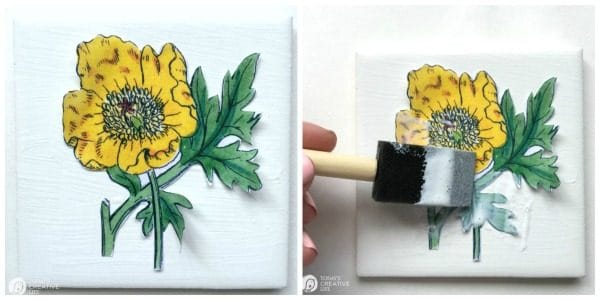 3. Add your Botanical
Immediately after coating your tile, place your image on top and gently press down with your brush.
4. Coat Two
Gently paint your second coat of Mod Podge over your image and the entire top portion of the tile. Be sure that all edges of your image are sticking nicely to the tile. Set aside to allow to dry for a couple of hours. The surface will not feel tacky when it's completely dry.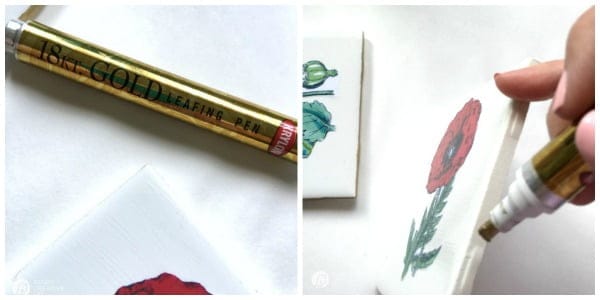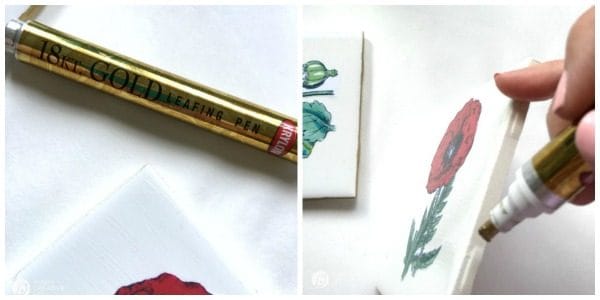 5. Finishing Touches
I added a little bling to the side edges of my diy botanical coasters with my Gold Leafing Pen. This works just like a marker and gave a finished look to the sides of my tiles.
Because the bottom of the tiles are raw ceramic, you may want to place felt or cork to the underside. I've used small felt furniture pads before and they work well. They also come in self adhesive sheets if you want to cover the underside completely.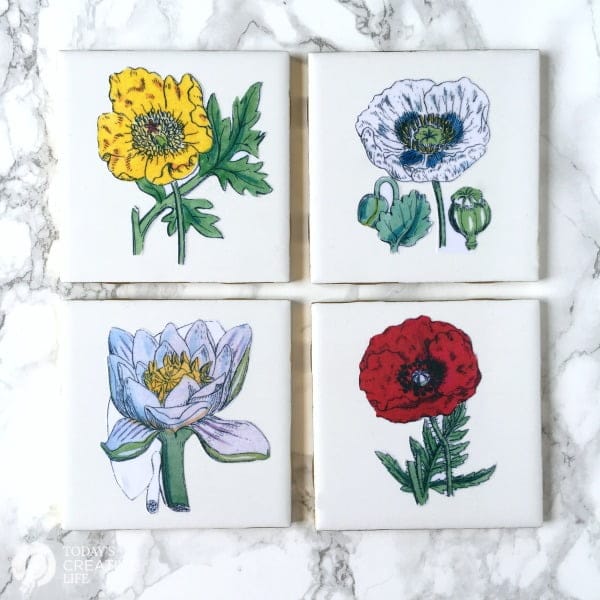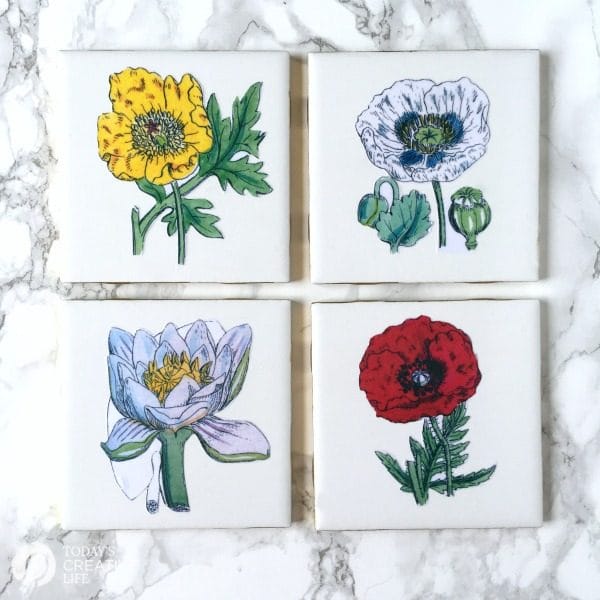 I love them! Aside from a few visible brush marks, I'd say they're perfect!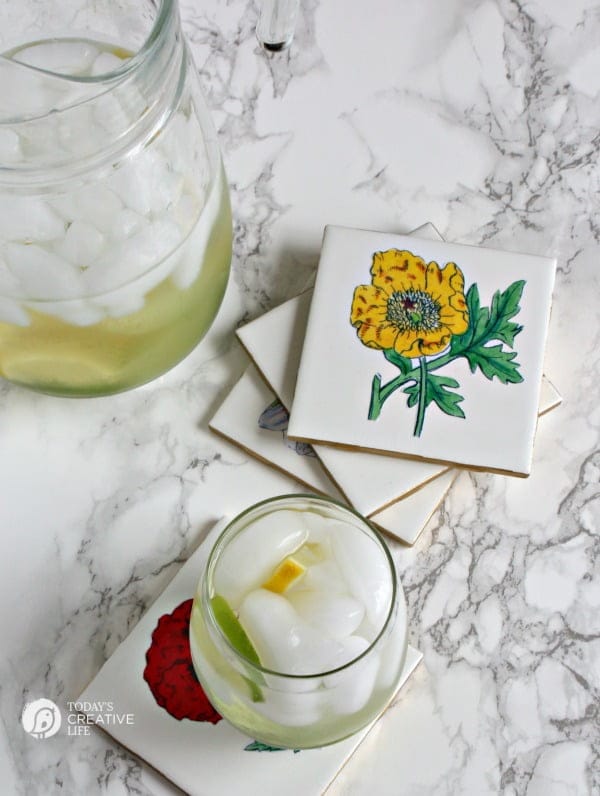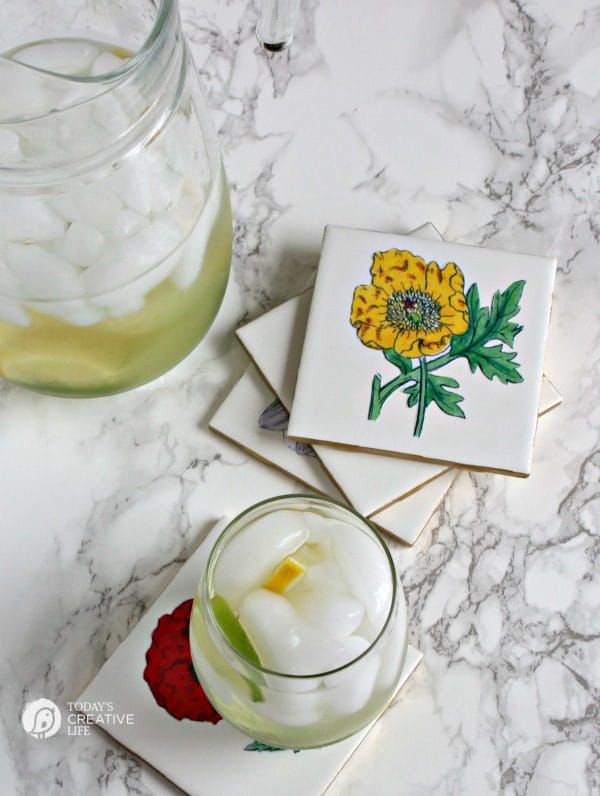 I think I'm going to actually use my DIY Botanical Coasters outside on the patio, so I'll give them one more coat of Outdoor Mod Podge. These would also make a great diy gift idea! So simple and inexpensive.
Need a craft idea for kids? Print out their art work and decoupage to a tile! So many great ideas!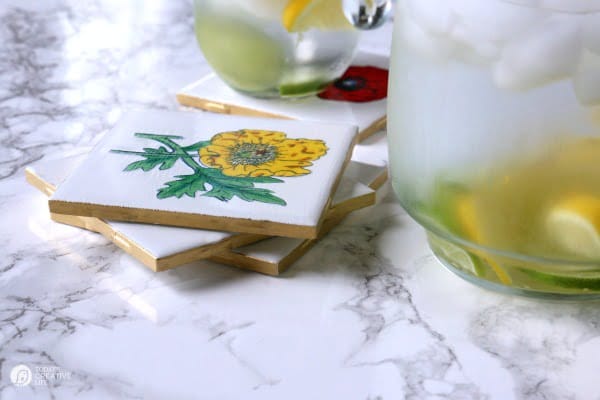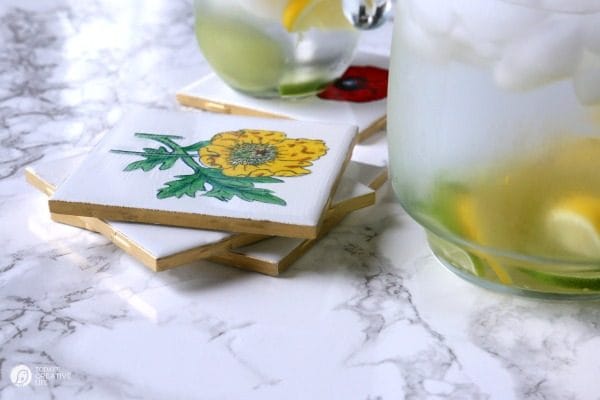 ---
Epson Expression Home XP-430 – My thoughts
If you're looking for a printer at a good price point for under $100. This is a great printer! You can buy one for $69!  For everything it does, that's an amazing price!
I love how compact it is and that it doesn't need a connection to scan or print. I took my printer to my aunts home, over an hour away to scan several photos of my late mother. My aunt wanted me to scan them, but wasn't able to let them out of her site, so that's when I realized I could just bring my printer. I scanned all the photos onto a camera card and couldn't believe how easy. When I got home, I thought I would have to set my printer up all over again. All I did was plug in it and it worked! So for the tech challenged, this is your printer!
It's easy because it features Wi-Fi Certified™ and Wi-Fi Direct™ for printing without a router or wireless connection and comes equipped with Epsom Connect™ to print and scan from a tablet, smartphone or computer from virtually anywhere in the world!  I'm excited that I can print directly FROM my iphone!
INSTAGRAM – I haven't tried it yet, but I'm excited to try the Epson Creative Print App with my instagram photos. I can create and print collages directly from a smart phone or tablet in a variety of sizes and templates!
This post contains affiliate links. This cost you nothing extra. The printer was sent to me for a review. All thoughts and opinions shared are 100% mine.