I decoupaged 4 inch ceramic tiles with botanical images and Outdoor Mod Podge, to make these DIY Botanical Coasters. This simple craft is great for a DIY gift, or for yourself.
This post was originally published in 2016. I have updated the tutorial for easier crafting.
I already had the tiles a friend gave me, along with botanicals found on The Graphics Fairy, I couldn't stop thinking about them! See my latest Shibori Tie-dye inspired DIY Drink Coasters.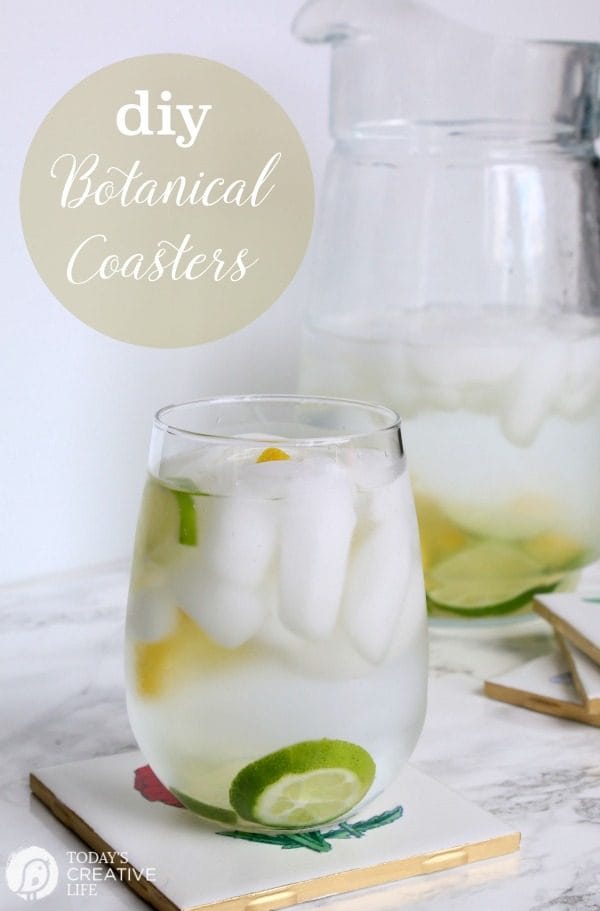 DIY Botanical Coasters
I love all things botanical. I have tutorials on how to make botanical wall art for Summer and Fall, a vintage botanical banner and more. So even though we don't often use coasters, I already had all the supplies, so why not have fun creating.

I've made several sets because they make great gifts. Remember my Plaid Coasters? Or my Holiday Coasters?
To find the perfect botanical images, I headed to my favorite image site, The Graphics Fairy. I knew I'd find something there and I did.
Supplies for Making DIY Botanical Coasters
Mod Podge – I used glossy but will coat with Outdoor Mod Podge so I can use them on the patio. You can use outdoor for all coats if wanted.
Spray Sealer – After you print, spray your images lightly with the sealer in a well-ventilated area. Allow drying. This will prevent color bleeding. Although the Epson ink is smudge-proof, you may not need it.
Printed and trimmed Botanicals – find your free download at The Graphics Fairy Here.
Foam Brush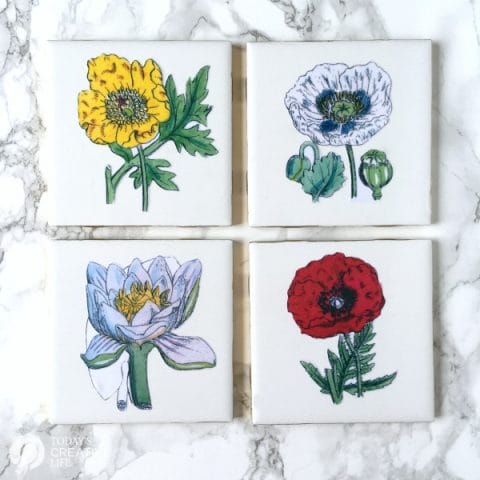 How to Make Decoupaged Ceramic Tile Coasters
Yield: 4
Prep Time: 15 minutes
Active Time: 15 minutes
Additional Time: 2 hours
Total Time: 2 hours 30 minutes
Difficulty: Easy
Estimated Cost: $10
Easy to make coasters using ceramic tiles, printed images and Mod Podge.
Materials
Printer paper
White 4x4 inch Ceramic Tiles
Acrylic Spray Sealer
Instructions
Gather your supplies.
Print your images and spray lighting with acrylic sealer. This will help the ink from smearing. Allow to dry.
Trim flowers.
Apply your first coat of outdoor Mod Podge with a craft brush to your tile covering the top of the tile completely.
Immediately after coating your tile, place your image face up on top and gently press down with your brush.
Gently paint your second coat of Mod Podge over your image and the entire top portion of the tile. Be sure that all edges of your image are sticking nicely to the tile. Set aside to allow to dry for a couple of hours. The surface will not feel tacky when it's completely dry.
Take the Gold Leafing Pen and draw along the edges. This works just like a marker and gave a finished look to the sides of my tiles.
Because the bottom backside can be rough, you'll want to glue small cork discs or cork squares to the back.
Notes
Use any printed image you'd like. I have a few botanical printables available in the Printable Vault.
I love them! Aside from a few visible brush marks, I'd say they're perfect!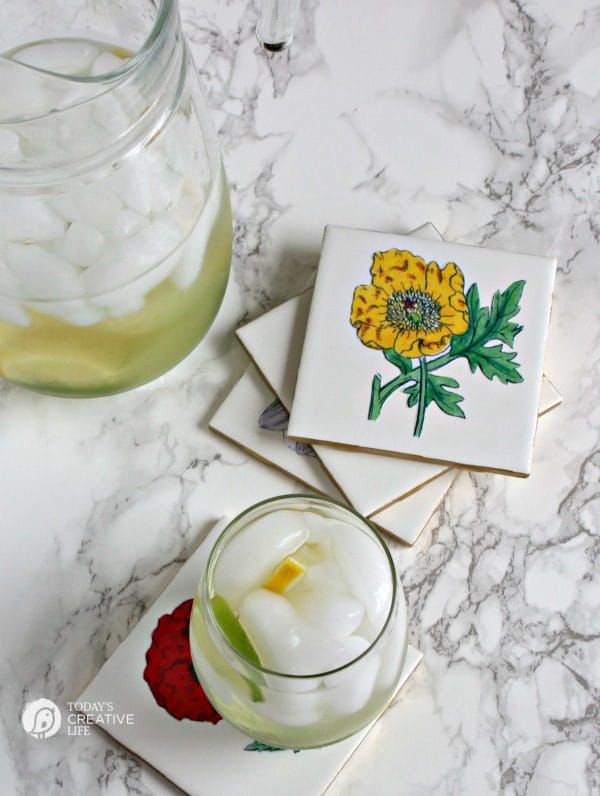 I think I'm going to actually use my DIY Botanical Coasters outside on the patio, so I'll give them one more coat of Outdoor Mod Podge. These would also make a great diy gift idea! So simple and inexpensive.
Need a craft idea for kids? Print out their artwork and decoupage to a tile! So many great ideas!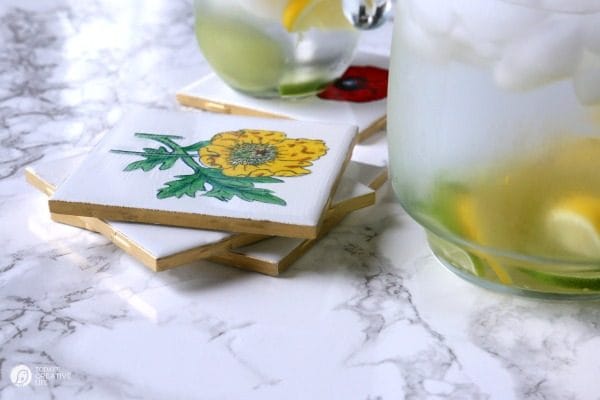 DIY Botanical Ideas
Botanicals for Crafting and DIY Home Decor.
Use botanical printables to make iron-on home decor.
DIY Decorating for Fall and Autumn
Follow this DIY craft tutorial and learn how to transfer images onto a wax candle using tissue paper or decorative napkins.
Photo Credit: todayscreativelife.com
Print your own wall art in any size you want.
Easy to make paper banner with botanical images.
Quick and easy home decor.
Create beautiful decor from printed papers.
Tropical botanical for framing.