These Gingerbread House DIY Christmas Ornaments are super easy to make. I used chipboard, chalk markers, and my Cricut to make these unique handmade Christmas ornaments. Don't worry, they can be made without a cutting machine.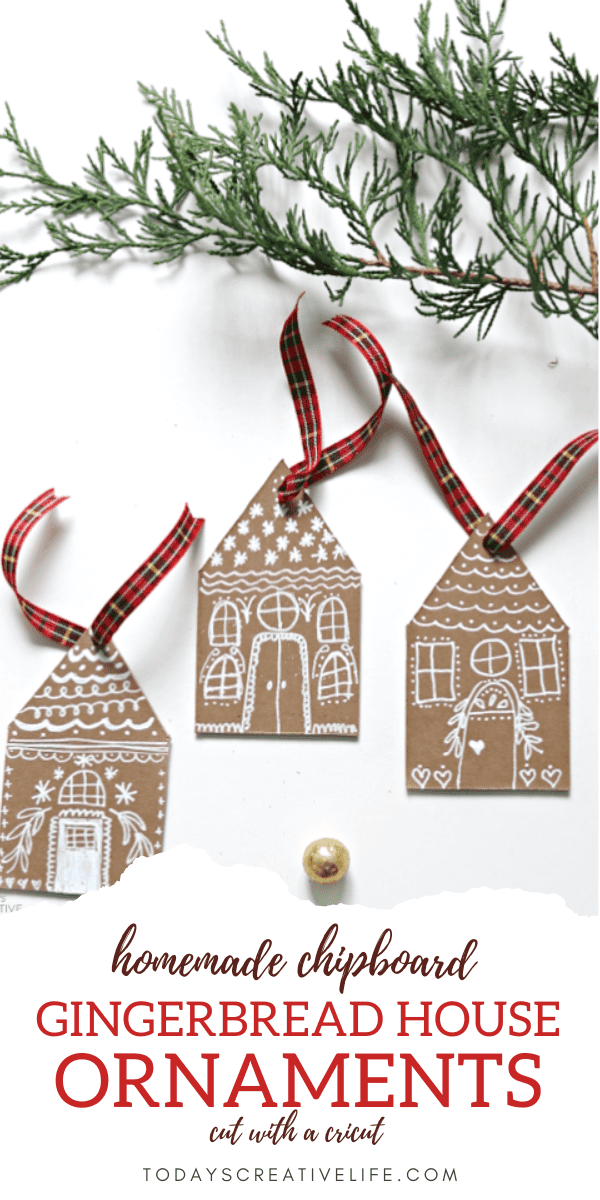 Gingerbread House DIY Christmas Ornaments
I love making my own DIY ornaments each year, adding to my already large collection of holiday decor. Last year I taught everyone how to make clay ornaments, making stars and Christmas trees. Before that, everyone loved learning how to make painted and glittered glass ornaments. There's something about being creative during the holiday season that makes us feel so good.
How to Make Homemade Holiday Ornaments
These simple and easy holiday ornaments are easy to make using a cutting machine like the Cricut or Silhouette or cutting yourself with craft scissors.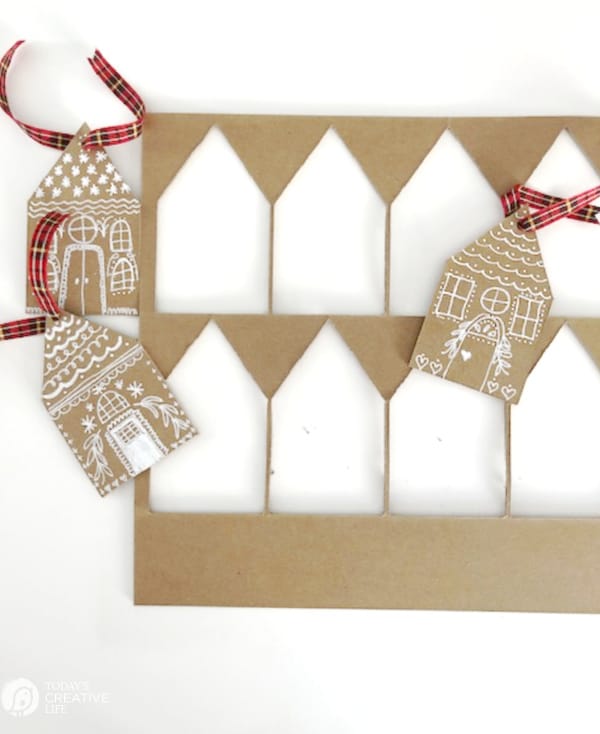 I used my Cricut Maker and the Cricut brand chipboard they sent me a couple of years ago. But there's no reason why you couldn't use scissors with a thicker cardstock in the kraft color or even cardboard. This chipboard material was pretty thick and it surprised me that it said it would take over 2 hours to cut. Good thing they're cute!
DIY Christmas Ornament Supplies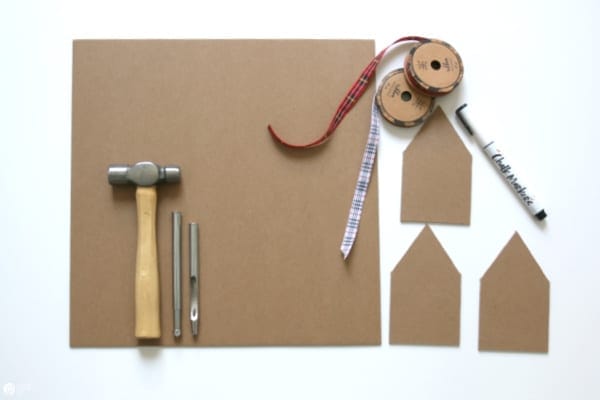 Cricut Maker – if you're wanting to use chipboard.

Scissors – if you're using thick cardstock or cardboard. You'll also use the scissors for cutting ribbon.
Chipboard, Cardstock or Cardboard

How to Make Gingerbread House Ornaments

Yield: 8

Prep Time: 5 minutes

Active Time: 15 minutes

Total Time: 20 minutes

Difficulty: Easy

Estimated Cost: $10

Easy to Make Holiday Ornaments using chip board or cardboard

Materials

Chip Board, Thick Kraft Cardstock or Plain Cardboard
White Chalk Marker
Ribbon
Gingerbread House Template

Tools

Cricut Maker - not needed if you're using cardstock or cardboard
Scissors - if you're not using a cutting machine.
hole punch - depending on the thickness of your paper, will determine what type of tool you'll need. I used chipboard, so I used a hammer and hole punch tool.
Exacto Knife - if using cardboard

Instructions

Download your free Gingerbread House Template from the Printable Vault. If you're using a Cricut Maker, you can upload the template directly to your machine.
Gather your supplies.
If you're using a Cricut to cut thick chipboard, it will take a while.
Once you have your shapes cut, it's time to punch a hole in the top of each piece.
Use your white chalk marker to freehand draw your gingerbread house designs.
Thread a ribbon or piece of twine through the hole to hang.

Recommended Products

As an Amazon Associate and member of other affiliate programs, I earn from qualifying purchases.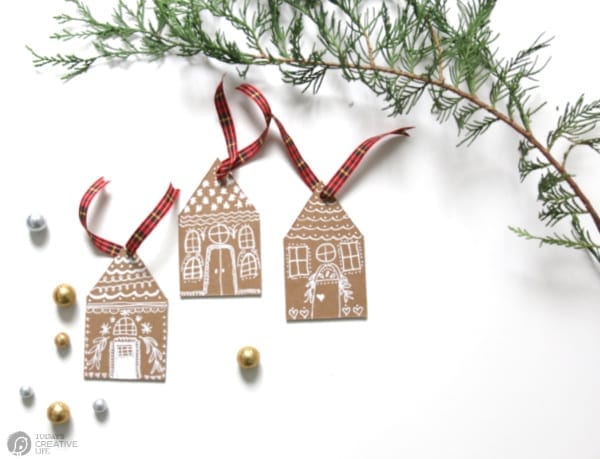 As you can see, my drawing is not perfect, but I'm OK with that. I used this image below for inspiration when deciding how my gingerbread house ornaments should look.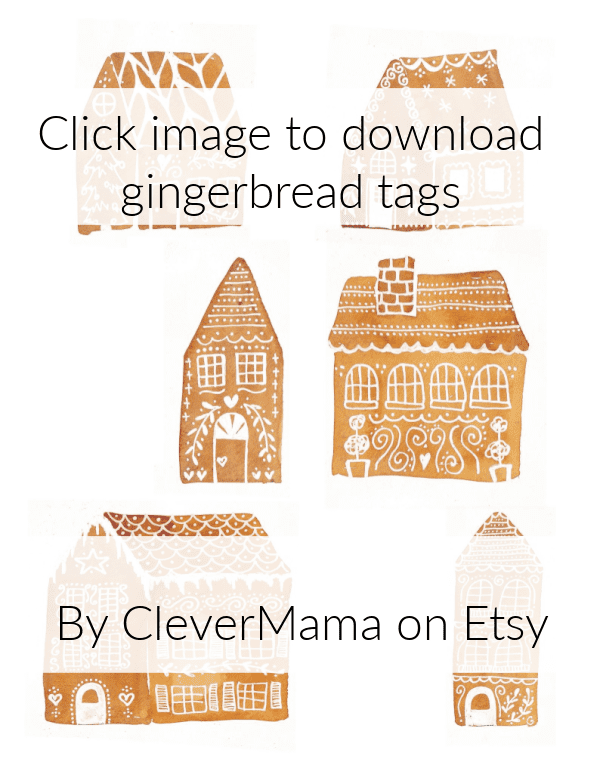 I suppose you could just download those adorable gift tags and just print them onto white cardstock and make it easier!
Please tag me on Instagram or Facebook if you make this project! @TodaysCreativeLife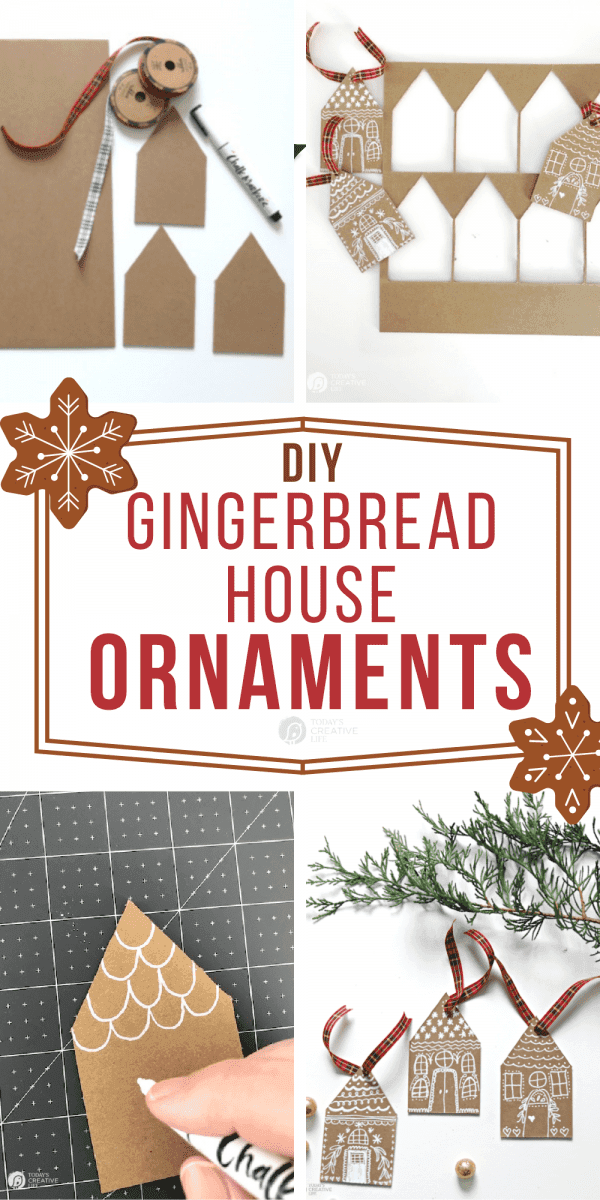 DIY Holiday Ornament Ideas
Easy to make homemade Christmas ornaments for all ages.
Easy cutout clay ornaments using polymer clay and cookie cutters.
Simple balsa wood star cutouts dripping in glitter.
Drying orange slices can be used for DIY Christmas ornaments or any holiday decor.
Recycle sweaters or socks for this cute idea.
This Etsy seller has some great ideas!
This is one of those Christmas ornaments that kids can easily make.
One of my favorite holiday crafts! Make custom colors!
Simple for young kids to make a beginner sewing project.