Decorating for 4th of July or any patriotic holiday is easy with these Free Patriotic Printables. Planning a Fourth of July celebration couldn't be more simple, festive and fun when you print out these Red, White and Blue Bottle Wrappers, Banner and Patriotic Door Decor.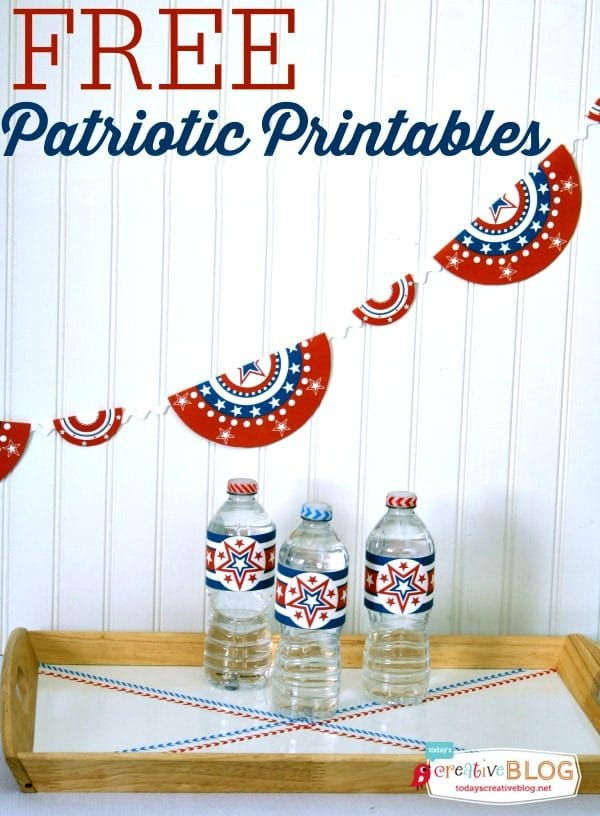 Free Patriotic Printables
To continue a stress-free holiday, whip up these easy table centerpieces.
You'll be party-ready in no time!
4th of July Printable Bunting
SIGN UP FOR FREE PRINTABLES BELOW
ALREADY have your password? Head straight to the Free Printable Vault.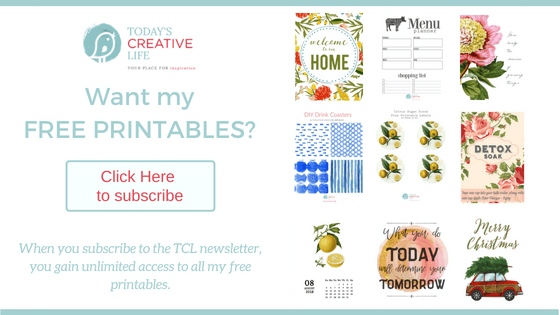 How to Make A 4th of July Paper Garland
Supplies Needed:
All printable downloads are offered at the end of this post. This circular bunting comes in 2 sizes. Feel free to mix them up or stick with one size. I decided to dress up mine with glitter. I love my patriotic door decor!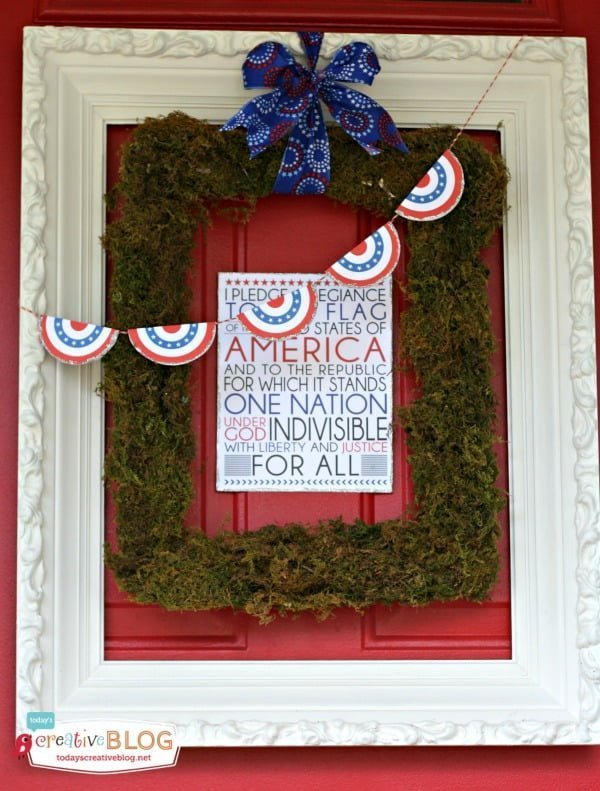 How to Make Patriotic Decor
Print and cut out each circle.
Measure and cut a piece of string to the length you need.
Place the circles in a line print side down.
Place the cut string over the circles right down the middle.
Add a glue dot or any adhesive to each circle on the unprinted side, at the top.
Start folding one side of each circle to meet the other side, aligning the edges.
If you want to add glitter to the edges, take some glue or Mod Podge and apply a very thin line to the edges. Sprinkle immediately with glitter.
Hang and enjoy!
Any type of ribbon, ric-rack or bakers twine will work with your new 4th of July printables. Here is one below that I mixed both sizes for a party banner to drape along a table or wall.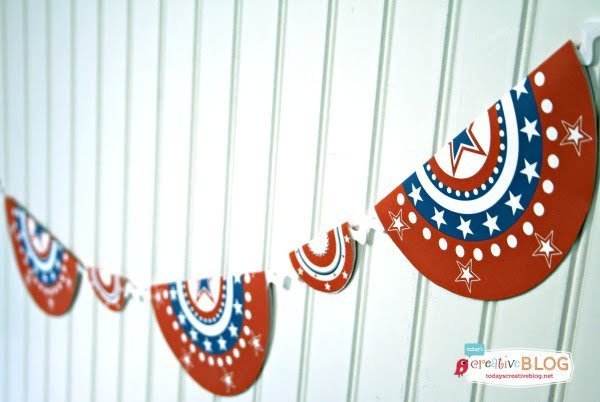 Patriotic Printable Bottle Labels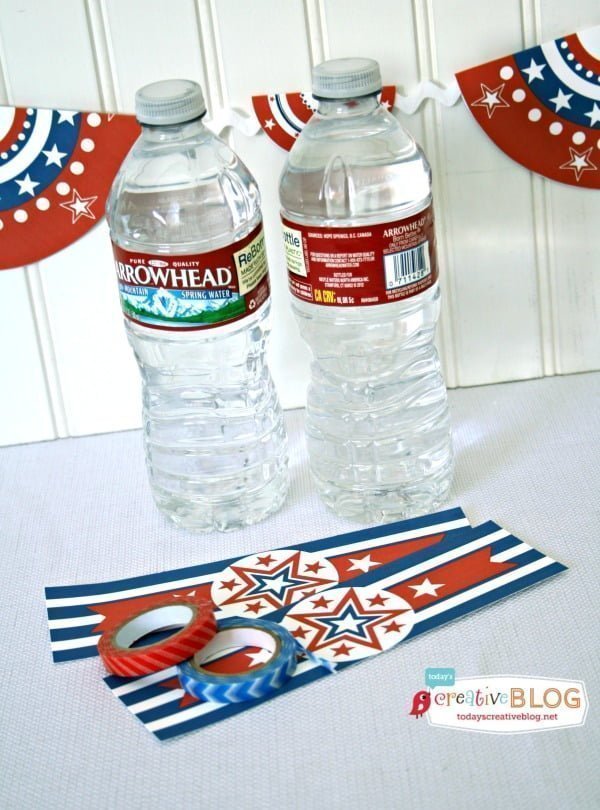 Free patriotic printables make decorating water bottles an easy way to bring charm to any gathering. Whether you're using pretty patterned duck tape to wrap them, like I've done several times, or you use a printable label, they are CUTE! People will like them. Trust me.
Bottle Label Supplies:
White Cardstock
Inkjet Printer
Washi Tape
Paper Trimmer
How to Make Patriotic Bottle Labels
Download and print on white cardstock.
Use a paper trimmer to trim each one.
Before wrapping, make sure bottles are dry.
Wrap label right over the existing label and affix with tape. You can use a colorfully patterned tape or try a double sided tape if you want a more seamless look. I also added a strip to the lids. I couldn't resist.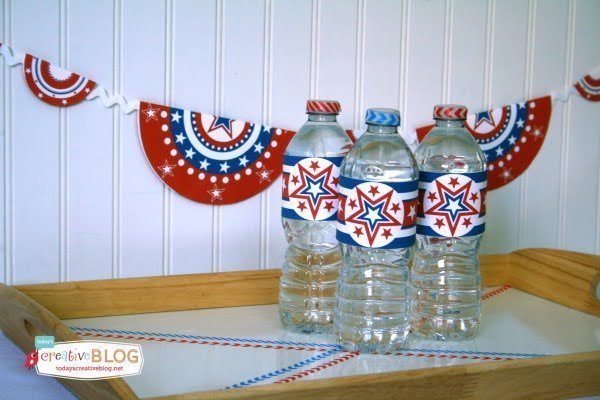 DIY Patriotic Tray
Decorating a tray that you already have it easy!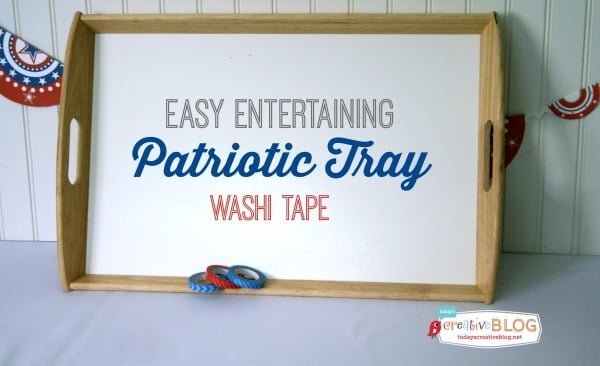 Supplies Needed:
Plain Serving Tray – I found mine at Goodwill.
Red, white and blue Washi Tape
How to Create a Patriotic Tray
Whether it's Fourth of July or just a birthday, you can create any design you want using decorative tape. I decided to keep it simple and create 4 lines from corner to corner. The beauty of this stuff is it peels up as easy as it sticks. No left over residue.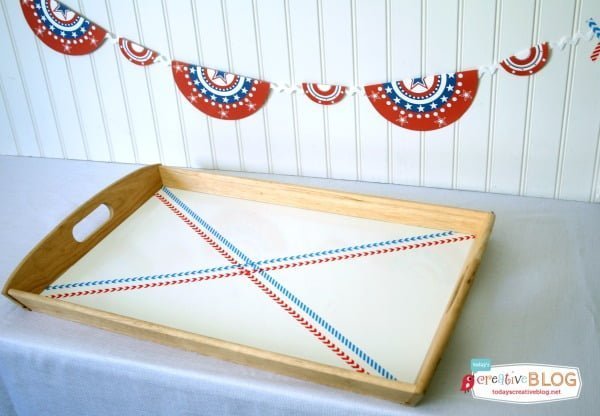 It's perfect for placing a bunch of wrapped water bottles on to. Simple and cute!
FREE Patriotic Printables DOWNLOADS BELOW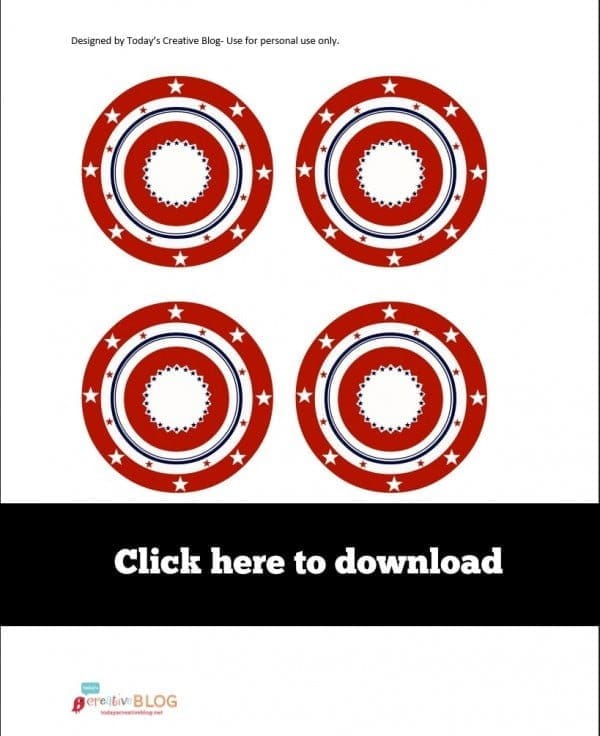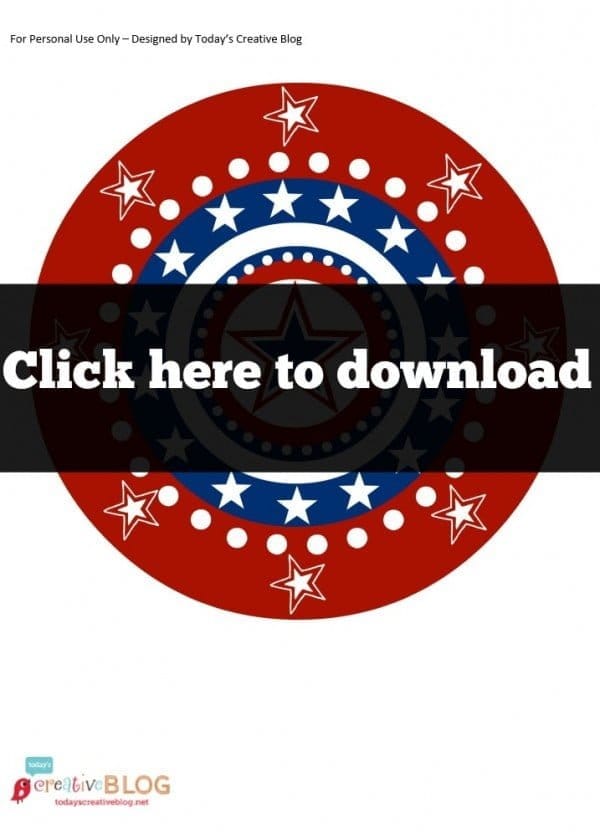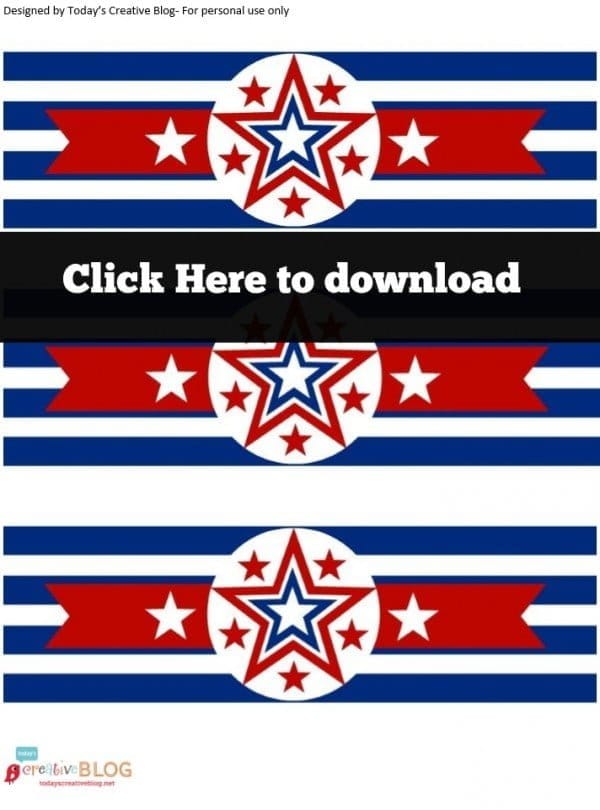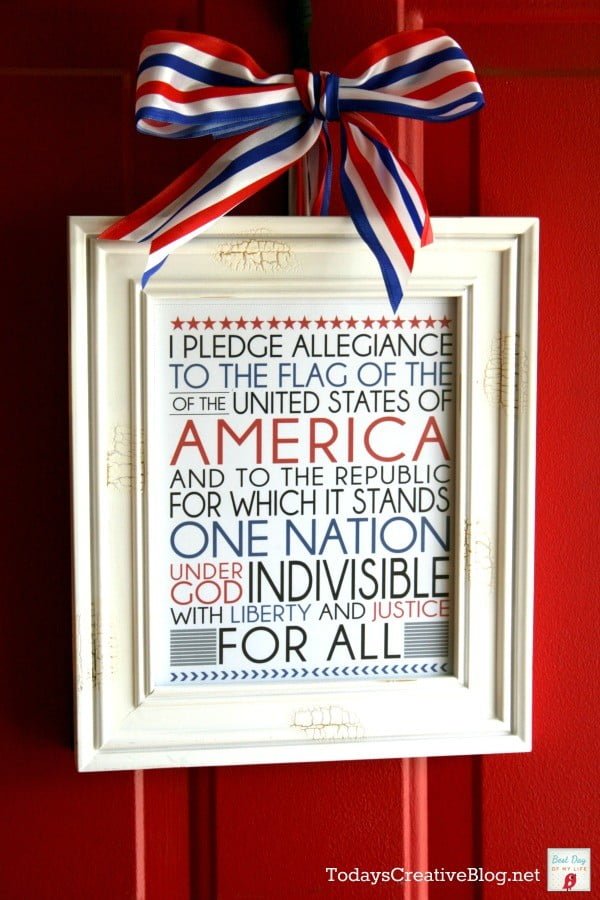 I Pledge Allegiance Free Download
Now you have all the Red, White and Blue Patriotic Printables you'll ever need!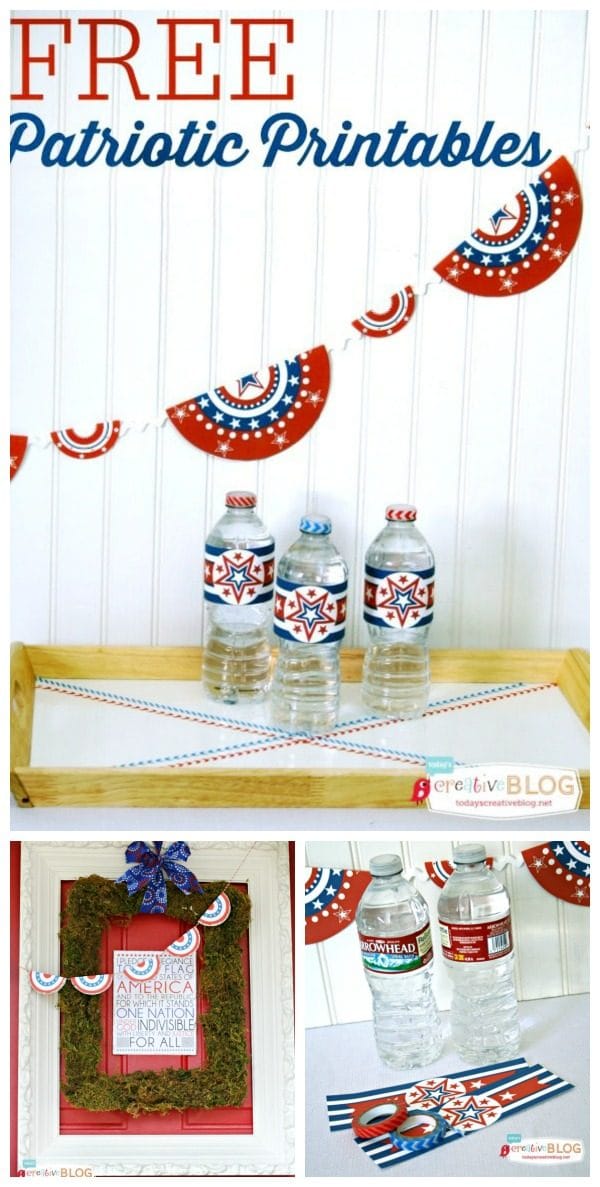 Patriotic Holiday Ideas
Creative ideas for celebrating patriotic holidays.
Free printables for your 4th of July celebration.
Print and hand these sparkler holders out to party guests or at a parade.
Printable cupcake toppers or food picks.
Easy to make colored rice for quick table decor.
Easy to make star garland for quick decor.
This DIY project will last years!
Perfect 4th of July sweet treat!