There is nothing easier than pumpkin decorating with DIY No Carve Decoupaged Pumpkins! Using a real or faux pumpkin, along with some mod podge, you can create your own creative fall and holiday decor!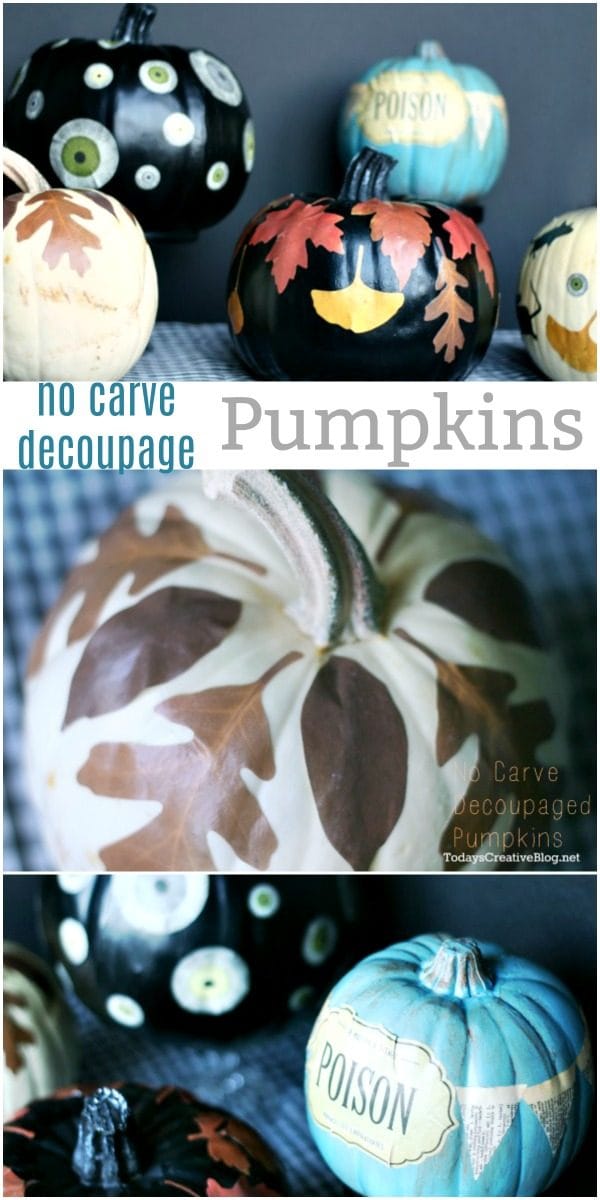 No Carve Decoupaged Pumpkins
While on on ABC Katu AMNW here in Portland Oregon, I shared a quick and simple no-carve way to decorate pumpkins for Halloween and fall decorating. I decorated a few pumpkins with rustic natural elements like leaves and then a few for Halloween with spooky images. A few weeks ago I also painted a few pumpkins, which is another great No Carving method.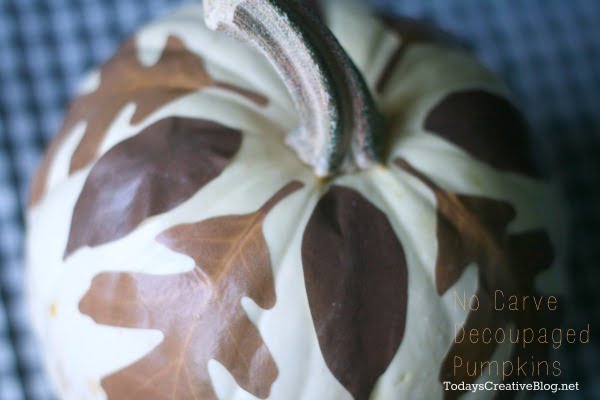 No Carve Decoupaged Pumpkins are a great way to decorate with out having to ……….well…….carve. I HATE carving pumpkins. I always start out with grand ideas and end up throwing a hissy fit when I am once again reminded that my skills are not good for carving. I always just end up with the typical tri-angle eyes and nose, when what I wanted were pumpkins that look like the front of Country Living.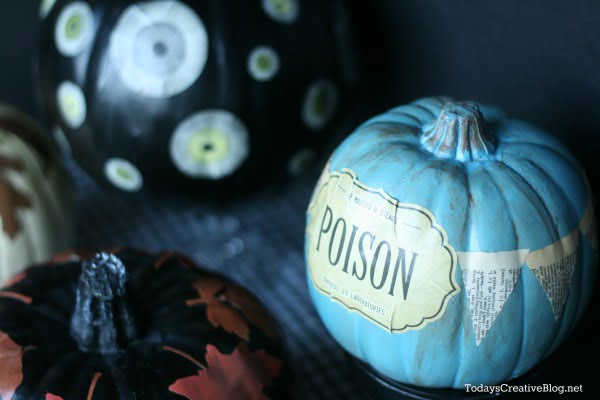 I have thrown in the towel and cried UNCLE and have found my new love of decorating pumpkins! Thank God for Mod Podge. If you're using them for outdoors, you'll want to use the outdoor formula. I'm using matte finish on mine because I didn't want them all shiny.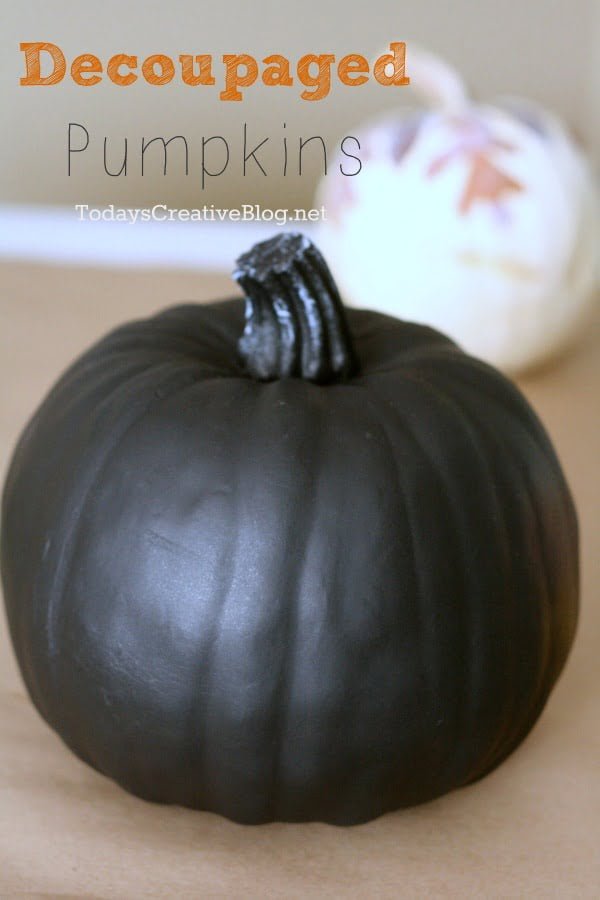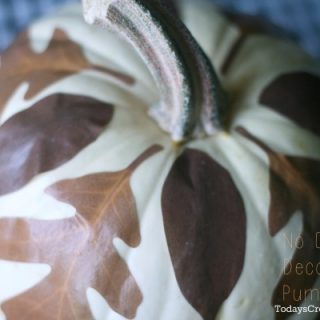 How to Decoupage Pumpkins
Yield: 1
Prep Time: 5 minutes
Active Time: 15 minutes
Additional Time: 45 minutes
Total Time: 1 hour 5 minutes
Difficulty: Easy
Estimated Cost: $10
Decoupaging pumpkins is a great way to decorate without carving.
Materials
Mod Podge or any decoupage glue- I used mat finish.
Pumpkins - real or fake.
Decorative paper cutouts - specially made designs for decoupage can be found in your craft store. Or use decorative paper napkins and use the top paper layer only. Thinner paper works best.
Paper plate for pouring glue onto.
Instructions
Gather your Supplies.
Brush a liberal amount of Mod Podge on your pumpkin in a small area large enough for your first image.
Place your image on the Mod Podged area.
Brush more Mod Podge OVER your image, smoothing any wrinkles.
Repeat. I covered the entire pumpkin with Mod Podge.
Now just let it dry for at least an hour. It will dry clear.
Notes
If you're wanting to use your pumpkins outside, you'll want to use the outdoor formula of Mod Podge. This will protect against moisture.
Recommended Products
As an Amazon Associate and member of other affiliate programs, I earn from qualifying purchases.
Can you Decoupage Real Leaves?
I have an abundance of fruit trees and maple trees in my back yard and thought I'd just save money and use leaves from my own trees, instead of buying additional products. I found some of the leaves too thick, but for the thinner leaves, they seemed to work better if I let them dry out for a day before using them. Once I found the paper leaves at my local craft store, I decided to make it easier on myself.
Whenever I get stuck and have any Mod Podge questions, I always refer to my friends book, Mod Podge Rocks. Amy is the queen and her book is full of great decoupage crafts and ideas.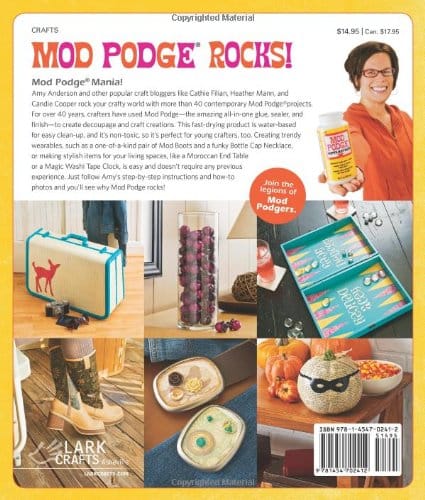 Halloween DIY Ideas
Create the Halloween of your dreams with Easy Halloween Ideas. Find Halloween decor for cheap for a budget-friendly holiday. Recipes for Halloween too!
Printable Wall Art for Halloween - DIY Halloween decor in a flash!
Easy Halloween Craft for transferring images onto wax candles.
Make this cute beetle pillow design with iron-on vinyl.
Halloween party bottle wrappers printable.
Simple to make Halloween party food ideas.
Get creative with a fun Halloween centerpiece.
This Halloween-decorated take-out box is great for treats or even Halloween party leftovers. Cricut Halloween Ideas.
Free Halloween printables.
Halloween decor for cheap! Dollar store items made into a creepy crawly centerpiece.
Iron-on crafts are my favorites!
Another great Cricut craft for Halloween.
Halloween treat boxes with vintage beetles. Print and decoupage. Free printables.
Who would know you could find the best craft supplies in a hardware store? A little spray paint, a free printable, cobwebs and you've got yourself a simple Halloween craft.
Fun for any spooky party!