"You've Been Booed" is a popular Halloween game that involves secretly leaving treats or small gifts at the doorstep of a friend or neighbor and leaving a You've Been Booed Printable note that says "You've Been Booed!" The idea is to spread Halloween cheer and surprise others with a fun Halloween surprise.

The game typically starts with one person or household "booing" another by leaving a basket or bag of treats at their doorstep, along with a note explaining the game and encouraging them to continue the fun by "booing" someone else. The note also usually includes instructions to display a "We've Been Booed" sign on their front door or window, letting others know that they've already been "booed" and encouraging others to choose a new recipient.

The game can continue throughout the Halloween season, with each person or household "booing" others and passing the game along. It's a fun way to get into the Halloween spirit and to spread joy and goodwill to others in the community.
Subscribers have free access to all free printables. Download your free Halloween Printable Boo note from The Printable Vault.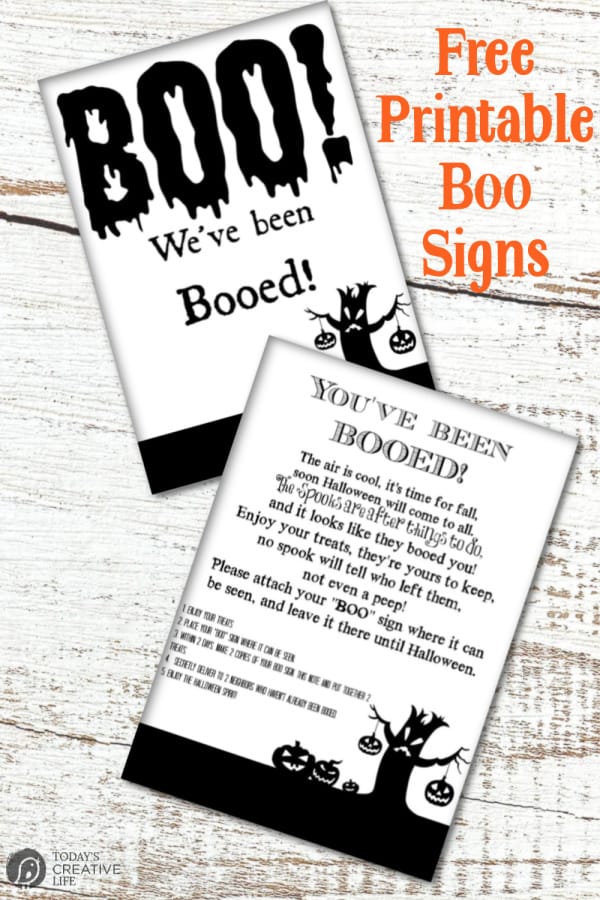 You've Been Booed Printable!
There is nothing more exciting for a little kid than to be booed! When my son was no longer little, he did decide to participate by starting the trend for his young neighbors. Seeing these Boo signs in many windows is always fun!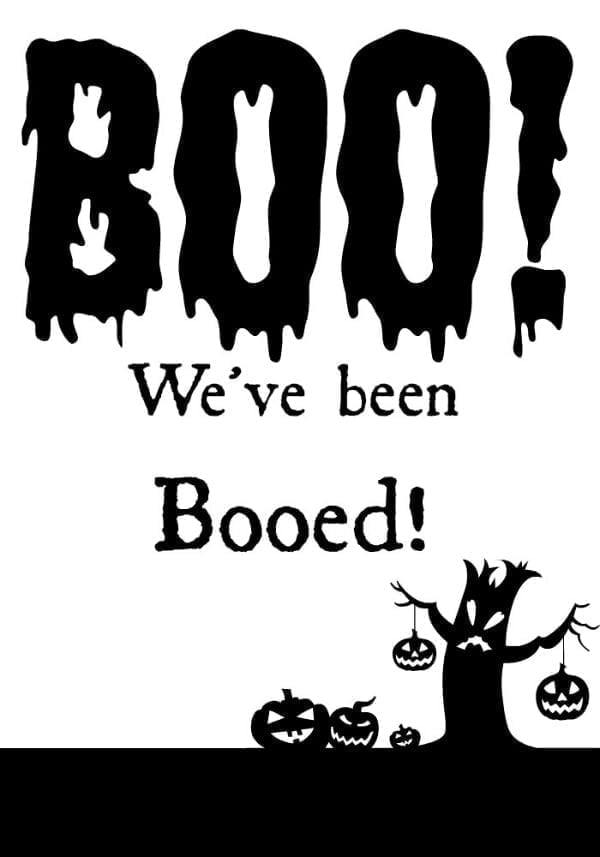 Subscribers Download BOO Printable by clicking here.
How to Boo Your Neighbors
Supplies Needed for Booing Your Neighbors
Clear cellophane gift bags, paper lunch sacks, or any paper gift bag.
Free Boo Printable – Find it in the Printable Vault (open to subscribers only) under Halloween.
Candy – or use small Halloween toys you would find at a party store.
Download "You've Been Booed" free printable.
When printing, print printable one and then print printable 2 on the backside by placing the paper back into printable paper supply. Be sure you have the right side up, so it prints on the blank backside. You may have to experiment because I know all printers are different. I place my paper image face down.
Fill your bag with candy or toys.
Include the printable. You can staple the Boo printable to the bag, or punch a hole in the corner and tie with twine to the bag. I always add an extra so they have one ready to boo the next neighbor kid. I also always make sure the printable is visible.
Sneak up to your neighbor's door, place the bag on the doormat. Ring the doorbell and run!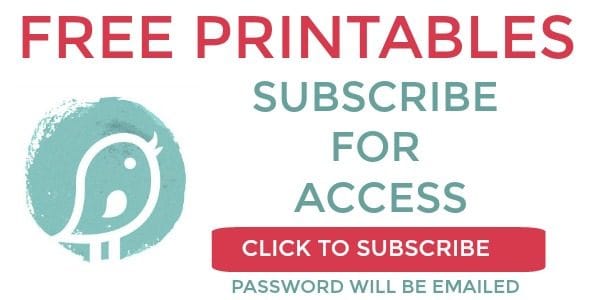 TCL Subscribers have access to all the free printables. Subscribe here.
I had never heard about being booed until we moved to the suburbs. My son was 4 or 5 and of course, Halloween was the most exciting thing in his WHOLE life! He had been dressing up for a couple of weeks and practicing his "trick or treating" by going out on the porch at night, ringing the doorbell and waiting for us to answer. Of course, he was the cutest thing ever because he was wearing a cowboy hat and his pajamas. (My kid would NEVER wear a mask, makeup or a wig….finding a costume was always a challenge)
Download Boo Poem by clicking Here.
One early evening as it was dusk, the doorbell rang, we opened the door and found a bag of candy on the step with a note attached. Oh, the mystery! The excitement! It's all he talked about for days and of course, he couldn't WAIT to boo 2 more neighbors!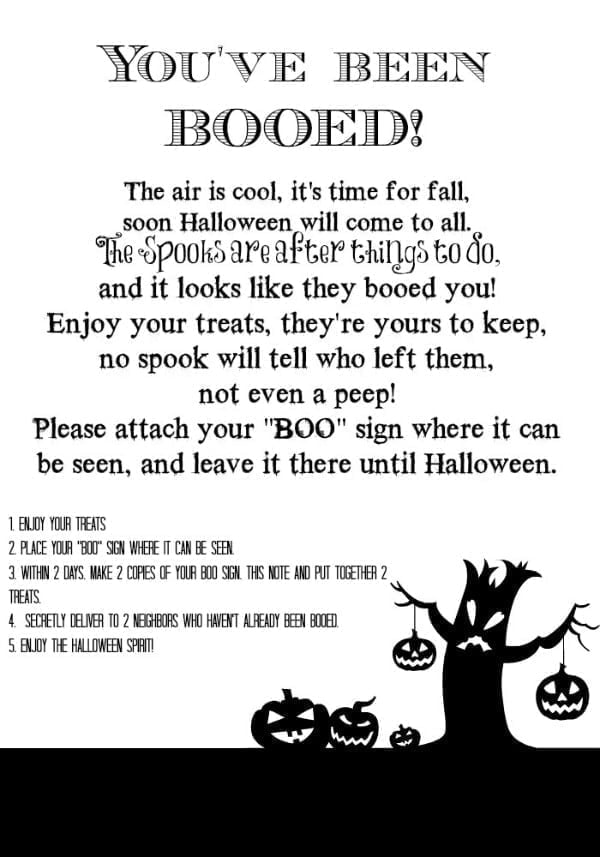 This is what childhood memories are made of. Happiness, excitement, wonder!
Now that he's 14, we haven't booed anyone for a while, but maybe we should boo the little ones on the block. And then just hang back and watch!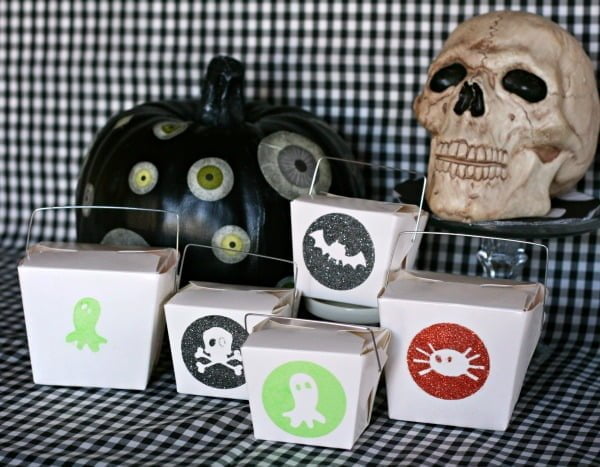 Download these free printables to get yourself started with a Halloween tradition! The cute little Boo Boxes I crafted yesterday are perfect for stuffing full of candy, but any bag will do.
You'll find both Boo Printables in the Printable Vault. You must be a TCL subscriber for access. Subscribe here and your password will be sent.
Ideas for DIY Halloween Decor
Find creative and easy DIY Halloween Decor ideas for decorating your home.
Simple ideas for Halloween decorations.
Glowing Eyes Spooky Halloween Decorations
Image Transfer craft for making Halloween Candles.
Halloween Cricut Craft project using vinyl.
Amazing Faux Insect Taxidermy you can use all year long.
Create your own Halloween Wall art with this printable.
Make creepy and original treat boxes for Halloween party favors.
Cricut project for Halloween using iron-on vinyl.
Great for Halloween parties or any Halloween dinner ideas.