This is one of the most all-time creative ideas for Halloween that you'll come by. These free printable Halloween cutlery pouches are perfect for your Halloween party. Place a napkin and silverware, or even disposable cutlery inside each one for a creative party table.
We LOVED the Printable Cutlery Pouches that Sibylle from Funky Time did this spring, and now she's brought them back for a few spooky and creative to celebrate Halloween. These go great with the printable Halloween bottle labels I also have. See all free printables in the Printable Vault.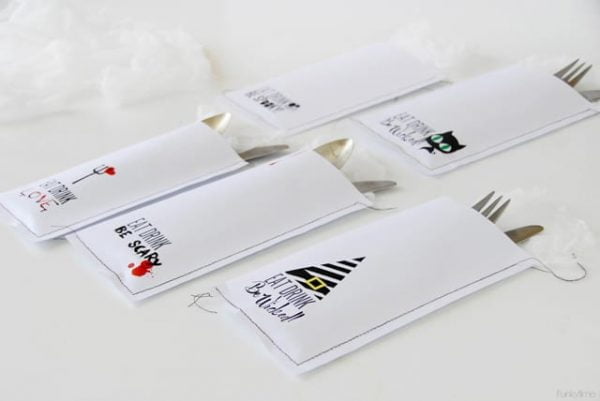 Free Printable Cutlery Pouch – Creative Ideas for Halloween
Print up as many as you need to create the coolest Halloween Table around. Whether it's just a Halloween family dinner or a party, these little printable pouches are sure to make your event stand out.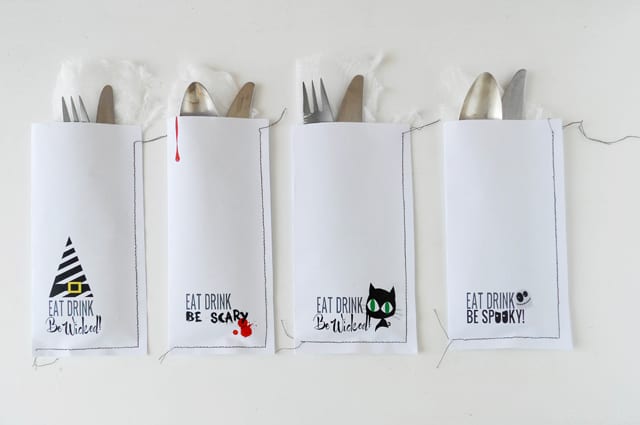 If you don't sew……..no worries. I don't either and I just used staples. Still pretty cute!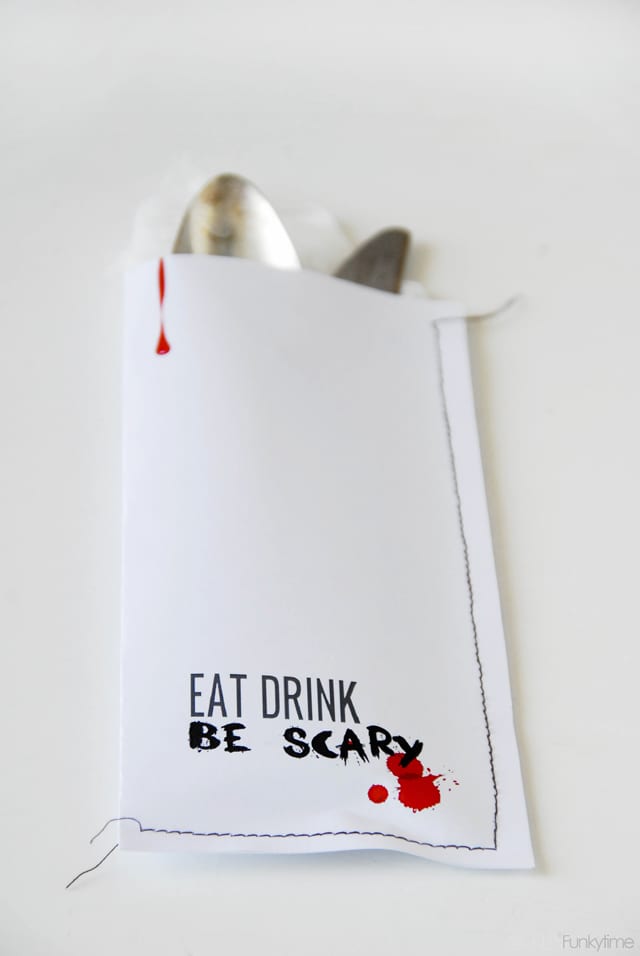 How to Make a Halloween Party Silverware Pouch
Supplies Needed:
Print All 5
Trim
Loosely fold and sew along the bottom and edge.
Fill with silverware and enjoy!
Pick up a few cheese clothes to use for napkins, stuffing it in with the flatware………looks very festive!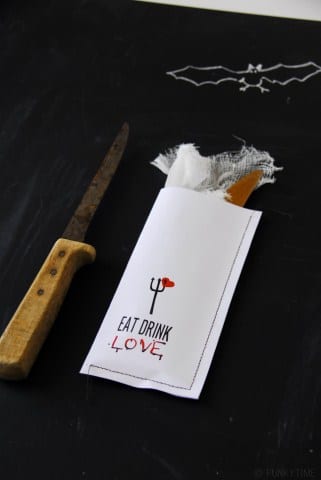 Silverware Pouch for Other Creative Ideas for Halloween
These printable Halloween pouches can be used for other items too.
Party Favors – Fill in Halloween treats as a parting party favor. These Halloween treat boxes are another fun idea.
Candy Bags – Fill with candy and secure the top by sewing or using Halloween-themed washi tape and hand out to all the trick or treaters.
Class Treats – Fill with Halloween trinkets and hand them out during a school party.
Snacks – add breadsticks, snack mixes, or any dry snack.
Game Clues – If your party has a game or Halloween scavenger hunt, these are great for holding team instructions.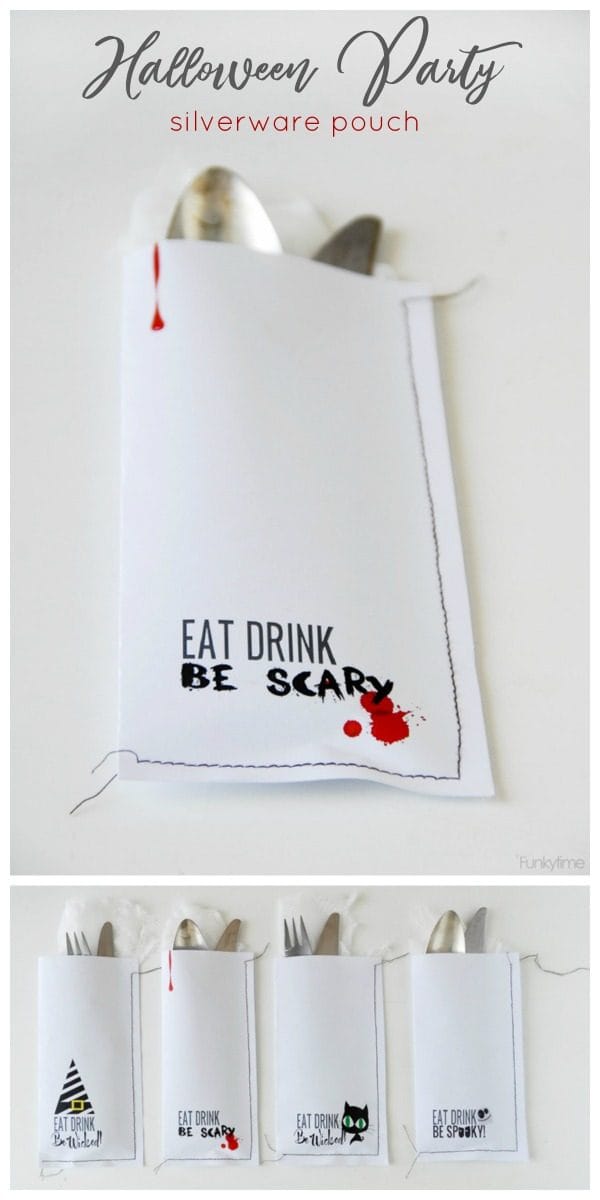 How to Make a No-Sew Silverware Pouch
If you don't know how to sew, or you don't have a sewing machine handy, there are other alternatives so you can still make this craft.
Staples – Use regular or colored staples to close the end and side.
Washi Tape – There are so many great Halloween-themed rolls of washi tape. Once you find your style, just tape the bottom and edges shut.
Hand Sewing Machine – If you really want the threaded sewing look, this little machine does the trick.
However you choose to close the sides, it will be a party favorite!
Edited: Since the time of posting, FunkyTime is no longer online. Please enjoy these creative ideas for Halloween which are shared with TCL readers.
Halloween DIY Ideas
Create the Halloween of your dreams with Easy Halloween Ideas. Find Halloween decor for cheap for a budget-friendly holiday. Recipes for Halloween too!
Printable Wall Art for Halloween - DIY Halloween decor in a flash!
Easy Halloween Craft for transferring images onto wax candles.
Make this cute beetle pillow design with iron-on vinyl.
Halloween party bottle wrappers printable.
Simple to make Halloween party food ideas.
Get creative with a fun Halloween centerpiece.
This Halloween-decorated take-out box is great for treats or even Halloween party leftovers. Cricut Halloween Ideas.
Free Halloween printables.
Halloween decor for cheap! Dollar store items made into a creepy crawly centerpiece.
Iron-on crafts are my favorites!
Another great Cricut craft for Halloween.
Halloween treat boxes with vintage beetles. Print and decoupage. Free printables.
Who would know you could find the best craft supplies in a hardware store? A little spray paint, a free printable, cobwebs and you've got yourself a simple Halloween craft.