It's easy to get into the Halloween spirit with easy budget-friendly DIY Halloween Terrariums made with Halloween decorations from the dollar store. These also inspired my Halloween Apothecary jars!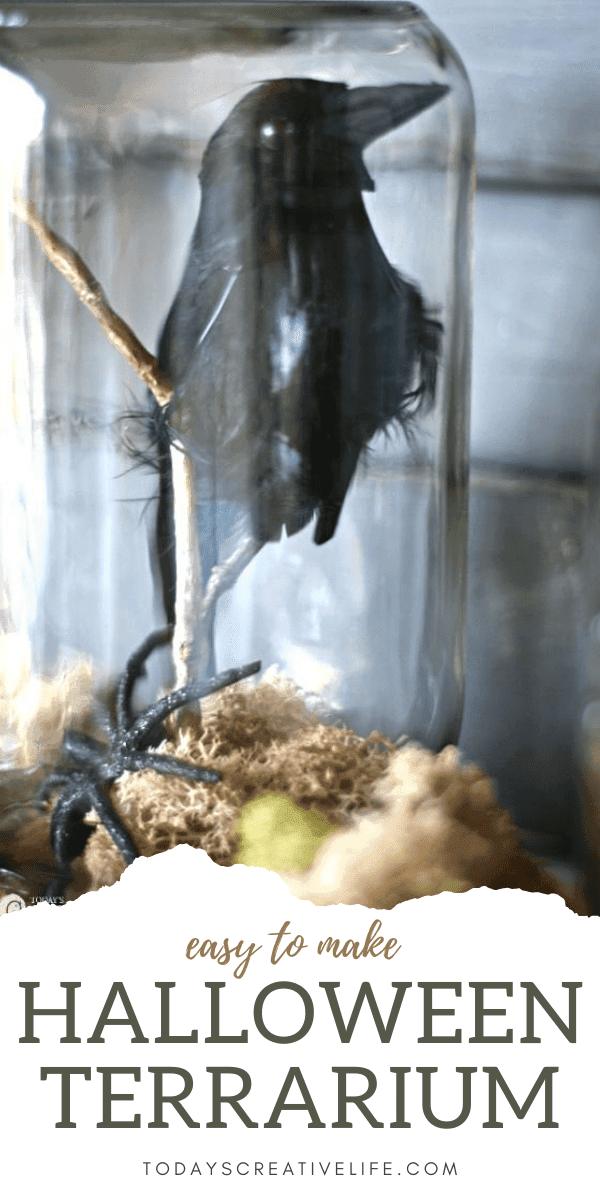 DIY Halloween Spirit Decorations
Making your own Halloween decorations is easy when you use inexpensive items like small party favors or natural items from outside.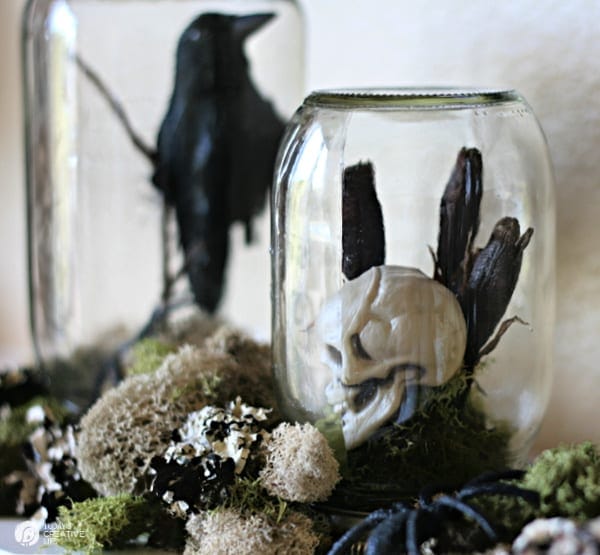 These DIY Halloween decorations are so simple! And jar terrariums are so popular and perfect for any holiday. No fancy supplies needed! I used a few different sized jars for variety. I then shopped my craft room for Halloween novelties and my back yard for twigs, seed pods, rocks, etc.
This is the perfect craft to get the kids involved, especially for little ones. No scissors or liquid glue needed……..keeping the risk of injury or risk of glue in the hair down.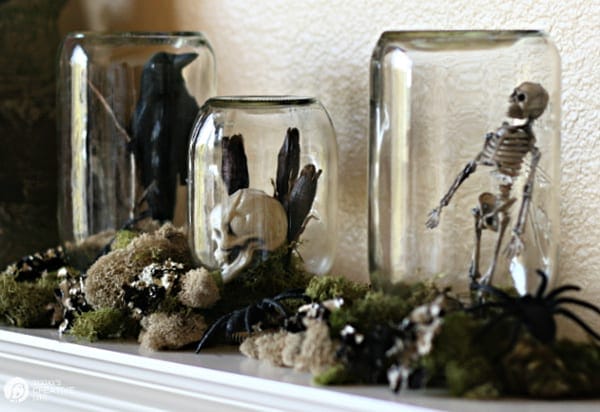 Spooky Halloween Terrarium Supply List
Canning Jars or Recycled Jars – a couple of sizes make it more interesting, but the large jars with a wider mouth are easier to manipulate.
Twigs, rocks, moss, seed pods or leaves from the yard
Crows and Halloween novelty items (you probably already have some from last year)
Floral foam – I used florist foam to stick my seedpods into with the skull. I also used it for the twig the crow is on
Spanish or Reindeer Moss– I picked up a bag of this at the craft store, although you could use leaves, dirt, rocks etc.
Adhesive dots – these aren't always needed, but they come in handy to keep items in place.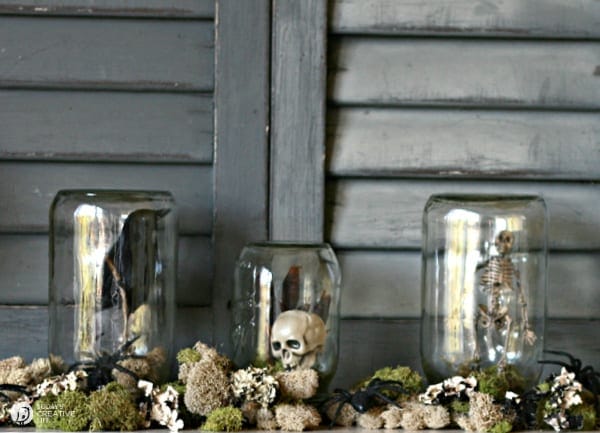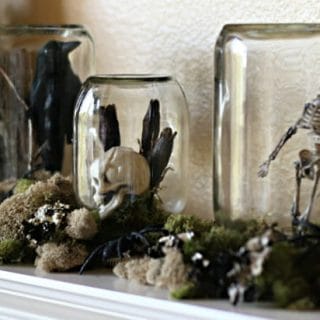 How to Make Halloween Terrariums
Yield: 1
Prep Time: 10 minutes
Active Time: 30 minutes
Total Time: 40 minutes
Difficulty: Easy
Estimated Cost: $10
Create your own Halloween decorations.
Materials
Small Halloween novelties like crows, skeletons, sculls, spiders.
Jars with lids 
gluedots 
Spanish Moss
Florist foam
Instructions
Gather your supplies
Take the lids off.
Place a small amount of florist foam on the inside of the lid with glue dots or craft glue.
Place your decorative item in the florist foam, or just use a glue dot to stick the item directly to the lid. When working with twigs, the foam works well.
Cover the bottom with moss.
Turn your jar upside down and slowly slide items and lid into place.
Display and arrange your jars on their lids.
Recommended Products
As an Amazon Associate and member of other affiliate programs, I earn from qualifying purchases.
You now have a festive holiday table centerpiece or mantel decoration! I like it because it's still somewhat stylish.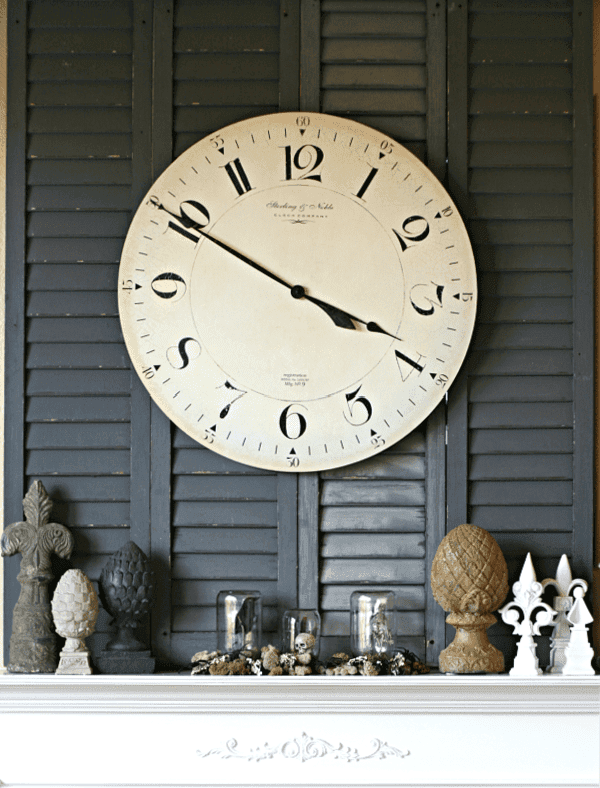 It doesn't scream "tacky" like so many other Halloween decorations………or at least the ones my husband and son put up every year outside.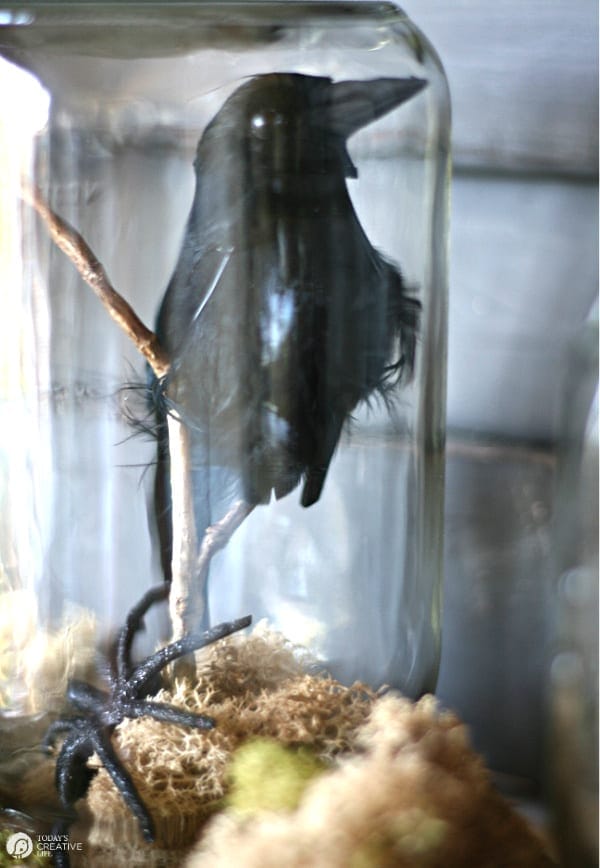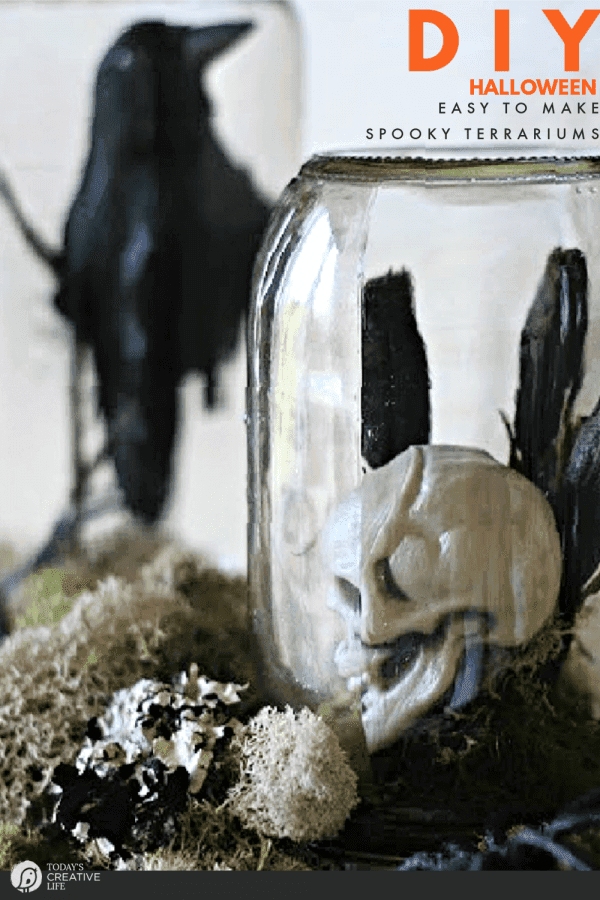 Halloween DIY Ideas
Create the Halloween of your dreams with Easy Halloween Ideas. Find Halloween decor for cheap for a budget-friendly holiday. Recipes for Halloween too!
Printable Wall Art for Halloween - DIY Halloween decor in a flash!
Easy Halloween Craft for transferring images onto wax candles.
Make this cute beetle pillow design with iron-on vinyl.
Halloween party bottle wrappers printable.
Simple to make Halloween party food ideas.
Get creative with a fun Halloween centerpiece.
This Halloween-decorated take-out box is great for treats or even Halloween party leftovers. Cricut Halloween Ideas.
Free Halloween printables.
Halloween decor for cheap! Dollar store items made into a creepy crawly centerpiece.
Iron-on crafts are my favorites!
Another great Cricut craft for Halloween.
Halloween treat boxes with vintage beetles. Print and decoupage. Free printables.
Who would know you could find the best craft supplies in a hardware store? A little spray paint, a free printable, cobwebs and you've got yourself a simple Halloween craft.
Fun for any spooky party!