As a college student, doing laundry can be a daunting task, especially if you've never done it before. These Printable Laundry Tips for College Students will certainly help teach them how to do laundry. By using these printable laundry tips, they can keep their clothes looking clean and fresh while saving time and money.
Since my only baby is heading off to college this fall, I knew I had to make up these Printable Laundry Tips for College Students to send along with him. No matter how many times I teach him how to do laundry, he can never seem to remember the basics of laundry 101.
Update: See his dorm for Dorm Room Ideas for Boys.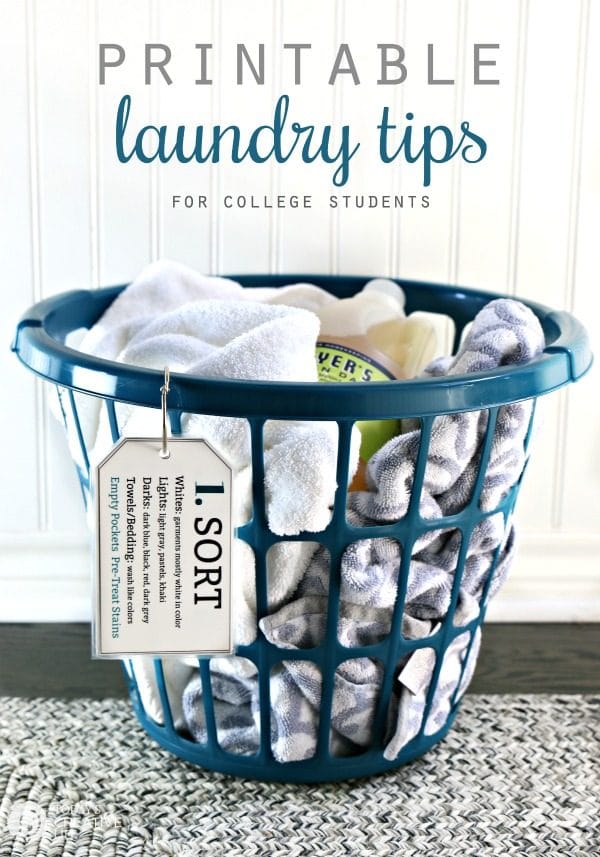 Printable Laundry Tips for College Students
I was inspired by my friend Cheryl when she made something similar (laminated laundry tips flip book) for when she sent her daughter off to school.
I knew my son would need these along with simple instructions on how to do laundry. He was going to need printable laundry instructions for laundry basics. I'll be adding hers too which really complements these simple printable laundry tips for college students.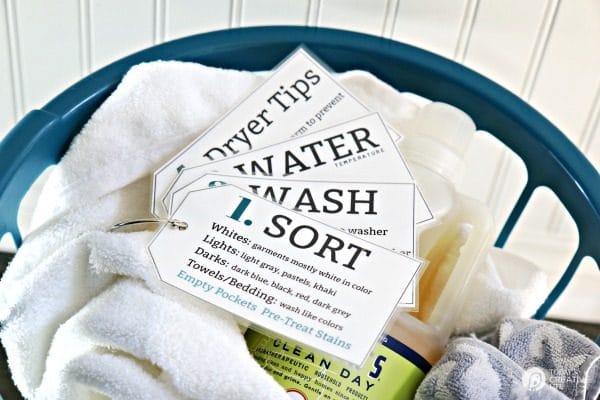 I wanted to make sure he knew how to sort laundry, what temperature of water to use, and simple dryer tips. This is when I decided to create easy-to-read How to Do Laundry Guide tags to attach to his laundry basket or bag for quick reference.
I was worried he'd be embarrassed by them, or think they were silly but he thought they were great! I think he was actually relieved.
I also thought he might think they were too basic, then he asked me what a pastel was.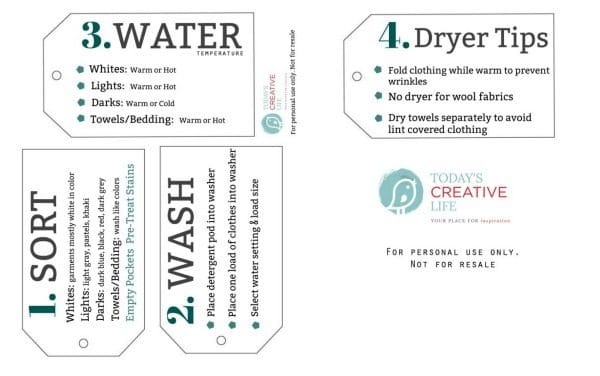 Download SORT, WATER & WASH Tags — Download DryerTips Tag
I know that most kids are already doing their own laundry by the time they head off to school and they may not need a How to Do Laundry Guide. But those kids don't have a dad who spoils them rotten by continuing to wash their clothes. Those poor spoiled rotten kids will love these printable laundry tips for college students! Once he's in his own apartment, I'll be teaching him how to clean the lint trap and how to clean a dryer vent too.
How to make Laminated Laundry Instructions
I used my Xyron with the laminating cartridge to create durable tags. It's one of my favorite craft tools. Depending on what cartridge you use, you can make anything a sticker, a magnet, or laminated. I used it a lot when I was organizing my craft room. I also used it for my Homemade Pumpkin Pie Spice jar labels.
It comes in handy for so many things!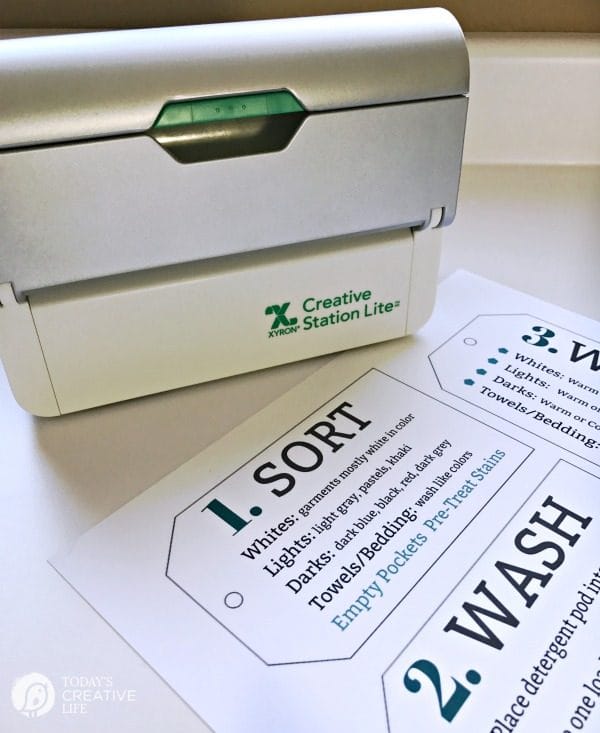 Supplies needed:
Open and print both pages
Trim tags using scissors or paper trimmer
Laminate
Trim
Punch a hole
Add Metal Ring
Attach to their laundry basket or bag
If your laundry instructions and tips are different than mine, you can use PicMonkey to create your own custom tags. Here's a tag template to use. Just fill it in with your own How to Do Laundry Tips.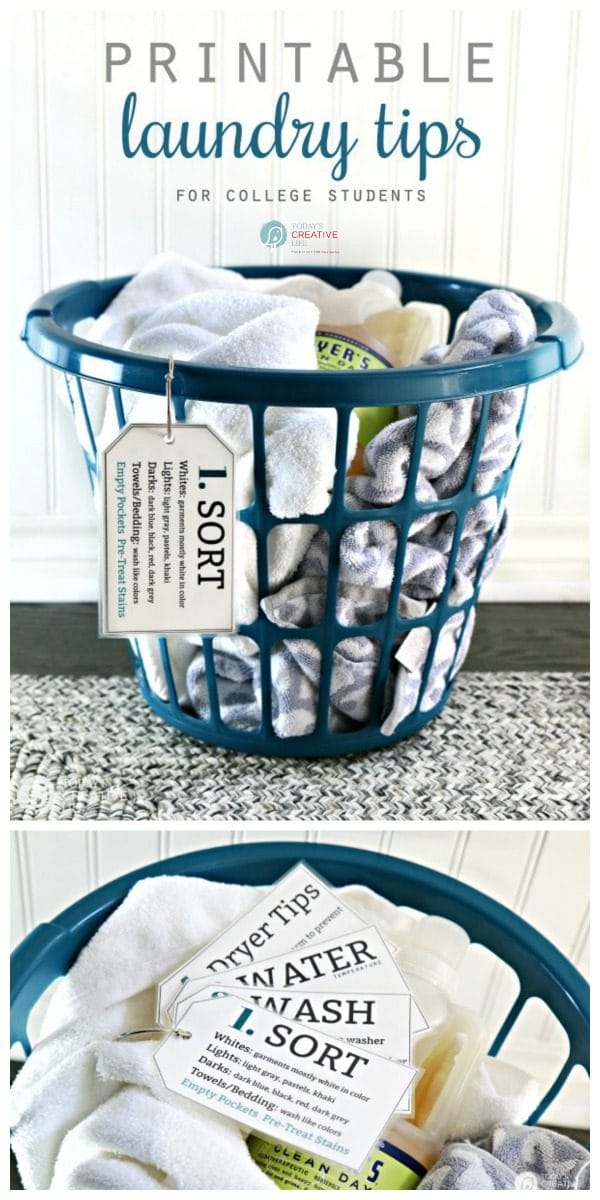 Good luck to all you mama's sending your kiddo's off to school.
---
Household Tips & Solutions
Simple household solutions for a cleaner and more efficient home.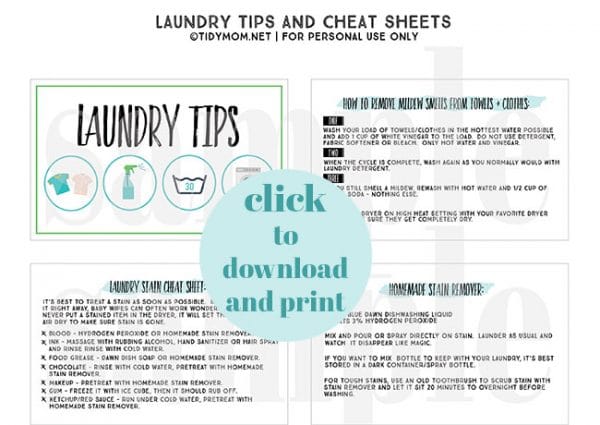 Printable Laundry Tips and Cheat Sheets Flipbook