It's hard to find Dorm Room Ideas for Boys! I wanted to create a comfortable, cool, and homey room that my son would feel good in. Dorm room ideas for guys are tricky because like my son, he didn't want it to look like a planned interior designer project. So we worked together to create a space that matched his personality, one he would feel comfortable in for studying and relaxing.
The minute we found out which hall my son would be in at Western Washington University, I got to work planning, decorating and organizing all the dorm room essentials for his first year!
I can't wait to visit him in college and I plan to follow this Top Tips for Visiting your Child in College.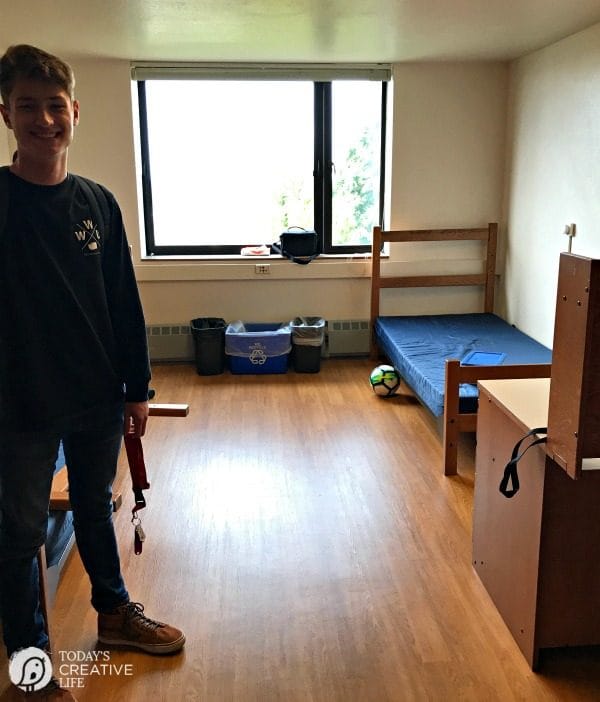 Packing for college is a huge task, so that's why I thought once I had done it, I would create printable dorm room checklist to help any of you that may need it in the future. I also created printable laundry tips for college students and if that wasn't enough, I took those same tags and created them into an iron-on to be applied to a laundry bag. To say I was in helicopter mom overload would be putting it mildly. I searched high and low for dorm room ideas for guys and there is very little out there!
Dorm Room Ideas for Boys
At least I can recognize my own neurosis. So can my son, when he asked me not to make his room look like a photo shoot. So… these photos are the raw deal, although I'm sure you'll see here and there where I may have adjusted something just enough to make it look nicer.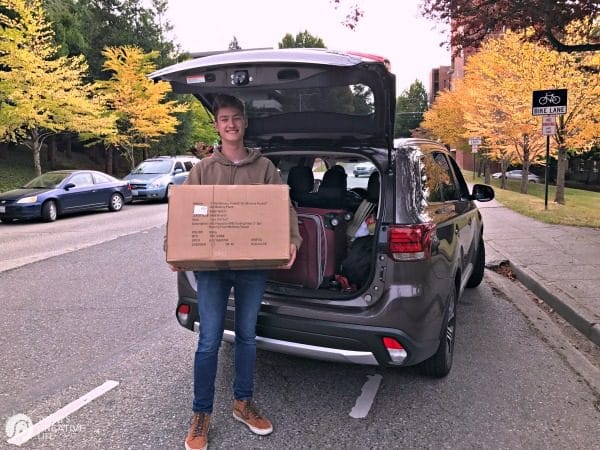 I was excited about his room facing the sound. What a gorgeous view! Bellingham Washington is a beautiful town.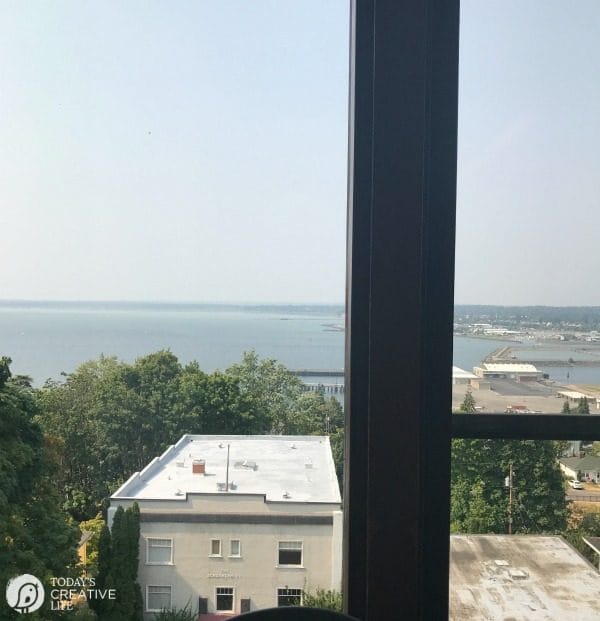 I had a clean slate and only a few hours to work my magic. To get it set up and not look decorated….. right.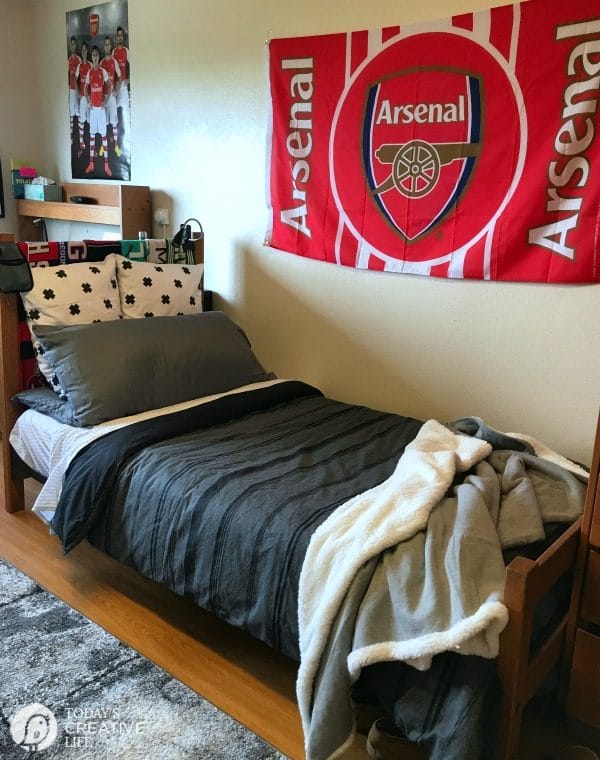 He wouldn't let me move the Kleenex box or put anything decorative on the desk shelf.
Dorm Room Shopping List for Guys
I have a full list of products and resources in my Amazon Store. Click Here.

Dorm Room Bedding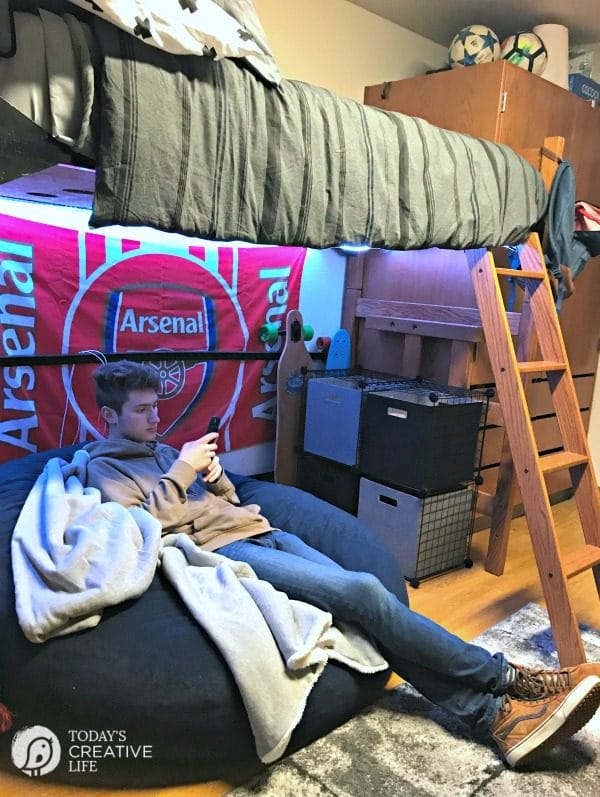 Dorm Room Ideas for Guys Must-Haves
We were expecting to have the Loft Style bed, but couldn't get the parts until later that week. That meant Lucas and his new friends would have to put it together and rearrange it. Putting the bed up high, it allows for space underneath for a beanbag chair.
Dorm room ideas for boys is all about the gadgets and being comfortable! Decorating isn't important until they see something they like that someone else did in their own dorm room.
Big Joe Large Fuf Foam-Filled Bean Bag Chair $76.62 (prices may vary)- I shopped around and found the best price. It was also cheaper if I went with blue, rather than grey. This is big and takes up half the space under the bed, but it's big enough so if a friend visits from home, they can sleep on it.

LED Light Strip $36 – These I guess are the coolest thing for dorm rooms. They can be color controlled by your smartphone.
Long phone charger cords – he had a couple 6 ft and 10ft.
Noise Cancelling Head Phones – these seem like a luxury item, but when you share a dorm room with an active floor they work much better than earplugs.
Dorm Fridge – He had the taller one, rather than a cube. This seemed like the perfect size and also had a tiny freezer inside for ice cream sandwiches. We bought the fridge and his roommate bought the microwave.
Small Microwave – There are so many heat-up convenience foods that come in handy for long study sessions into the night. Or when they've missed the cafeteria meal times.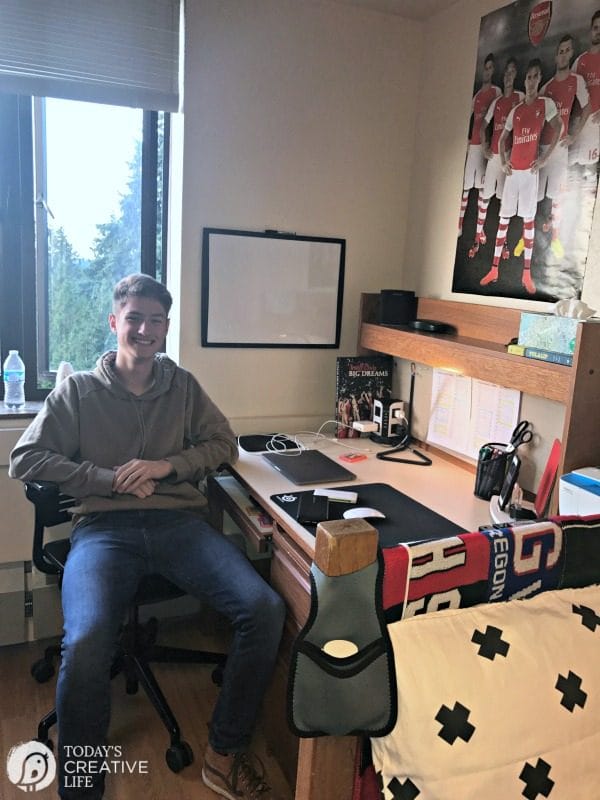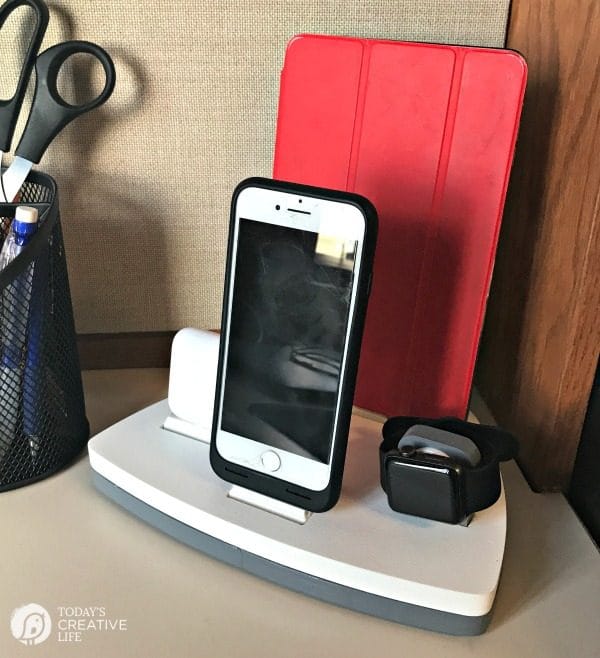 For the Desk, I would suggest: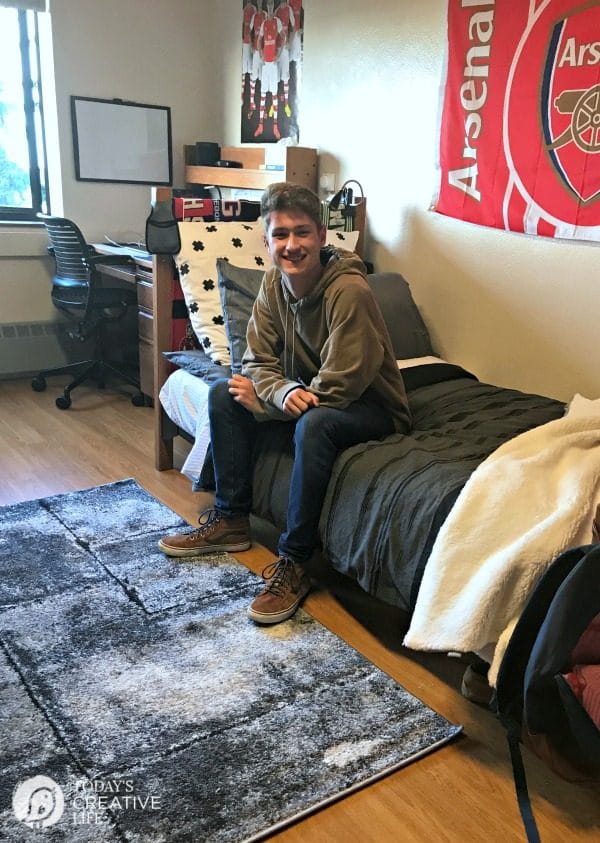 Believe me, I would have really liked to have spent more time making this room even better, but he loves it and that's really what matters, right?
Hopefully, I've given you some practical and useful Dorm Room Ideas for Boys, because they are hard to find!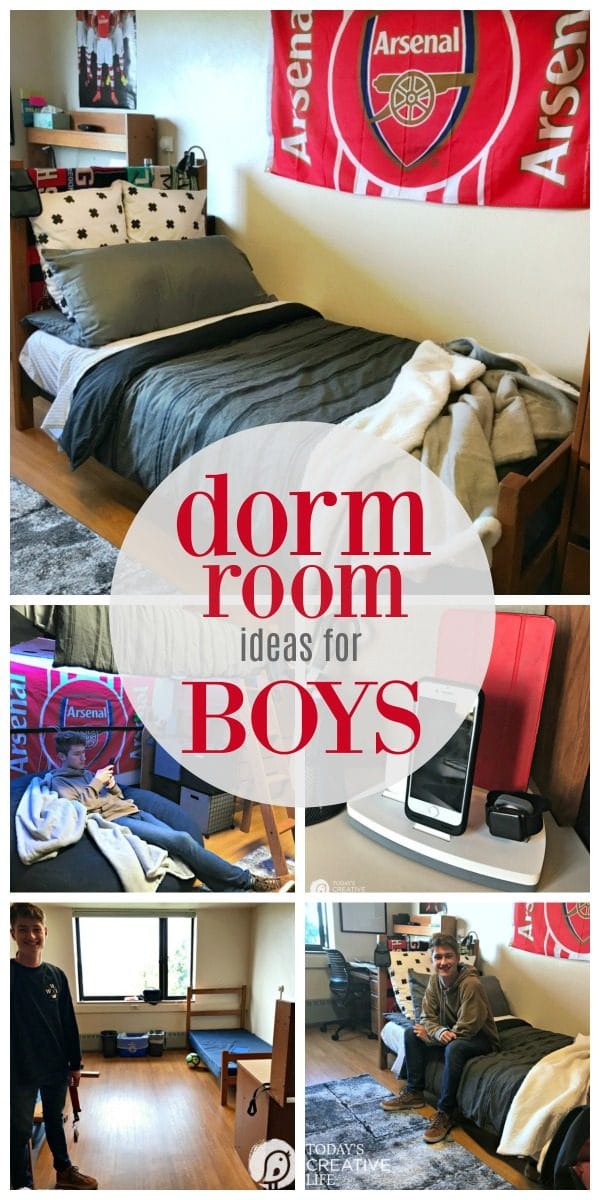 ---
Dorm Room & College Essentials
Must have items and ideas for college living.