Packing for college is no joke! I've been looking at many dorm room checklists, and they are all a little different. Because of that, I decided to create a Printable College Packing List with categories for all dorm room essentials. If your kids are still k-12, here are some cute First Day of School Printables!  Don't you love FREE Printables?
Edited: You can see my son's dorm for Dorm Room Ideas!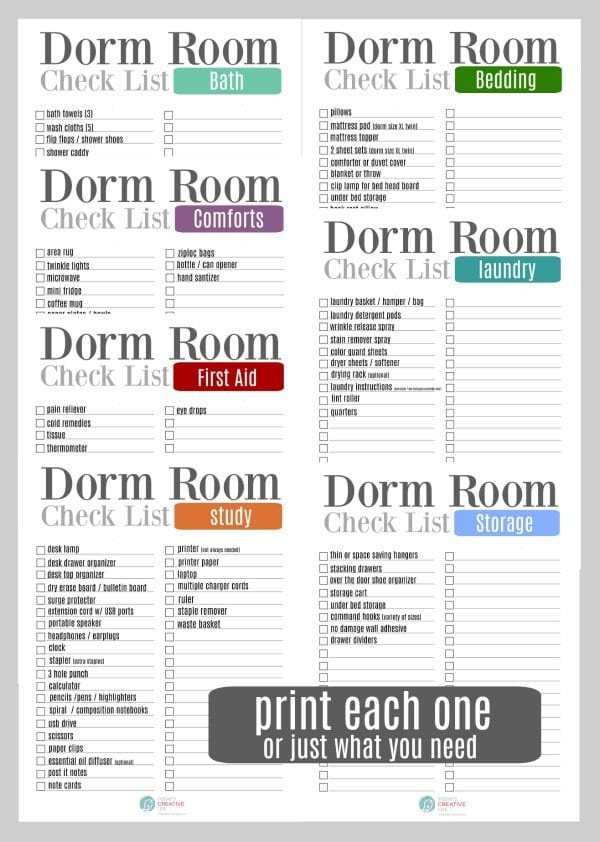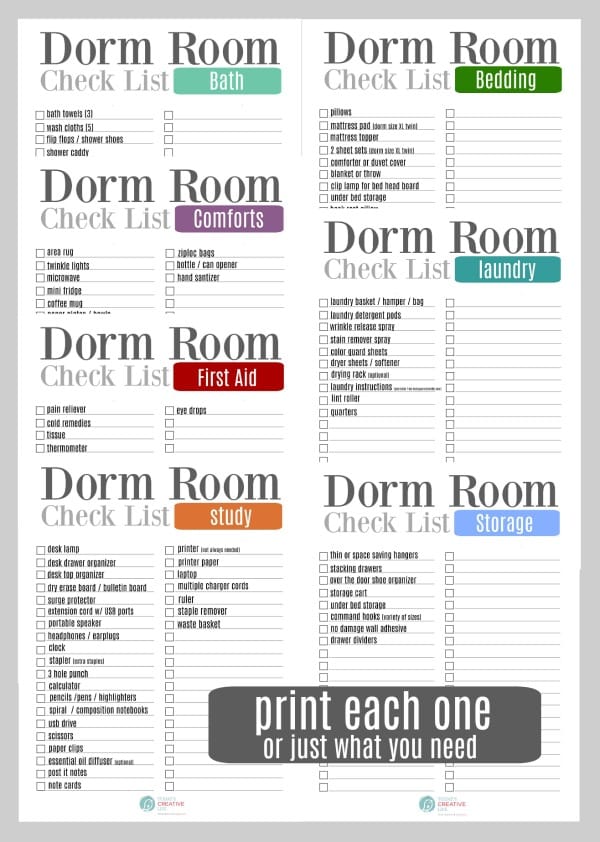 College Packing List – Printable Dorm Room Essentials
From all the lists that I looked over, they were all either missing items or had items that didn't pertain to our needs.  I figured if I could create one that also allows you to add what you need, it may be really helpful for all those families sending their baby's off to school! 
I recommend shopping and gathering over a couple of months. It's much less intimidating and you're much less apt to forget important items.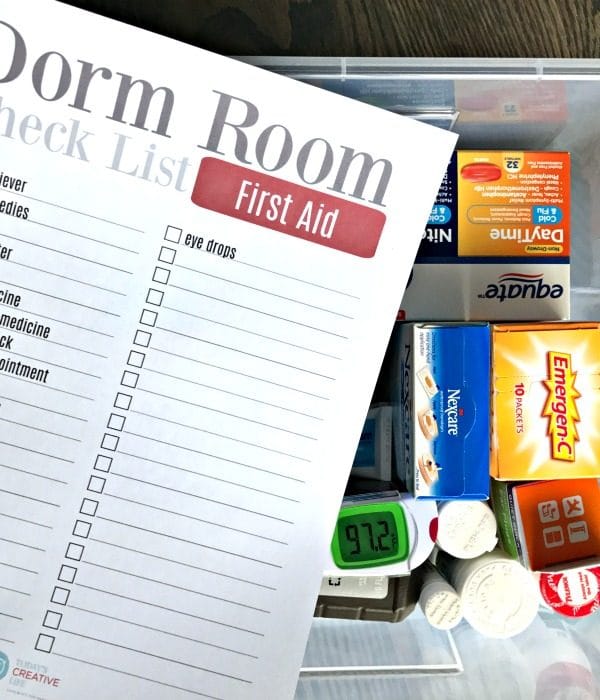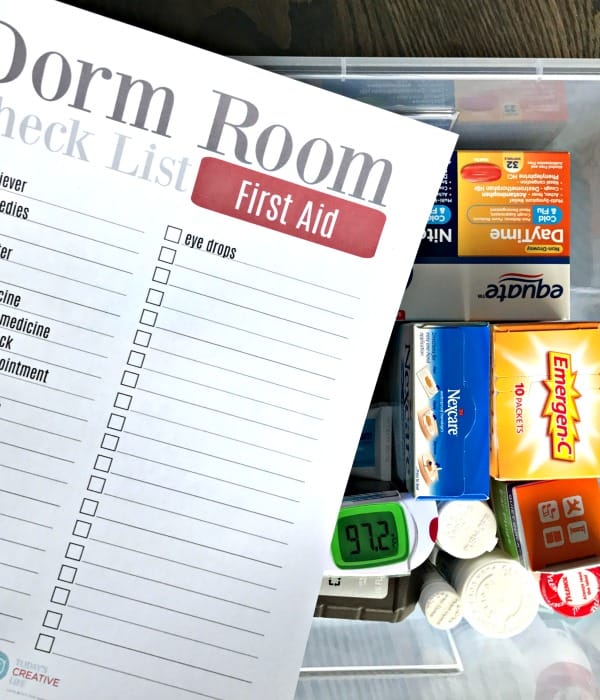 I've broken this printable college packing list into 7 categories that made sense to me.
The Bedding Packing List was my favorite to gather! This is when it's hard for a boy to have a creative blogger for a mom. I was under strict instructions that I couldn't "decorate" the room. And that once there, it is requested that I not take a ton of staged photos. I tried telling him that his new roommate and friends would think I was the cool mom for working full-time as a blogger in the creative world. He wasn't impressed and made me promise to not make it look too decorated.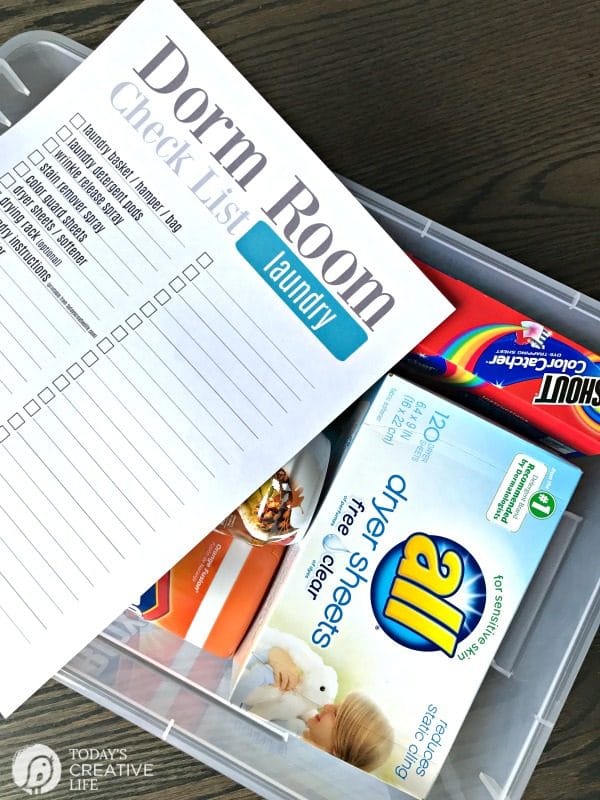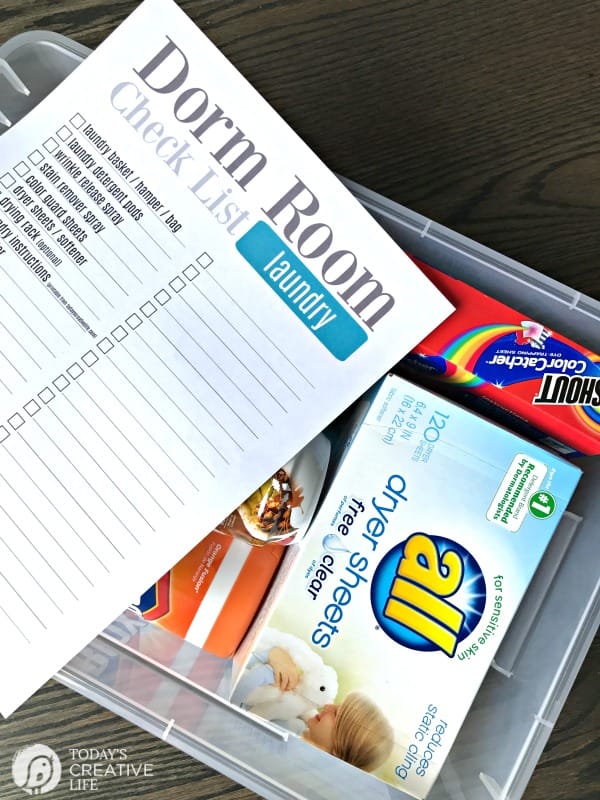 College Packing List: Bedding for Boys
Here's what I came up with. I'm so excited to put his room together, it's allowed me to be in complete denial that he's going to be gone.
Affiliate links for products listed are for your convenience only. This costs you nothing extra. If you happen to purchase anything as a result of clicking, TCL will receive a small percentage. Thank you for your support. This allows me to continue to offer you free content. 
College Packing List: Laundry
College Packing List: Bath Essentials
Edited to add: My son is now a Sophmore and in his first apartment. This post for College Apartment Bathroom Essentials is pretty handy too.
Towels – at least 3 or 4. I like these because they get fluffer with each wash.
Shampoo, shower gel, face wash etc..
Shower Shoes – Simple waterproof flip flops or slides are perfect.  My son will be sharing a bathroom with all the other boys on his floor. Those showers ….. ick.
Shower Caddy – This was a tough one. So many shower caddies look so girly. We finally found a small gray mesh one that looks like it will work.
College Packing List: Study
Desklamp – We found really cool inexpensive ones at IKEA.
Charging Station  – We decided to spring for the Nytstnd. This way he can charge everything at once.
Dorm Room Packing List: First Aid
I included cold meds into this group. Hopefully most items he won't need to use.
Cold Care 
Tissue
Band-aids
Sleep-aid
Dorm Room Check List: Comforts
Area Rug – I found the cutest rug for his room. It looks like concrete, so it's not girly at all.
Essential Oil Diffuser– I really want him to use one with the Thieves oil to help keep his immune system up. He wasn't really interested but ended up liking the bamboo designed diffuser I found. Now hopefully he'll use it. This one will also go for 10 hours or so.
Microwavable Bowl Cup – for those late night bowls of ramen.
Twinkle Lights – He's still fighting me on these. But if we can put his bed up high and we can create a small lounge area underneath, then the lights will be the perfect addition. I'll let him make the final decision.
Dorm Room Storage List
I think girls are going to need more in this department. One item I haven't put on this is a step stool. I ran into a friend of his who started in August and when I asked him what the one item he wished he would have packed, he said a step stool.
Plastic Stacking Drawers
Drawer Dividers
Over the Door Shoe Organizer – these can be used for more than just shoes.
Print each free printable dorm room checklist needed. You'll like the extra space to customize your list.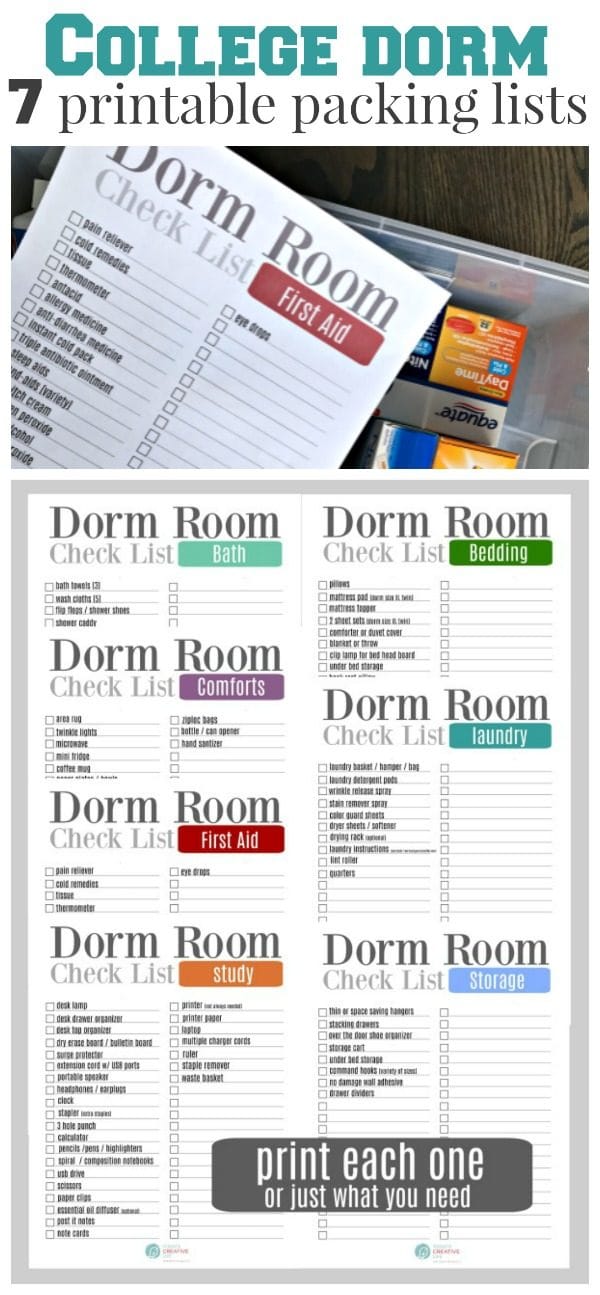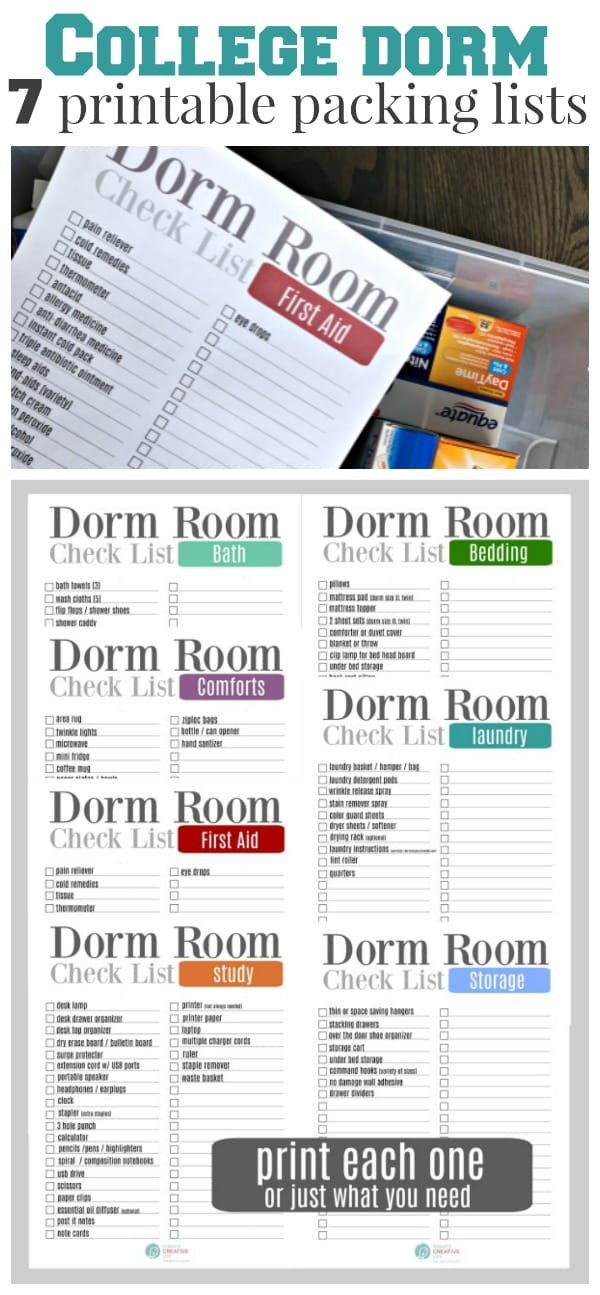 ---
More Dorm Room Essentials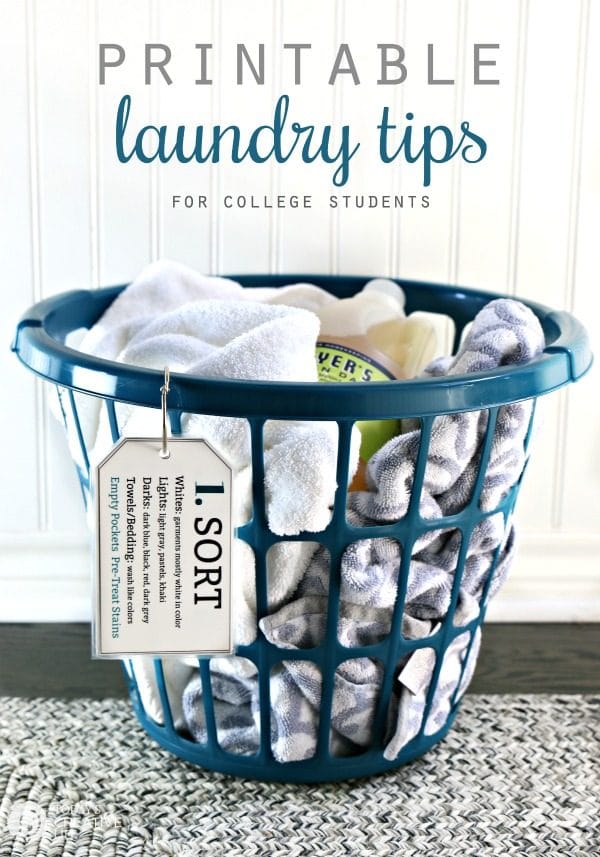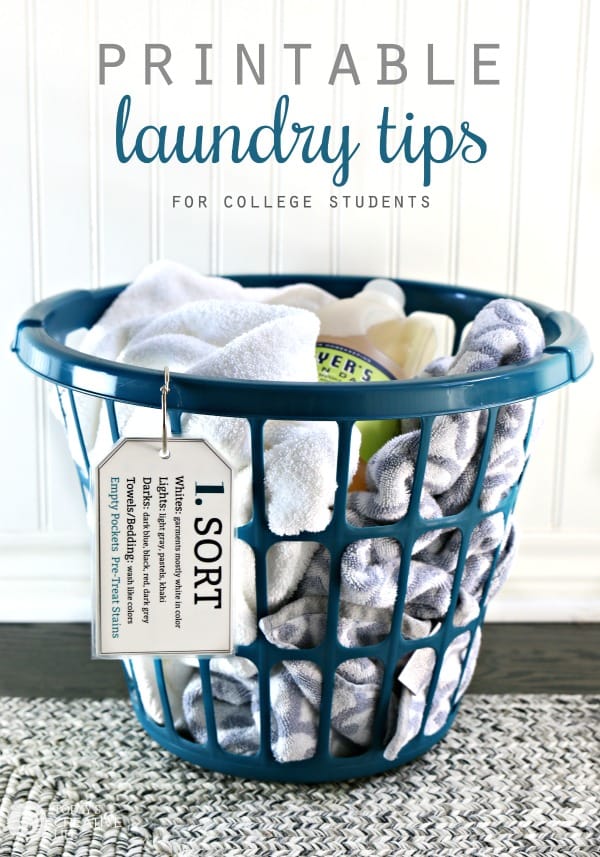 Printable How to Do Laundry Tags for College Students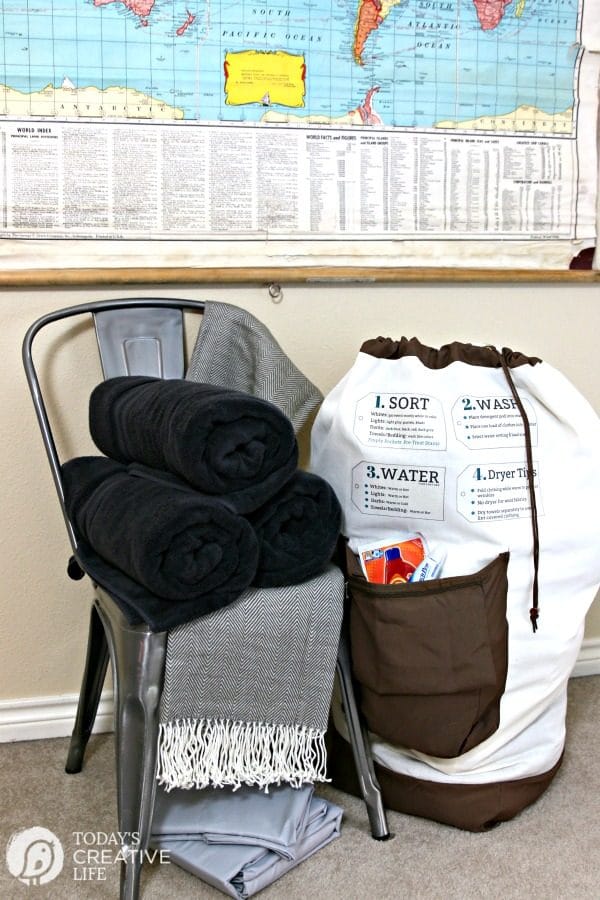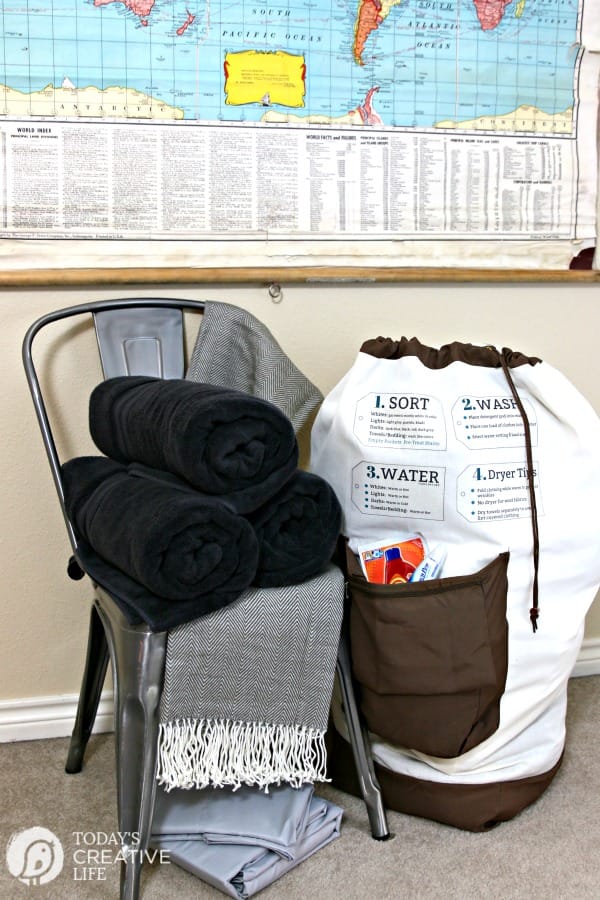 Iron On Laundry Tips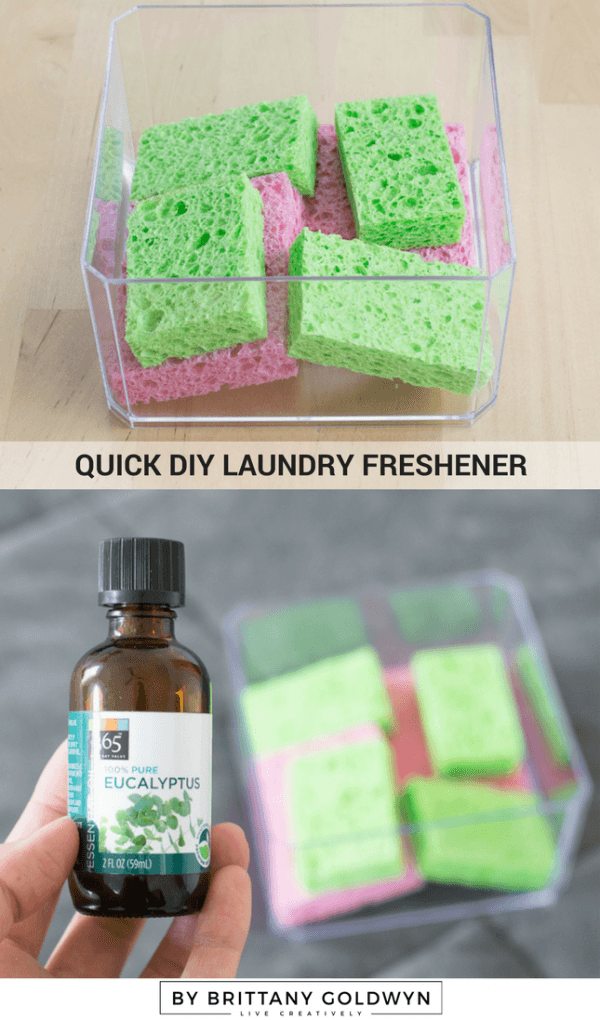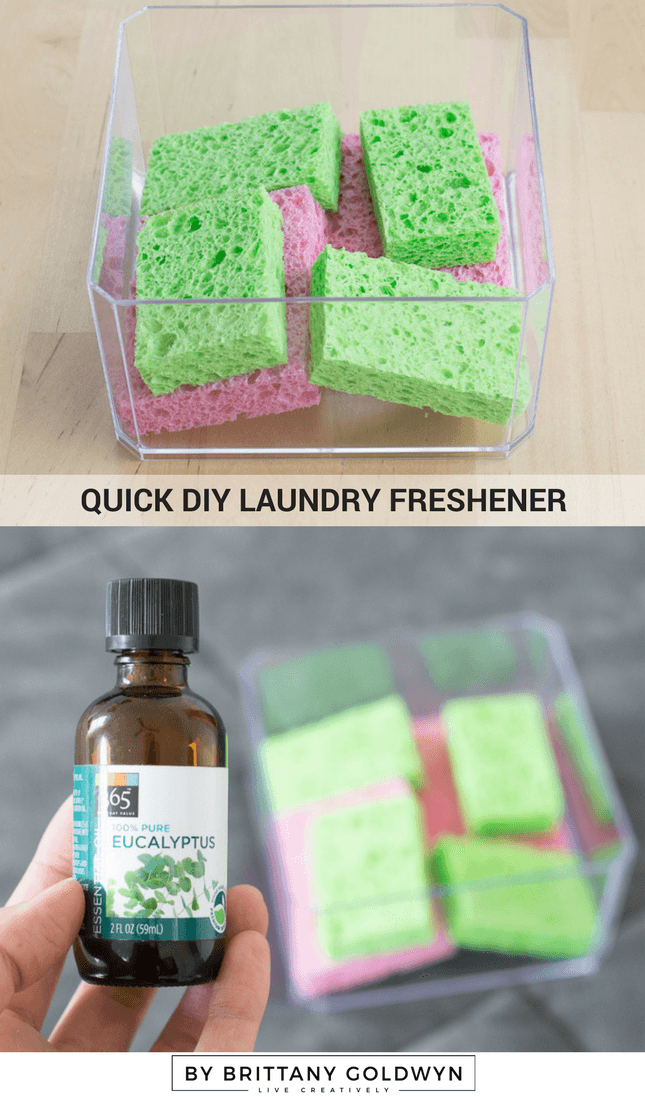 DIY Dryer Sheets