First Day of School Free Printable Pennants make it easy to record each year! I think they make a pretty cute photo!
I've edited them and removed the Year date! This way you can print out the whole batch and use them each year! Just write in your year on the back.
Getting the First Day of School photo of your teen son is a whole different ball game! I wish all these First Day of School Free Printables were around when my son was little! I'm sure some of the really creative people were creating a simple sign for their first day of school photo back in the day….. I guess I just wasn't one of them.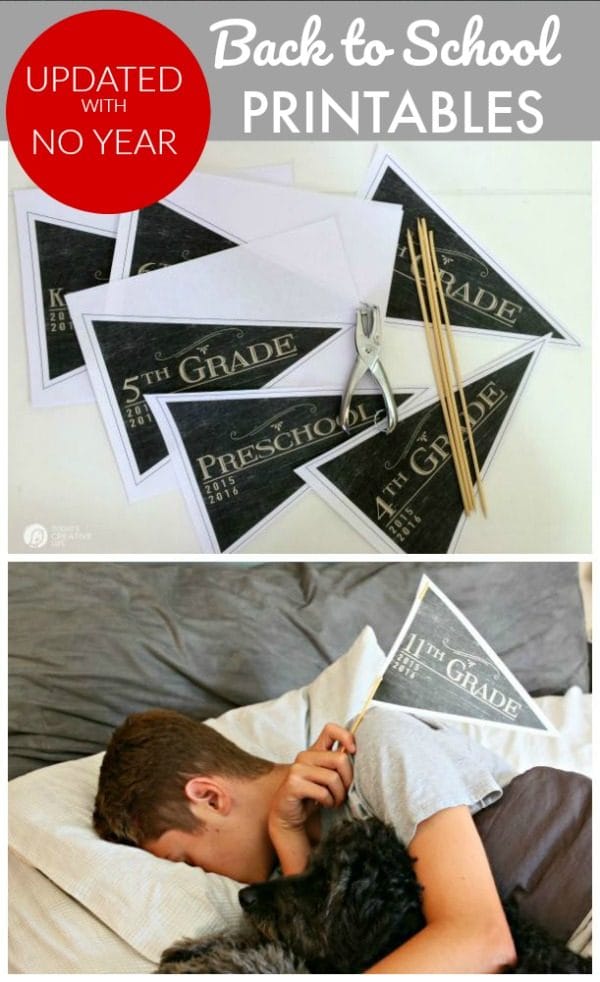 First Day of School Free Printable Pennants
But I've got your back! I was thinking about all of you and had these First Day of School Free Printable Pennants made just for you! I also have other fun First Day of School printables you may want to check out.
I know many of you have already started school and are already looking for easy lunch prep ideas, but here in the Pacific NW we don't start until September. So if you haven't started, then these are right on time!
Now with my son heading into his junior year, the chances are slim that I could get him to hold this sign for his first-day photo………. heck, I'm lucky he will even let me get a first-day photo at all!
This was his Kindergarten year. My photo taking skills have greatly improved as well as the color of my door.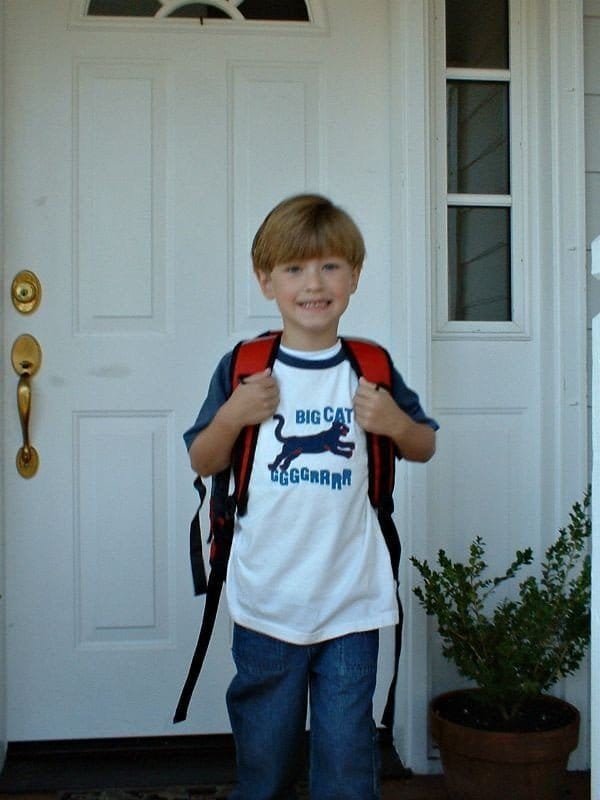 I hated that white door the minute we moved in! You can see my beautiful red door when I shared my fall porch with you in the past.
Like most teens, it's harder and harder to get them out of bed. They love their sleep and like most teens, they are not as excited for school to start. No more excited trips to buy school supplies, no more trying to figure out what to wear on the first day, no more fresh hair cuts.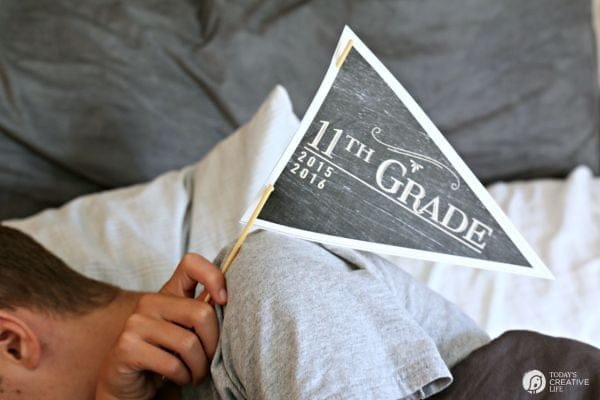 Because he's a good boy, he said he'd hold the pennant as long as he could stay in bed.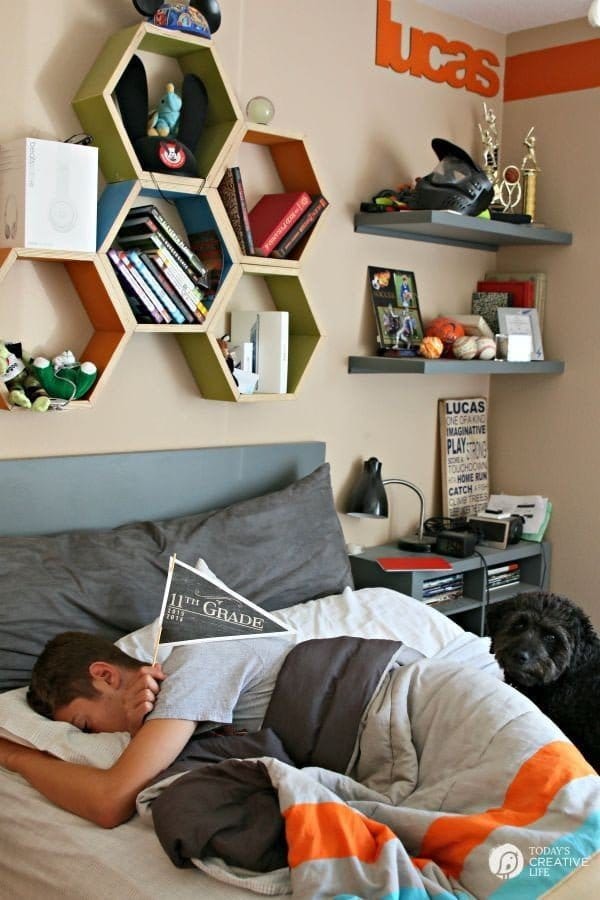 And because he's a teen boy…… his room isn't looking at clean as it once was for its debut a few years ago. He said he cleaned off his table this week…… this is when you choose your battles. Just keepin it real…… You can see the reveal of my Cool Bedrooms for Teens here.
And look how little he was! I bet he would have held a First Day of School Printable then! Little turd!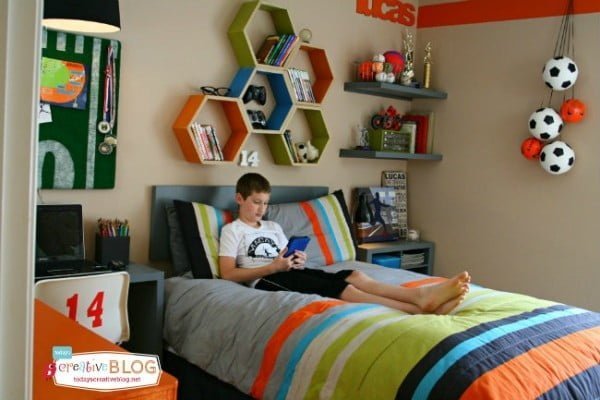 How to Print First Day of School Printables
SIGN UP FOR FREE PRINTABLES BELOW
ALREADY have your password? Head straight to the Free Printable Vault.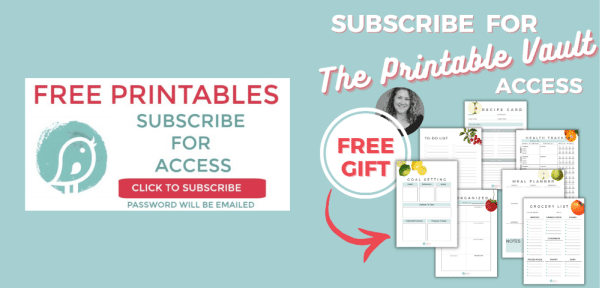 Click here to download file onto your computer.
Load your printer with 8.5 x 11 white card stock.
Print the page you need by using the printer settings. Also, make sure the printer setting is on landscape and not portrait.
Trim the pennant with a paper trimmer or scissors.
Using your hole punch, punch two holes. One on each end.
Thread a kabob stick or something similar through the punched holes.
Click Here to Download your FREE Printable (NO YEAR ADDED) First Day of School Pennant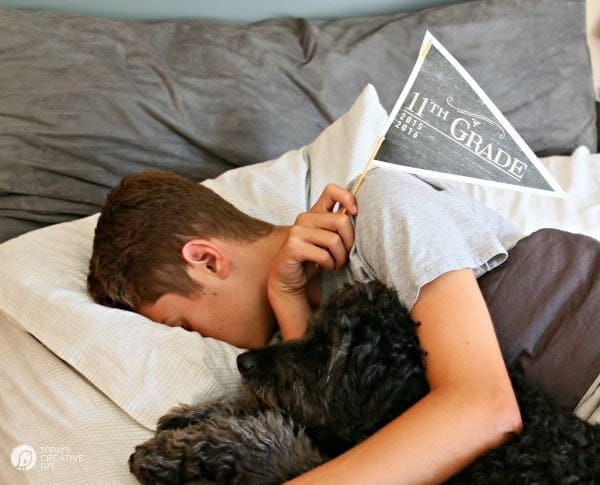 Here's to a successful Junior year!
I'd love to see your photos using these First Day of School Free Printable Pennants. Just put them on Instagram and tag me at @TodaysCreativeLife
Back to School Ideas
Back to School ideas for a creative and smooth year.
Free printable lunch box notes.
Fun labels kids can customize.
Print a few of these ahead of time for smooth mornings.
Use this method to make reusable lunch bix notes.
Simple and nutritious after-school snacks.
This homework station makes it easier for kids to focus.
Get the kids ready with a fun game of charades.
Fill in the blank with these adorable first day printables.
Simple and clear start of the school printables!
Kids will love opening their lunch and finding one of these!
Print your own message on their lunch sack!
Print a few of these off for the whole year!
You'll never run out of sweet messages with these lunch notes!
---