Yep, it's time. Time for Back to School! This Back to School Charades Free Printable may be just the thing to help you get your kiddos excited and focused for the new year! Time to set up a homework station for your little students! TCL Creative Contributor Marlynn from UrbanBlissLife whipped these up for her own kids. She says it's working! Find First Day of School Free Printables here.
---
Back to School Charades Free Printable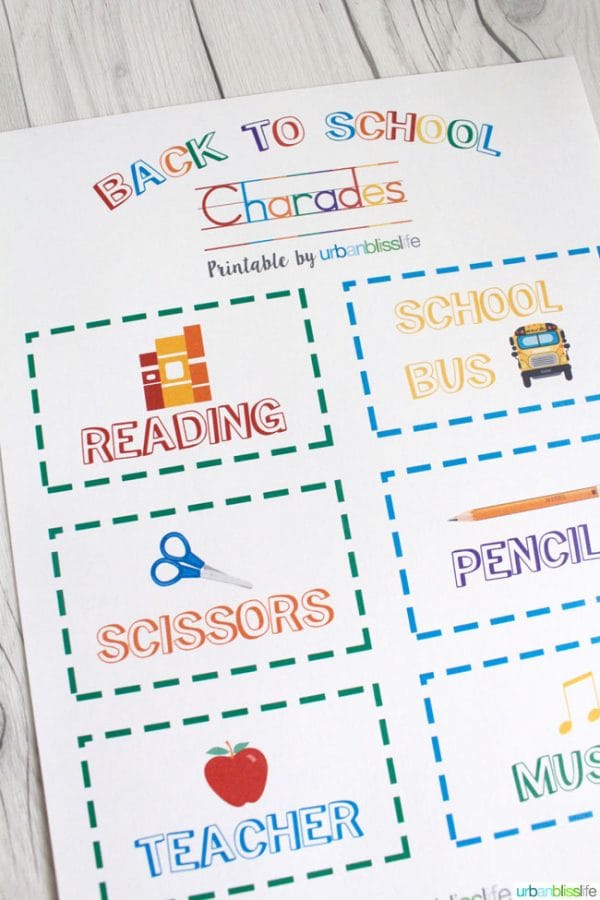 Are your kids back to school yet? Mine don't go back until after Labor Day, and I'm glad we have a few more weeks of summer still left to enjoy. That said, now is the time that we start transitioning from the summer routine (or lack thereof) back into the school routine.
As we prep for our last road trip of the summer, I designed this Back to School Charades Free Printable game that we could all play during our vacation as well as at home, to start getting the kiddos back into the school mindset. Also give us something new to do toward the end of the summer break, when boredom seems to hit (in my family, at least) a little more often.
The Back to School Charades free printable is a PDF file with three sheets of cards, with 20 cards containing general words related to school, such as "teacher," "reading," and "pencils." Some words, we've found, are a little more challenging to act out and guess than others, but that's what makes the game fun, right?
In addition to the 20 pre-designed cards, I've also added two blank cards so you could fill in any school-related words that might be more pertinent to your kids and their school.
How to Print Back To School Printables
You just need a few supplies that you most likely already have on hand in order to make these printables:
Computer with Adobe Acrobat Reader (you can download this for free from Adobe.com)
White cardstock or copy paper
(links for supplies are affiliate links, this cost you nothing extra, but if you decided to purchase, TCL receives a small % of the sale.)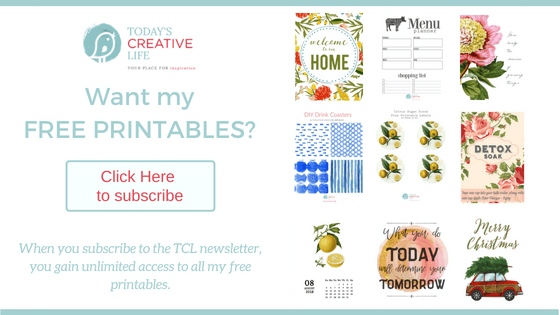 Directions
Download the PDF file of this Back to School Charades printable, and save it to your desktop.
Print out the file onto thick white cardstock. If you don't have any cardstock handy, you can always use regular ol' white copy paper.
Use a pair of scissors or a tabletop paper cutter to cut either inside or outside the edges of each card.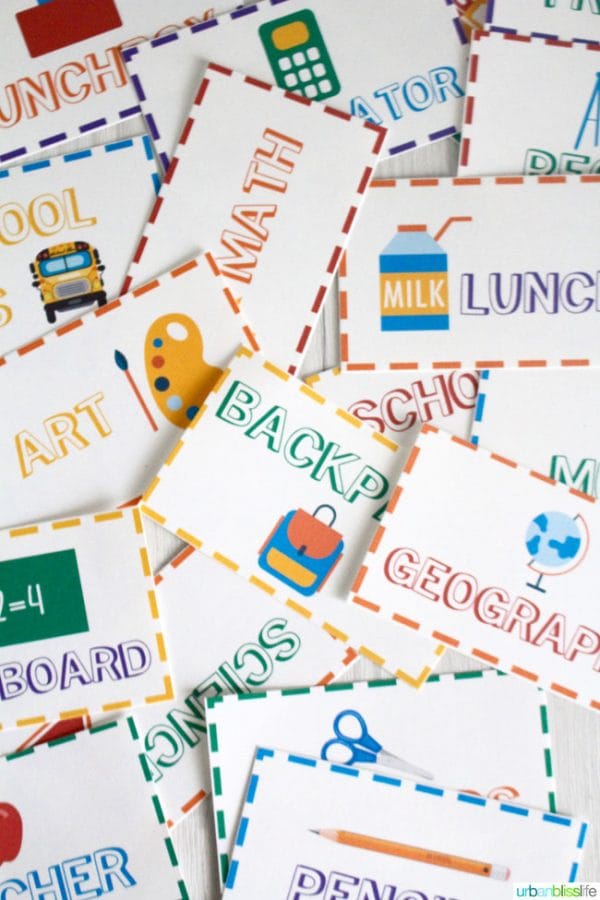 How to Play Back-to-School Charades
If your kids have never played charades, here's a quick rundown of the rules:
Places the cards either in a stack with the words facing down on the table, or place them in a small brown or otherwise non-see-through paper bag.
Taking turns, each person picks out one card and does NOT share it out loud. The person holding the card acts out, without using any words or sounds, the word on the card so that the other people can try to guess what the card says.
When someone guesses a card correctly, that person should keep the card in their own separate stack. At the end of the game, count up the stacks of cards each person has. The person with the most cards – who should also be the person who guessed the most correctly – wins!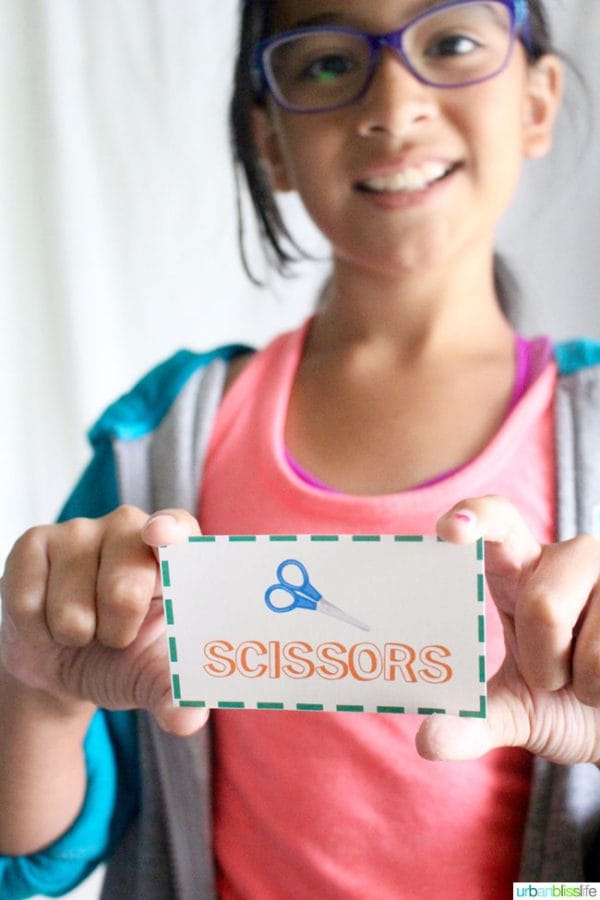 These are the general rules, but you can certainly alter them to suit the ages of your kids. For example, we might allow younger kids to actually give verbal clues, as long as they don't say any part of the card out loud.
This game works best with kids who are age five and older, but it definitely depends on your child.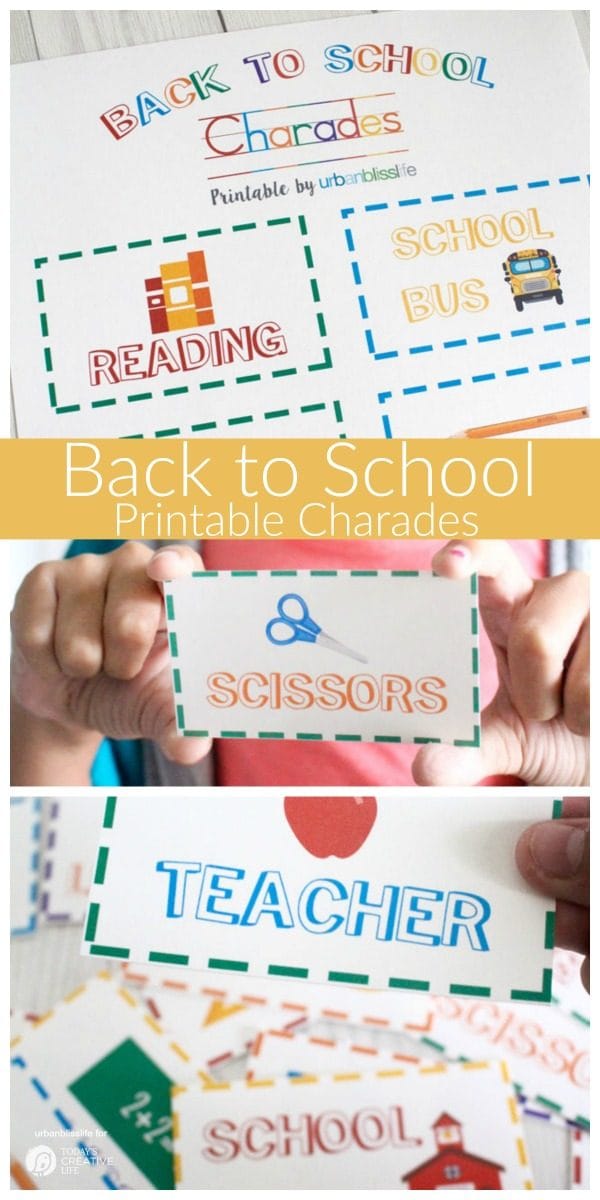 I hope you and your kids enjoy playing this charades game to get back into the school mindset! What other classic games do you like to play as a family during family game nights or during vacations?
I have more printables, plus lots of recipes, family travel tips, restaurant and wine reviews, and more on my blog, UrbanBlissLife.com, as well as on Pinterest, Instagram, Snapchat, Facebook, and Twitter. I'd love it if you followed me over on my social media channels!
---
Back to School Ideas
Back to School ideas for a creative and smooth year.
Free printable lunch box notes.
Fun labels kids can customize.
Print a few of these ahead of time for smooth mornings.
Use this method to make reusable lunch bix notes.
Simple and nutritious after-school snacks.
This homework station makes it easier for kids to focus.
Get that first day photo with these printable pennants. The year is updated.
Fill in the blank with these adorable first day printables.
Simple and clear start of the school printables!
Kids will love opening their lunch and finding one of these!
Print your own message on their lunch sack!
Print a few of these off for the whole year!
You'll never run out of sweet messages with these lunch notes!