Just another great banana bread recipe with a few tweaks! This time I created a Buttermilk Banana Bread with Chocolate Chunks.
I was inspired by the banana bread recipe from Simply Recipes and then added buttermilk and chocolate chunks. Everything is better with chocolate!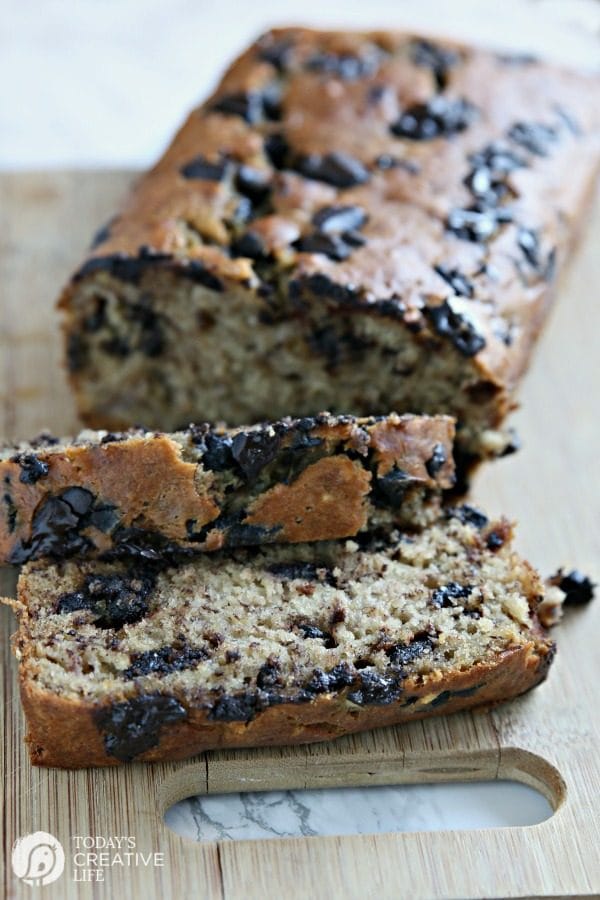 Buttermilk Banana Bread Recipe with Chocolate Chunks
I love making quick bread! I also love making banana bread. There is no better way to use up an overripe banana than making this buttermilk banana bread or banana bread muffins. Like my Banana Bread Recipe with Sour Cream, I added the buttermilk instead of sour cream for extra moistness.
My intent was to make a chocolate chip banana bread, but I only had the chocolate chunks. So if you only have chocolate chips, they will substitute perfectly.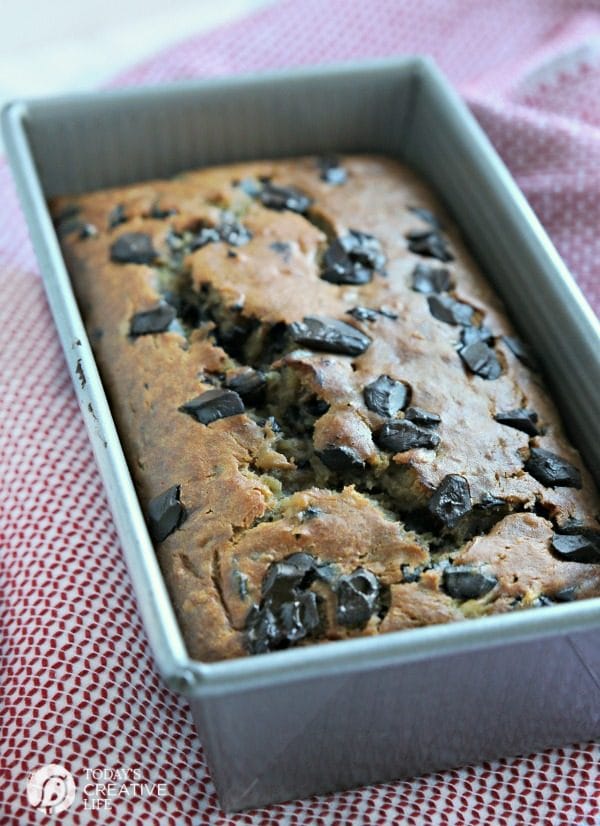 I recently bought a couple of these bread pans (affiliate link) that I LOVE! They're made in the USA and I just really like the small pattern.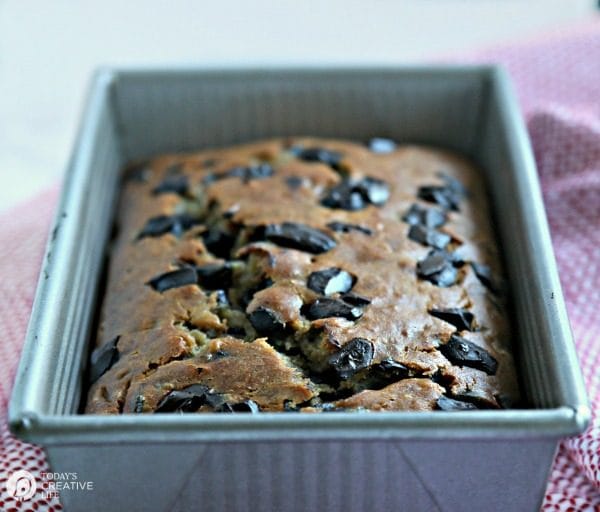 They come in a 1 pound loaf, a 1 1/2 pound loaf and a 1 1/4 pound loaf size. They're really nice sturdy commercial grade pans. This brand has all kinds of bakeware. So when I had 3 bananas turning brown, that's all the motivation I needed to use my somewhat new pan!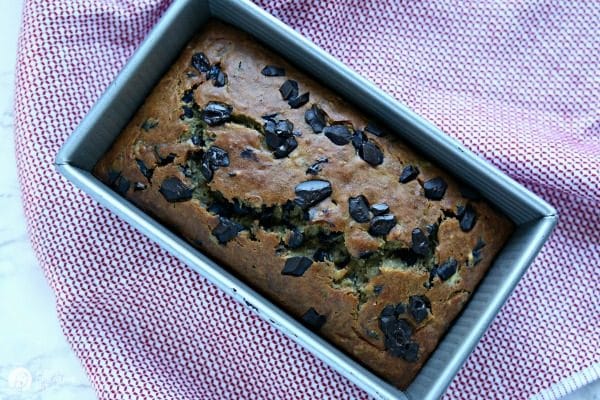 Chocolate Chip Banana Bread
The only thing about having so much chocolate in this recipe? It was all over my fingers when I was trying to eat a warm piece of banana bread. It's a real problem.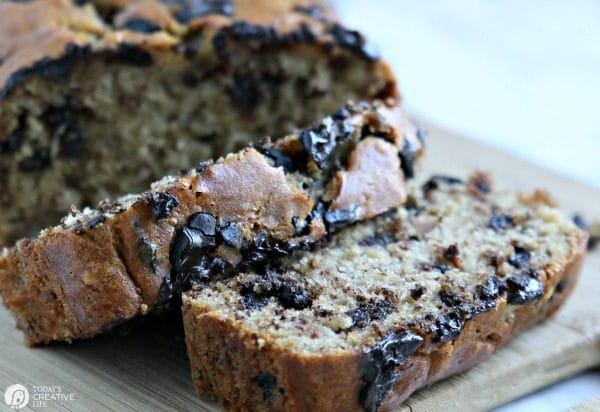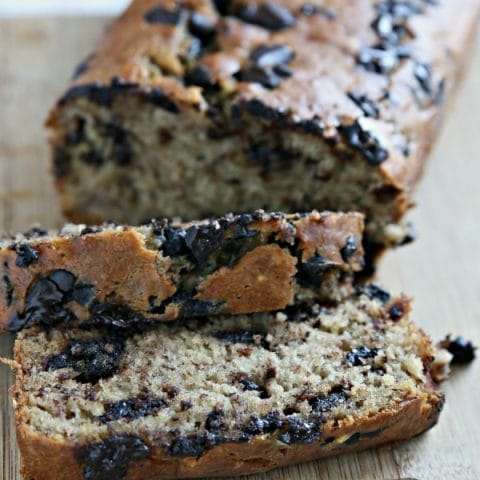 Buttermilk Banana Bread
Prep Time: 10 minutes
Cook Time: 50 minutes
Total Time: 1 hour
This Banana Bread Recipe is moist and delicious made with buttermilk and chocolate chunks!
Ingredients
3 Bananas (ripe, like when the peels are turning spotty)
1/3 cup melted butter
1/3 cup buttermilk
1/2 cup sugar
1 egg
1 tsp vanilla extract
1 tsp baking soda
pinch of salt
1 1/2 cups all purpose flour
1 cup chocolate chunks or chips
Instructions
Preheat oven to 350 degrees.
Prep your favorite bread loaf pan with cooking spray or vegetable oil.
Unpeel and place bananas in a large mixing bowl. Using a fork, mash the bananas until they look like baby food. I like them smooth with a little chunkiness.
Stir in melted butter.
Add buttermilk, sugar, egg, vanilla, salt, and flour. Stir into a smooth and thick consistency.
Gently stir in the chocolate chunks or chips.
Pour into the prepped bread pan and if you want, sprinkle a few more chocolate chunks on top.
Place in the oven for 45-50 min.
Mine always seems to brown up before it's finished, so I loosely place a piece of tin foil over the top to prevent further browning.
You'll know it's done when you can insert a toothpick into the middle and it comes out clean. I kept hitting a chocolate chunk, so more poking was needed.
Notes
Nutrition information was calculated using VeryWell Recipe Calculator.
This recipe was inspired from Simply Recipe.
Nutrition Information
Amount Per Serving
Calories 365
Total Fat 14.9g
Cholesterol 46mg
Carbohydrates 53.6g
Fiber 2.5g
Sugar 29.4g
Protein 5.6g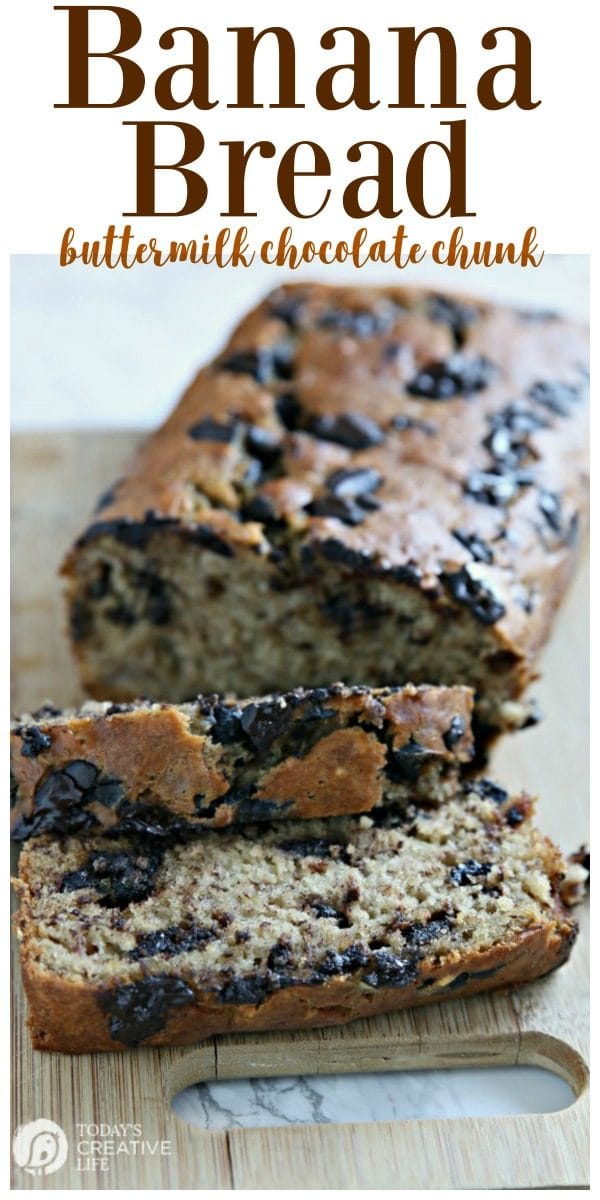 ---
More Quick Bread Recipes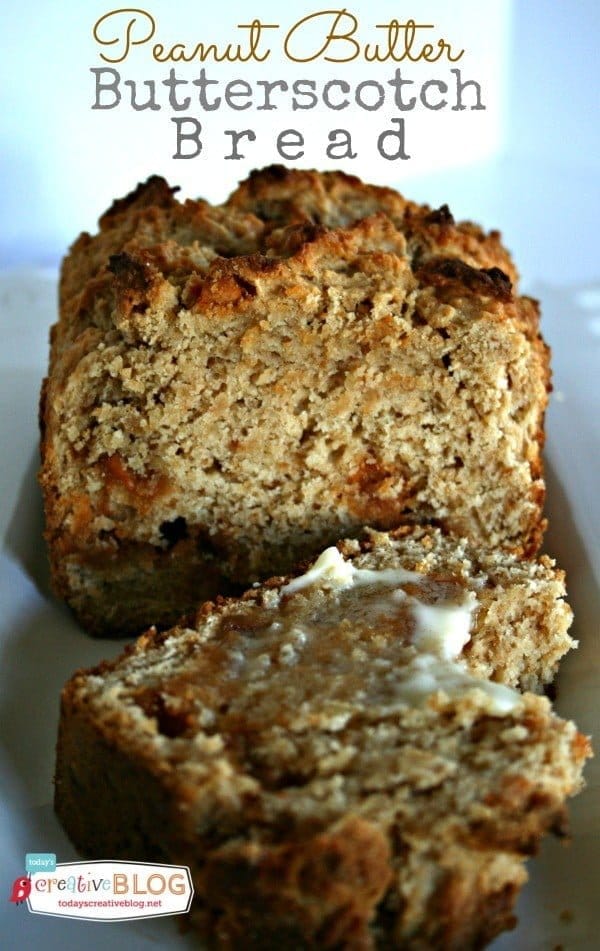 Peanut Butter Butterscotch Bread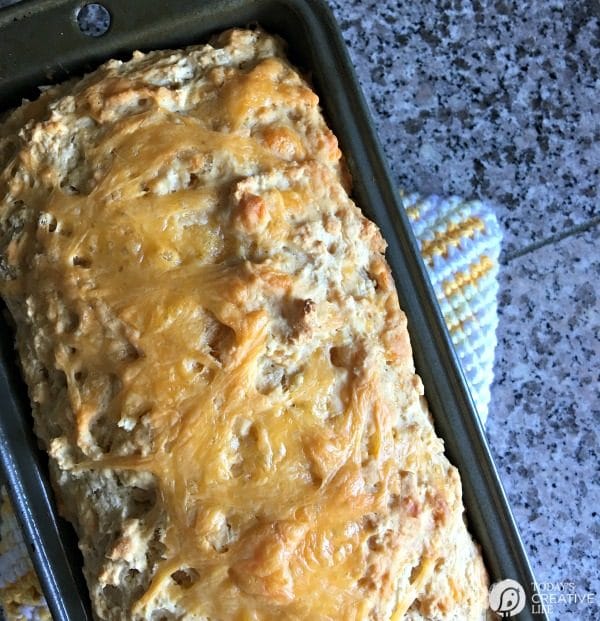 Garlic Cheddar Beer Bread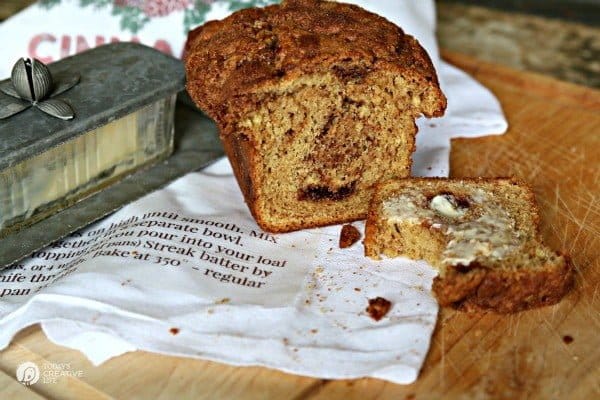 Cake Mix Cinnamon Quick Bread