This Banana Bread Recipe with sour cream was inspired by our recent snow and ice storms.
Here in the Pacific NW, we've been hit by ice storms, snow storms, and more ice since December. There was a 5-day stretch where I didn't even leave the house, which left me a lot of time to crave comfort food like this moist banana bread recipe made with sour cream.
Banana Bread Recipe with Sour Cream and Pecans

I was happy as a clam, being stuck inside making Crockpot Chicken Tortilla soup, Sweet Raspberry Muffins and any other quick breads like this other Buttermilk Banana Bread with Chocolate Chips I could think of.
I pulled out my mother's recipe box and a couple of my favorite type of recipe books. The recipe books are ones with a collection of recipes from my husband's family and the other is a collection from the Lebanon Jayceettes. I love finding old family recipes and ideas!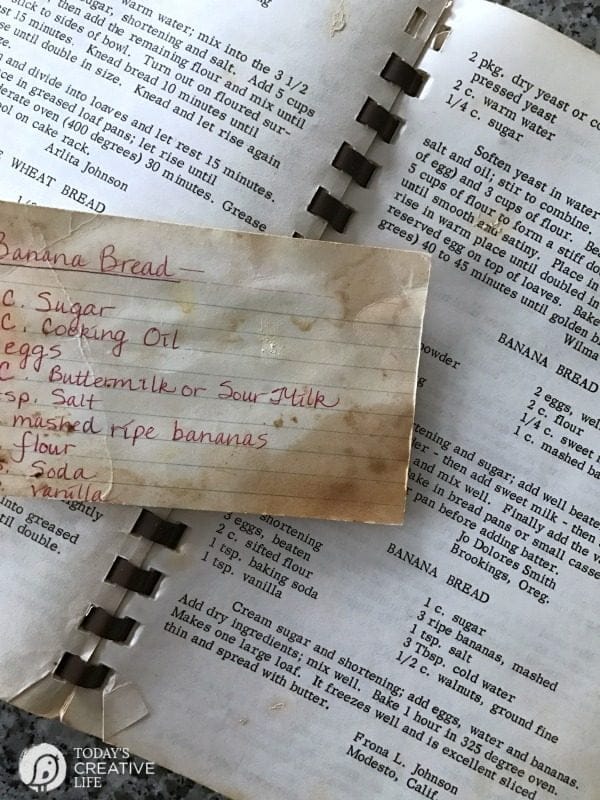 I looked at all the banana bread recipes I had before me and decided to tweak it a bit. I thought about making a Chocolate Chip Banana Bread, but believe it or not, when asked, my son said to leave out the chips, so I did.
Moist Banana Bread Recipe with Sour Cream
Since I didn't have buttermilk, I decided to just use a bit of sour cream, as sour cream is known to help create moist banana bread.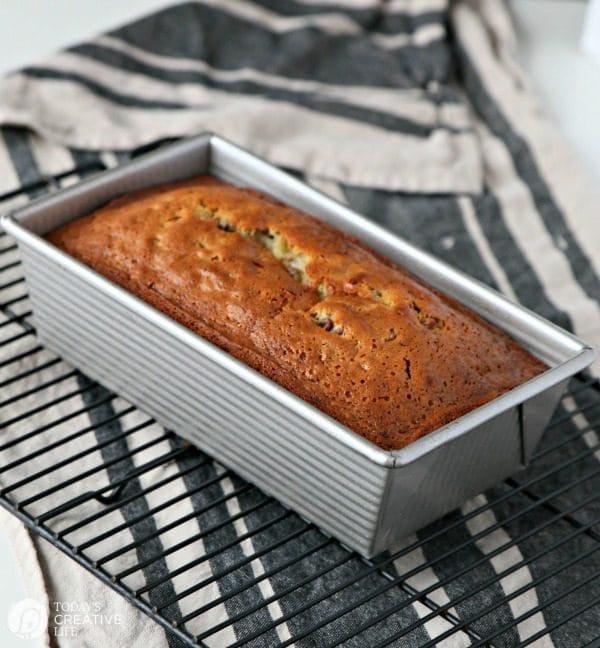 This was a good choice! The banana bread was moist and flavorful! I also decided to use pecans instead of walnuts, which was hard, because I love making walnut banana bread. I am happy to report that pecans are also a good choice!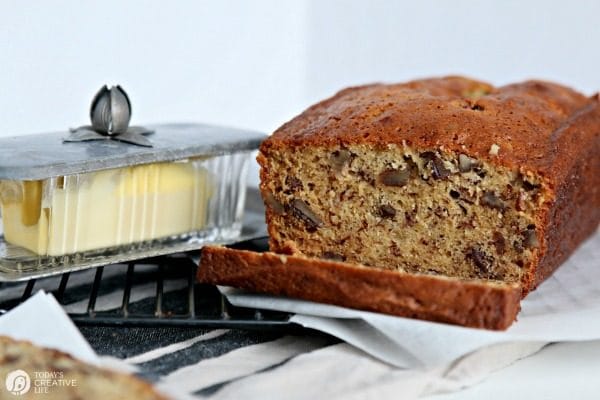 A lot of banana bread recipes call for just one banana or maybe just a cup of mashed bananas, but I always like to use at least 2 mashed up bananas. If I'm going to eat banana bread, I want to really taste the bananas; know what I mean? I want the BEST banana bread made with sour cream for the best flavor!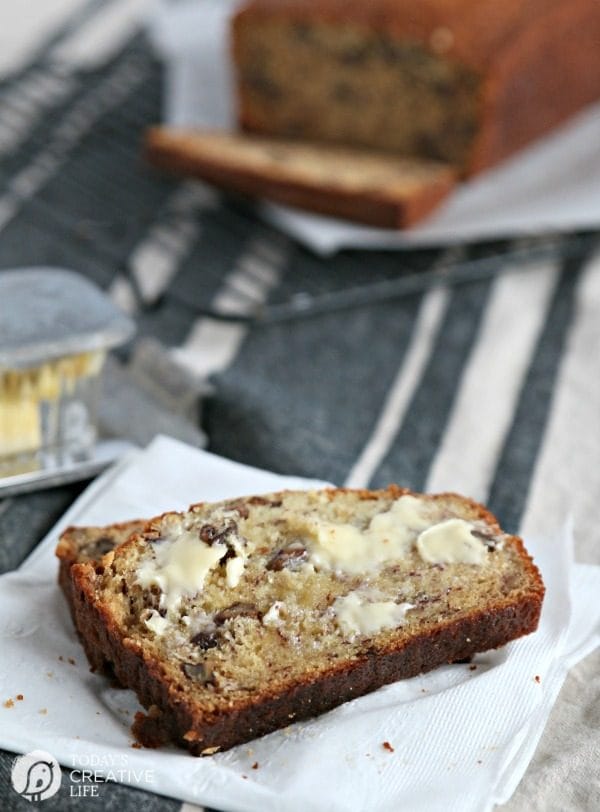 I think the hardest part is waiting for the bread to cool. If you try to release banana bread from its pan too soon, it can separate and tear. Don't ask how I know that.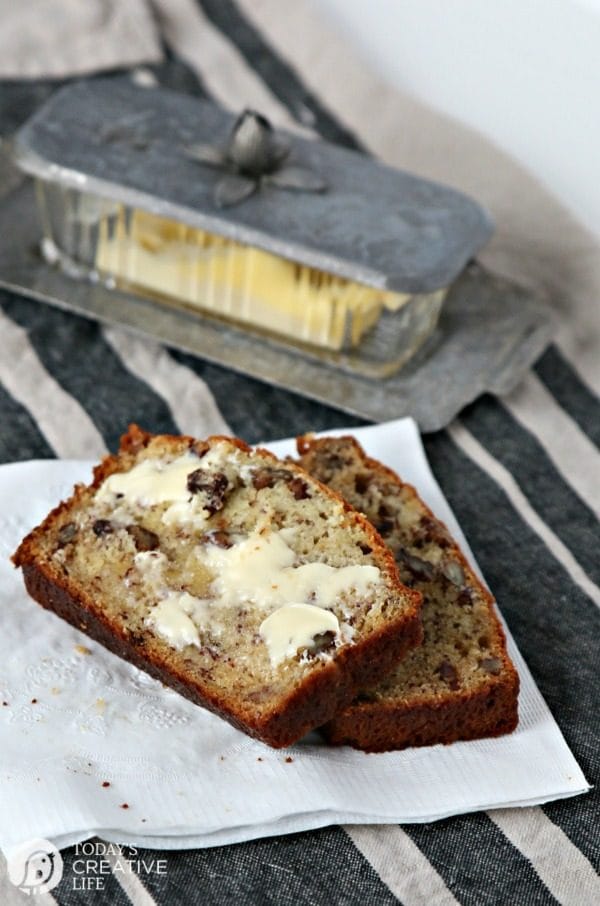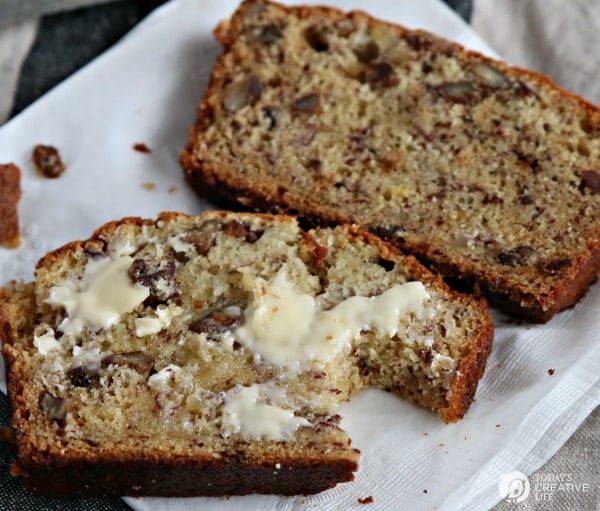 I like to cut the moist banana bread as soon as it's cool enough, but still a little warm, then spread real butter across the top!
Can you freeze banana bread?
Banana bread keeps very well for 2-3 months when properly frozen. Make sure that the bread is completely cool before wrapping in layers of plastic wrap and aluminum foil.
To thaw banana bread, remove it from the freezer and set it on a counter for a few hours. Once thawed, store banana bread in an airtight container at room temperature or in a refrigerator; for the best consistency, do not refreeze banana bread with sour cream.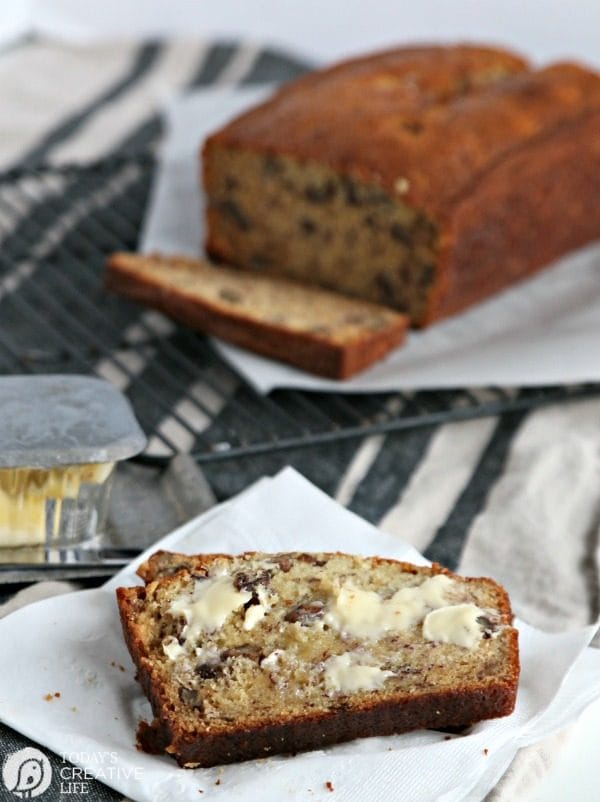 I don't think I will ever make anything but banana bread with sour cream again, it is pretty tasty! Usually, I use buttermilk, but I didn't have any and even though you can add vinegar to milk to create your buttermilk, I realized I was completely out of vinegar too. I guess I used it all up cleaning my microwave or making fruit fly traps.
If you ever find yourself needing baking substitute advice, just print up my free printable baking substitution sheets to tape on the inside of your cupboard!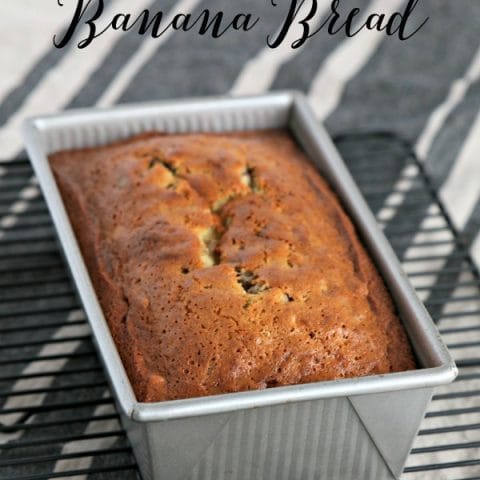 Banana Bread Recipe with Sour Cream
Yield: 1 loaf
Prep Time: 10 minutes
Cook Time: 40 minutes
Total Time: 50 minutes
Moist and flavorful banana quick bread recipe.
Ingredients
1 1/2 Cup Sugar
1/2 cup vegetable oil
2 eggs
1/4 cup milk
1/4 cup sour cream
1/4 teaspoon salt
2 over ripe bananas, mashed.
2 cups flour
1 teaspoon baking soda
1 teaspoon vanilla
1 cup chopped pecans
Instructions
I used my KitchenAid mixer.
Cream sugar and oil; beat in eggs.
Add milk and sour cream, salt, and bananas; beat well.
Slowly add flour, baking soda and vanilla. Mix
Fold in chopped pecans
Place in a greased loaf pan (regular size)
Bake at 350 degrees for about 40-50 min.
Mine looked golden brown before the middle was done. Place tin foil over the top to continue baking. This will prevent over browning.
Cool the pan on a wire rack for at least 30 minutes before releasing from the pan.
To release from the pan, run a butter knife between the bread and the pan, flip and gently jiggle.
Notes
Don't like pecans? Use walnuts instead. It will be fantastic!
Don't want any nuts? That's OK too!
Nutrition Information
Yield 8
Serving Size 1
Amount Per Serving
Calories 537
Total Fat 27g
Saturated Fat 3g
Trans Fat 0g
Unsaturated Fat 22g
Cholesterol 51mg
Sodium 249mg
Carbohydrates 71g
Fiber 3g
Sugar 42g
Protein 7g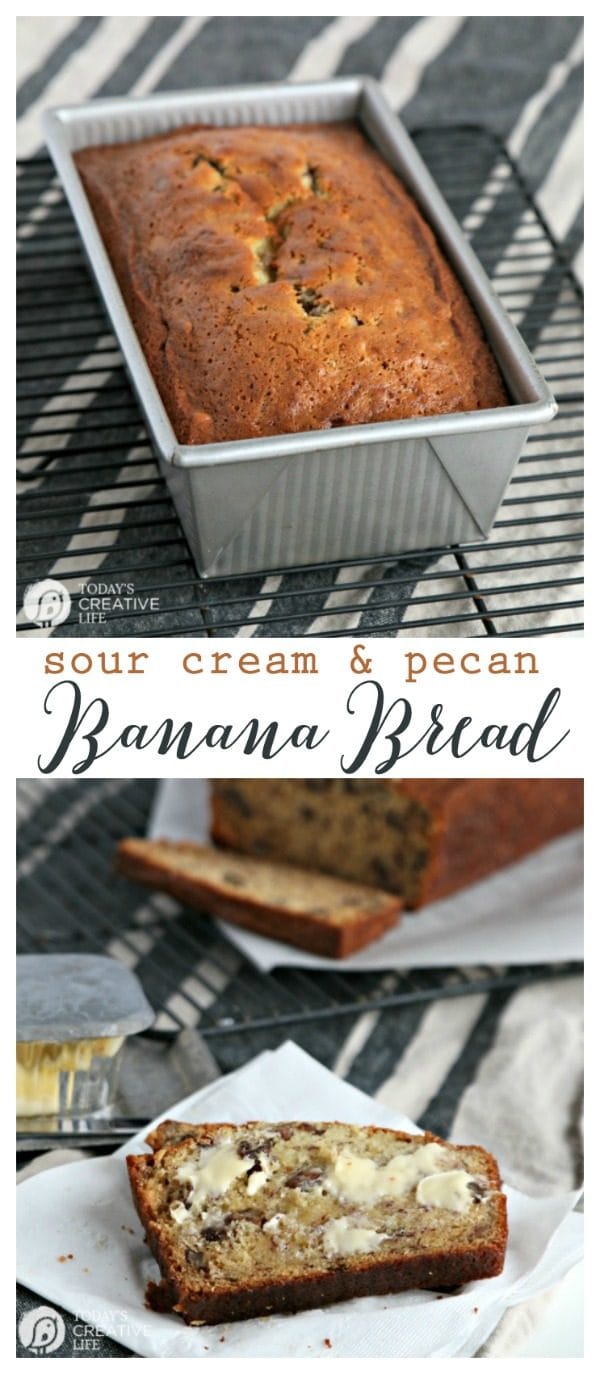 ---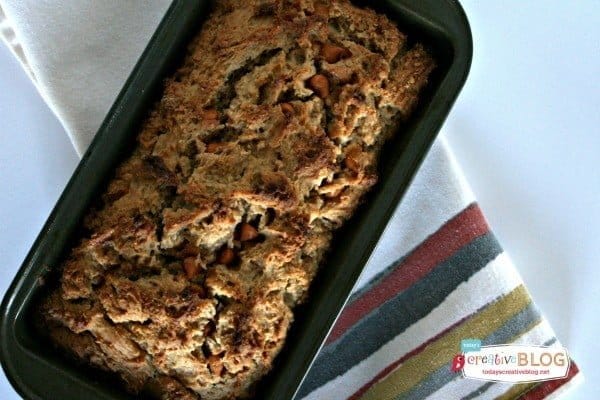 Peanut Butter Butterscotch Bread