This recipe for Apple Muffins is your go-to recipe for quick and easy breakfast muffins. Made with cinnamon, apples, and all the fall flavors.
Bake up a quick batch of cinnamon-spiced apple muffins for breakfast or a snack. Filled with apples, walnuts and a whole lot of goodness. Once fall shows up, it's all about spiced apple or pumpkin anything! Speaking of which, prepare your season with my homemade Pumpkin Spice to have on hand.
Apple Muffins Recipe with Cinnamon Spice
I've had this recipe for years. It's one of those recipes that you can swap out the apples with another fruit….. whatever you're craving, or whatever you may have on hand.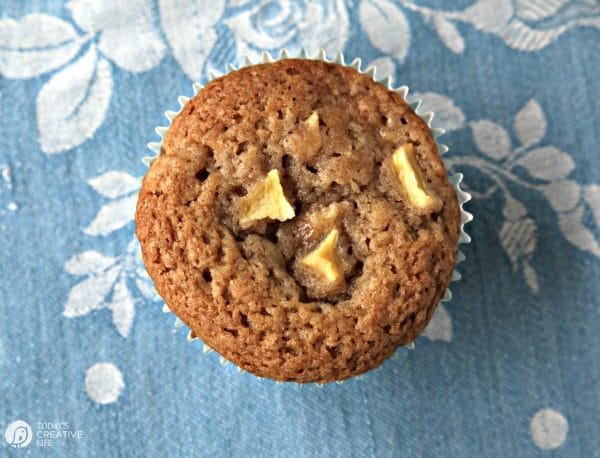 Since I have a few apples around from our apple trees, I find myself looking for ways to use them up. I've got lots of apple recipes on TCL…. because can you really have too many apple recipes? I think my all-time favorite thing to do is make Slow Cooker Homemade Apple Sauce.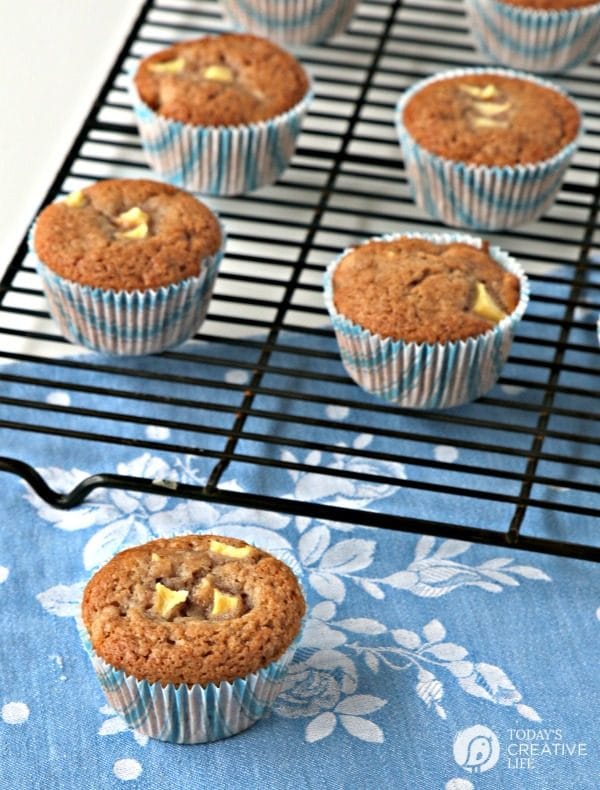 Mix and Match Breakfast Muffin Ingredient Choices
As mentioned this apple muffins recipe is easy to change. Choose your veggie or fruit – substitute whatever you'd like. Always drain or chop your ingredients.
Shredded Carrots
Dates or figs
Bananas
Apricots
Cranberries
Berries
Applesauce
Raisins
Canned pumpkin
Crushed Pineapple
Zucchini
I've even been so bold to add 2 choices for the measurement requirement.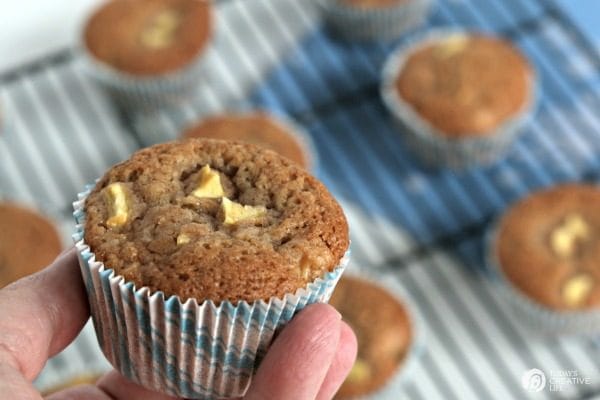 I made these breakfast muffins up a couple of weeks ago and placed them in the freezer for later. I made them with my son in mind, so he could grab one on the way to school or soccer practice.
While we're talking about apples! Here's snother great make-ahead recipe and also great for gifts, is this Apple Pie Filling with free printable label.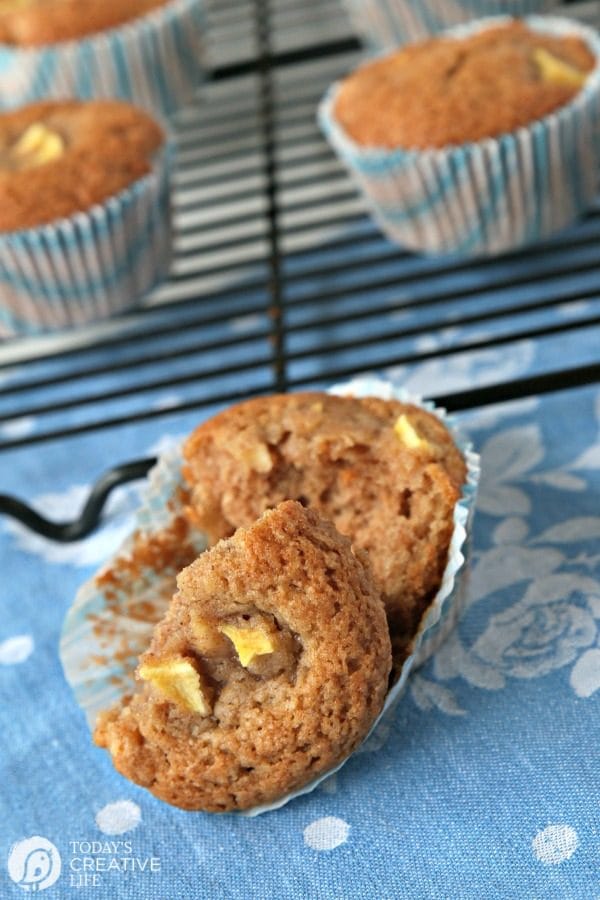 How to Make Apple Spice Breakfast Muffins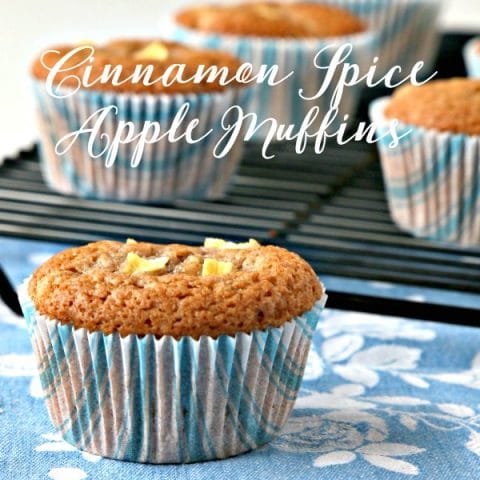 Apple Muffins Cinnamon Spice
Yield: 24
Prep Time: 10 minutes
Cook Time: 15 minutes
Total Time: 25 minutes
Ingredients
3 cups flour
1 teaspoon salt
3 tsp cinnamon
1/2 tsp baking powder
1 tsp baking soda
2 eggs
1 C. vegetable oil
2 cups sugar
2 cups chopped apples
3 teaspoons vanilla
1 cup chopped walnuts (optional)
Instructions
Mix dry ingredients together in a medium-size bowl and set aside.
Using a mixer, cream together eggs, oil and sugar.
Add apples and stir
Stir in nuts
Spoon into well-greased muffin tins or use muffin liners
Bake at 375 degrees for about 15 minutes or until golden brown.
Notes
Change it up and use two cups of the following items instead of the apple.

Shredded Carrots
Dates or figs (chopped)
Bananas
Apricots
Cranberries
Berries
Applesauce
Raisins
Canned pumpkin
Crushed Pineapple (drained)
Zucchini (grated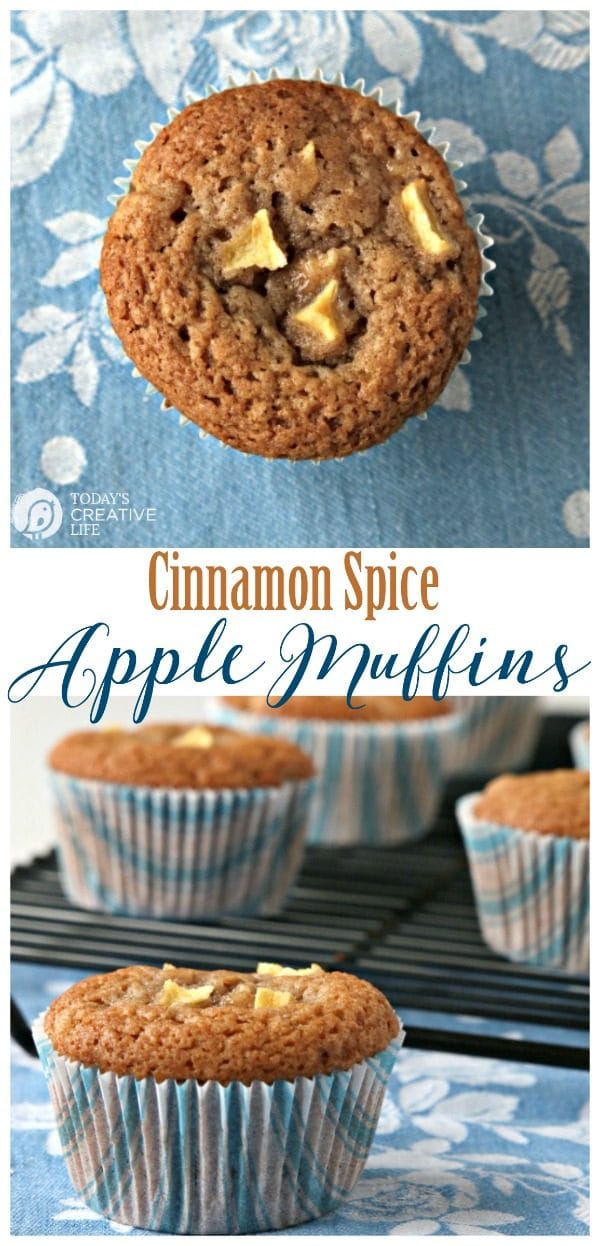 Recipes with Apples
Find a variety of irresistible apple recipes from crockpot applesauce to quick and easy apple dumplings.
The moist apple cream cheese bread is so full of flavor!
Cocktails made with apples are perfect for the fall season.
Quick and easy apple dumplings made with sprite and crescent rolls make a fast weekend breakfast idea.
The sweet and savory chicken salad makes a delicious lunch.
This cheesy apple dip makes a unique party dish.
Making apple butter in the slow cooker is a great way to use up apples. This also makes a great homemade gift from the kitchen.
Slow Cooker Oatmeal in 2 hours! Easy breakfast recipe that is tasty and nutritious.
Another fall favorite recipe with our own apples.
Sweet and tangy apple cake can be made in any shape.
Make this simple apple crisp recipe using your crockpot for a seasonal Fall recipe.