The easiest way to make homemade candy is using a Candy Bark Recipe. I was inspired to make this Butterfinger candy bar bark by the Butterfinger folks themselves. I tweaked their recipe slightly using the ingredients I had on hand. Candy bark made with candy bars is a genius and simple way to make homemade candy.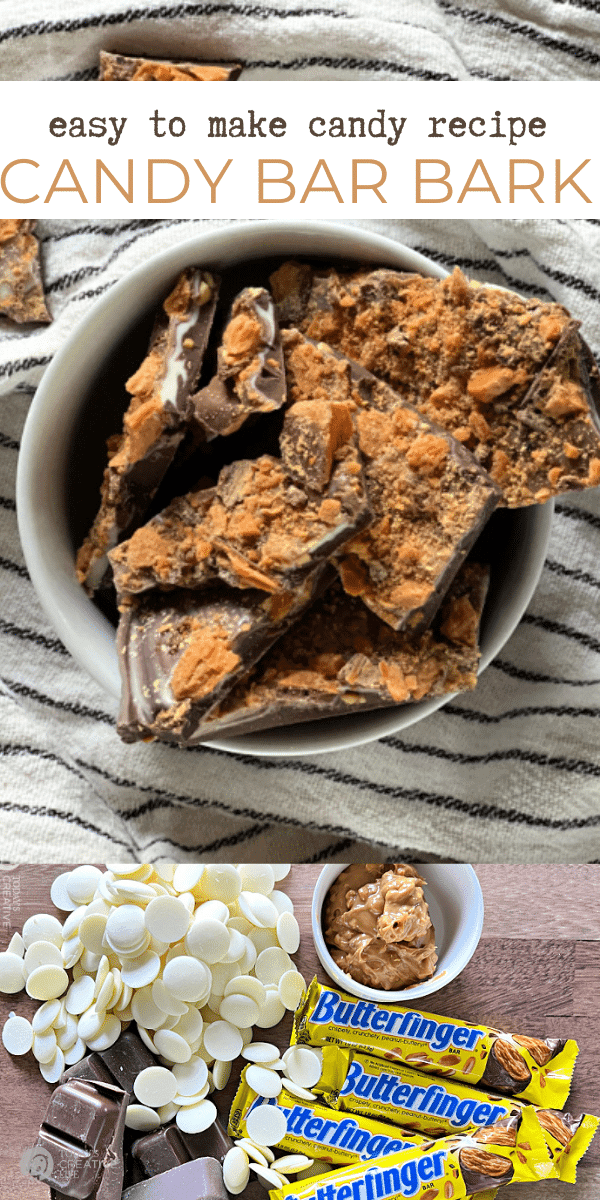 Butterfinger Candy Bark Recipe
I love Butterfinger candy bars so when I saw this recipe, I had to make it! There is no baking and all I needed was the microwave. This candy bark recipe is so quick to make, which makes it a great recipe for kids to make, or help with. You literally just melt and pour and add whatever ingredients you want to the top. Homemade candy bark makes the perfect holiday gift too. Add one of my printable gift tags and you have a homemade gift that took minimal time.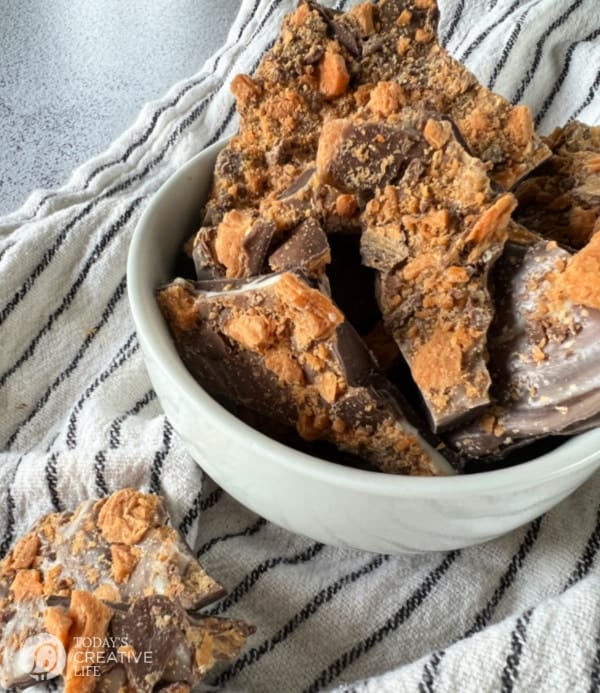 Ingredients for Making Butterfinger Bark
Butterfinger Candy Bars – if you have extra from Halloween, this is a great way to use them up!
Chocolate Almond Bark – you could also use candy discs or chocolate bars.
White Chocolate Candy Discs – you could use white chocolate bars instead.
Peanut Butter – I used crunchy, but you can use smooth. You could also use any nut butter instead.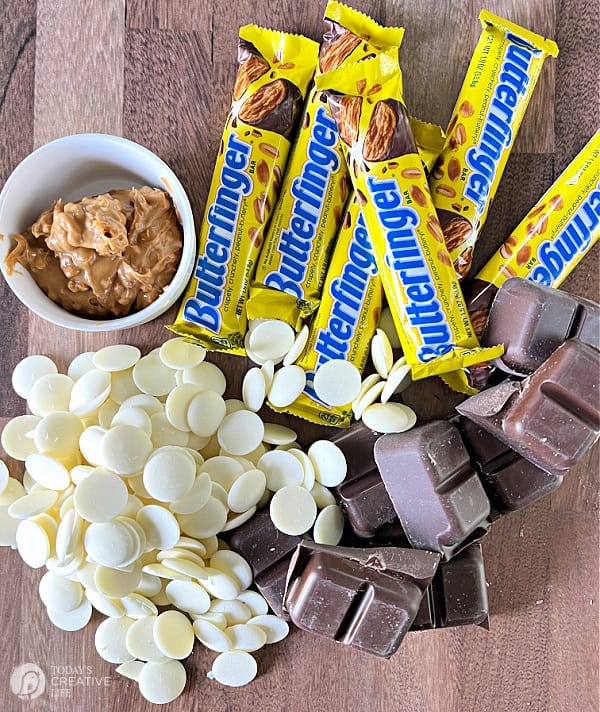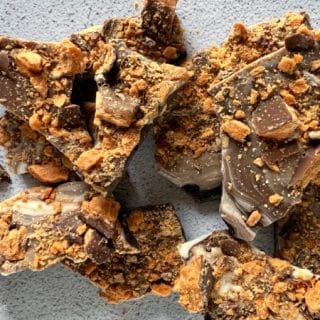 How to Make Butterfinger Candy Bark
Yield: 1 pan
Prep Time: 15 minutes
Additional Time: 30 minutes
Total Time: 45 minutes
Easy to make candy bark recipe for simple homemade candy.
Ingredients
Chocolate Almond Bark 24 oz.
White Chocolate Candy Wafers 10 oz. Or white chocolate bars equaling 10 oz.
Butterfinger Candy Bars - I used 6 bars. You can sub out for your favorite candy bar.
1/4 Cup Peanut Butter
Instructions
Line a baking sheet with parchment paper.
Place candy bars in a large zip lock bag and crush them into chunks. I used a rolling pin. Set aside.
Break the almond bark into chunks and place in a microwave-safe bowl. Microwave in 30-second intervals until melted, stirring each time.
Once the chocolate is melted, stir in peanut butter until it melts.
Pour onto the parchment paper and spread around with a rubber spatula.
Add the white chocolate candy wafers to another microwave-safe bowl and repeat the same process as melting the chocolate bark.
Once it's melted, pour over the chocolate.
Using the rubber spatula, swirl the two together.
Sprinkle the Butterfinger candy bar pieces over the melted chocolate. Using your fingers, gently press the candy bar chunks into the chocolate.
Place in the refrigerator for 30 min.
Once it's hardened, remove it and break it into pieces.
Notes
Butterfinger Candy Bark Recipe Substitutes:
Use 2 cups chocolate chips and 1 cup white chocolate chips instead of chocolate almond bark or candy wafers.
Use any candy, nuts, sprinkles etc.. instead of Butterfingers.
Use any nut butter instead of peanut butter
Recommended Products
As an Amazon Associate and member of other affiliate programs, I earn from qualifying purchases.
Nutrition Information
Yield 20
Serving Size 1
Amount Per Serving
Calories 414
Total Fat 28g
Saturated Fat 11g
Trans Fat 0g
Unsaturated Fat 15g
Cholesterol 13mg
Sodium 142mg
Carbohydrates 32g
Fiber 6g
Sugar 18g
Protein 11g
We do our best to calculate, however, nutrition information may not be accurate.
Alternative to Almond Bark
Almond bark, believe it or not is not made with nuts. Almond bark is made with sugar/ cornstarch, soy lecithin, whey powder, mildly hydrogenated palm kernel oil, and milk, and It was made to cover almonds. It's usually easily found in the baking section of your grocery store. If you can't find it, or you'd rather use something different, you can use the following chocolate varieties.
Chocolate Chips – use 2 to 3 cups
Candy Melts – 2 cups
Chocolate Bars – at least 20 oz.
CandiQuik Candy Coating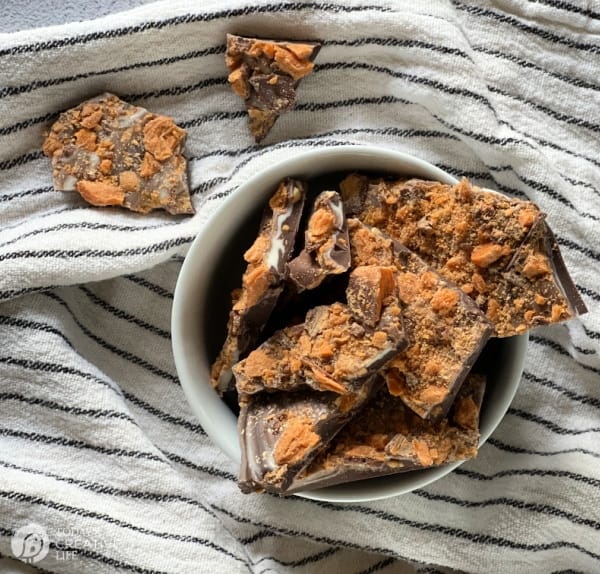 How To Store Candy Bark
Store candy bark in a cool dark place in an airtight container. I toss mine in the freezer for up to 6 months after wrapping it and also placing it in an airtight container. If it's not wrapped properly and exposed to oxygen and moisture, chocolate can get a whitish coating.
Recipes for Candy Bark
As mentioned, candy bark recipes are one of the easiest homemade candies you can make. And they are easy to make with a variety of flavors and ingredients. Here are a few recipes for candy bark below.
Peppermint Bark Recipe – Use chocolate, white chocolate or both. Sprinkle crushed candy cane and you could even add a few drops of peppermint candy extract. I also made peppermint candies using the same method.
Candy Bar Bark – Chop up or crush any candy bar and add to the top.
Jelly Bean – You guessed it. Just add jelly beans to the top.
M&Ms, Candy Corn, Toffee etc…
Fruit and Nut – Just add dried fruits and nuts to the top. Kind of like these fruit and nut candies I made. Make them with white chocolate or milk chocolate. They make great holiday gifts.
I think you get the idea.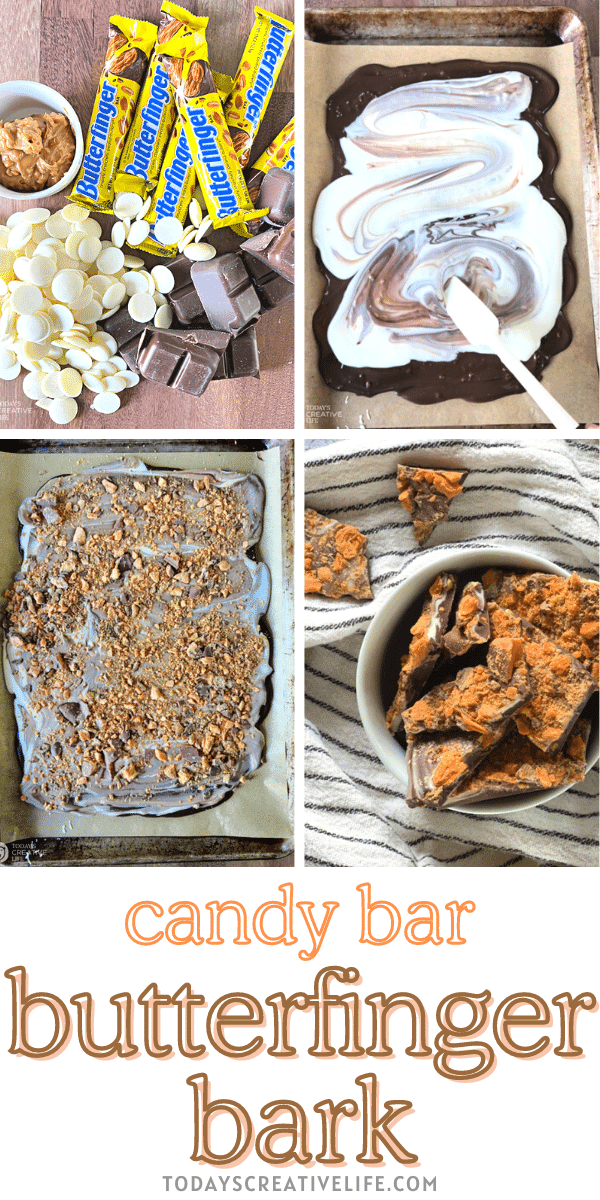 Christmas Candy Recipes
Homemade Christmas candy recipes that are easy to make. A holiday gift from the kitchen that you can give friends, neighbors and family.
These gorgeous little candies are simple and quick to make. Add your favorite candies or fruit and nuts for a delicious bite.
These beautiful peppermint bites make the best gift to hand out to neighbors and friends.
Two ingredients and only 20 minutes is all you need to make these.
Arrange these peanut butter cups in a candy tin and you've got a great gift!
These hot chocolate melting candies are easily made with only one ingredient and a snowflake mold.
For all the peanut lovers out there! These copycat PayDay candy bars are delicious!
Another incredibly easy candy to make for the holidays. Add sprinkles for an extra decoration.
This recipe has been in my family for decades! It's the best peanut butter recipe you'll ever make.
Make this holiday favorite peppermint bark for half the cost!