I have been wanting to make Crock Pot Candy for the longest time! Chocolate peanut clusters are one of my favorite treats, so I figured I'd try making candy clusters in my slow cooker! Slow Cooker Dessert ideas are easier than you think!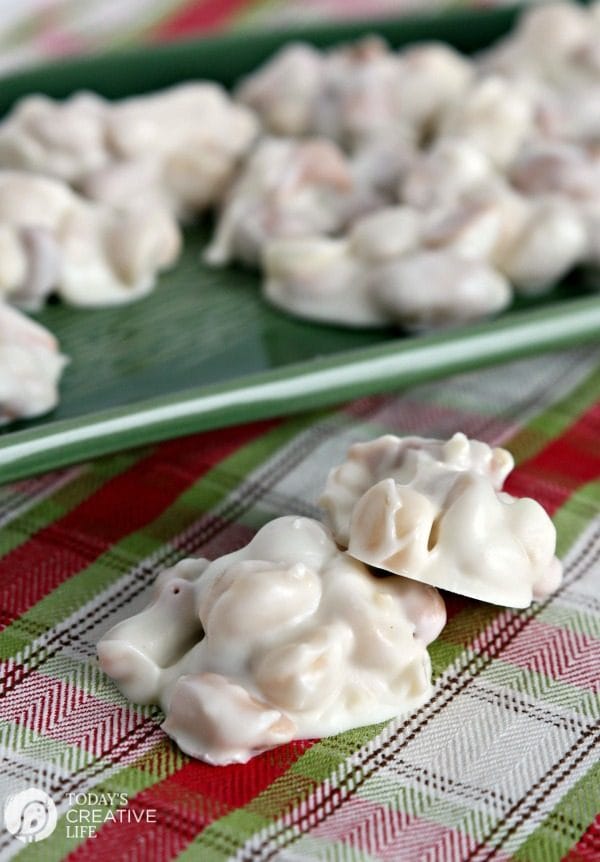 Crock Pot Candy Nut Clusters
Well, I only had a brick of the white vanilla almond bark, which I just call white chocolate and I didn't have any peanuts. But I did have cashews and macadamia nuts. Even better! Real white chocolate can be used, but it's going to be more expensive. You can also use chocolate chips and make these Slow Cooker Chocolate Peanut Clusters. YUM!
I was so excited that I dumped everything in and then realized I didn't grease the crock with butter before. It makes clean up a lot easier. Those crockpot liners would be great for making Crock Pot Candy Recipes.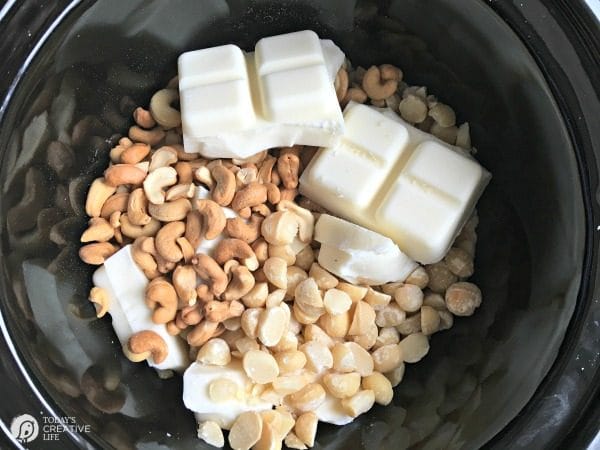 Making Slow Cooker Vanilla Nut Clusters
You'll need:
Links for products are affiliate links and for your convenience. This costs you nothing extra, but a small % will go to TCL. Thank you for your support.
Just like the photo above I just dumped it all in. Set it on low.
After about an hour, stir. If all the larger chunks have melted, then you're ready to start spooning! If you still see parts of the candy that haven't melted, let it go for another 30 minutes or so.
Once it's all melted, use a teaspoon to scoop up and drop onto the parchment paper. Let it sit for a couple of hours until it's completely set.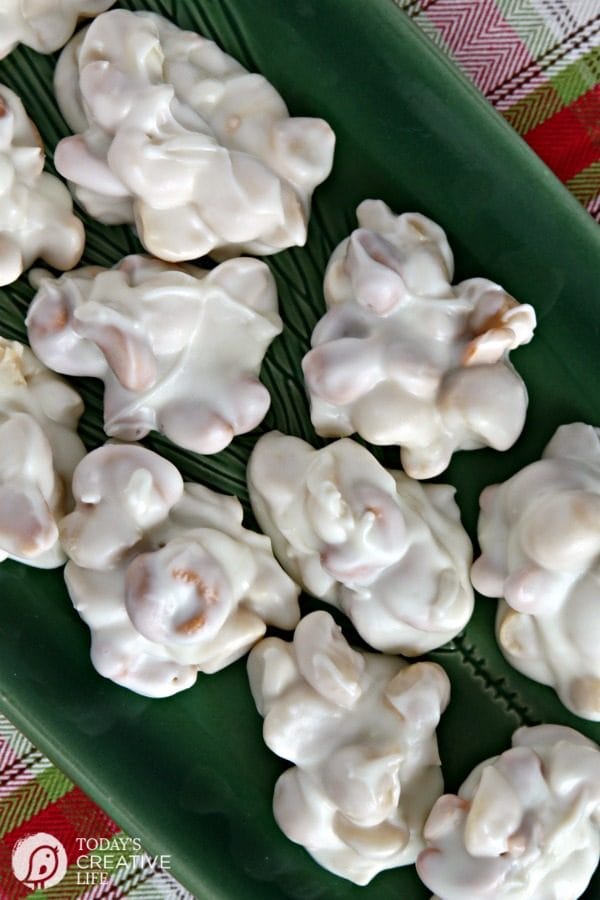 If you want to get fancy, you could always melt chocolate chips and drizzle across the tops. Or use any color of the candy melts for something fun.
Package up a few for a quick gift. Use one of my printable gift tags to complete the gift.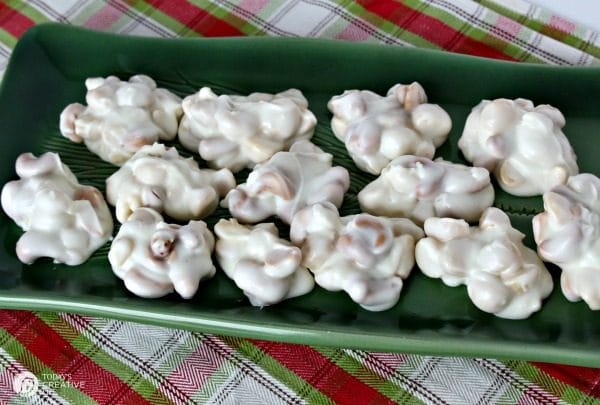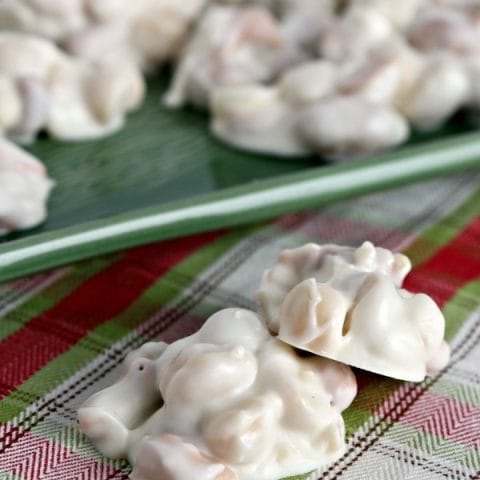 Crock Pot Candy Vanilla Nut Clusters
Yield: 24
Prep Time: 5 minutes
Cook Time: 1 hour
Total Time: 1 hour 5 minutes
Easy to Make Crockpot Candy Recipe for Vanilla Nut Clusters.
Ingredients
2 to 3 Cups nuts - I used what I had. Use any nut or variety of nuts.
Instructions
Butter or grease the inside of your crock pot.
Break up the almond bark or bars and place inside the crock pot
Add the nuts
Cook on LOW 1 hour, then stir to check if it's melted. If it's not completely melted, let it cook another 30 min.
Notes
Feel free to use any nut variety or chip flavors you'd enjoy.
Nutrition Information
Yield 24
Serving Size 1
Amount Per Serving
Calories 523
Total Fat 38g
Saturated Fat 14g
Trans Fat 0g
Unsaturated Fat 21g
Cholesterol 12mg
Sodium 149mg
Carbohydrates 41g
Fiber 3g
Sugar 35g
Protein 11g
---
Crockpot Dessert Recipes
Easy to make Slow Cooker Dessert Recipes.
Follow me
Facebook | Pinterest | Instagram | Twitter