If you like warm and gooey desserts, then this Slow Cooker Strawberry Dump Cake is YOUR dessert! I am in love with Slow cooker desserts and dump cakes! They can make a baker out of anyone!
Here are a few of my favorites!
This slow cooker strawberry dump cake not only has the sweetness of a delicious strawberry, but I've added a little tang by adding pineapple. I know! You wouldn't think that strawberries and pineapple would be a great combo at first, but it is! Sweet and Tangy! If you'd rather not add the pineapple, keep reading, I'll give you options at the bottom of the post.
Slow Cooker Strawberry Dump Cake with Pineapple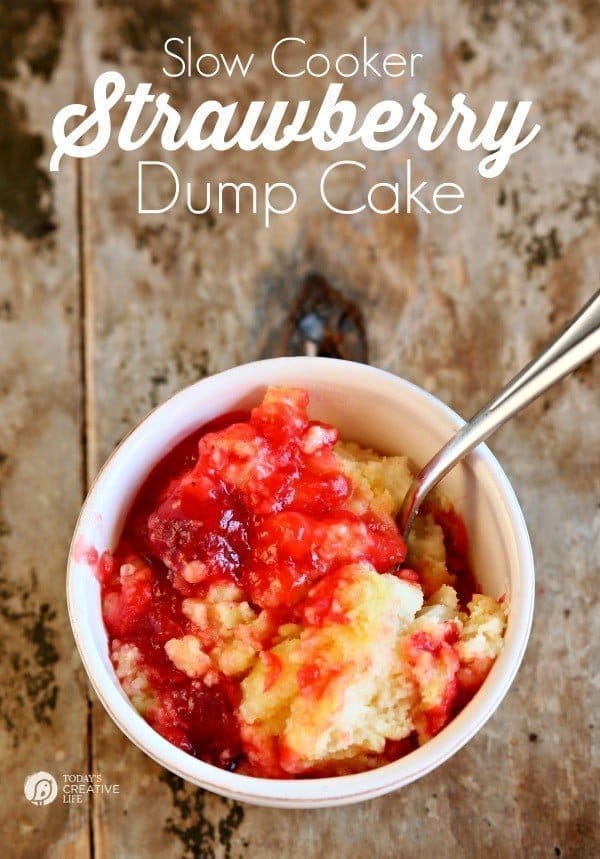 Since this was a last-minute decision to make a slow cooker dessert, I was afraid I wouldn't have all the ingredients. I had a can of strawberry pie filling, but I only had a can of pineapple chunks, not crushed. I'm sure I could have just used the chunks as is, but I was quick to remedy this problem by using my magic bullet to turn the pineapple chunks into crushed pineapple. Gosh, I love that thing! Within 10 seconds, I had what I needed!
Affiliate links for products listed are for your convenience only. This costs you nothing extra. If you happen to purchase anything as a result of clicking, TCL will receive a small percentage. Thank you for your support. This allows me to continue to offer you free content.
The great thing about this dessert is that you're completely satisfied after one small serving. At least I was, which isn't normal and I didn't even add vanilla ice cream. I need to remember to keep some vanilla ice cream in the freezer for dessert moments like this….. well, maybe I don't. (especially since I've learned that my doc reads my blog and she's always after me for my blood sugars) 🙂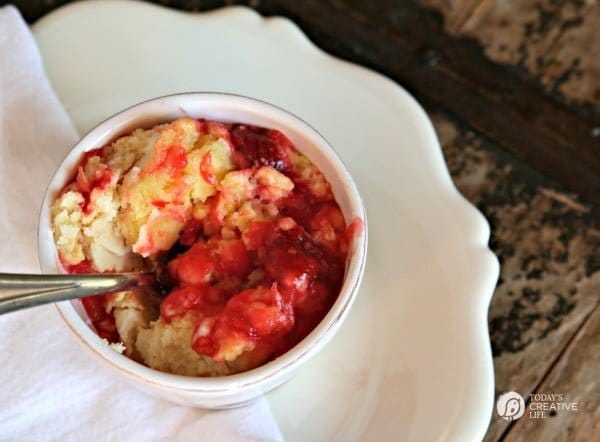 I love that I can throw it together in the slow cooker when I start dinner, and by the time I'm snuggling up on the couch with my husband for a movie, dessert is ready! I use a 6 quart Crock pot, so if you have a smaller one, you'll probably have to cook it a little longer.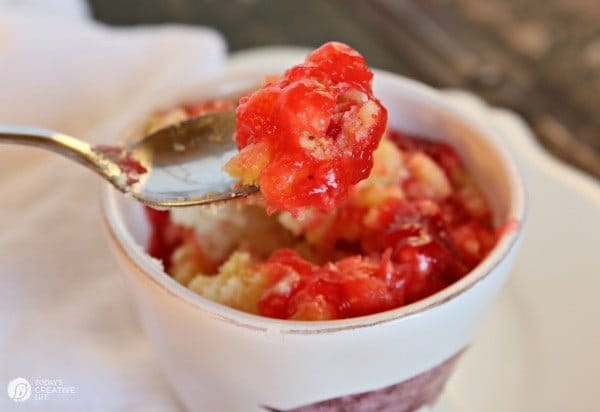 My husband got me the most adorable little cups for Mother's Day and they were perfect for serving just the right amount of dump cake. I'll have to share them on my facebook page or instagram. One has a little pig, one has a goat and one has a cow! Love them!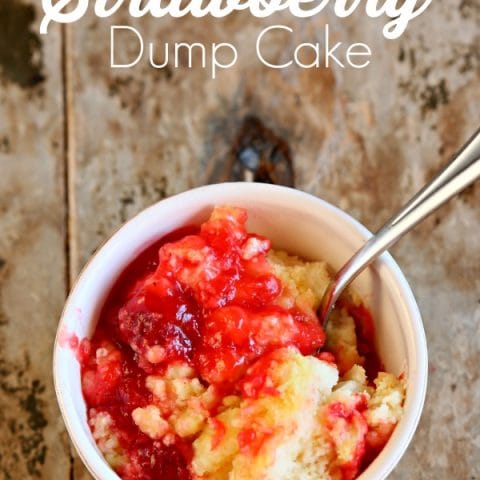 Slow Cooker Strawberry Dump Cake
Yield: 6-8
Prep Time: 10 minutes
Cook Time: 2 hours 30 minutes
Total Time: 2 hours 40 minutes
This warm and gooey dessert is the perfect blend of sweet and tangy!
Ingredients
1 (21 oz) can Strawberry Pie Filling
1 (20 oz) can crushed Pineapple
1 yellow cake mix box
1/2 cup (one cube) butter, melted
Instructions
I didn't grease the inside of my slow cooker and it was fine, but it probably wouldn't hurt to give a quick once over with cooking spray.
Add your strawberry pie filling and the pineapple. Stir
Sprinkle cake mix on top of the fruit mixture and press down a little
Pour melted butter over the top of the cake mix, covering as much as you can.
Cover and cook on HIGH for 2-3 hours.
When the edges turn golden, you're ready to go.
Notes
- I didn't have crushed pineapple, but I had a can of pineapple chunks. I place it in my magic bullet and in 10 seconds, I had crushed pineapple. Boom!

- I use a 6 quart slow cooker. If you're using a smaller one, you'll probably have to cook it a little longer.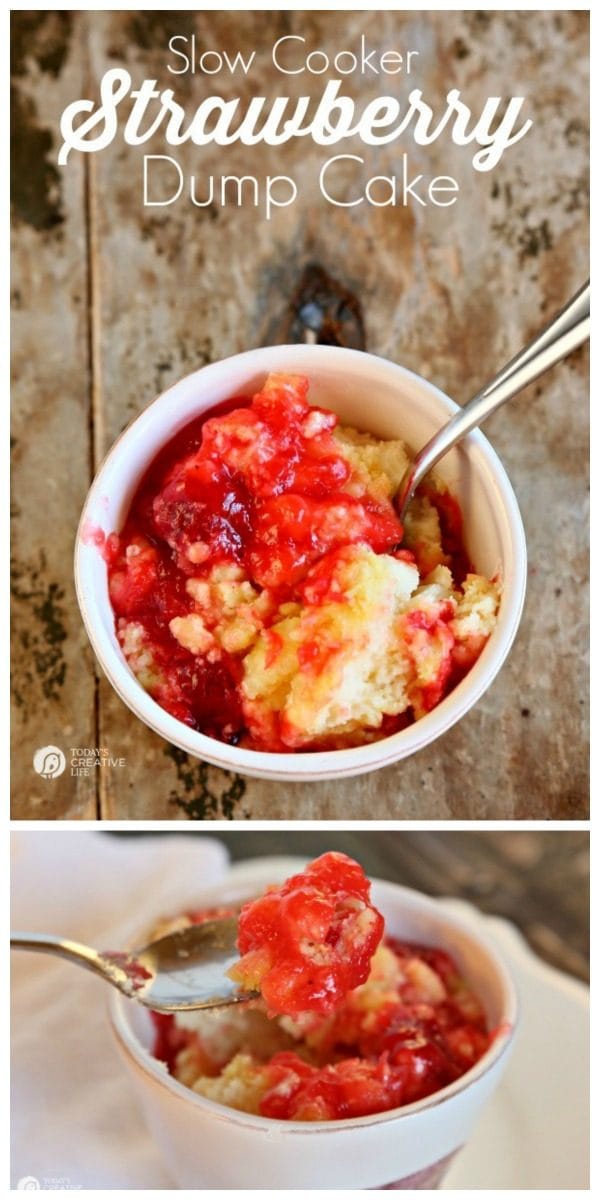 The beauty of dump cakes is that you can use any flavoring you want. Mix and match your fruits or cake mix flavors. Cherry pie filling is fantastic with chocolate cake mix! My friend Stephanie from A Year of Slow Cooking is always one of my go-to sources and she has a delicious Dump Cake recipe. I have all her Slow Cooking recipe books and they are perfect for gluten free and family favorites!
I think my next one will be a lemon one with white cake mix.
Strawberry Dump Cake without Pineapple
If you'd rather not use Pineapple, just omit and you should be fine. If you have any fresh strawberries, you can add a couple of cups instead.
---
More Slow Cooker Recipes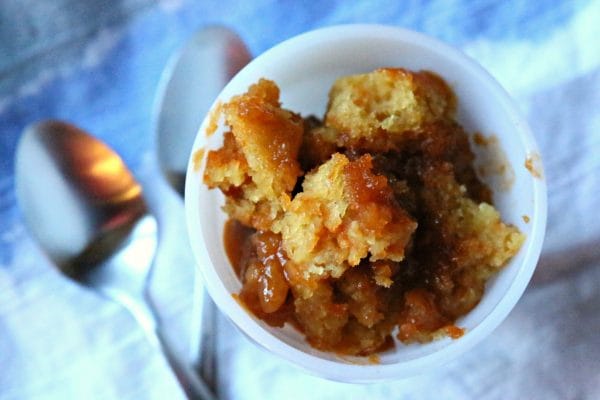 Slow Cooker Butterscotch Vanilla Pudding Cake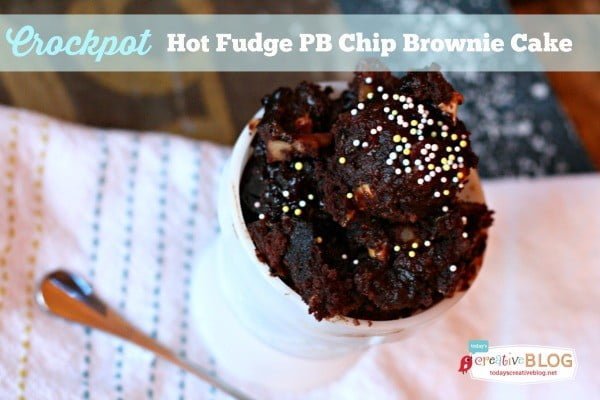 Crockpot Hot Fudge PB Chip Brownie Cake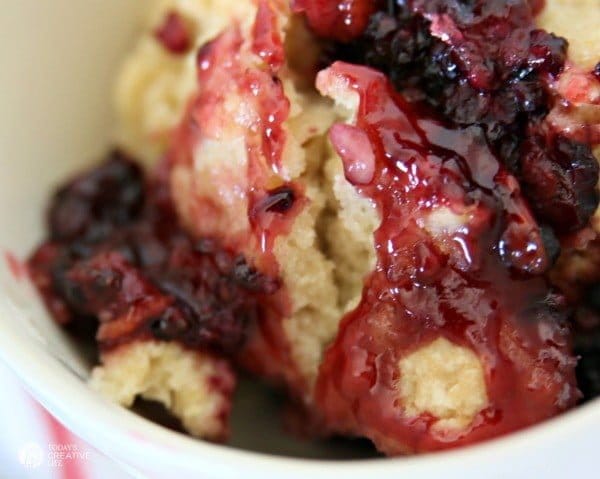 Slow Cooker Blackberry Cobbler