Making cake in the crockpot is one of my favorite things to do. This Crockpot Hot Fudge Peanut Butter Chip Brownie Cake is quite the mouth full and delivers in taste and is perfect for Slow Cooker Sunday!

It's a bit like a lava cake, but I just can't add another word and call it Crockpot Hot Fudge PB Chip Brownie Lava Cake. Someone might bite their lip just trying to say it and then they may not be able to enjoy it's goodness.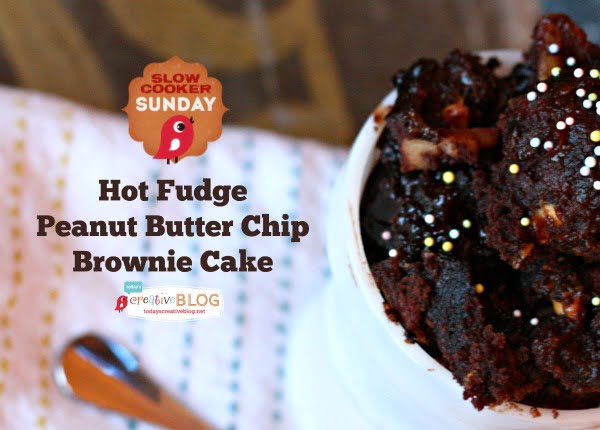 Although this would be really good with a scoop of vanilla ice cream, I had planned on making whipped cream. Then I realized that I was out of my favorite Trader Joe's Shelf Stable Whipping Cream

and we would have to eat it plain. Oh the things I do for this blog. It was a struggle, but I managed to eat just a bit. My husband actually ate the dessert cup photographed here.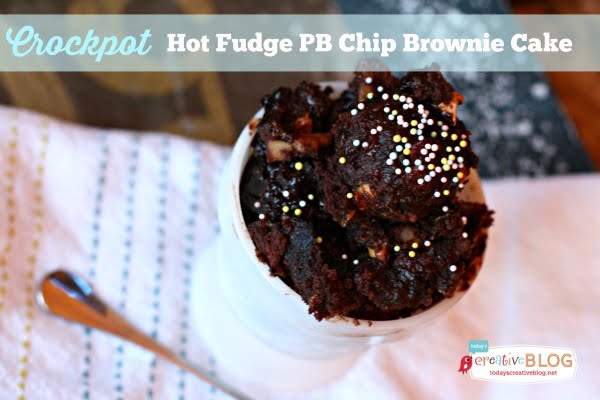 Crockpot cakes only take about 2 hours to cook, so you don't want to put it in and then head off for a full day of work.
I have always had good luck with crockpot desserts and cakes. The Peanut Butter Cup Cake is one of my favorites! And the crockpot peach pie wasn't bad either.
The sides of the cake will pull away from the crockpot insert as it cooks, but the middle stays pretty gooey. I used my ice cream scoop to scoop it up, making sure to get some of the "lava sauce" to drizzle along the top.
Since this cake uses a brownie mix, it's even easier. I love a non fussy dessert.
Crockpot Hot Fudge Peanut Butter Chip Brownie Cake
Prep Time: 15 minutes
Cook Time: 2 hours
Ingredients
CAKE INGREDIENTS:
2 Cups Brownie Mix
1 egg
1 Tablespoon vegetable oil
1/4 cup water
1/2 cup peanut butter chips
TOPPING:
1/2 cup brown sugar
2 tablespoons baking cocoa
3/4 cup boiling water
Instructions
Grease your crockpot
Combine all CAKE INGREDIENTS in a bowl and mix well. Spoon batter and spread evenly into your crockpot (2.5- 3.5 quart)
Mix the topping ingredients together and stir until the sugar and cocoa are dissolved.
Pour over the batter. This is what will make the "lava" sauce.
Cover and cook on high for 2 hours.
After 2 hours the sides should be slightly pulling away from the crock.
Turn off the crockpot and allow to sit for 20 - 30 minutes.
Notes
Try it with chocolate chips or white chocolate chips.
Serve with Whipped cream, ice cream, nuts, more hot fudge......the possibilities are endless.
Follow my Slow Cooker and Crockpot Pinterest Board for more great recipes.
Follow Kim Demmon (today's creative blog)'s board Crockpot & Slow Cooker Recipes on Pinterest.