Making cheese fondue at home is easier than you think! This delicious fondue recipe made with cheddar cheese, beer, garlic, mustard powder and pepper tastes great with meats, breads, fruits and veggies. Fondue is great for special dinners on Christmas Eve or Valentine's Day.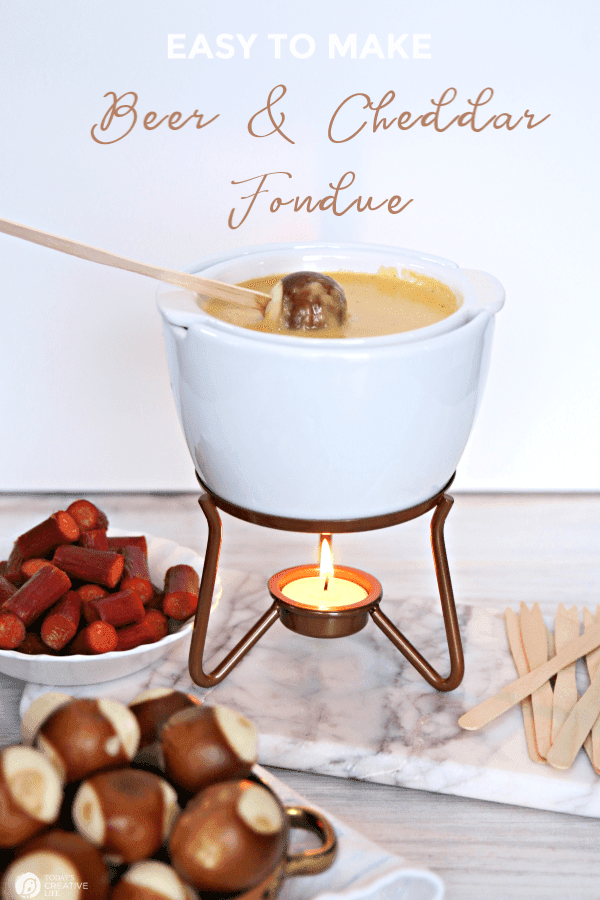 Cheese Fondue Recipe with Beer
All fondue recipes have some sort of liquid base to mix with all the seasonings and cheese. Some recipes call for wine, beer or broth. Apple juice is also a good substitution for recipes that call for wine. All make a flavorful fondue, no matter your choice. Beer is a great way to add flavor to a fondue intended for breads, veggies and meats.
How to Make Cheese Fondue
This beer and cheddar fondue recipe has just a few ingredients and is really quick to make. I cooked everything on the stovetop first, then transferred to my fondue pot. It was delicious!
cheddar cheese
beer
garlic
mustard powder, pepper
a little bit of flour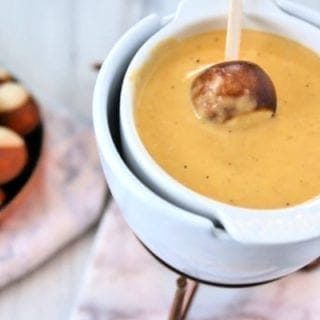 Cheese Fondue Recipe with Beer
Yield: 2 cups
Prep Time: 5 minutes
Cook Time: 10 minutes
Total Time: 15 minutes
Easy to make cheese fondue on your stovetop.
Ingredients
4 cups shredded cheese (16 oz.)
1 Tablespoon all-purpose flour
1 cup beer, nonalcoholic beer, broth or apple juice
3 cloves garlic, minced
1  1/2 teaspoon ground mustard
1/4 teaspoon ground pepper
Instructions
Place your shredded cheese in a medium sized bowl and combine flour. Toss so all the cheese is coated.
In a medium sauce pan, heat beer, garlic, mustard and pepper over medium heat until it just starts to bubble.
Reduce heat to med-low and slowly add cheese handful at a time, stirring constantly with a whisk until each handful is almost melted. Continue until all the cheese is added and the fondue looks smooth.
Transfer to your fondue pot and keep warm.
Notes
Cheese fondue is best with cured meats, steak, chicken, veggies or fruit for dippers
Nutrition Information
Yield 2 cups
Serving Size 1
Amount Per Serving
Calories 1113
Total Fat 77g
Saturated Fat 43g
Trans Fat 2g
Unsaturated Fat 26g
Cholesterol 227mg
Sodium 1660mg
Carbohydrates 27g
Fiber 0g
Sugar 3g
Protein 57g
Nutrition information isn't always accurate.
What to Dip in Cheese Fondue
You can dip a couple of items or a full variety. Cooked and cured meats, breads, vegetables and some fruits are all popular items for dippers.
I went with pretzel bread balls I found at Costco and pepperoni sticks cut into pieces. Had I had any apples around, I would have added those as well.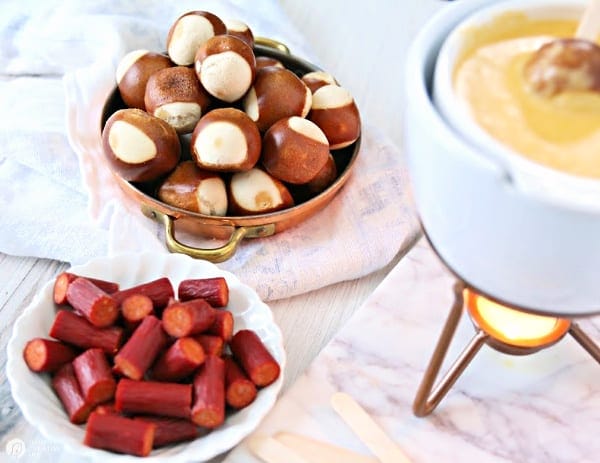 Basically anything that would go well with cheese is a good option.
MEATS
grilled steak
grilled or baked chicken
cured meats such as pepperoni, kielbasa or salami
FRUITS
VEGETABLES
broccoli
cauliflower
carrots
BREADS
rye bread
pretzels or pretzel bread
baguette
Can Cheese Fondue be Reheated
Yes, you can reheat fondue. Reheat in a microwave in 30 second intervals, stirring each time, or on medium heat on the stovetop, stirring until smooth.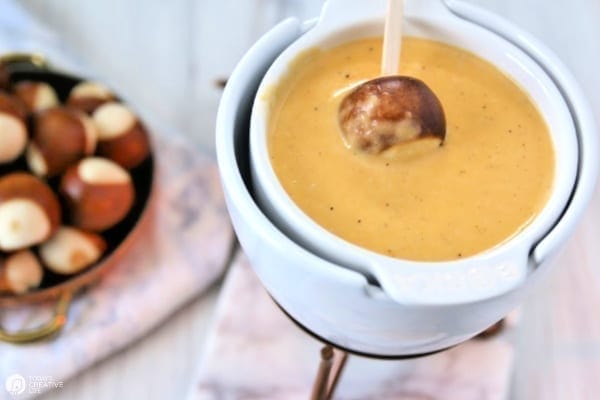 How to Make Fondue without Wine or Beer
If you want to make nonalcoholic cheese fondue, substitute the beer or wine with a broth or juice. Apple juice is a good substitute, as well as chicken, beef or veggie broth. The flavor may be a little different, but still delicious. Alcohol is added to fondue recipes because it lowers the boiling point of the cheese and helps prevent curdling.
How to Make Fondue without a Fondue Pot
I always use the stovetop to make my fondue and then transfer to a fondue pot. I have a fondue pot with a candle and a double boiler feature.
I place a little warm water in the bottom layer and light the candle so it's ready to keep my bowl of cheese fondue warm while we dip.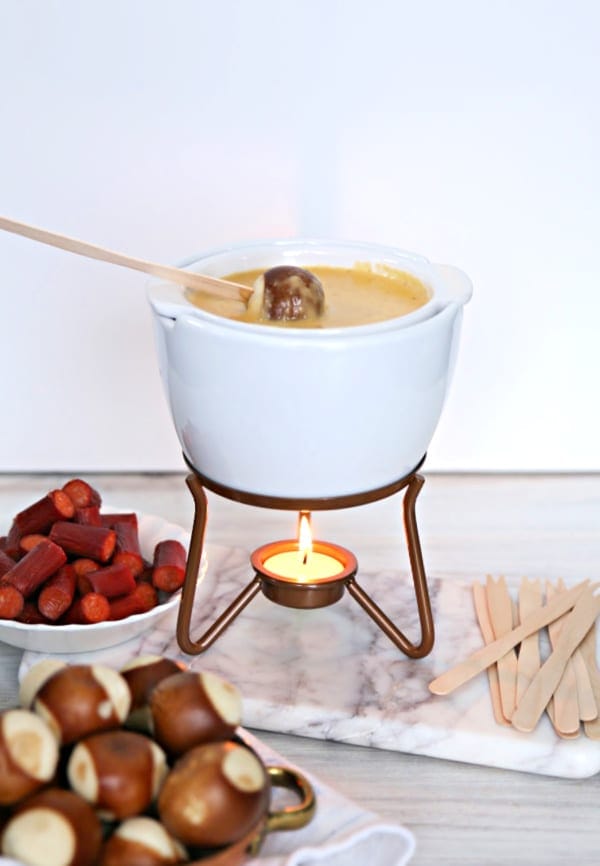 Can You Freeze Cheese Fondue
Believe it or not, you CAN freeze fondue. Use an airtight container and freeze up to 2 months. Reheat slowly in the microwave or on the stovetop.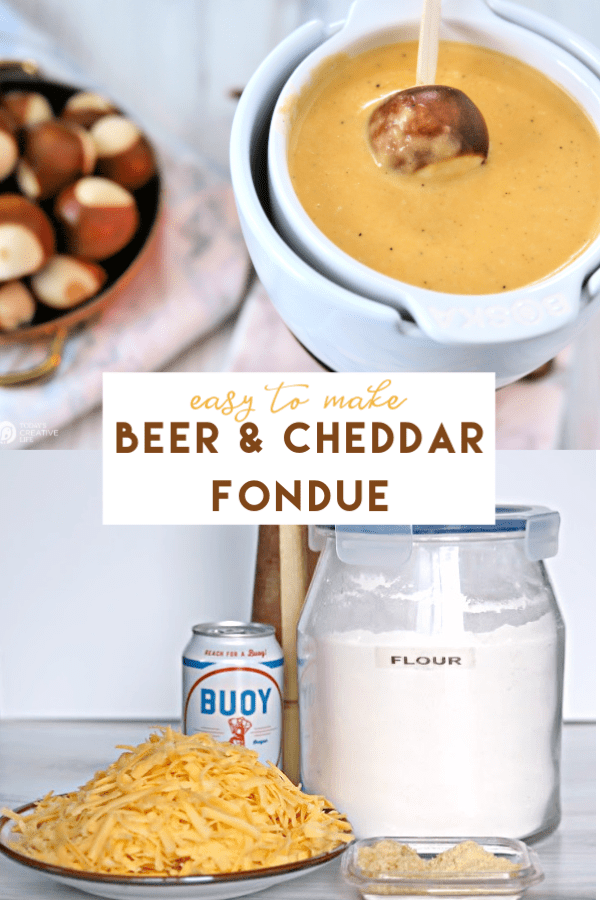 If you make this, let me know how you like it. Tag me on Instagram! @TodaysCreativeLife
Photo Credit: www.halfbakedharvest.com
Photo Credit: butterwithasideofbread.com