My friend Stephanie from A Year of Slow Cooking is the crockpot queen! Anyone who can dedicate to making a crockpot recipe everyday for 365 days should get a crown. Out of all that she's published 2 amazing slow cooker cook books. I'm sharing her cheese fondue recipe that will probably knock your socks off! It's no secret how much I love her and her books.

This week for Slow Cooker Sunday, I thought I'd feature one of her fondue recipes. We love fondue, especially my son. He requested fondue to celebrate a perfect report card and also for his recent birthday. I'm glad to know I can try this recipe for him soon.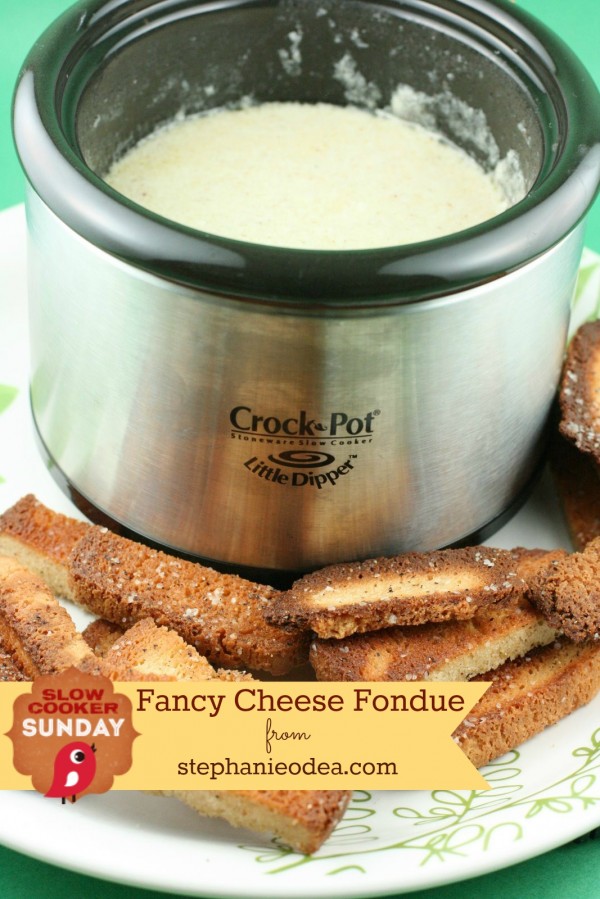 If you've got a slow cooker recipe you'd like me to possibly feature, send it my way!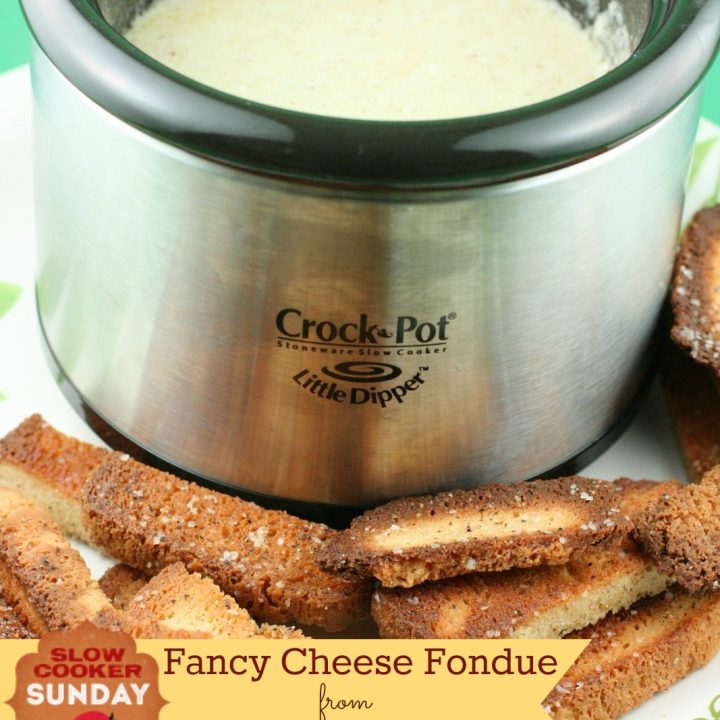 Crockpot Cheesy Fondue
Ingredients
1/4 cup each of 3 "fancy" cheeses. I used goat, gruyere, and swiss
1/4 cup white wine
1/2 tsp nutmeg
Instructions
Shred the hard cheese and put them in the Little Dipper. Add the goat cheese. Pour in the white wine and sprinkle the nutmeg on top. No need to stir---it will melt together.
Plug in the Little Dipper. Cook for 45 minutes, then stir. Cover again and heat until cheese is melted and bubbly.
Serve with bread, croutons, crackers, or your favorite dipping vegetables.
I made large croutons out of a loaf of Trader Joe's Brown Rice bread. All I did was brush olive oil on both sides, and sprinkle with Kosher salt and pepper. Then bake at 400 until golden, flipping once.
You'll have to visit her site to see "The Verdict" on what her family thought about the recipe. You'll find many other recipes while you're there too!
Other Slow Cooker Sunday Recipes
See Stephanie's Slow Cooker Cookbooks here. Make it Fast, Cook it Slow