I finally opened my new crockpot from Christmas and thought I'd make these super easy CROCKPOT BBQ PULLED PORK Sandwiches. When I have all the ingredients, I also love making the Crockpot Sweet Pulled Pork, a copy cat recipe from Cafe Rio.
Easy Crockpot BBQ Pulled Pork


I figured this would be the perfect Slow Cooker Sunday recipe this week!
I used to make this back in the day when my son was in baseball. I would also buy a pork shoulder and would hate working around all the fat. I don't know why I never thought to use a pork tenderloin! DOH!
Sometimes the answer is staring you in the face.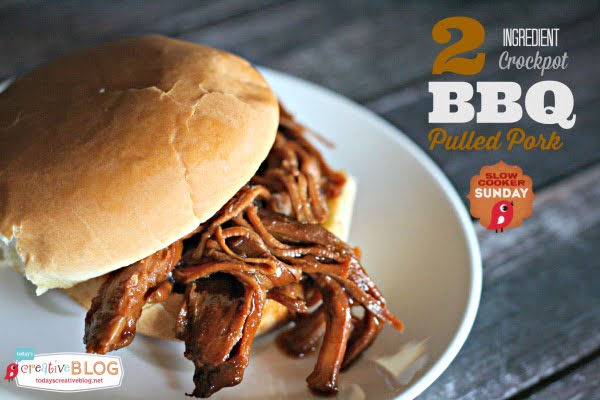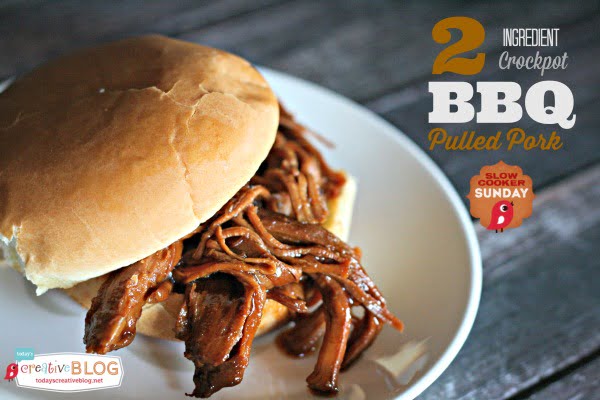 We had a pork tenderloin that needed to be cooked. My husband loves pork tenderloin and I don't mind it since it's so easy to cook with. In addition to the pork, we also had a half empty liter of root beer from the cluster of teens, and I suddenly remembered there was a recipe I used to make with root beer.
This recipe is SO easy since it uses 2 ingredients! 2! Root Beer and BBQ Sauce. That's it!  2 ingredient recipes are heaven sent when you're pressed for brain power and supplies.
You want the real root beer, not diet. Something about the sugars bla bla bla…….. same as my sweet pulled pork that uses coke, not diet coke.
I've tried a couple of pulled pork recipes and I always come back to these 2. They are fool proof and I know they'll be tasty…….and everyone will eat them. This one here is a keeper >>> Slow cooker Boneless Sirloin Tip Roast. 
Easy Crockpot BBQ Pulled Pork
Ingredients
1 bottle BBQ Sauce (any flavor you'd like)
12 oz Root Beer (not diet)
1 Pork Tenderloin
Instructions
Place the root beer and bbq sauce in your crockpot.
Swirl it around together a little to mix.....not too fast because the root beer foams.
Add your pork tenderloin. I usually buy a 2 or 3 pound pork tenderloin and there is always extra juice, so if you have a larger family, add a larger pork loin. Feel free to double the recipe if needed.
Cook on LOW for 7-8 hours depending on the size of your pork tenderloin.
Take 2 forks and shred. If it's done, it will shred VERY easily.
Notes
Make sandwiches, or enjoy it over rice.
Like Slow Cooker and Crockpot Recipes as much as I do?  Follow my Slow Cooker Pinterest Board.
Follow Kim Demmon (today's creative blog)'s board Crockpot & Slow Cooker Recipes on Pinterest.