It's Slow Cooker Sunday and I love doing dessert in the slow cooker. I'm calling this Crockpot Peach Pie Cobbler. I tried out Stephanie's recipe for Peach Pie, but omitted the spices and added pecans. It seemed more spring like without the allspice, cinnamon and nutmeg.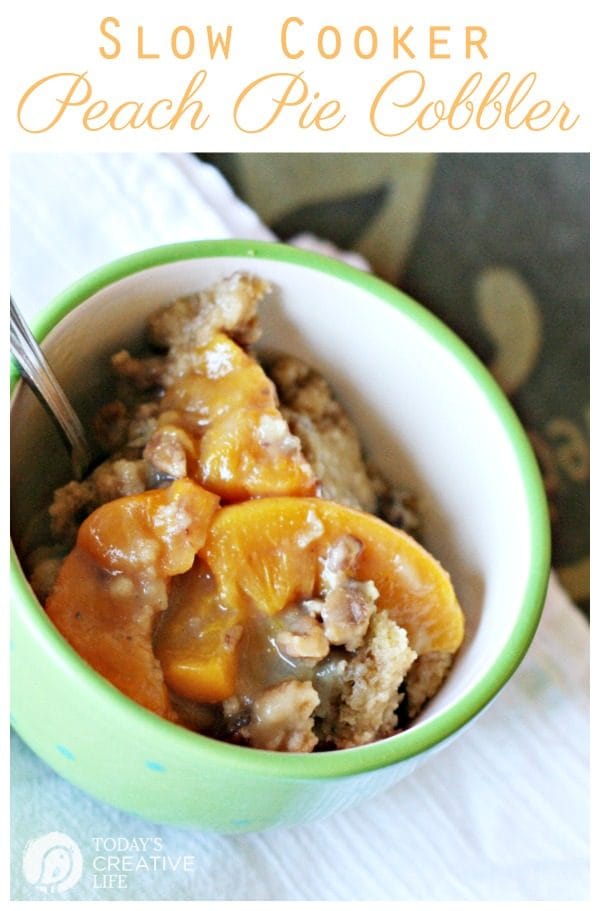 Crockpot Peach Pie Cobbler
This is one of those recipes that doesn't look great but taste great. It only took about 4 hours, so it's easy to pop it in the afternoon for a dessert after dinner.
I used canned peaches with its juice and mine was a little soupy on the bottom……but I may have needed to push the batter down further……..I also don't see why you can't just stir it all together too. But next time, I think I'll try peach pie filling instead. I love peach pie filling……so dang good. Truth be told, I also like peach baby food…(don't judge)….but I wouldn't use peach baby food in this recipe.
This would be delicious with vanilla ice cream on top, or whipped cream. My husband has request whipped cream on his, so I'm glad I keep a few of these around. I love the whipping cream in a box you can get from Trader Joe's. Not only is the packaging so cook, it's so handy because it's shelf stable.


I keep a few in the pantry and one in the fridge since it needs to be cold to whip. Don't ask me how I know that….and no, I didn't read the package like I should have.
I'm sure other fruits can also be used with this recipe. It would be delicious with cherry pie filling, or apple.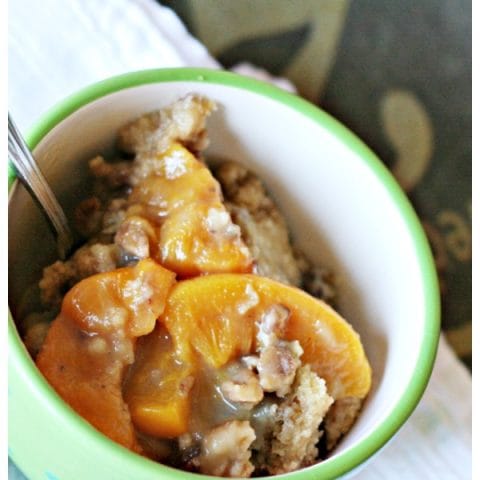 Crockpot Peach Pie Cobbler
Prep Time: 10 minutes
Cook Time: 4 hours
Total Time: 4 hours 10 minutes
Ingredients
2 (15 oz) cans sliced peaches with juice (or a large can of pie filling)
2 tablespoons melted butter (I used 3, because I'm a rebel)
1 teaspoon vanilla extract
1 1/2 cups baking mix (I used bisquick)
1/2 cup brown sugar, firmly packed
1 cup chopped pecans
Instructions
I used a large 4 quart crockpot.
Place the peaches in the bottom of your crockpot.
In a separate bowl, mix the melted butter with the vanilla and dry ingredients. Stir with a fork to combine; it will be crumbly.
Pour the mixture on top of the peaches, and press down. I used a spatula, but you could use your hands.
Cover and cook on high for 4 hours.
When the edges are browned, and the fruit is bubbly, it's done.
Notes
Original recipe from Stephanie (A Year of Slow Cooking) calls for 1/2 teaspoon of cinnamon, 1/4 teaspoon of nutmeg, 1/4 teaspoon ground allspice.
---
Here are more Slow Cooker Desserts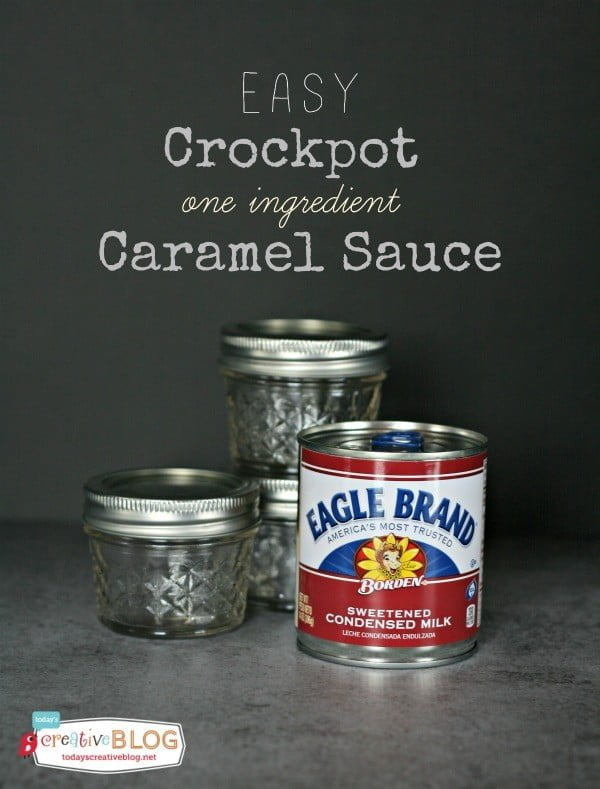 Crockpot Caramel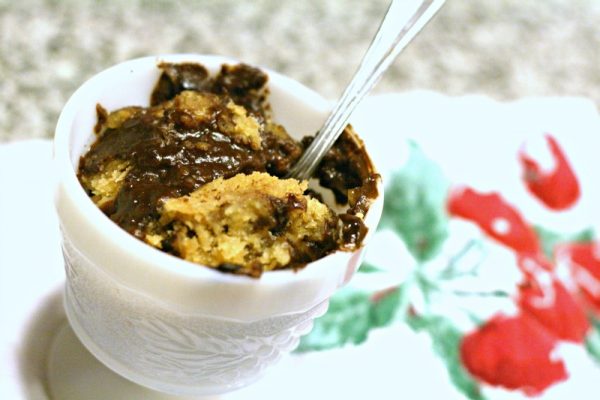 Crockpot Peanut Butter Cup Cake
Slow Cooker Blackberry Cobbler
If you love cooking with your slow cooker, you'll have to check out all my other Slow Cooker Sunday recipes, as well as my Slow Cooker Pinterest Board.