If you want to learn how to make a mojito my way, which is sweet and minty, then this mojito recipe is exactly what you're looking for.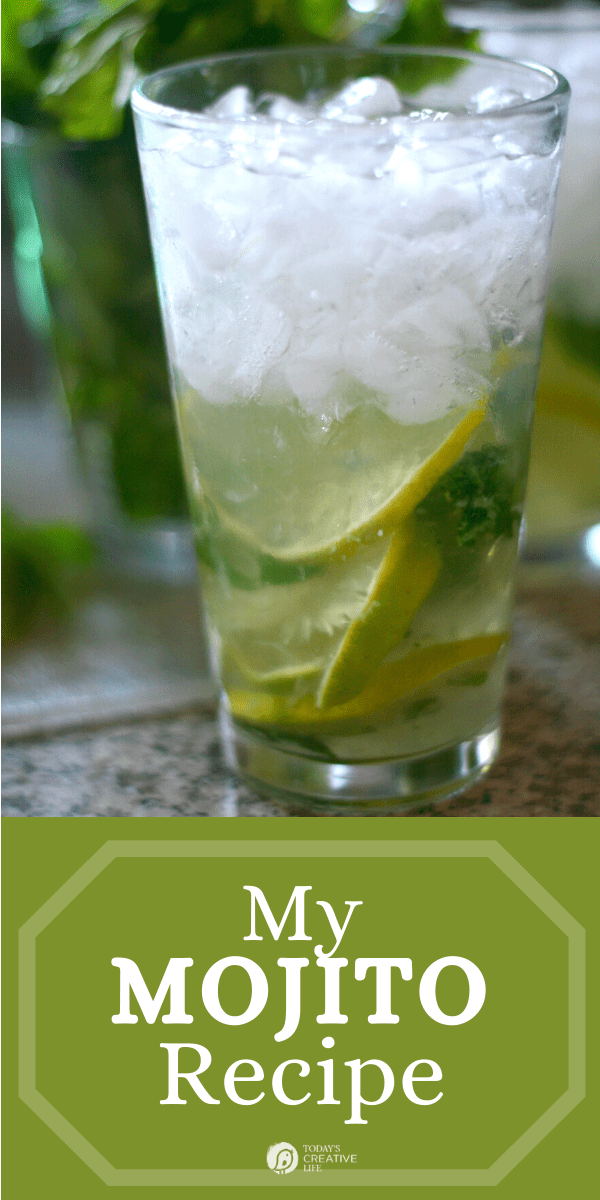 How to Make a Mojito
I think I've mentioned before how much I love summer and even though school starts in a couple of weeks, I'm hanging on to the last few drips of relaxing sunshine. I love refreshing summer drinks even more. Some have alcohol and some don't. My goal this summer was to learn How to Make a Mojito. This refreshing drink with a hint of mint is so perfect for a hot afternoon. But then again, so are my Pink Grapefruit Margaritas……..or maybe my Brazilian Lemonade.
Once upon a time I actually worked in the mint fields. I can't really remember what I actually did, but the smell was overpowering and ruined more shoes than I care to think of. I've planted pots of different kinds of mint just to make my deck or yard smell nice, but now I'm going to have to start growing it for me, now that I've mastered how to make a mojito……..my way.
Drinking anything minty never had my interest until I was at a BBQ a few years ago and someone handed me the most delicious drink I'd ever had. Granted it was about 99 degrees out, which I'm sure made it seem even that much more refreshing. I asked how they made it and my eyes glazed over when it started sounding like it had way too many steps. "Pour this, muddle that". Recently after ordering one at a really great Thai restaurant……..I vowed to learn.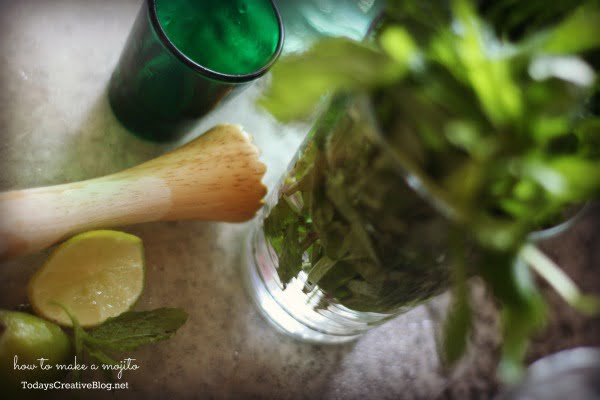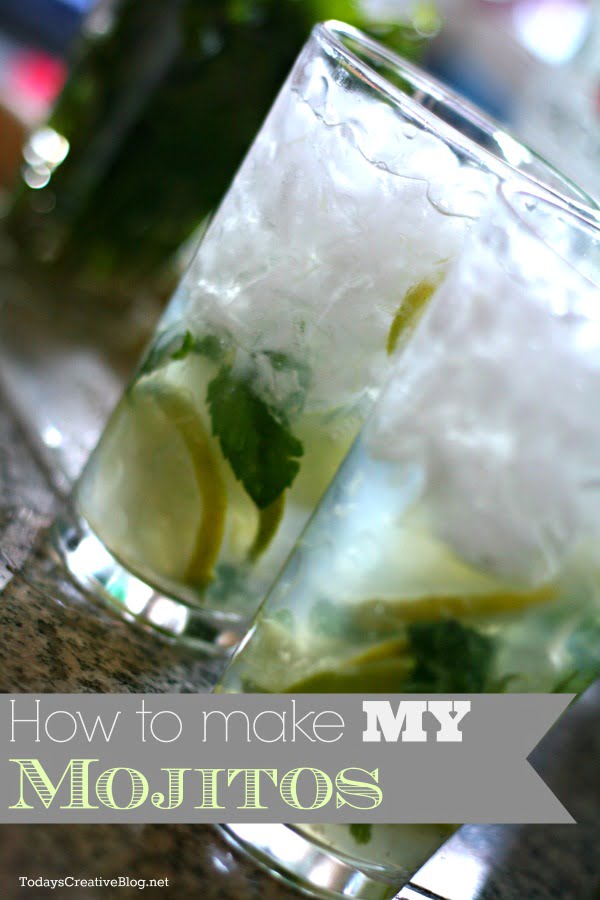 While making these the other night, I thought that perhaps you'd enjoy one too……so I grabbed my camera and shot a few photos of my mojito mess. It's a pretty mess.
I'm not a purist by any means, so if you're a rule follower or if you feel I've broken any Mojito rules, you'll just have to move on, because I am NOT a bartender and I never follow a recipe completely, but I've learned to make it just the way we enjoy them. I've learned we like using diet tonic water rather than club soda…….but I like club soda better than sparkling water….you just have to figure out what works for you.
Between all the cooking I do with limes and now the Mojitos…… I'm buying a lot of limes…..and I've learned that when sitting in a white bowl looking all pretty, they lose their color after about 5 days and start looking more like a lemon. Odd.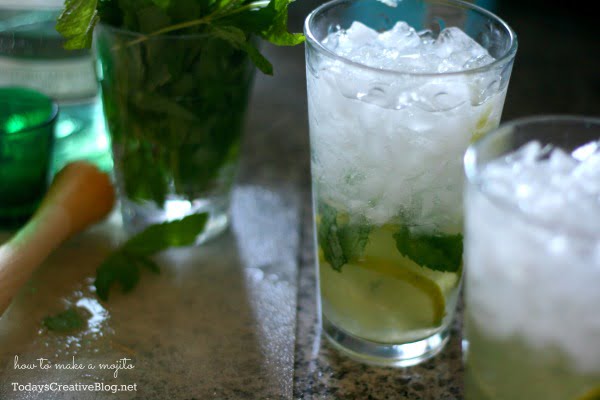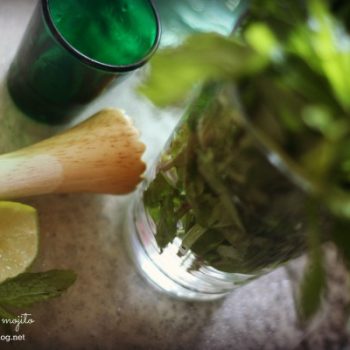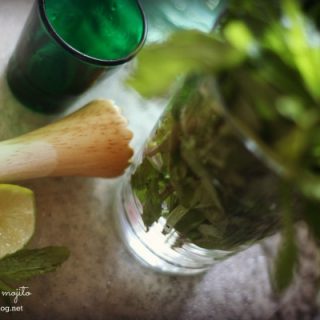 How to Make a Mojito
Prep Time: 5 minutes
Total Time: 5 minutes
This is my personal version of a Mojito. Always drink responsibly. Never drink and drive.
Ingredients
Limes (3 or 4 slices for each drink)
Mint leaves (5 or 6 for each drink)
One shot Simple Syrup for each drink (or sugar, or you can actually make your own simple syrup)
Diet Tonic Water
White Rum (one shot each drink)
Crushed Ice
Instructions
Place one slice of lime and 5 or 6 mint leaves in the bottom of your glass.
Using a Muddler, muddle the limes and mint until well crushed
Add 2 more slices of lime with your shot of Simple Syrup
Muddle again
Add your shot of White Rum
Fill to the rim with crushed ice
Pour diet tonic water to the top of your glass
Stir and enjoy!
Notes
When stirring, I don't like to stir the mint to the top. It always gets stuck on my teeth. Not pretty.
Most recipes use Club Soda. We didn't have it and used Diet Tonic. After trying the recipe again with club soda, we actually preferred the tonic. Personal preference.
Nutrition Information
Yield 1
Serving Size 1
Amount Per Serving
Calories 197
Total Fat 0g
Saturated Fat 0g
Trans Fat 0g
Unsaturated Fat 0g
Cholesterol 0mg
Sodium 27mg
Carbohydrates 27g
Fiber 3g
Sugar 20g
Protein 1g
So tell me……..What's your favorite summertime drink?
Cocktail Recipes
Refreshing home-crafted cocktails.
Fresh herbs make this drink special.
Grapefruit drinks with fresh herbs are delicious.
This cocktail is like a dessert!
The perfect cocktail for sitting around the bonfire!
This 4th of July cocktail has a bang!
Find a variety of simple recipes for the summer season.
This cocktail screams summer!