Brazilian Lemonade is a refreshing drink made with limes, sweetened condensed milk, water and sugar! It's the right amount of tart and sweetness. I created a lower sugar version using Truvia.
The dog days of summer have arrived. The time of year I find myself making a lot of cool drinks. Pink Grapefruit Margaritas, Iced Coffee and teas and mojitos! I'm sharing another favorite, Brazilian Lemonade!
Brazilian Lemonade Recipe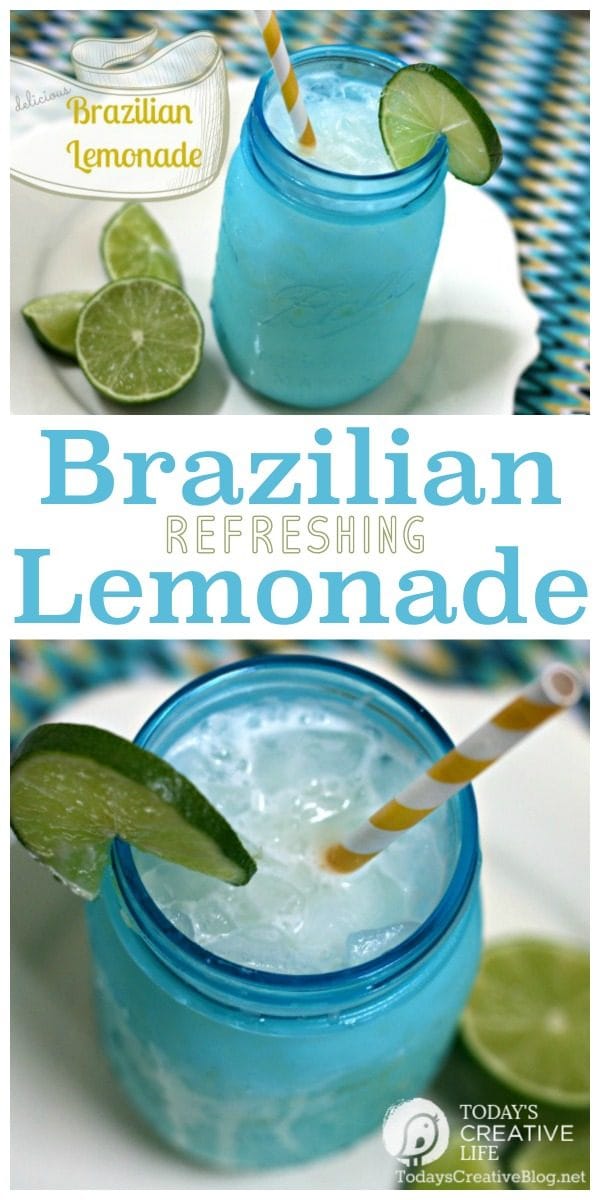 A couple of years ago while visiting my sister in Utah, we were driving around looking at homes……just for fun. It was hot, like 99 degrees hot, so when we saw a children's lemonade stand, we stopped. The sign read….Brazilian Lemonade! We had no idea what Brazilian Lemonade was and figured it was just the marketing tactic 5-year-olds were now using. We couldn't pass it up, the kids were cute and we were thirsty……even if it was probably going to be lemonade from a powdered mix. (what do you expect for .25 cents?)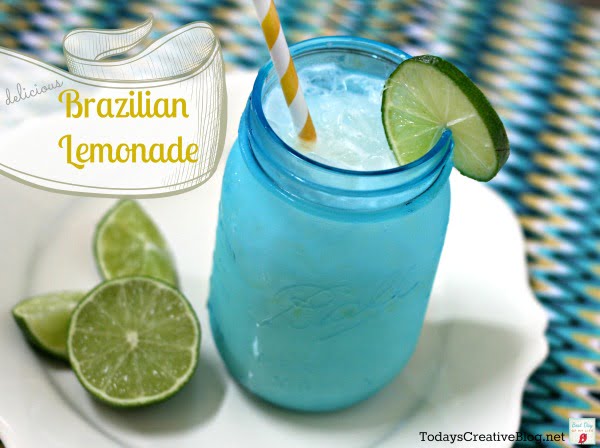 We gladly paid them extra (cuz that's what you do), hoping they hadn't stirred with their fingers and went on our way…….OH MY GOODNESS! That was the BEST Lemonade I had ever had. We tried figuring out the ingredients as we happily sipped away, never once even coming close.
Once back to my sisters home, I googled to see if there was such a drink……….Brazilian Lemonade. And sure enough, there was. Where had I been?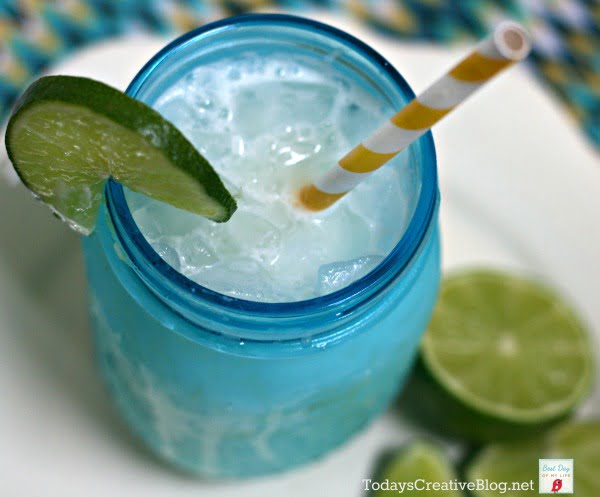 I don't make it often because of the sugar content, but I finally had another AHA! moment and thought I'd make it with Truvia or their Truvia Sugar blend. Now if someone would make low sugar-sweetened condensed milk, I'd be in heaven.
This drink is refreshing, delicious and packs a little pucker power. Surprisingly, there are NO lemons in the recipe. Nope…….not a one. But limes? Oh yes, plenty.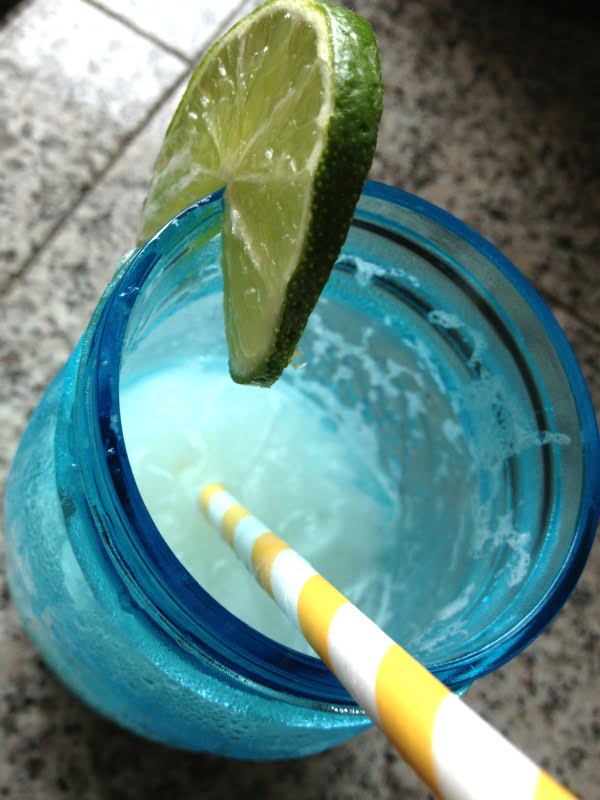 It's not the kind of recipe you can make up a batch and sip on it all day……..if that's how you want to drink it, then you'll need to add the sweetened condensed milk right before drinking. Otherwise, it just doesn't taste right.
I am not from Brazil….. I've never been to Brazil. When researching for this recipe, I blended a combination of many recipes I tried….. they were all called Brazilian Lemonade and so……. that's what I named it. And yes……. blend the peels. 🙂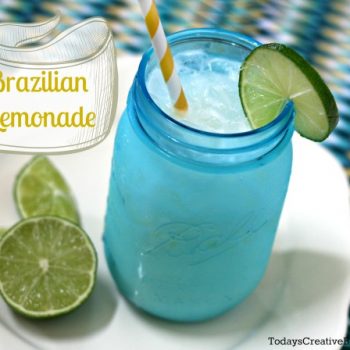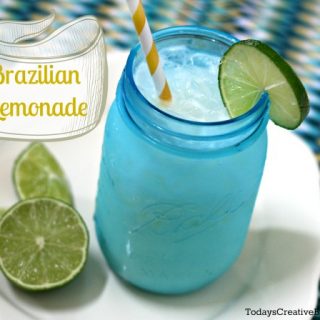 Brazilian Lemonade Recipe
Yield: 6
Prep Time: 15 minutes
Total Time: 15 minutes
Brazilian Lemonade made the limes, sweetened condensed milk, sugar and water for a refreshing and delicious drink.
Ingredients
6 cups cold water
1 cup Truvia Sugar Blend (or sugar)
5 limes (cut into wedges)
1/3 cup sweetened condensed milk
Instructions
Wash your limes and cut them into wedges.
Mix the cold water with the sugar or your Truvia blend (if you're using the full-strength Truvia, then start out with 2 tablespoons and adjust to taste). Stir until dissolved.
Place all your limes into your blender (I have a 9 cup blender).
Pulse the blender a few times until limes are chopped.
Using a fine-mesh strainer, pour and strain into your pitcher.
The pulp can be thrown away.
Add sweetened condensed milk right before serving. Stir and pour over ice.
Nutrition Information
Yield 6
Serving Size 1
Amount Per Serving
Calories 73
Total Fat 2g
Saturated Fat 1g
Trans Fat 0g
Unsaturated Fat 1g
Cholesterol 6mg
Sodium 32mg
Carbohydrates 53g
Fiber 2g
Sugar 11g
Protein 2g
We do our best to calculate, however, nutrition information may not be accurate.
How Long Will Brazilian Lemonade Last?
Brazilian Lemonade is best when made and served within a few hours. You'll want to keep it chilled before serving for best results.
Can I use Lemons instead of Limes?
I have never tried this, but if you do, please let me know how it turns out. I'm sure it would be delicious! It just wouldn't be a traditional Brazilian Lemonade.
Cocktail Recipes
Refreshing home-crafted cocktails.
Fresh herbs make this drink special.
Grapefruit drinks with fresh herbs are delicious.
This cocktail is like a dessert!
The perfect cocktail for sitting around the bonfire!
This 4th of July cocktail has a bang!
Find a variety of simple recipes for the summer season.
This cocktail screams summer!