You'll love this easy to make Mediterranean Bean Salad recipe with Cannellini beans, roasted peppers, olives, artichoke hearts, sundried tomatoes and more.
Summer means more healthy side dish salads! This Mediterranean Inspired Bean Salad or this Mexican Bean Salad will be perfect for potlucks, a BBQ side dish or your main meal for a light lunch or supper. Packed full of healthy ingredients make this summer salad tasty and delicious! It would also go perfectly with these Fried Sausage Stuffed Olives!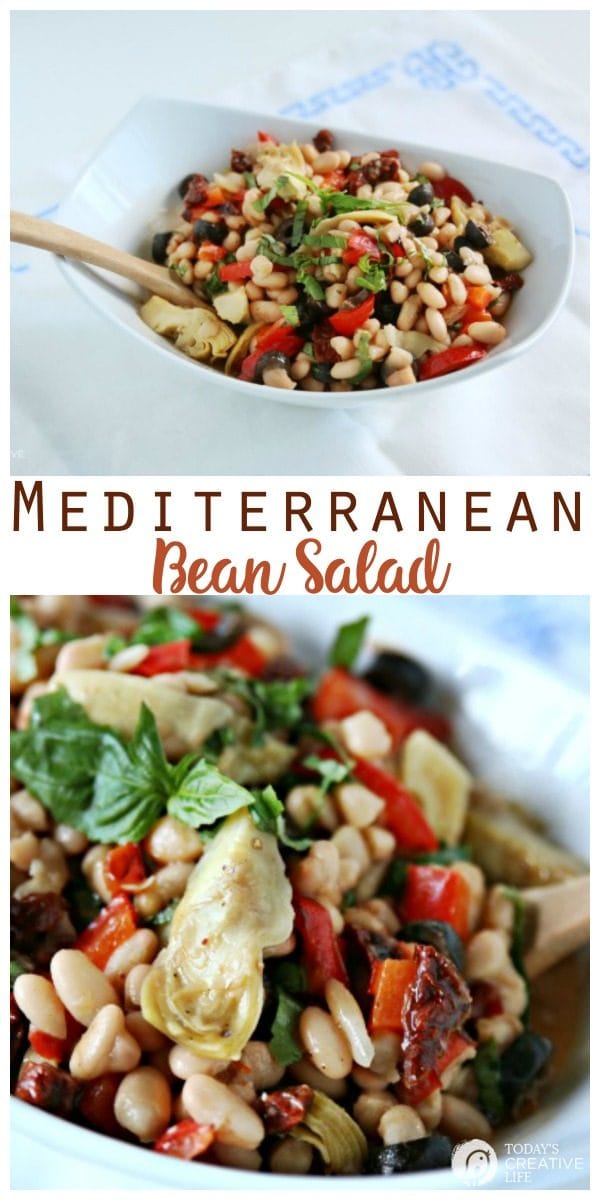 Mediterranean Bean Salad Recipe
I'm always looking for salad ideas that add an extra punch of nutrition and also make a great side dish. Salads made with beans do just that! The protein and fiber from the beans, the healthy fats from the olives and the antioxidant benefits of the red peppers make me feel like I'm doing the right thing.
Whenever I make this Mediterranean bean salad, I always wonder why I don't cook more with artichoke hearts or sundried tomatoes! They are so good! I need to add them more to some of my pasta salads for a little variety. My Broccoli Salad with Pasta would be delicious with either or both added.
Ingredients for Mediterranean Bean Salad
Affiliate links for products listed are for your convenience only. This cost you nothing extra. If you happen to purchase anything as a result of clicking, TCL will receive a small percentage. Thank you for your support. This allows me to continue to offer you free content.
Print the full recipe below.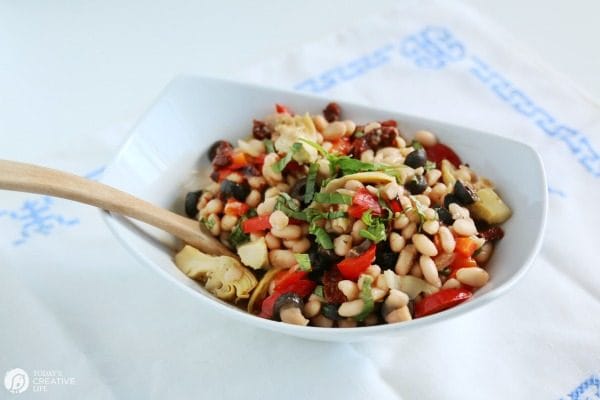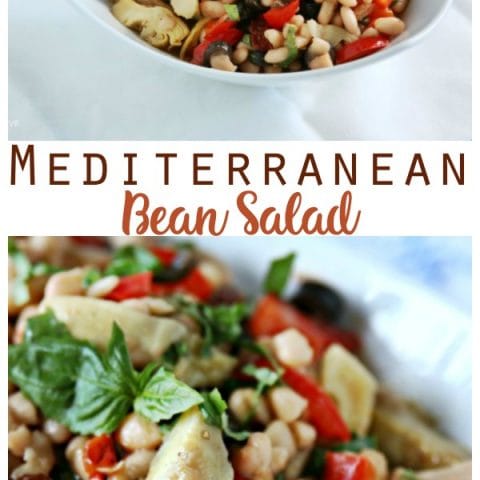 Mediterranean Bean Salad
Yield: 5 cups or so.
Prep Time: 15 minutes
Total Time: 15 minutes
Your go-to easy to make salad for the summer!
Ingredients
2 (15 oz) cans cannellini or white kidney beans. Rinsed and drained.
1 (6 oz) jar marinated artichoke hearts with juice.
1/2 cup to 1 cup roasted sweet peppers, sliced into pieces.
1 cup black olives
1/2 cup chopped red onion
1/2 cup sun-dried tomatoes (oil-packed) sliced.
2 tablespoons olive oil
1/4 teaspoon sea salt
1/4 teaspoon fresh ground pepper
1/4 cup sliced basil leaves
Instructions
I will usually roast my own red peppers since they can be hard to find already roasted.
Seed and slice your red pepper into one-inch pieces, drizzle with a bit of olive oil and broil for about 5 minutes or until they start to brown up.
This recipe is one of those "dump it all in"recipes.
Place all the ingredients, except the basil into a large bowl. Stir and mix to blend it all together.
Chill for about 15 minutes.
While it's chilling, slice up your basil leaves and add to the salad right before serving.
Notes
Calorie calculations are based on calorie content off the Tuscan Bean Salad from Costco.
Basil Cutting Tip: Stack and roll a few basil leaves, then slice with a knife. You'll get nice green strips.
Nutrition Information
Yield 5
Serving Size 1
Amount Per Serving
Calories 228
Total Fat 9g
Saturated Fat 1g
Trans Fat 0g
Unsaturated Fat 7g
Cholesterol 0mg
Sodium 357mg
Carbohydrates 31g
Fiber 6g
Sugar 9g
Protein 8g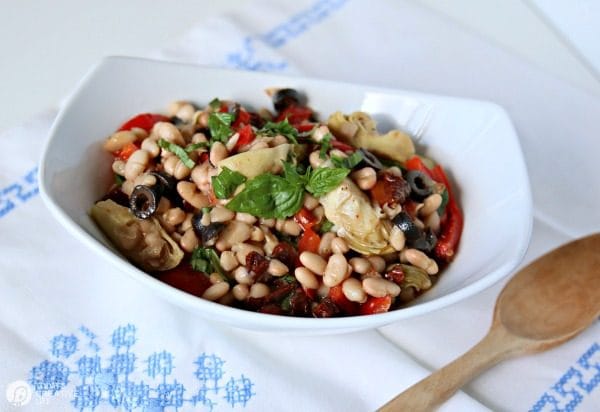 Salad Recipes
Easy and delicious salad recipes.
This protein-packed salad is great for a full meal!
Cherry tomatoes with buttermilk vinaigrette will be your summer go to salad! Great way to use your own homegrown cherry tomatoes! Fresh, tangy and sweet!
A classic spring salad recipe.
Another classic salad full of crunch and flavor.
Similar to a Walford salad with lots of crunch and flavor.
Your perfect summer BBQ side dish.
Colorful and perfect for summer.