Summer is heating up, so I know you'll love this gorgeous Mexican Black Bean and Corn Salad! Summer Salads are always welcome in my home. The less cooking the better! With the fresh mango and avocado in this easy black bean and corn salad, I could just eat this with a bowl of chips and be the happiest person on earth!
See more Celebrate Summer Series ideas here.
---
This Mexican Black Bean and Corn Salad is a perfect side dish for any summer gathering. The light sweet corn, paired with seasoned beans and just-right avocado, blend beautifully. This version calls for diced mangoes for an added an unexpected pop of sweetness. Chopped cilantro, scallions and lime zest perk up the flavors and make the salad fresh and herbaceous.
Black Bean and Corn Salad Recipe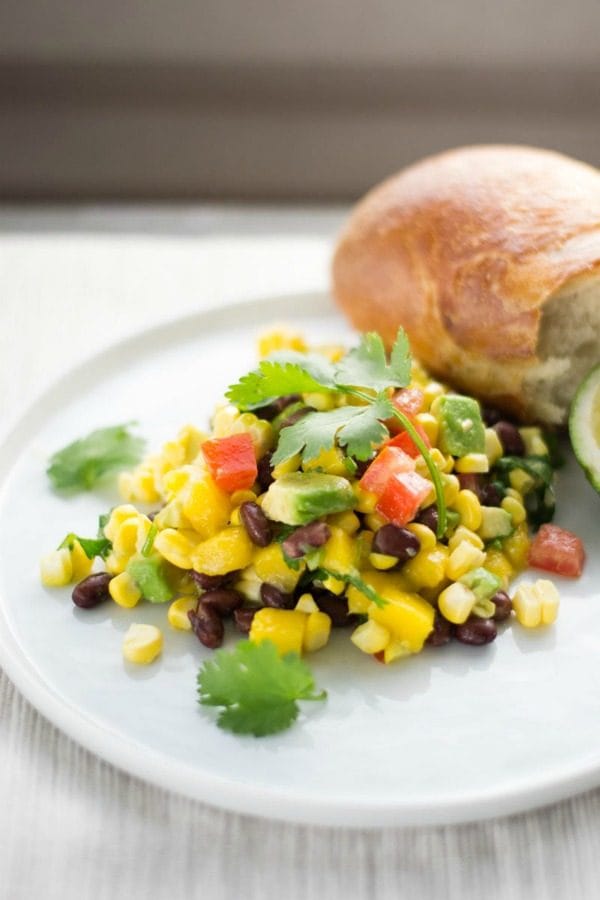 Pair the salad with grilled chicken, fish tacos or grilled flank steak brightened with Argentinian Chimichurri sauce. Or even better, use the salad for a burrito filling, add Authentic Mexican Salsa and any grilled protein.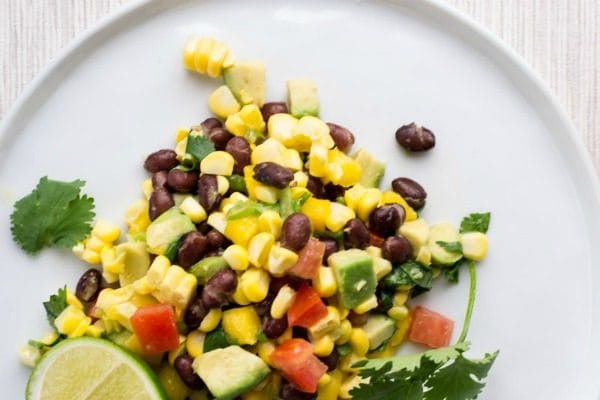 You can easily make this salad a main dish by adding grilled shrimp or chicken and crushed tortilla strips for crunch. Because the flavors are on the lighter, zestier side, you may want to spice up your grilled shrimp with Harissa Sauce, a red pepper sauce. If you love corn dishes, you may also enjoy this recipe for Mexican Street Corn. So good!
And for a vegetarian twist, you can marinate diced tofu in lime juice or add chopped red and green peppers. So find a nice shady spot under a palm tree, with a chilled glass of lemonade and dig in.
How to Make Black Bean and Corn Salad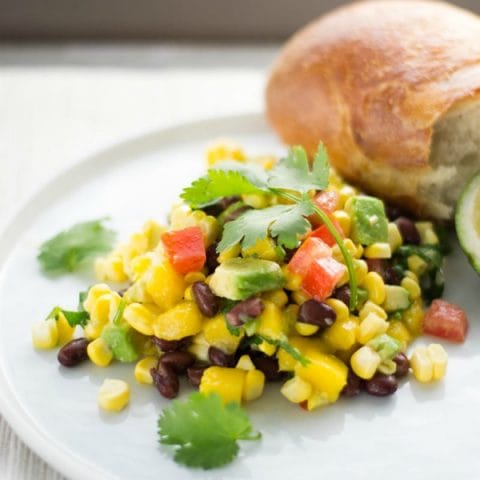 Mexican Black Bean and Corn Salad
Yield: 4
Prep Time: 10 minutes
Total Time: 10 minutes
Simple summer recipe with fresh ingredients.
Ingredients
1 12 oz. can black beans
1 whole avocado diced
2 whole Roma tomatoes diced
1/2 bunch cilantro chopped
2 stems scallions chopped
2 tbs. olive oil extra virgin
2 tbs. kosher salt
1 lime juiced
1/2 tbs. lime zest zest
3 whole corn shucked/ cleaned
1 whole mango diced
Instructions
Cut Roma tomatoes in quarters and remove seeds, then dice them into 1/2 in cubes and add to corn.
Add two tbs. olive oil to the bowl.
Add 1/2 bunch chopped cilantro, be sure to wash and pat dry before chopping.
On a bias, julienne stems of 2 scallions.
Dice 1 mango into 1-inch cubes and add to bowl.
Then zest one lime and add to bowl.
Open 1 12oz. can of black beans. using a strainer wash your black beans in cold water,
Add clean black beans to the bowl.
Small dice one large ripe avocado and add to bowl.
Immediately Juice one lime and add to bowl.
Using a rubber spatula, gently fold until completely incorporated, be sure not to smash your avocados or black beans.
Finally, add your lime zest and fold again.
Serve immediately.
Notes
Calorie information based on MyFitnessPal.com. Real results may vary.
Nutrition Information
Yield 4
Serving Size 1
Amount Per Serving
Calories 330
Total Fat 14g
Saturated Fat 2g
Trans Fat 0g
Unsaturated Fat 11g
Cholesterol 0mg
Sodium 3508mg
Carbohydrates 48g
Fiber 12g
Sugar 16g
Protein 10g
Can You Make Mexican Black Bean Corn Salad Ahead of Time?
Being able to make a dish up ahead of time is always a favorite time saver! It also allows for flavors to really blend together. The recipe can be made up ahead of time, without the avocado. Because avocado can turn brown quickly, it's best to cut and add right before serving.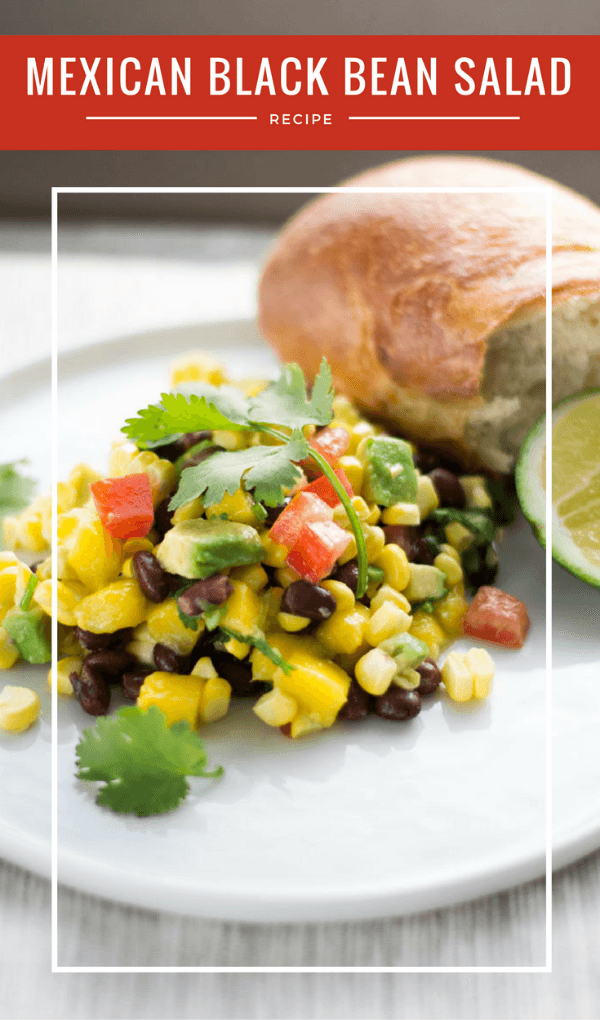 Salad Recipe Ideas
Easy to make salad recipes.
Savory Vinegar Cucumber Salad
This flavor combination is always a hit!
Line up your salad ingredients for a quick and easy dinner idea!
Refreshing with a tangy taste!
This classic is a keeper.
Another classic salad to keep alive.
The fresh crisp taste is full of flavor and crunch.