Bone Yard Pumpkin Dog Treats are an easy homemade dog biscuit recipe your dog will love!
If you've been reading Today's Creative Life for a while, or if you know me in person, then you know I'm a helicopter dog parent to my adorable pup we call Mabie. Short for Maybelline. She LOVES homemade dog treats.
Bone Yard Pumpkin Dog Treats Recipe
When Milk-Bone asked me to work with them, it was an easy decision! Mabie loves her homemade dog treats and I was excited to create Halloween treats for her using Milk-Bone and Pup-peroni products. (Mabie is an Australian Multi-Gen Labradoodle from Mountain Park Labradoodles.….. yes, it's a breed)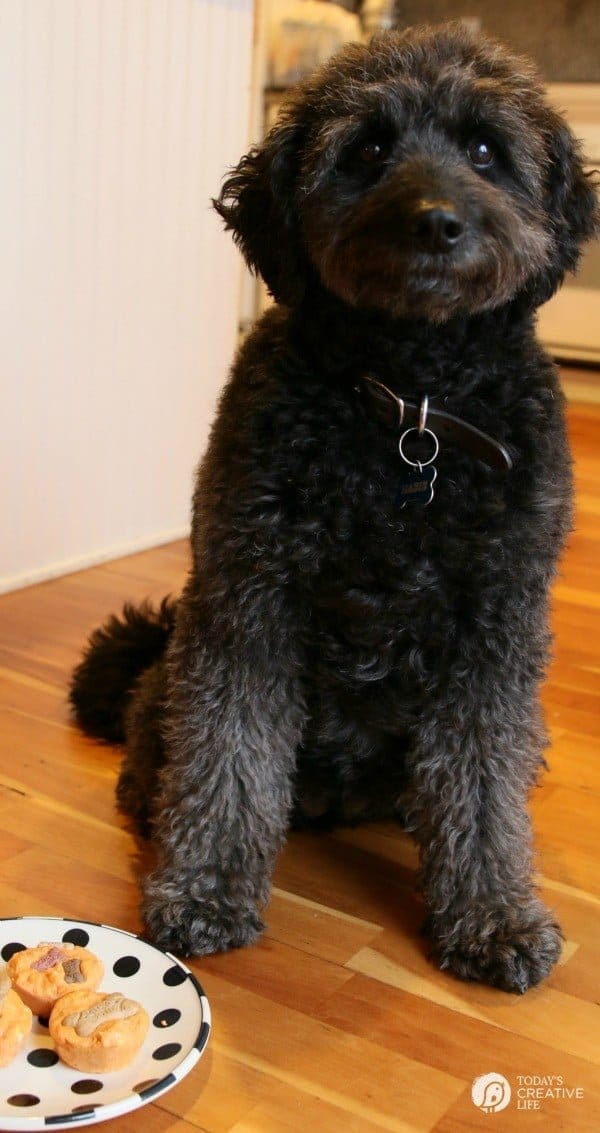 Life is more fun when it's creative, even for your dogs!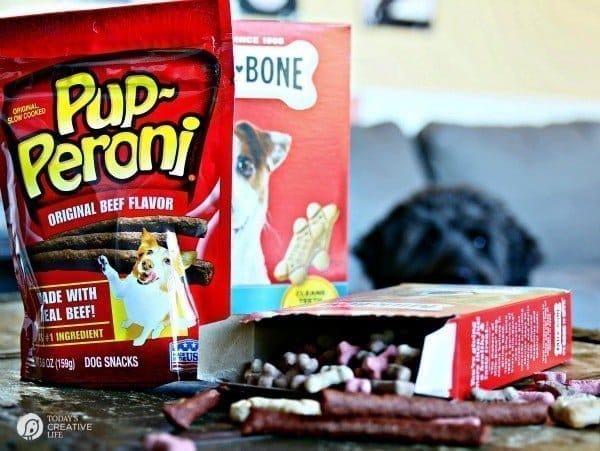 I already had a box of these small Milk-Bone dog biscuits that I use for quick treats for our baby girl. They are so small and cute, I knew using them along with the larger Milk-Bones, they'd make a cute Bone Yard Halloween Dog Treats. I found them at my local Walmart.
Milk-Bone®: Wholesome and delicious treats you can feel good about giving.
Pup-Peroni®: Real Meat is the #1 ingredient with a mouthwatering aroma that dogs simply can't resist.
Since it's all about fall flavors, I decided to incorporate some pumpkin into a simple homemade dog treat. I mixed one cup plain yogurt and one cup pureed pumpkin together into a smooth and creamy batter and scooped into muffin tins. I placed Milk-Bones in each pumpkin filled tin and placed it in the freezer for a few hours.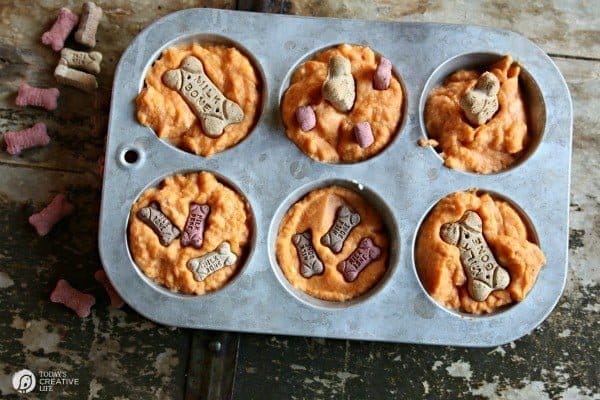 I think using a mini cupcake muffin tin would be great for bite size treats, but the regular size works great too, especially for larger dogs.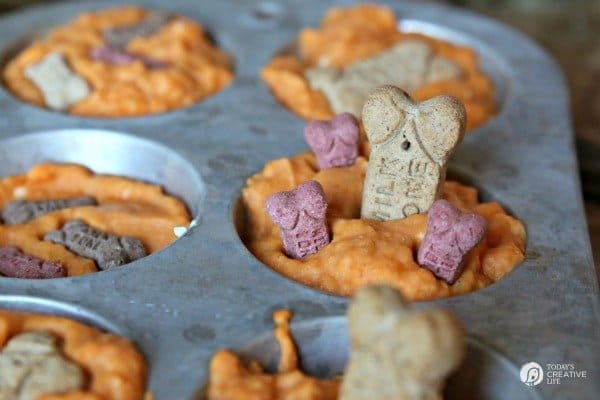 Mabie takes her time eating. She's what we call a grazer. She's never gobbled up her breakfast or dinner and just picks at it all day and eating these homemade dog treats were no different. She savored the moment and licked the tops, then decided to carry it to her bed and ate the rest.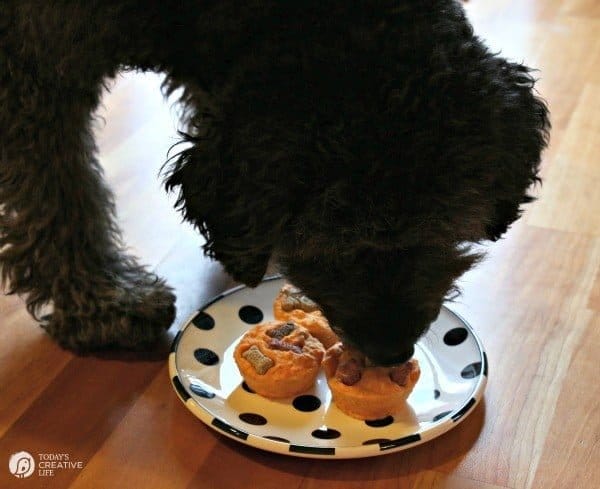 She's enjoying the familiar Milk-Bone taste along with the pumpkin yogurt blend.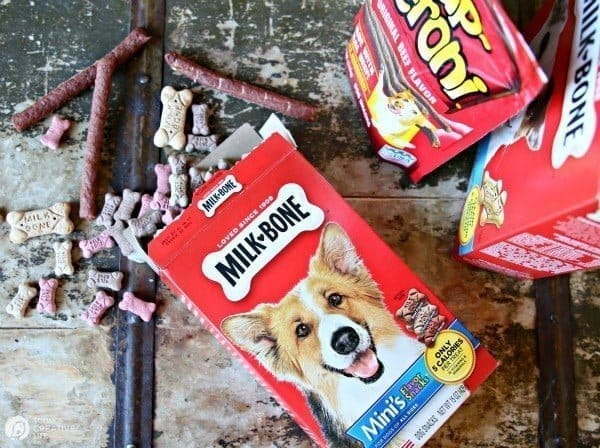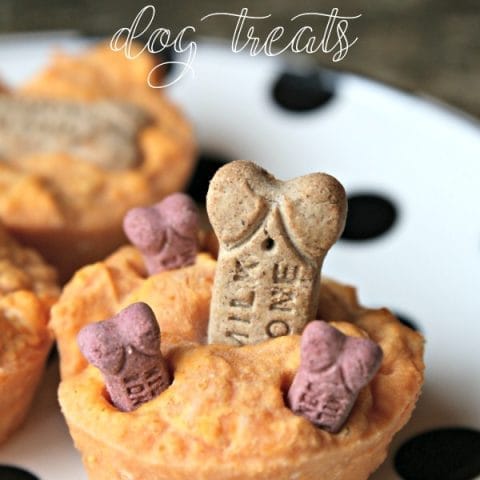 Bone Yard Pumpkin Dog Treats
Prep Time: 10 minutes
Total Time: 10 minutes
Ingredients
1 cup Pumpkin puree (100% pumpkin)
1 cup plain yogurt
Milk-Bone Mini Bones
Milk-Bone Regular Bones
Instructions
In a medium size bowl, mix the pumpkin and the yogurt together until well blended.
Scoop and drop into a mini or regular muffin tin.
Decorate with the Milk-Bone dog biscuits.
Place in the freezer for at least 4 hours.
This post sponsored by LunchBox – All opinions, recipes, and ideas are 100% mine.
---
More Dog Treat Ideas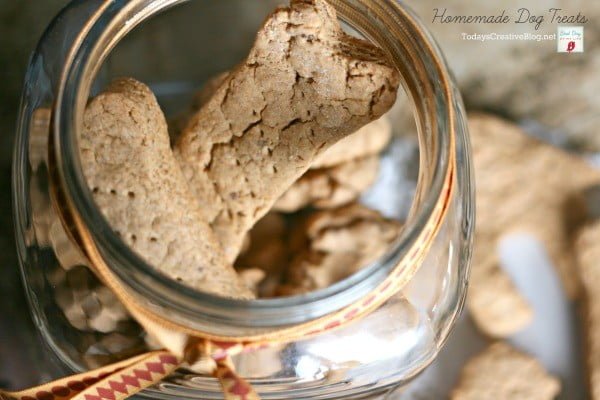 Homemade Dog Biscuits with Coconut Oil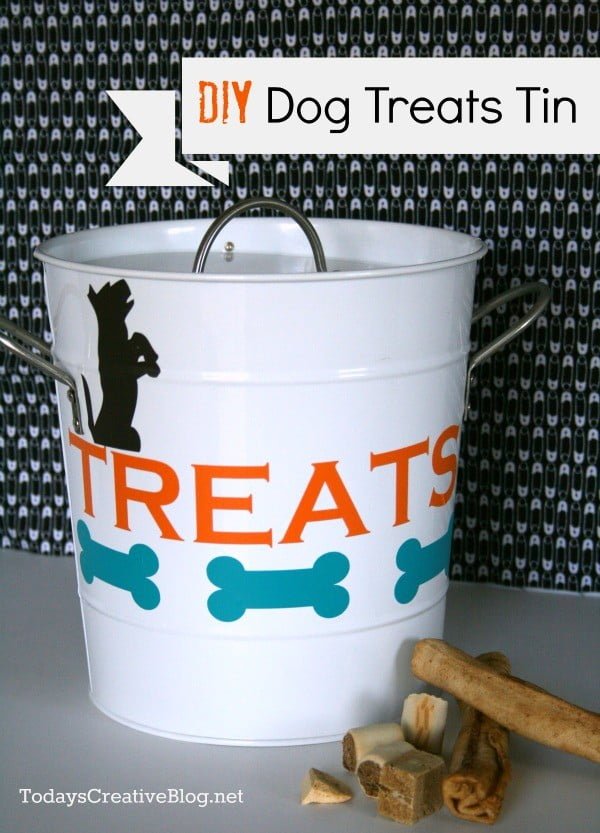 DIY Dog Treat Tin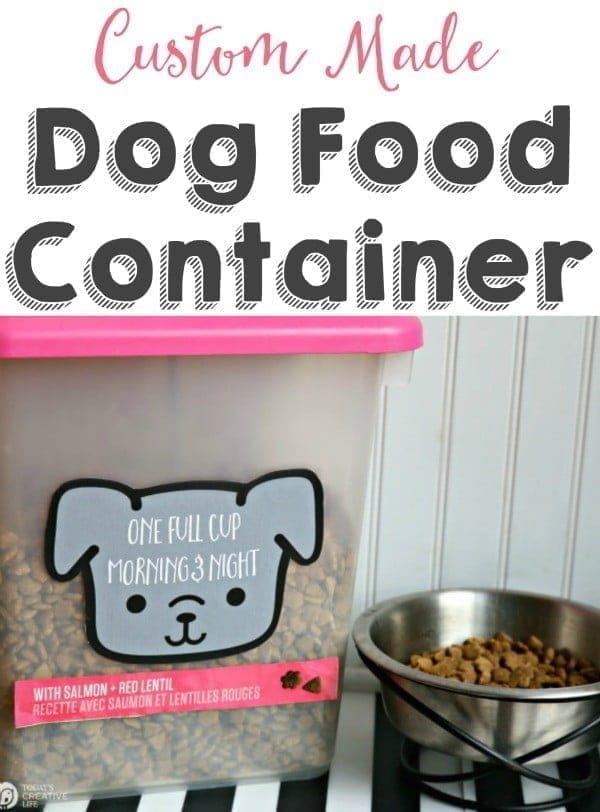 DIY Dog Food Container with Free Printable