This apple sausage crockpot stuffing recipe made with regular breadcrumbs and savory seasonings will become your yearly Thanksgiving tradition! I've been known to add craisins, pecans, or raisins for added flavor and texture.
I've been making my slow cooker stuffing recipe or at least a version of it for the past 10 years. It only made sense to me to keep my oven freed up by using my slow cooker. I also make slow cooker cranberry sauce for the same reason!
This is an easy crockpot dressing recipe for Thanksgiving that will become a family favorite.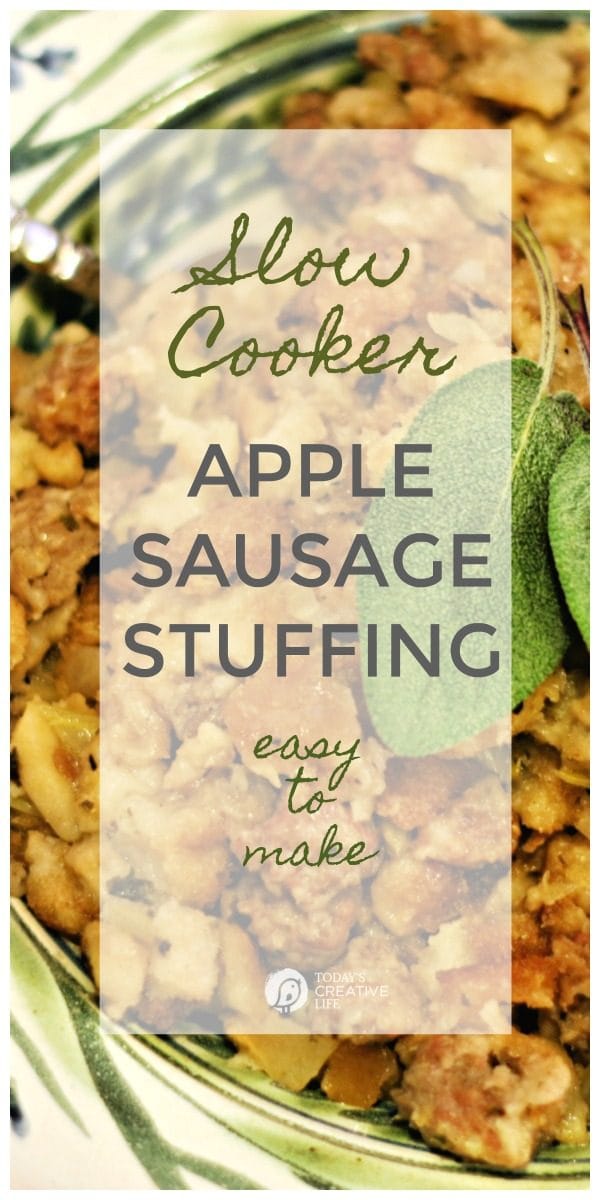 Crockpot Stuffing Recipe with Sausage and Apples
The first time I made stuffing in a crockpot, the recipe was written poorly.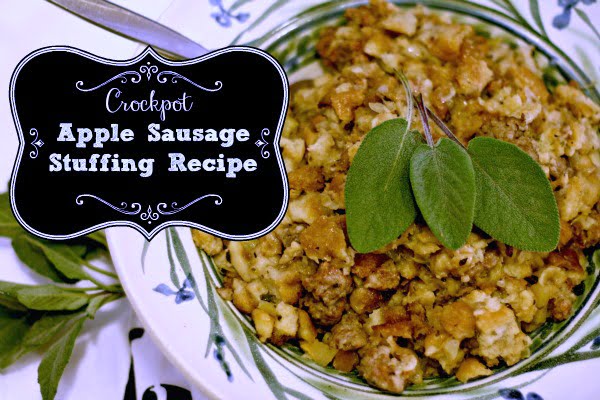 I can't remember what site I found it on, but it was wrong…….as in not enough liquid and it resulted in a horribly charred stuffing. So, that's when I started tinkering and writing notes year to year on what worked, what tasted the best, what wasn't a hit etc….It really can be an "all but the kitchen sink" recipe. Anything goes…..pretty much.
What kind of bread to use in slow cooker stuffing?
I seem to always go back to regular dried bread cubes that you see in the bags at the grocery store meant for making stuffing and dressing. I've tried cornbread and whole wheat but we didn't like it as well, so I'll be sticking with white bread. However, I do have my eye on this Cornbread Dressing recipe. It looks so delicious!
I use the large crockpot and usually get it going by 10 am for a dinner time of 3 pm. I will usually fry up the sausage the night before along with the celery mix. I used the pre-prepped mix of celery, onions, etc… from Trader Joes and it was perfect and saved time……which we all know I need right now.
So here's to freeing up oven space and making things simple. While this is cooking away, you now have time to set up the Leftovers Station and throw together a simple Thanksgiving Centerpiece.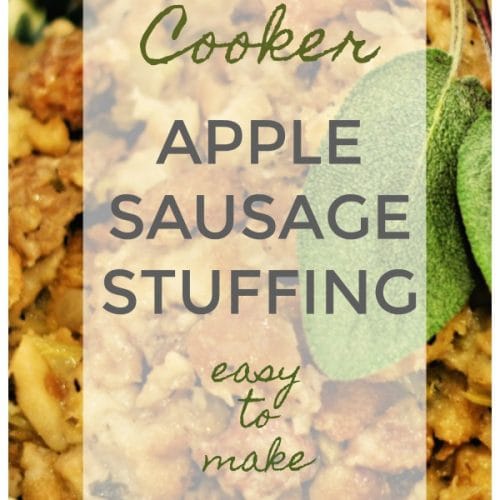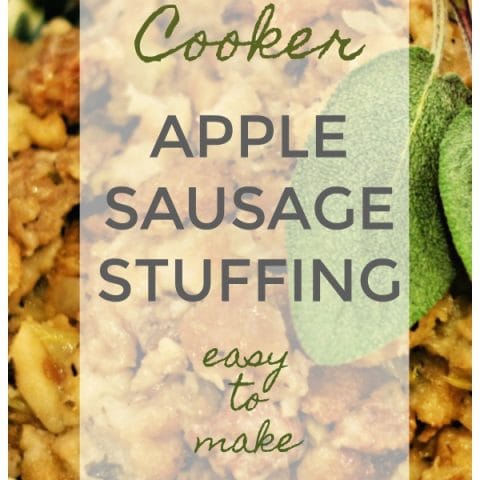 Crockpot Stuffing Recipe
Prep Time: 20 minutes
Cook Time: 4 hours
Total Time: 4 hours 20 minutes
Easy to make Slow Cooker Apple Sausage Stuffing for Thanksgiving.
Ingredients
1 1/2 cup chopped onion
1 1/2 cup diced celery
Many stores carry the stuffing starter mixes that include celery, onion & spices. I use 3 cups.
(optional) 1 small can water chestnuts - Chopped
1 large Granny Smith Apple - chopped (I leave the skin on)
12 cups small dried bread cubes (13 oz bag)
4 large leaves fresh rubbed sage- diced
1 teaspoon sea salt
1/2 teaspoon pepper
2 teaspoons poultry seasoning
1 cup butter- melt
8 - 16 oz ground pork sausage
2 cans (15 oz cans) or one 33 oz box of Chicken broth
1 cup chopped pecans
Instructions
Grease slow cooker with butter or spray pam
Place bread cubes, pecans into a large mixing bowl
Saute sausage with the onion, celery, apples, water chestnuts and seasonings.
Add sausage mixture to bread cubes
Slowly pour melted butter over the bread cubes mixing gently.
Slowly pour chicken broth until moist. Save remaining broth to use later if needed.
Pour into your slow cooker and cook on low for 4-5 hours
Options: Add raisins or dried cranberries
Notes
Check every hour to make sure it's not burning around the edges or too dry. Add more broth if needed.
Nutrition Information
Yield 18
Serving Size 1 cup
Amount Per Serving
Calories 890
Total Fat 71g
Saturated Fat 25g
Trans Fat 1g
Unsaturated Fat 41g
Cholesterol 202mg
Sodium 2208mg
Carbohydrates 23g
Fiber 3g
Sugar 7g
Protein 41g
How Long will Stuffing Last?
This is a trick question since we tend to eat it all the first couple of days after Thanksgiving for our leftovers. Because it has meat products, I wouldn't keep it longer than 4 or 5 days.
Enjoy your holiday!
Thanksgiving Recipes and Ideas
Thanksgiving comes together easily with these creative recipes and ideas.