Decorating a Porch for Fall can be budget-friendly, simple and still gorgeous. This farmhouse style autumn porch was created with rustic touches using tree branches from my yard. Fall porch decorating ideas are abundant when you start with nature and items you may already own.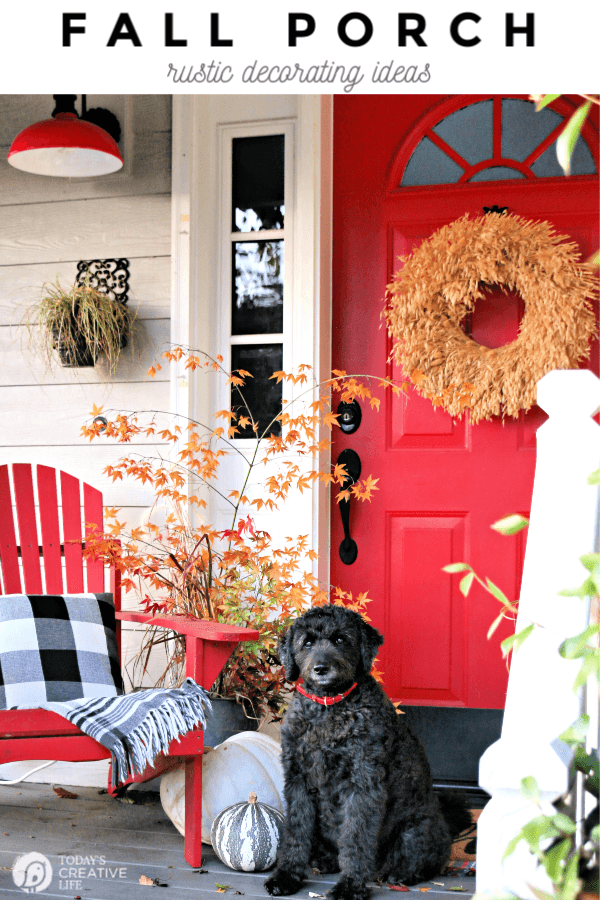 Decorating a Porch for Fall & Autumn
I usually like to share my fall porch much earlier to help give you inspiration and ideas. This year my fall porch decorating ideas were on hold due to my father in law falling ill in September and sadly passing away in October. This obviously put many things on the back burner and made it hard to share in a timely manner.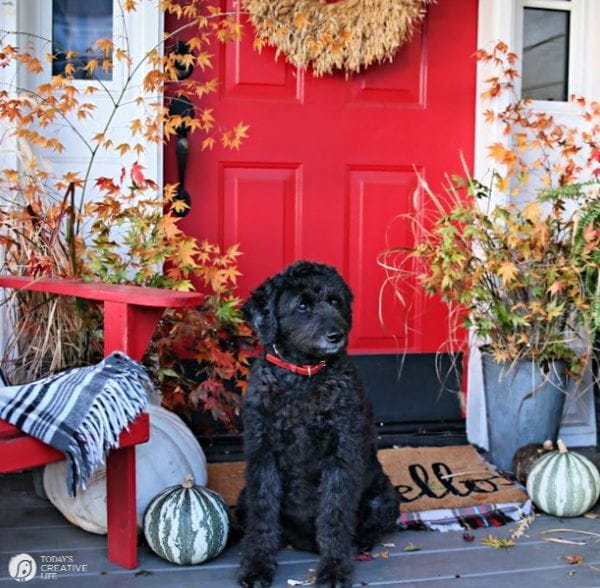 The grassy variety of plants I had purchased and put in my galvanized sap buckets were looking dried up and not so pretty, so I asked my husband to clip me a few branches from the trees in our yard that were now turning the most beautiful orange and gold colors. I stuck each branch into each bucket and loved how it looked. This didn't cost me a thing.
I used a wreath from a couple of years ago, which made my only purchase, the pumpkins.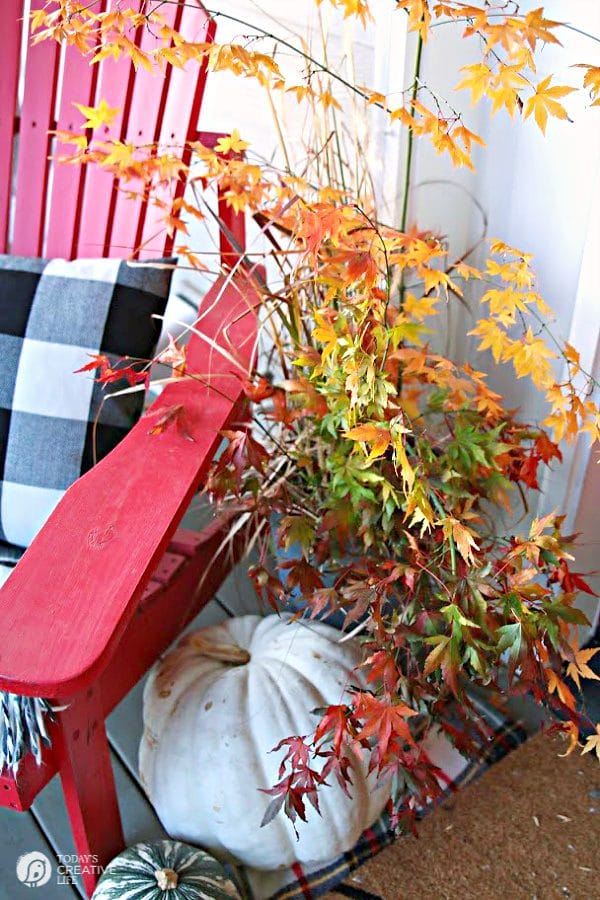 How to Decorate A Fall Porch
I always look to nature for tips on what to use and what color scheme to choose. I also decide if I'm going for an abundant look or more minimalist. When I decorate my porch for fall, I always try to keep it easy to transition for Halloween and Thanksgiving. For Halloween, I'll start with my basic design and just add simple decor like ornamental crows, rats, and owls. Easy to remove once the holiday is over, and you're now ready for Thanksgiving.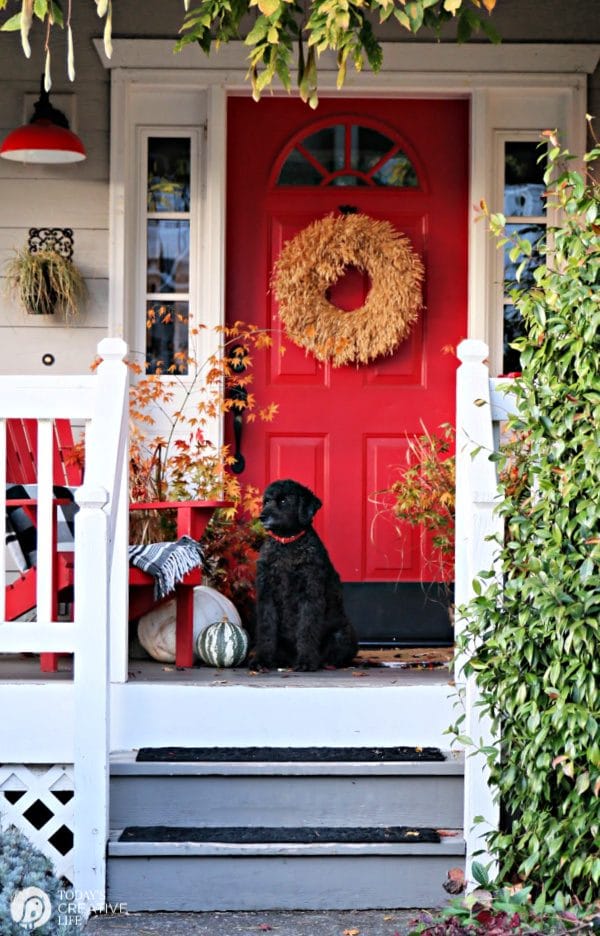 Pumpkins & Gourds for Fall Decorating
A good place to start is with pumpkins, squash, and gourds. There are so many amazing textures, colors and shapes it will be hard to decide. This year I went with just white and green pumpkin varieties. Thinking through a color scheme and deciding on what type of symmetry you want, will help you decide how many and which ones to bring home. Faux pumpkins are also great and they don't rot.
Plants for an Autumn Porch
I usually always start off with a couple of mum plants along with a few pumpkins, but sadly, they don't last as long as the fall season. This is when flowering cabbage comes in handy. It adds a beautiful color, especially with some of the heirloom pumpkins.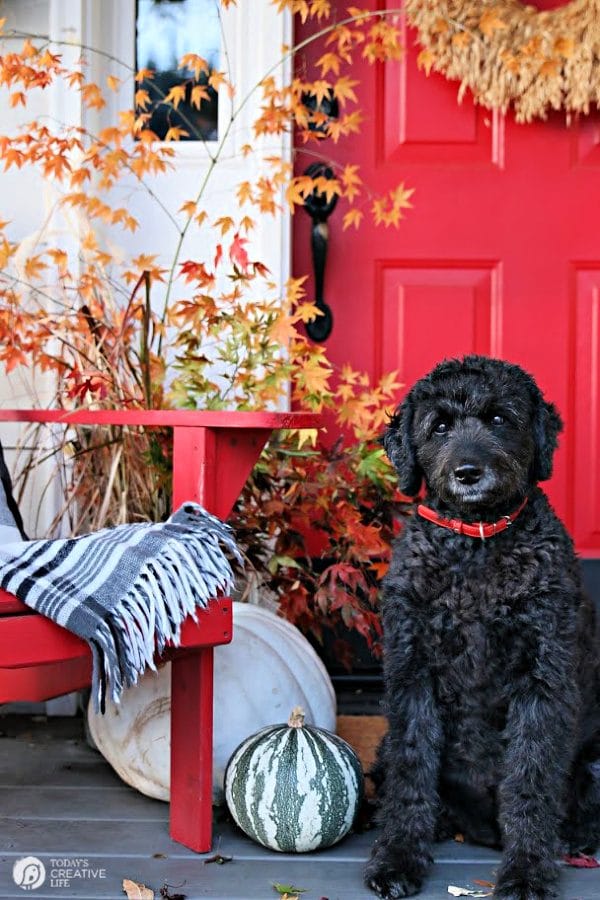 Nature Elements for Fall Decor
Look to your own yard for decorating items. You'll be surprised by what you can make work. Or many pumpkin patches or nurseries will have fall items for purchase.
Tree Branches – Just a couple of branches like I used can create a gorgeous look.
Corn Stalks
Apples – a basket of apples is a festive fall look.
Pinecones
Dried Hydrangeas – Make a wreath or garland using these beauties.
Dried Wheat – great to transition planters and urns into the new season.
Haybales
Acorns
Indian Corn – Make a Corn Wreath for your door.
Seasonal Fall Accessories
Bring out the cozy textures, plaids and buffalo check for pillows, and throw blankets. Fall wreaths, maple leaf garland or using large and small lanterns with flameless candles on a timer are perfect for decorating fall and winter porches.
Baskets, wood signs, fall doormats, and rugs are just a few more ideas to dress up the front of your home.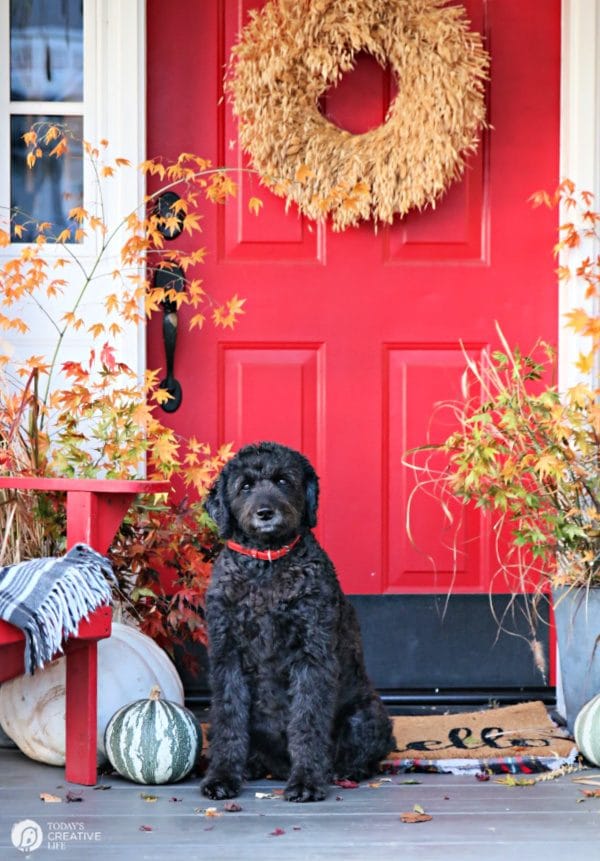 If you're new to decorating a porch for fall, start by keeping things simple and symmetrical. Now add warm and cozy thoughts and before you know it, you've got a beautiful fall porch to enjoy all season!
It also helps to have a cute pup who sits politely while you take photos. I didn't even ask her to sit there. This is Maybelline and she's a Multi-gen Australian Labradoodle from Mountain Park Labradoodles.
DIY FALL DECOR
Budget-Friendly DIY decorating ideas for Fall.
SHOPPING FOR FALL DECOR
Affiliate links for products listed are for your convenience only. This costs you nothing extra. If you happen to purchase anything as a result of clicking, TCL will receive a small percentage. Thank you for your support. This allows me to continue to offer you free content.

Photo Credit: www.amazon.com

Photo Credit: www.amazon.com

Photo Credit: www.amazon.com