Eating your veggies just got more delicious! This Honey Roasted Carrots recipe will become your new favorite with a mixture of savory and sweet!
All natural ingredients for a delicious side dish that's perfect for everyday or holiday dinners. Side dishes don't have to be complicated. Keep it simple with simple ingredients and you're golden! Simple veggie dishes like my Roasted Brussel Sprouts with Balsamic Glaze make it easy to make over and over!
Honey Roasted Carrots with Garlic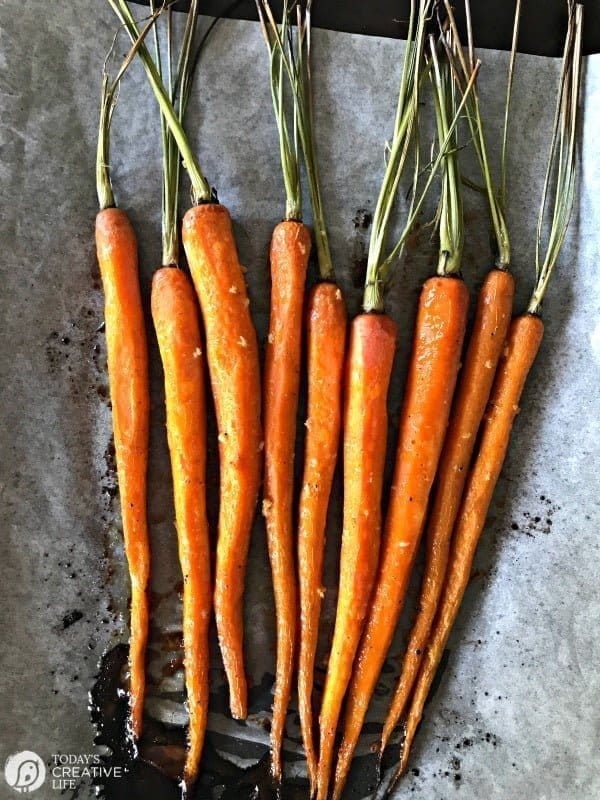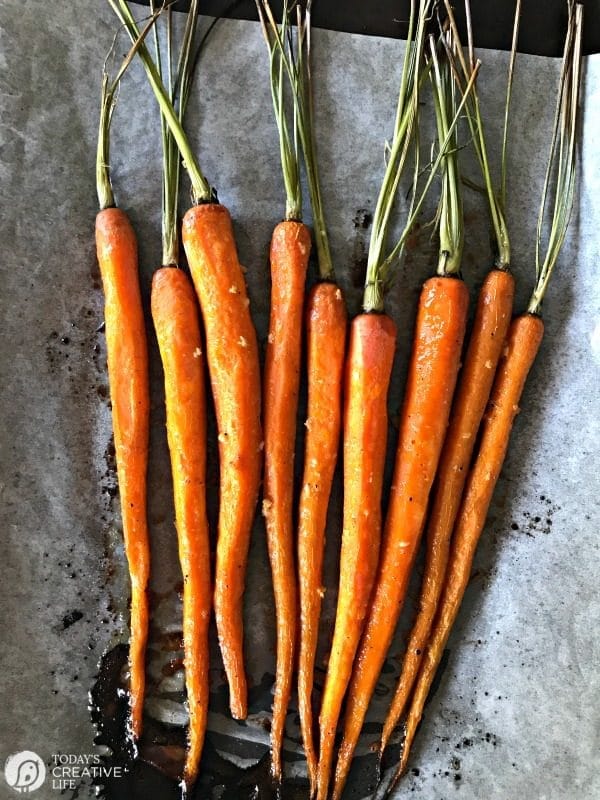 When I showed someone a photo of my delicious honey roasted carrots, they wanted to know why I kept the greens on.
Well…. because I knew they'd look much nicer in a photo! Blogger problems.     
Also, if you're having a holiday dinner, this vegetable side dish would certainly rise to the occasion. But… if you want to use a bag of baby carrots or even sliced carrots, this honey roasted carrots with garlic recipe still works fantastic! The best part about this roasted vegetable recipe is, it's SO EASY and kids will eat it!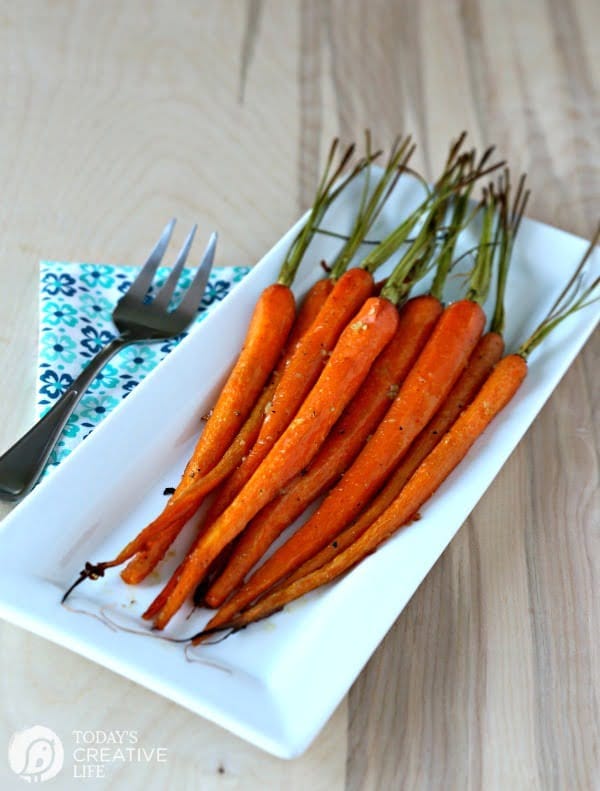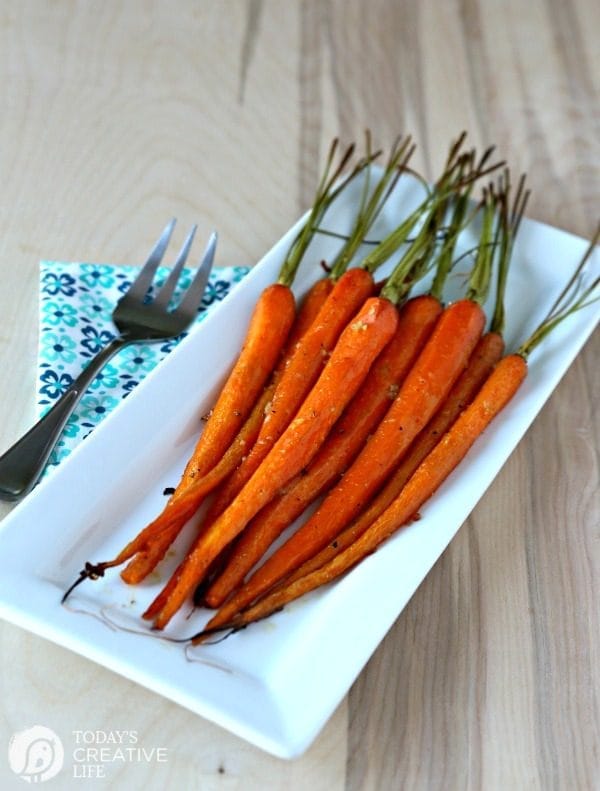 Making Honey Roasted Carrots – Supplies
Affiliate links for products listed are for your convenience only. This cost you nothing extra. If you happen to purchase anything as a result of clicking, TCL will receive a small percentage. Thank you for your support. This allows me to continue to offer you free content. 
Carrots – any kind. If you're trying to impress someone or it's for a fancier dinner, then get the carrots with the greens still attached. Maybe even pick up a variety of the colored carrots. The gold, orange and purple varieties.
Honey – I get my honey at Trader Joe's.
Olive Oil – I love the California Ranch Olive Oil because it's fresher than most.
Ground Pepper – I use fresh ground pepper
Sea Salt – I buy my sea salt from Trader Joe's.
Baking Pan – My favorites are the professional grade USA made jelly roll pans
Parchment paper – LOVE using parchment paper for non-sticking and even browning purposes.
If I'm making these just for us here at home, sometimes I don't even peel them. I just give them a good scrubbing to get all the embedded dirt out of the nooks and crannies.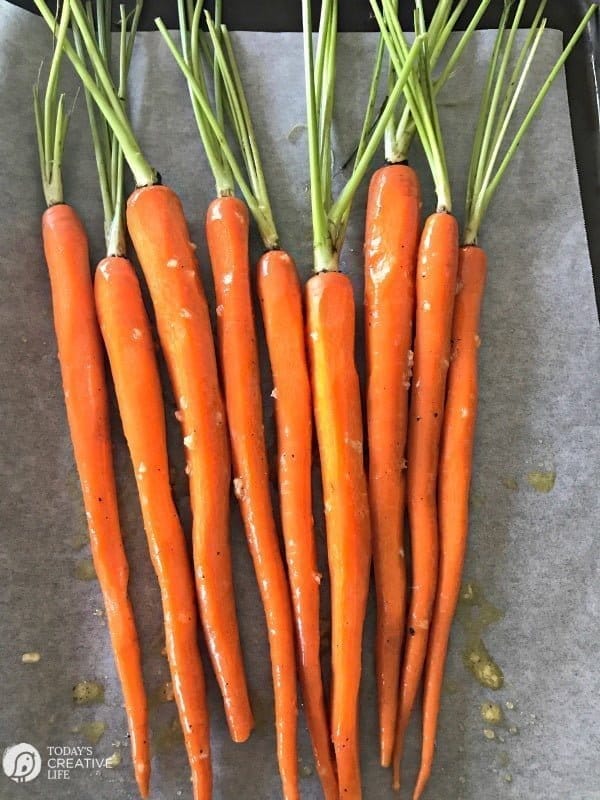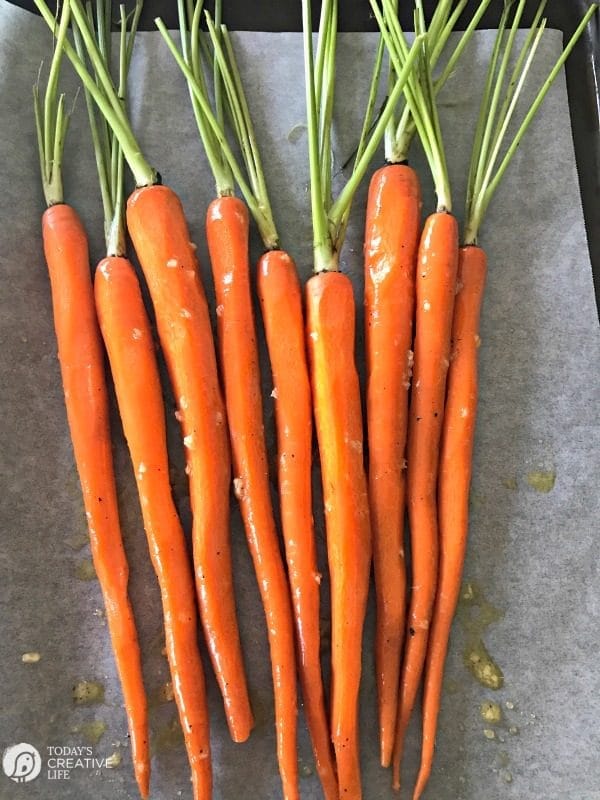 Make up your drizzle, blending together the honey, olive oil and seasonings. (printable recipe below)
Line them up on your prepared pan and just pour your drizzle over. If it didn't seem like I had enough drizzle, I'll use my silicone brush to spread it around. Or, just make a little more.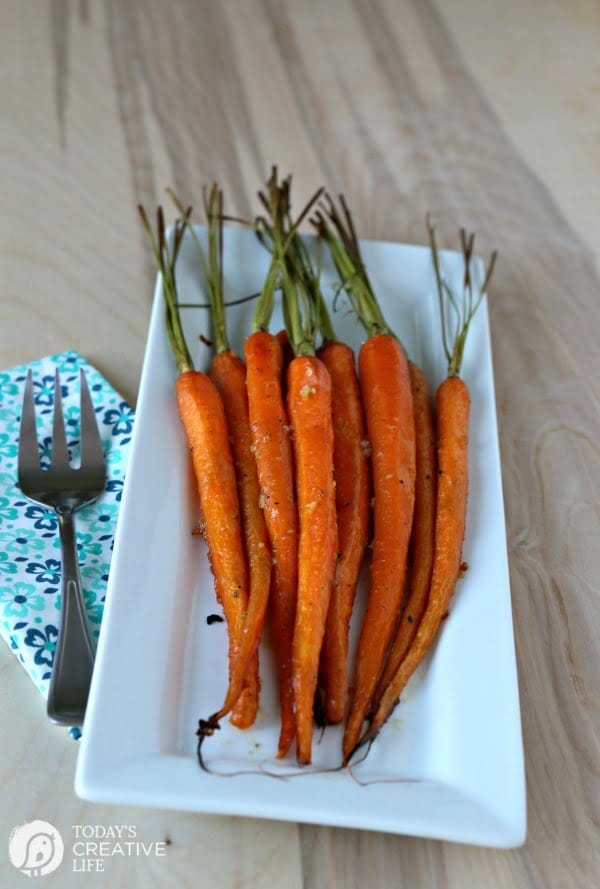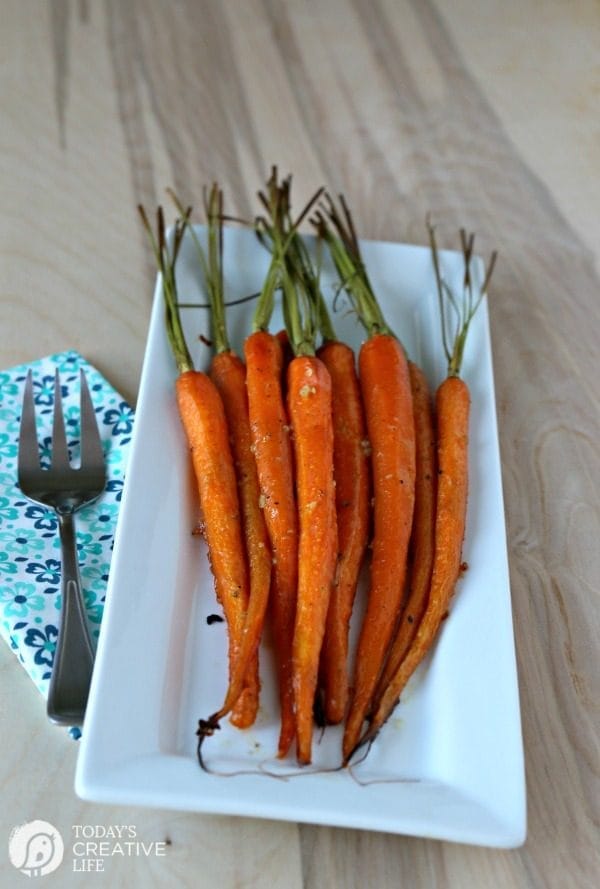 Bake them for about 30 minutes total until they are fork tender, but I'd check on them around the 20-minute mark to make sure they aren't too brown.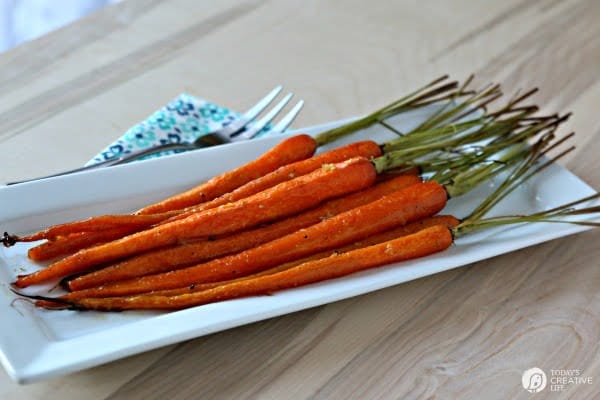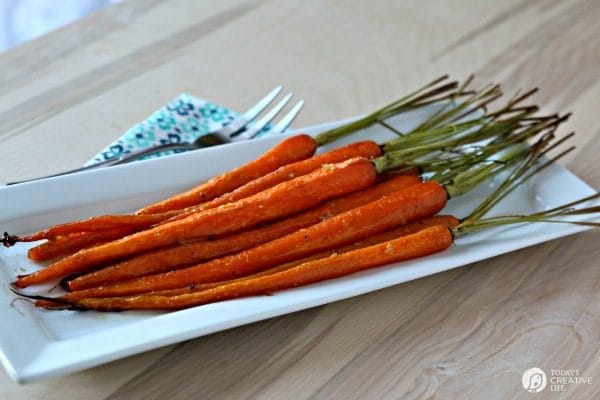 When they're finished, place them on a beautiful platter and serve while warm. Aren't those gorgeous? The perfect side dish! Beautiful, delicious and healthy!
I like the browned tips the best! I also like the rustic look too.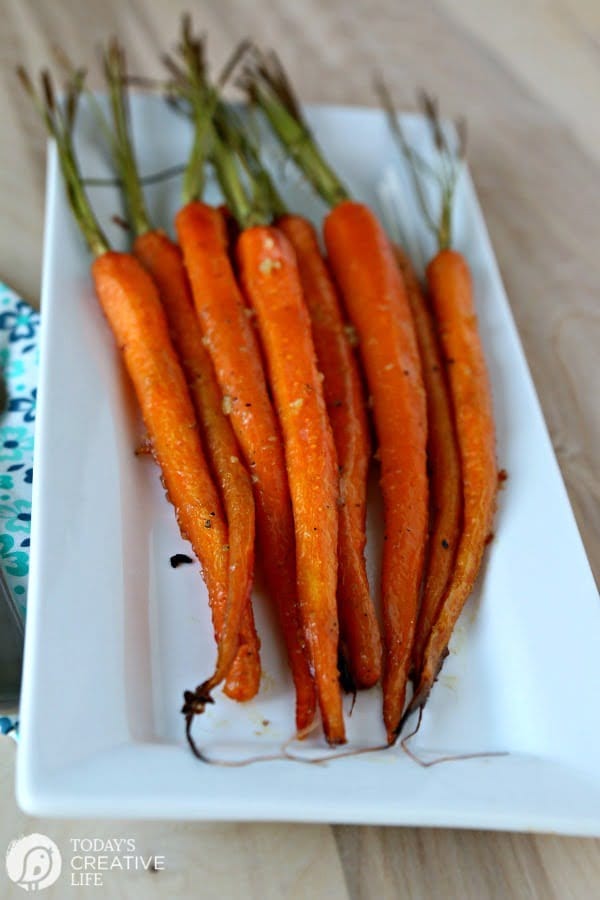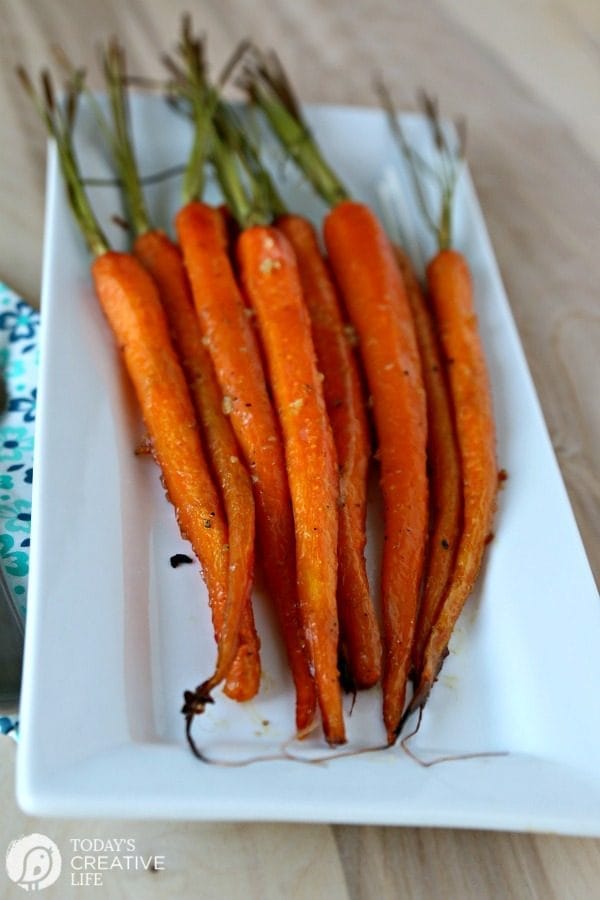 And they taste even better! The sweetness of the honey mixed with the savory sea salt and pepper….. Mmmmmm.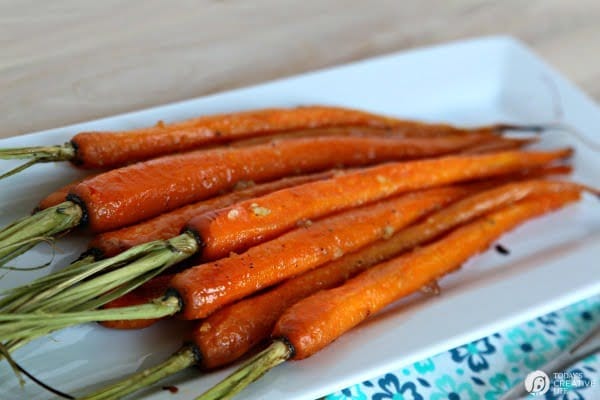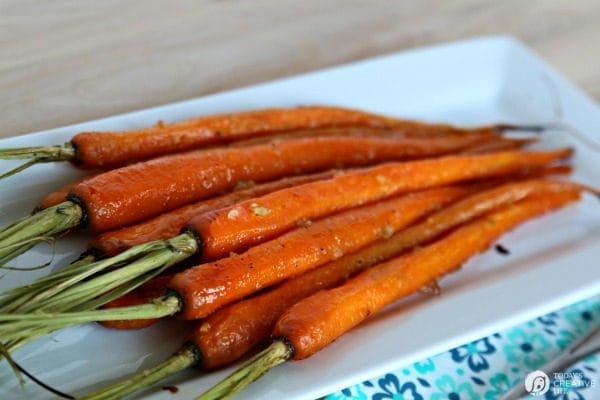 Cooking beautiful and healthy food doesn't have to be hard. I don't make anything that has too many steps. But these Honey Roasted Carrots with garlic are as simple as you can get, but dang do they look and taste impressive!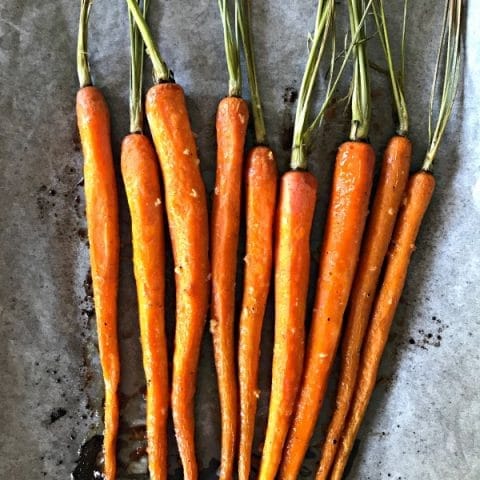 Honey Roasted Carrots
Prep Time: 10 minutes
Cook Time: 30 minutes
Total Time: 40 minutes
This recipe can be made with any carrots. But you have to admit the thinner carrots with a bit of the greens on top make a great presentation! So, if you're trying to impress someone with your culinary skills?.... Buy thin carrots with the greens.
Ingredients
1 Bushel of carrots or a bag of baby carrots
1/4 cup honey
3 tablespoons olive oil
2 garlic cloves. Chopped. I used my garlic press.
1/4 teaspoon ground pepper
1/4 teaspoon sea salt - or regular
Instructions
Preheat the oven to 375 degrees and line your baking sheet with parchment paper. Tin foil also works.
Wash and peel carrots, then line them up on your prepared baking sheet.
In a medium bowl, whisk together honey, olive oil, garlic, pepper, and salt.
Drizzle mixture over the carrots.
I used my silicone brush to spread the honey mixture over areas that perhaps didn't have any.
Bake on the middle rack for about 30 minutes, or until the carrots are fork tender.
I'd check on them around the 20 min mark. Move them around if you see the tops getting too brown, yet they still need some cooking.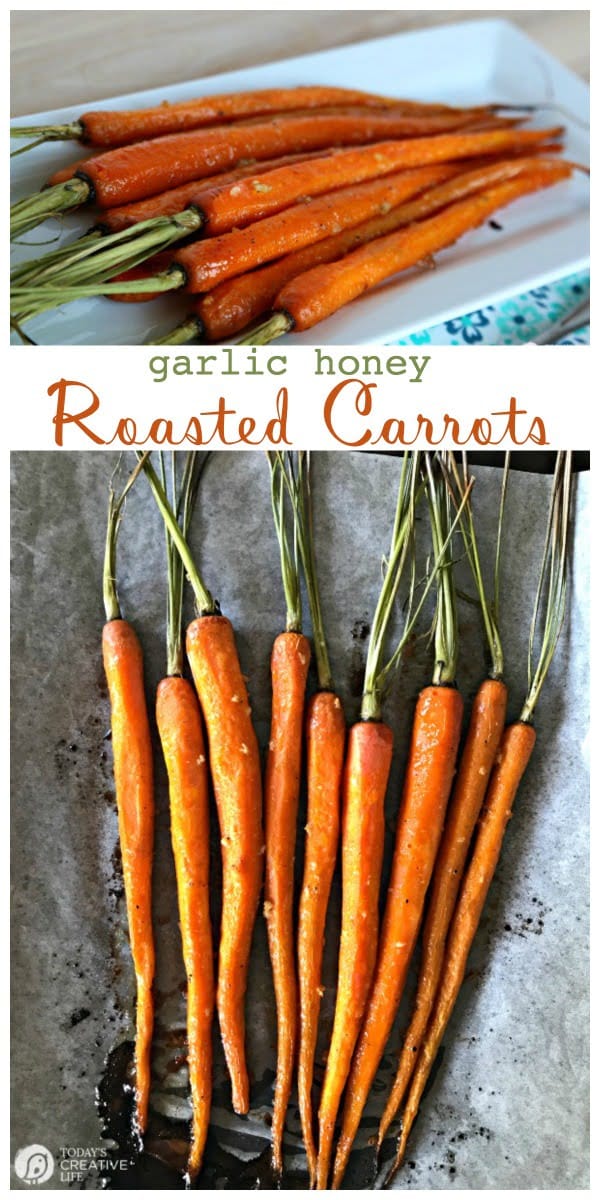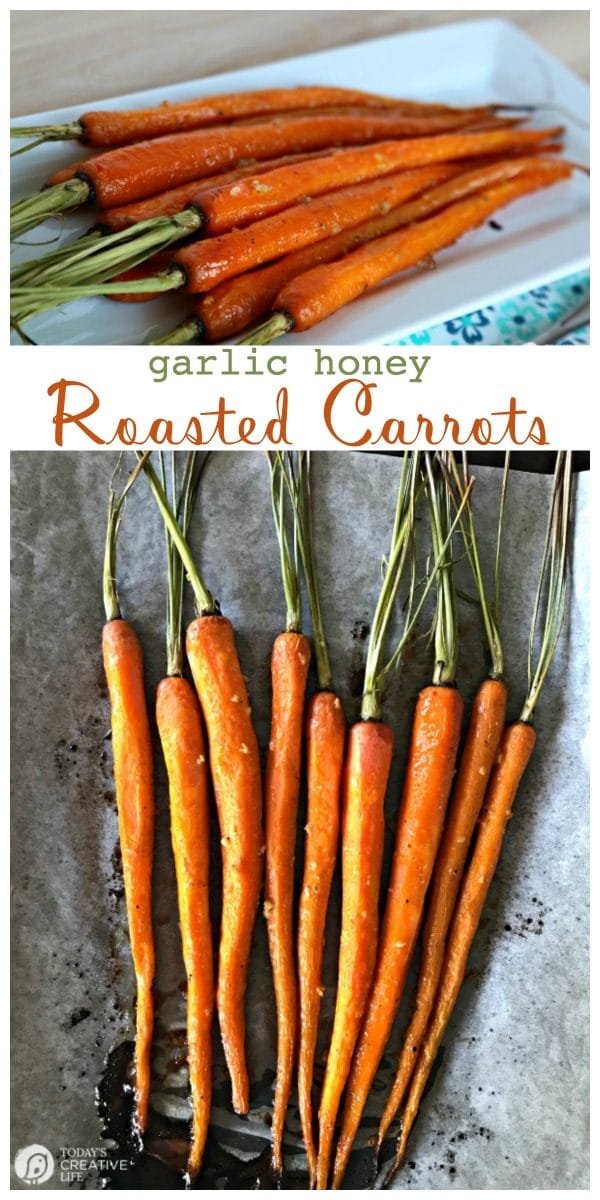 ---
More Fresh Recipe Ideas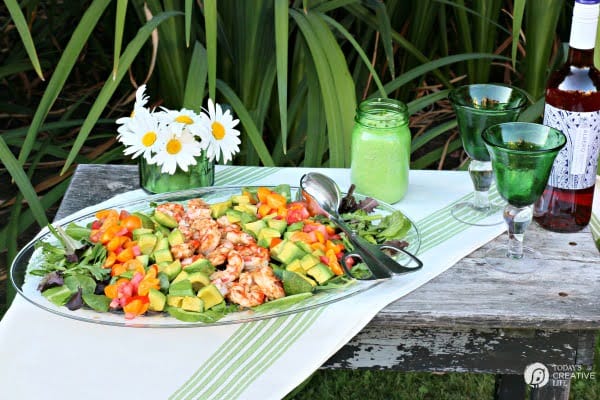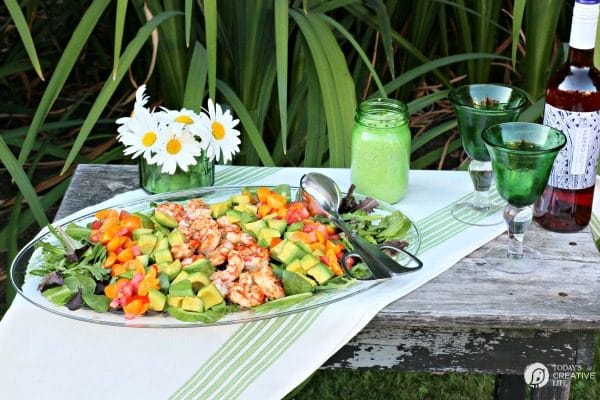 Shrimp Avocado Salad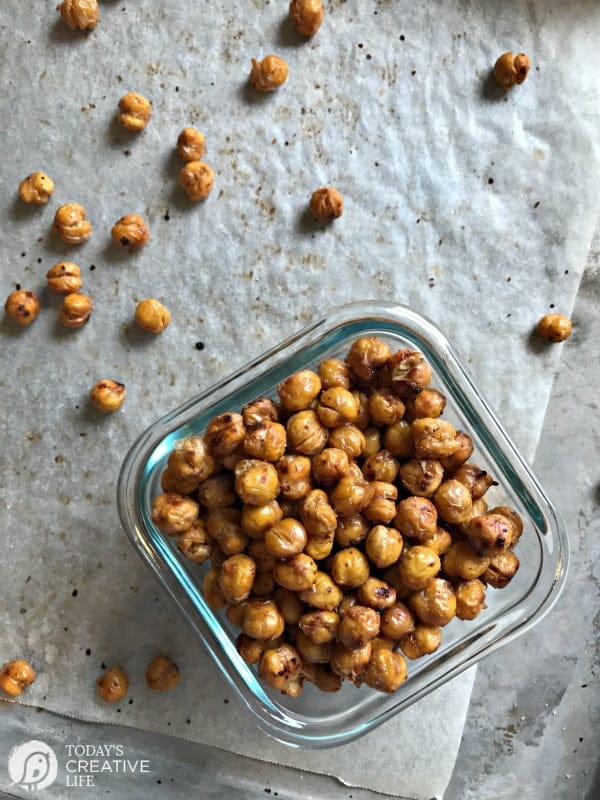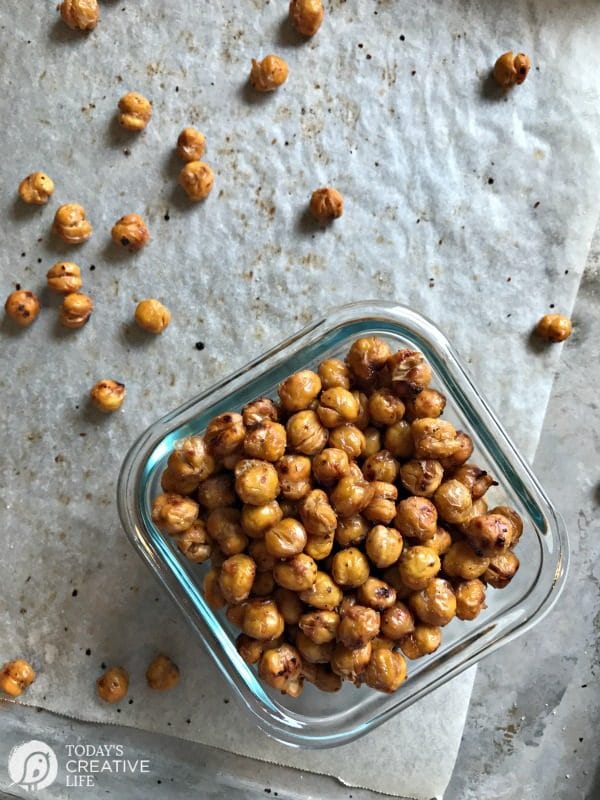 Roasted Chickpeas with Garlic & Sea Salt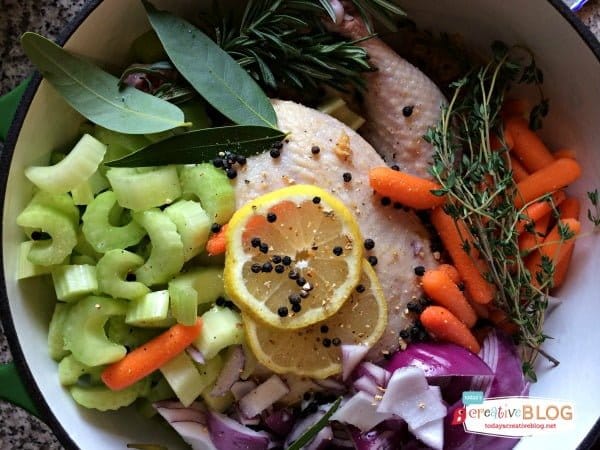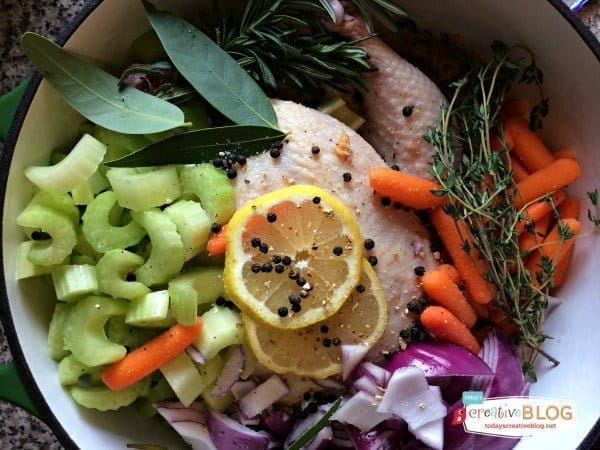 Homemade Chicken Broth from Scratch