These Roasted Chickpeas with Garlic and Sea salt are a great high-protein snack! Crunchy, full of flavor, and easy to make.
Roasted Chickpeas have been on my list to make for a LONG time! I'm always looking for healthy snacks, especially high in protein, and fiber, but low in sugar! Like my Roasted Cashews Recipe, these roasted chickpeas meet those needs! They are simple and curb that craving for chips. Try them!
If you're looking for something healthy, but sweet? Try these Healthy Coconut Oil Chocolate Peanut Butter Cups. So so good!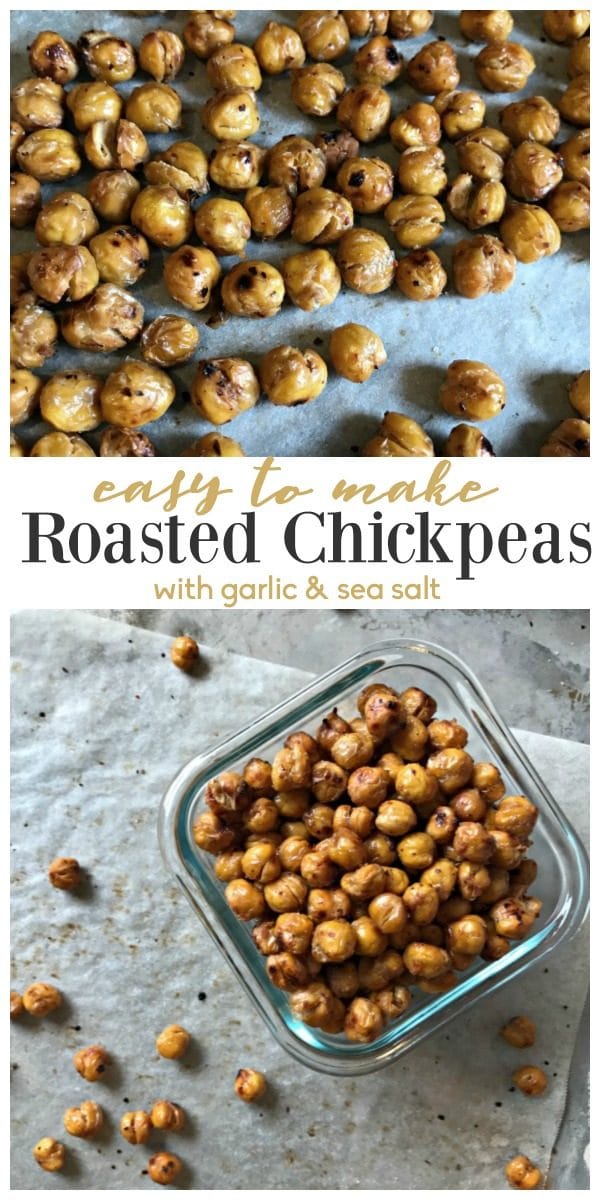 Roasted Chickpeas with Garlic & Sea Salt
Learning how to roast chickpeas takes no skill in the kitchen. You don't even need to read a recipe after the first time!
The beauty of this roasted chickpeas recipe is you can make it in any flavor you want. Or roast them plain. They couldn't be easier to make and they hit the spot when you need something crunchy.
The best part is they are good for you! Chickpeas (also known as garbanzo beans used to make hummus) are high in fiber and protein-rich but they also contain important nutrients like folate, manganese, and iron. Any snack high in protein and fiber is going to leave you satisfied.
Ingredients for Roasted Chickpeas
2 Canned Garbanzo Beans – That may seem like a lot, but they shrink during the baking process. You could soak dried chickpeas, which is very similar to this How to Soak Beans tutorial.
Olive Oil
Seasonings – I used garlic powder, sea salt, and a little shake of Tajin, a chili-lime seasoning.
How to Roast Chickpeas from a Can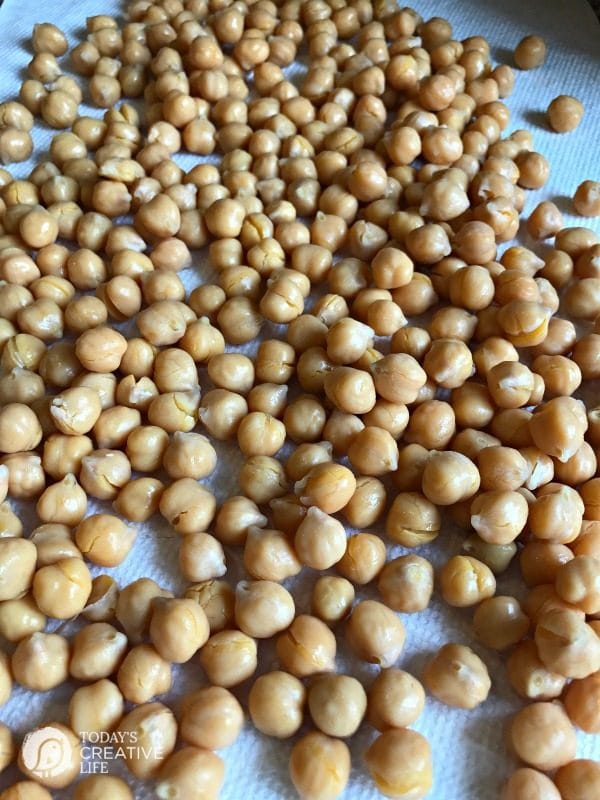 Open and drain your cans of chickpeas. You'll want to spread them out to dry. I spread them out on paper towels and then patted the tops with another.
Once they are pretty dry, place all the chickpeas into a large gallon-size ziplock bag.
Drizzle a couple of tablespoons of olive oil into the bag. Seal the ziplock and gently move around until well coated.
Line a baking sheet with parchment paper and spread the chickpeas onto the pan.
Sprinkle with your seasonings. I used sea salt, garlic powder, and a chili lime blend.
Place in a preheated oven at 400 degrees for 25-30 min. Check on them every 10 minutes and give the pan a little shake to allow the chickpeas to move around.
I like to eat them right away, but if I do have leftovers, I store them in an airtight container.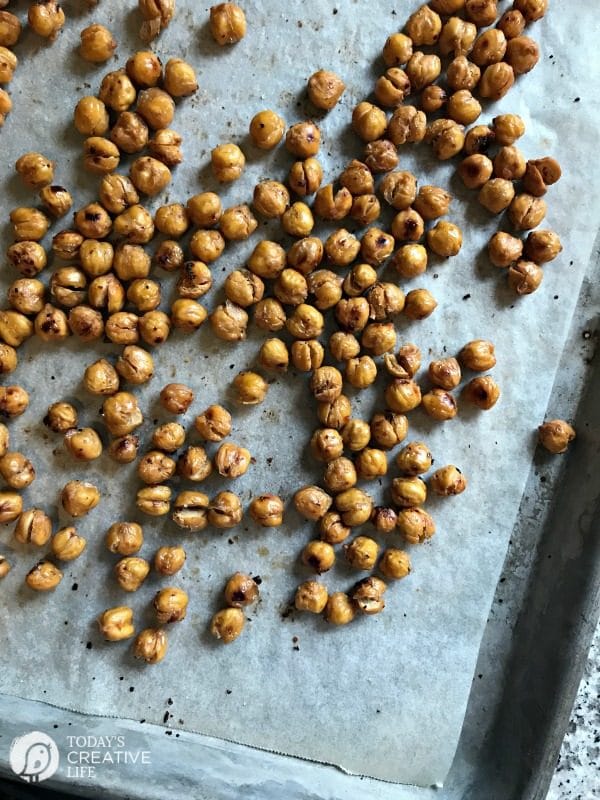 When I finally took them out of the oven, I took a couple to test, just to make sure they were crunchy.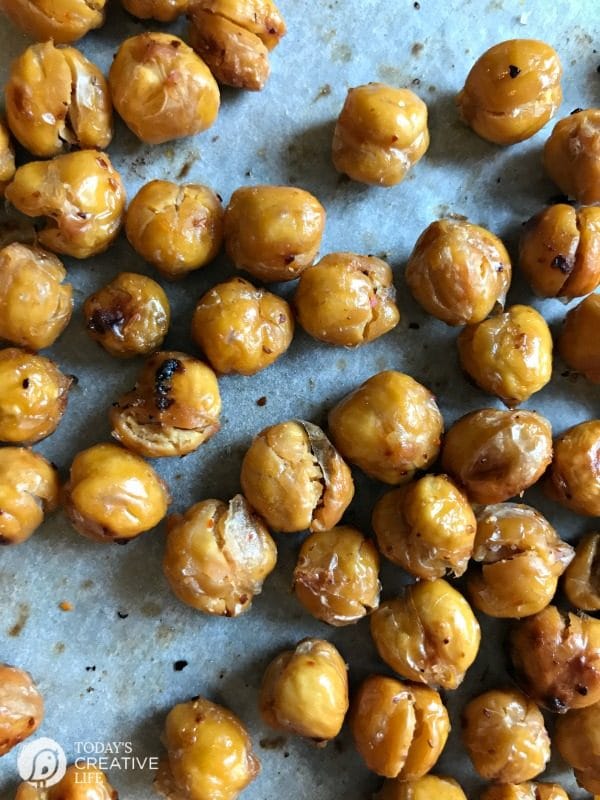 They cool off pretty quickly, so scoop them up into a small dish and enjoy!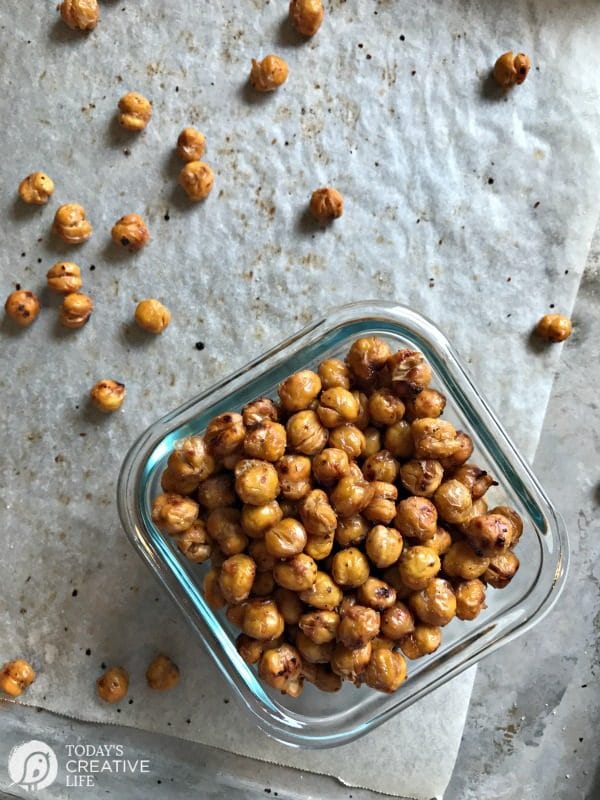 Roasted chickpeas are a pretty quick snack, that you can be creative with your flavoring. If you like sweet, maybe try tossing with a little maple syrup. Or combine the sweet and salty with maple syrup and sea salt. If you like spicy, try my homemade Carribean Rub. Or maybe you like more of a BBQ flavor? Try my homemade steak seasoning.
Don't be afraid to experiment!
Roasted Chickpeas in the Oven
It's all about making them crunchy. Patting them as dry as you can before putting them in the oven is key.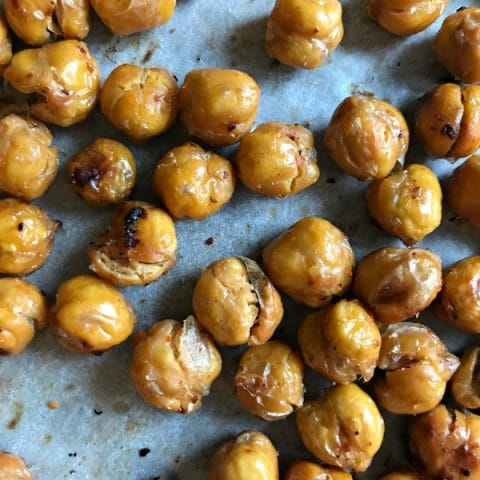 Best Roasted Chickpea Recipe
Yield: 1.5 C
Prep Time: 10 minutes
Cook Time: 30 minutes
Total Time: 40 minutes
Easy to make high-protein snacks that are crunchy and flavorful.
Ingredients
2 regular cans of chickpeas
Drizzle of Olive oil
Sea Salt
Garlic Powder
Tajin Chili Lime seasoning
Instructions
Preheat your oven to 400 degrees.
Rinse and drain cans of chickpeas.
Lay beans out on paper towels to dry. Pat the tops with another paper towel.
After drying, place into a gallon size zip lock bag or a medium bowl and drizzle with olive oil.
Mix to coat chickpeas.
Line your baking pan with parchment paper.
Spread out the chickpeas onto the parchment paper.
Sprinkle with seasonings.
Bake for about 30 mins, checking every 10 min. I like to move them around a little so they aren't burned on one side.
Notes
Garbanzo beans and chickpeas are the same.
I used canned, but you can always soak them ahead of time.
Air Fryer - 390° F. for 5-6 min.
Nutrition Information
Yield 2
Serving Size 1
Amount Per Serving
Calories 496
Total Fat 26g
Saturated Fat 7g
Trans Fat 0g
Unsaturated Fat 14g
Cholesterol 50mg
Sodium 1847mg
Carbohydrates 43g
Fiber 9g
Sugar 7g
Protein 26g
We do our best to calculate, however, nutrition information may not be accurate.
Why Are Chickpeas Good for You?
Chickpeas are high in fiber and protein and full of nutrients. I am not a nutritionist or dietician which makes me unqualified to give nutritional advice, you can see a full list of chickpea nutritional facts and calories here.
Chickpeas in the Air Fryer
Making chickpeas in an air fryer is a great way to ensure they will be crunchy! Cathy over at Noble Pig has a great recipe for Parmesan Air Fryer Chickpeas and she recommends 5-6 min at 390˚ Click here for her recipe and instructions.
Savory Snack Recipes
Savory and satisfying snack ideas.
Save this for holiday gatherings or moving watching!
Every bite is bursting with flavor!
Better than restaurant salsa and made in 5 minutes!
Light and airy, yet crunchy with flavors of garlic and parmesan.
High-protein and easy to make. Try any seasoning combinations.
Comfort food in one bite!
Everyone's holiday favorite or save for family game night.
Simple and always a favorite snack recipe.