Savory spiced nuts are a fantastic sugar-free snack. I whipped up this Toasted Curried Cashews Recipe with a little olive oil, curry, garlic, cumin, Worcestershire sauce, and few other spices in a matter of minutes. Wrap them up in a cute canvas bag for a great holiday gift idea!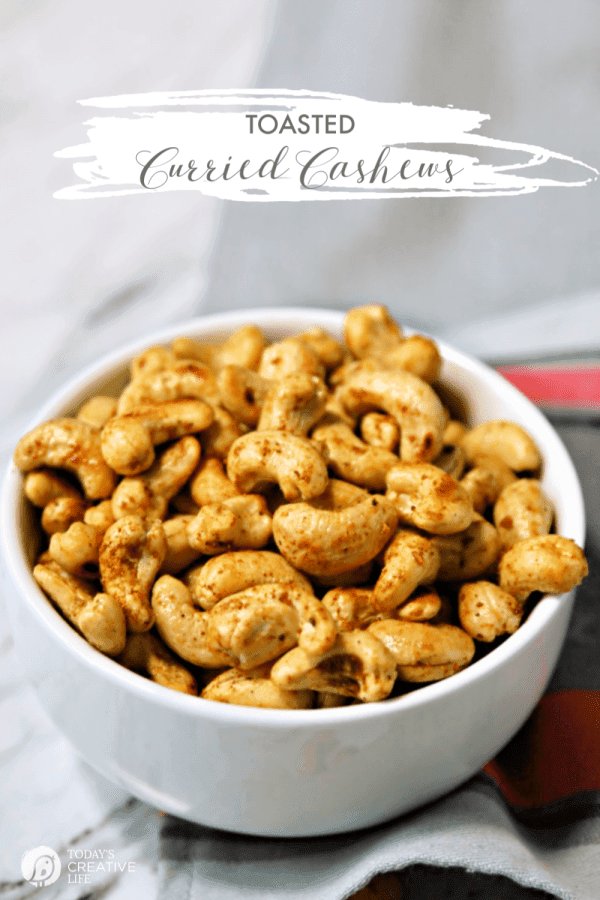 TOASTED CURRIED CASHEWS RECIPE
Make up a batch of these curried cashews for game day, a potluck, a holiday party or just for snacking. They go great on an appetizer table at any holiday dinner too. If you're looking for a no-sugar snack, this spicy cashew recipe is it!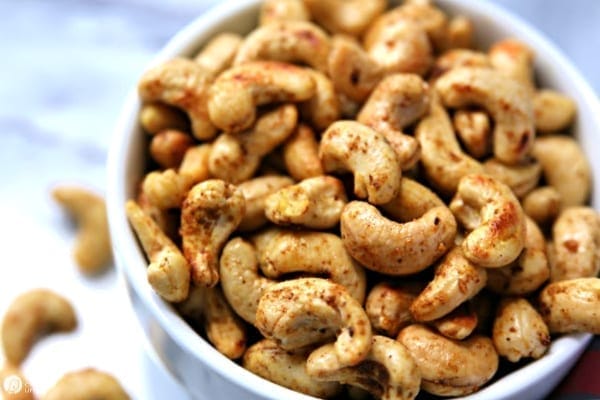 Instead of roasting, I toasted them in a skillet until nice and brown, then added my seasoned oil.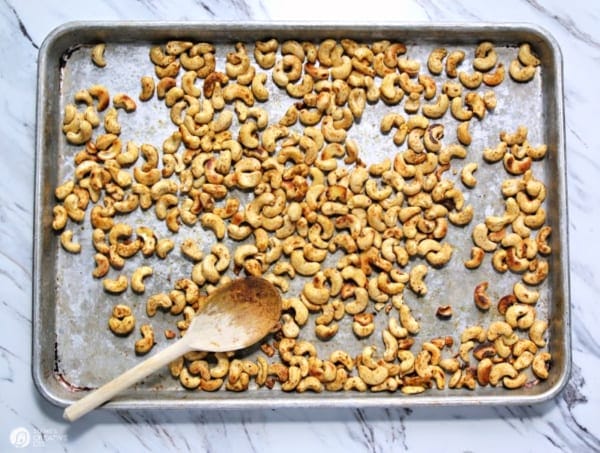 I like mixing all my spices to the oil and then adding. Even though you can add all the seasoning and oil separately, I've found my way was easier to distribute the flavors evenly.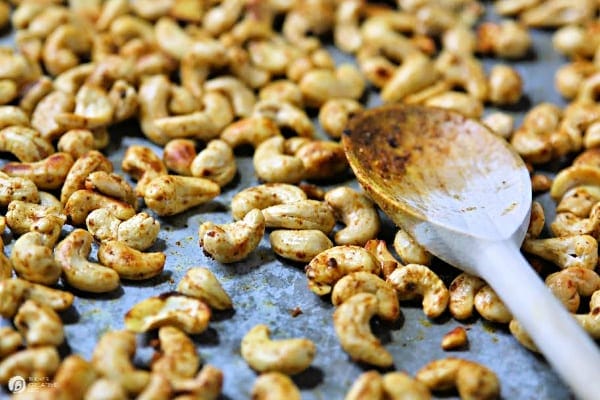 After you allow it to heat up and cook a bit longer, just spread out the toasted cashews on a sheet of tin foil, parchment paper or on a baking sheet to cool.
HOW TO MAKE SPICY CURRY CASHEWS
I make mine on the stovetop, but you can also roast them in the oven or even make crockpot spicy cashews. Some like a hint of lime or sweetness added, which is also very delicious and more of a spicy Thai recipe. Another great recipe to try is Moroccan Spiced Nuts.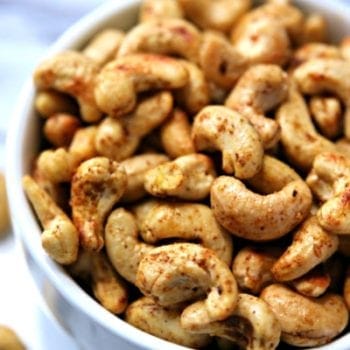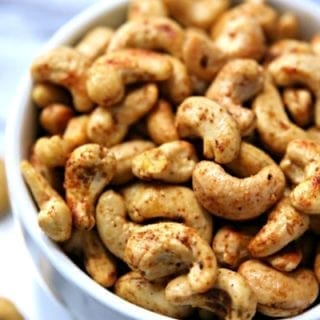 Toasted Curried Cashews
Yield: 2 1/2 Cups
Prep Time: 5 minutes
Cook Time: 15 minutes
Additional Time: 10 minutes
Total Time: 30 minutes
Ingredients
2 1/2 cups unsalted cashews
1 Tbsp. olive oil
2 tsp. curry powder
1 tsp. minced garlic
1 tsp. Worcestershire sauce
3/4 tsp. cumin
1/4 tsp. cayenne pepper
Instructions
In a small bowl mix together olive oil, curry powder, garlic, Worcestershire sauce, cumin, and cayenne, set aside.
In a large skillet, cook cashews over medium heat for about 4 minutes until they become toasted.
Add olive oil and spice mixture to toasted cashews.
Cook and stir for 2-4 minutes or until cashews are completely coated.
Spread out onto a baking pan to cool.
Notes
Add raisins, dried cranberries or dried cherries to the cooled mixture if desired.
Nutrition Information
Yield 5
Serving Size 1
Amount Per Serving
Calories 423
Total Fat 35g
Saturated Fat 7g
Trans Fat 0g
Unsaturated Fat 26g
Cholesterol 0mg
Sodium 23mg
Carbohydrates 23g
Fiber 3g
Sugar 4g
Protein 11g

CAN YOU USE OTHER NUT VARIETIES?
Yes! Walnuts, almonds, peanuts, macadamia, and pecan make great spicy curried nuts! I like starting with raw unsalted nuts, but salted can certainly be used. Just omit any added salt in the recipe.
HOW LONG DO TOASTED CURRIED CASHEWS LAST?
If kept in an airtight container, toasted cashews should stay fresh up to 3 weeks. If they feel a little soft, you can bake them on a cookie sheet at 225° for about 15 minutes and they'll be crunchy in no time. We usually just leave them in a bowl and they are gone in a couple of days.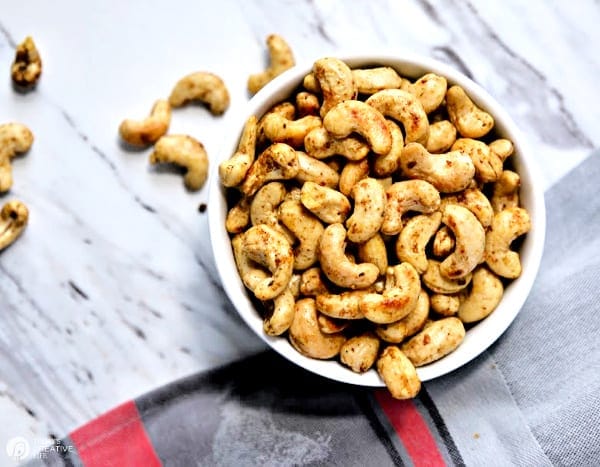 If you make this delicious Toasted Curry Cashews Recipe, I'd love for you to tag me on FB or Instagram!
Savory Recipes to Try
If you like savory snacks and dishes, here are a few you'll love!