This isn't your normal garlic cheese bread. This one has no butter, but uses cream cheese, sour cream, mayo, parmesan cheese, garlic and more for the ultimate Creamy Garlic Cheese Bread.
Perfectly paired with my Homemade Cream of Mushroom Soup, this delicious Caesar Salad or my Ravioli Casserole would be so good!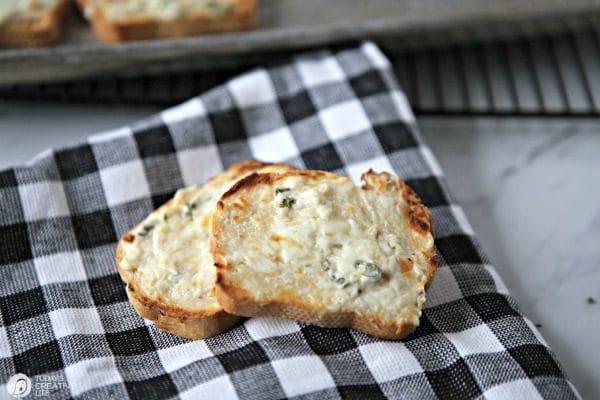 Creamy Garlic Cheese Bread Recipe
I like using the pre-sliced french bread in the bakery area of my grocery store, but I've also used the regular loaves. I either slice it as normal or lengthwise for an open face garlic cheese bread like my Sun-Dried Tomato Garlic Bread and Bacon Garlic French Bread.
This is a great recipe for family dinners, potlucks, or when you may have a house full of teens like we often do.
How to Make the Ultimate Cheesy Garlic Bread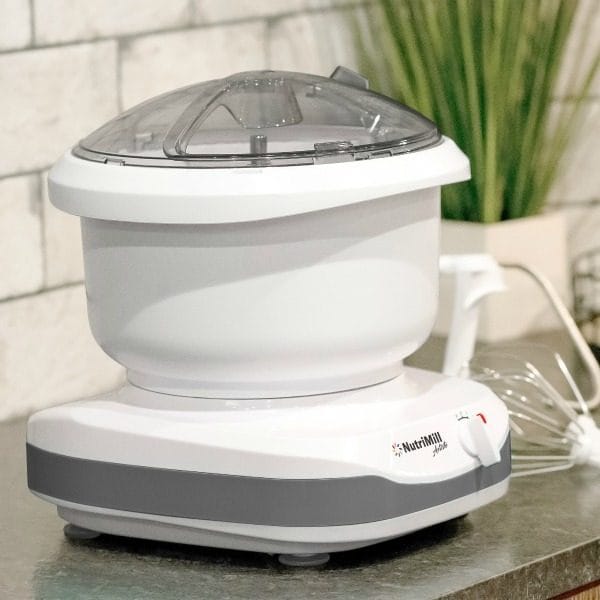 I like to make sure all my ingredients are well blended, so I use my NutriMill Artiste Mixer, but you can easily hand stir too.
Next, I lay all my slices of bread out onto a baking pan and slather the garlic spread from edge to edge on each piece.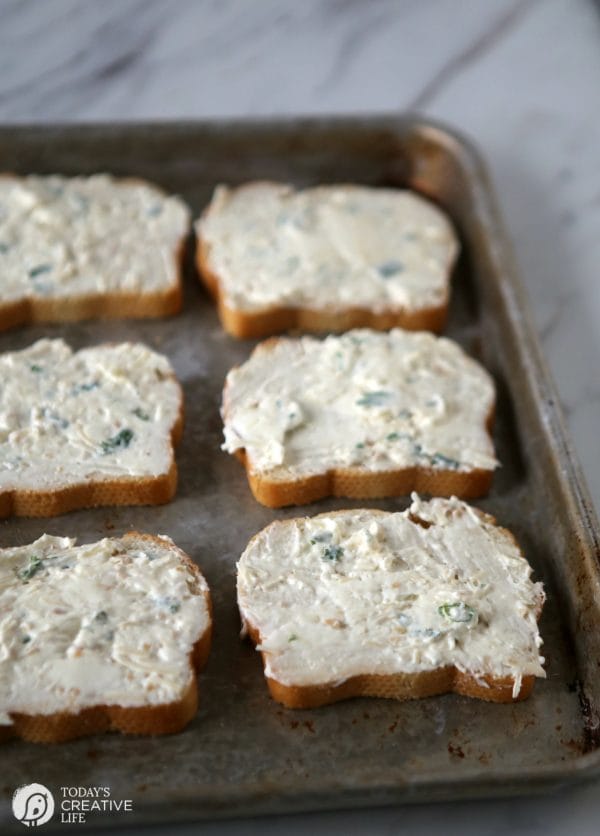 I broil until bubbly and golden brown. It's best when the edges are slightly crispy.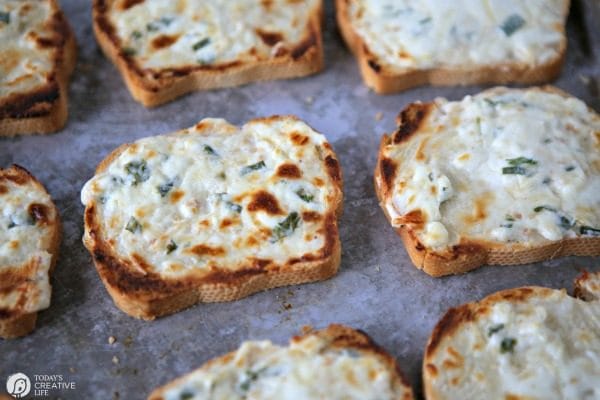 Recipe for Cream Cheese Garlic Bread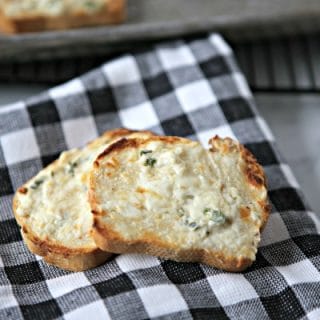 Creamy Garlic Cheese Bread Recipe
Yield: 10
Prep Time: 10 minutes
Cook Time: 4 minutes
Total Time: 14 minutes
Creamy cheesy goodness with no butter.
Ingredients
1 package (8oz.) cream cheese, softened
1/4 cup sour cream
1/4 cup grated parmesan cheese
2 tablespoons mayonnaise
2 tablespoons minced fresh parsley (Only 1 teaspoon If you're using dried)
1 tablespoon minced green onions
6 to 8 cloves of garlic, minced or crushed
1 loaf French bread cut into slices (I bought the bread pre-sliced in the bakery department)
Instructions
In a mixing bowl, blend all ingredients, except the bread, with an electric mixer until well blended.
Spread each piece of bread with the mixture, to only ONE side of the bread.
Place on an ungreased baking sheet. I like using parchment paper on my pan.
Repeat until your baking pan is full.
Move the oven rack 4 inches from the broiling elements. Broil for about 3 to 4 minutes, or until cheese is melted, golden brown and slighting bubbling.
Serve right away.
Notes
Feel free to try it with other cheese varieties.
Nutrition Information
Yield 10
Serving Size 1
Amount Per Serving
Calories 185
Total Fat 6g
Saturated Fat 2g
Trans Fat 0g
Unsaturated Fat 3g
Cholesterol 9mg
Sodium 371mg
Carbohydrates 26g
Fiber 2g
Sugar 2g
Protein 7g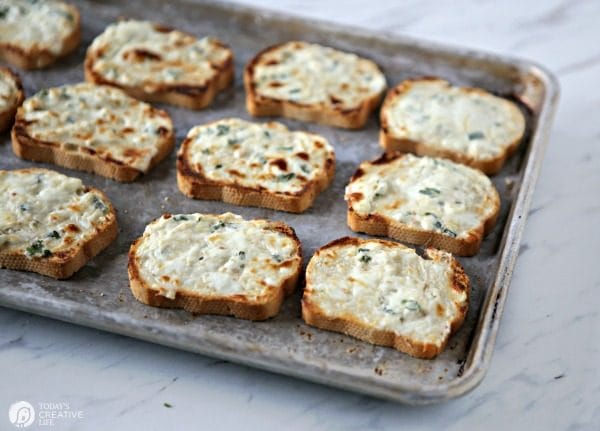 It reminds me a little of Texas Toast, but cheesier.
This Creamy Garlic Cheese Bread recipe is a family favorite!
Can you Use a Different Cheese?
Of course! Use cheddar, white cheddar, Romano, Colby, or Monterey Jack… or a mixture! It will still be the most delicious garlic cheese bread you've ever tasted.
What Kind of Bread Can You Use for Garlic Cheese Bread?
Any slice of bread will be tasty with this tasty mixture, but I like using a sourdough, sliced French, or French loaf sliced down the middle. I'd stay away from sweeter flavors like raisin bread, but a rye or pumpernickel would be delicious!
This would even be wonderful broiled on bagels.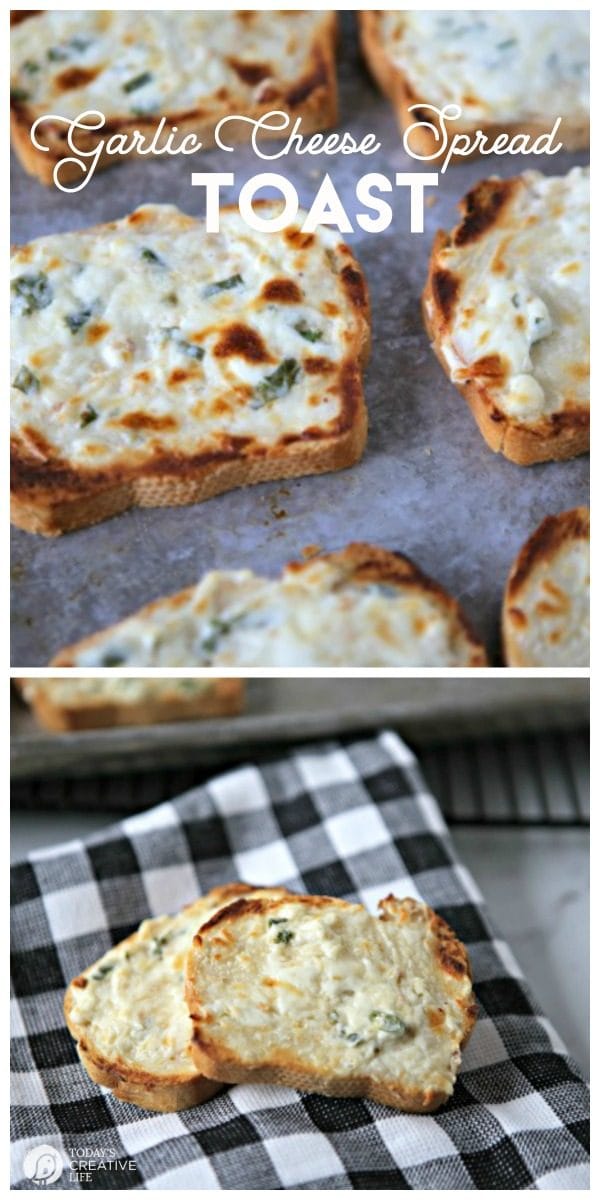 Follow along on Instagram | Pinterest | Facebook
---
Savory Bread Recipes
Enjoy many recipe ideas for savory bread and muffins that are great with soups, salads, or as a snack.
Easy to make savory sundried muffins that are great served instead of garlic bread.
Use refrigerated store-bought biscuit dough for a quick and easy roll recipe for pasta and more.
Puff Pastry is magic! Make this savory tart for an appetizer or serve it with salad.
There is nothing easier than making Beer Bread. Add different flavor combinations to fit your mood. Delicious and Easy!
Easy to make using puff pastry, garlic, butter and parmesan! Great with salads and soup or take as an appetizer.
Puff Pastry for the win again! This fresh tomato pesto tart is a seasonal favorite.
Easy to make from scratch cornbread muffins with cheese!
Easy to make crunchy bread sticks with puff pastry!
Cheesy bread is great for soups, salads or party food!
French Bread with Sun-Dried Tomatoes and garlic for easy snacking.