If you're looking for a hearty soup recipe this homemade Cream of Mushroom Soup Recipe is all you need. Made with butter, heavy cream, and a lot of mushrooms. Any variety you'd like.
My life is complete ever since I realized this Homemade Cream of Mushroom Soup Recipe is one of the easiest and quickest soup recipes to make. Making homemade soup like my crockpot potato soup, or my uncle Ben's chicken and wild rice soup are some of my favorite meals.
I LOVE Cream of Mushroom soup, always have. Seemed like I was the odd kid who actually liked it. Not only did my mom cook with canned condensed cream of mushroom soup, but she would also make it for me for lunch, with quickly became one of my favorites, with lots of crackers!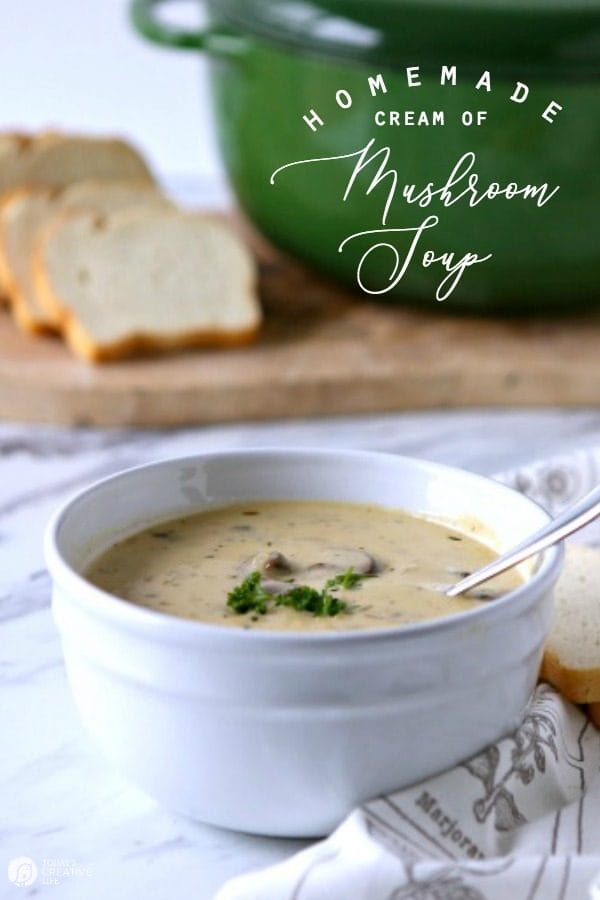 Homemade Cream of Mushroom Soup Recipe
It wasn't until the past few years that I realized how easy it was to make homemade. I don't know why I thought it would be difficult, it was just one of those roadblocks I put on myself.
I remember having lunch in a French restaurant once while visiting a friend in Colorado. Believe it or not, that was the first time I saw a Homemade Cream of Mushroom Soup Recipe on a menu. So, of course, I ordered it!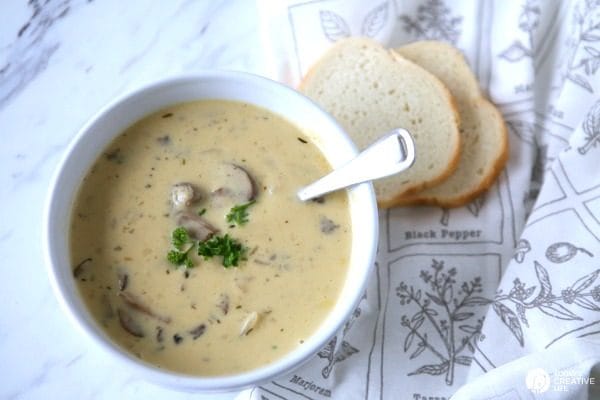 It was the MOST delicious soup I had ever tasted. Now that I make my own, I realize that it tasted so good because my only experience up until then was the canned version. You don't have many fine dining experiences growing up in Central Oregon in the 70s.
---
---
How to Make Homemade Cream of Mushroom Soup
I love using my dutch oven for making homemade soups. Mine is the Lodge brand that I picked up at my local Fred Meyer, but this one below from Amazon looks like a great value.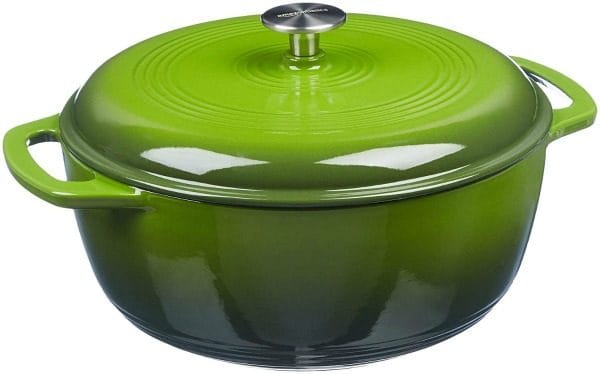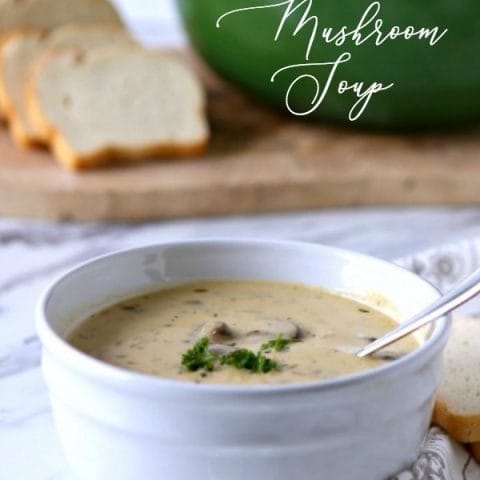 Homemade Cream of Mushroom Soup Recipe
Yield: 6 cups
Prep Time: 15 minutes
Cook Time: 25 minutes
Total Time: 40 minutes
Full of flavor and easily doubles for a larger quantity or leftovers.
Ingredients
3 tablespoons butter
2 or 3 cloves garlic, minced
12 oz mushrooms, sliced
1 small onion, diced
Sea salt - to taste. I generally use about 1/2 teaspoon
Fresh ground pepper - to taste. I use 1/2 teaspoon
4 cups chicken broth
1 cup heavy cream
1 teaspoon fresh thyme, chopped (only 1/2 teaspoon if using dried)
1 teaspoon fresh parsley, chopped (1/2 teaspoon if using dried)
2 tablespoons cornstarch
Instructions
I like using my cast iron dutch oven, but a soup pot will also do.
Melt butter in the pot over medium heat.
Add onion, mushrooms and garlic and cook, stirring occasionally until onions are translucent and mushrooms are tender.
Stir in chicken broth and bring to a boil.
Reduce heat and simmer for 5 to 10 min.
Stir in heavy cream, thyme, and parsley.
Mix cornstarch with about 1/4 cup water, then add to the soup to thicken. Repeat if it needs more thickening.
Serve immediately.
Nutrition Information
Yield 6
Serving Size 1 cup
Amount Per Serving
Calories 229
Total Fat 21g
Saturated Fat 13g
Trans Fat 1g
Unsaturated Fat 6g
Cholesterol 63mg
Sodium 851mg
Carbohydrates 9g
Fiber 2g
Sugar 4g
Protein 4g
Nutrition Information isn't always accurate.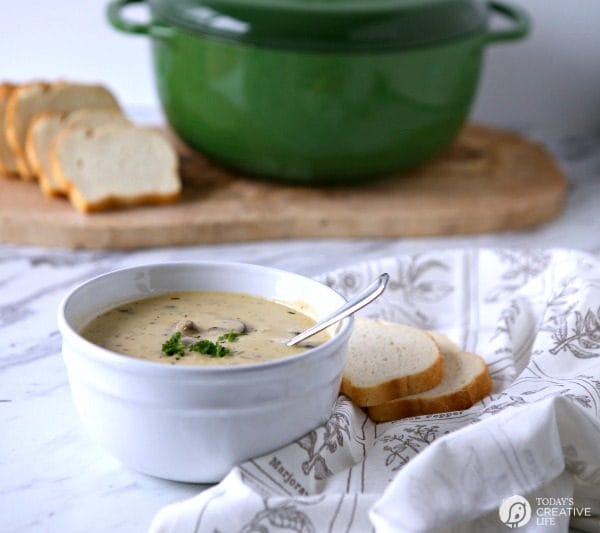 Homemade Cream of Mushroom Soup without Flour
If you're looking for a gluten-free mushroom soup recipe, one that doesn't use flour, this one will fit!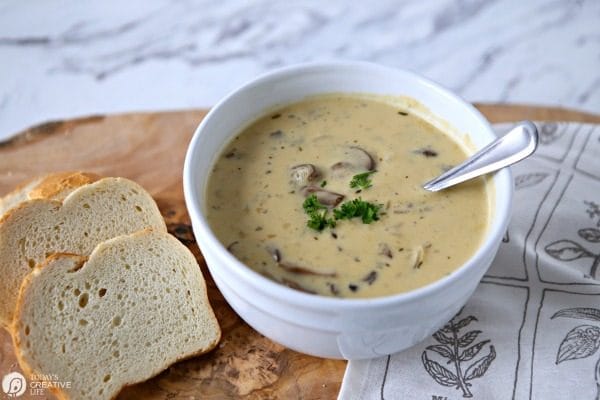 I use corn starch to thicken my soup and it tastes just as good. However, if you were out of corn starch and you wanted to use flour, I would add it after I sauteed the veggies and before I added the chicken broth. Both flour or corn starch will thicken up your soups.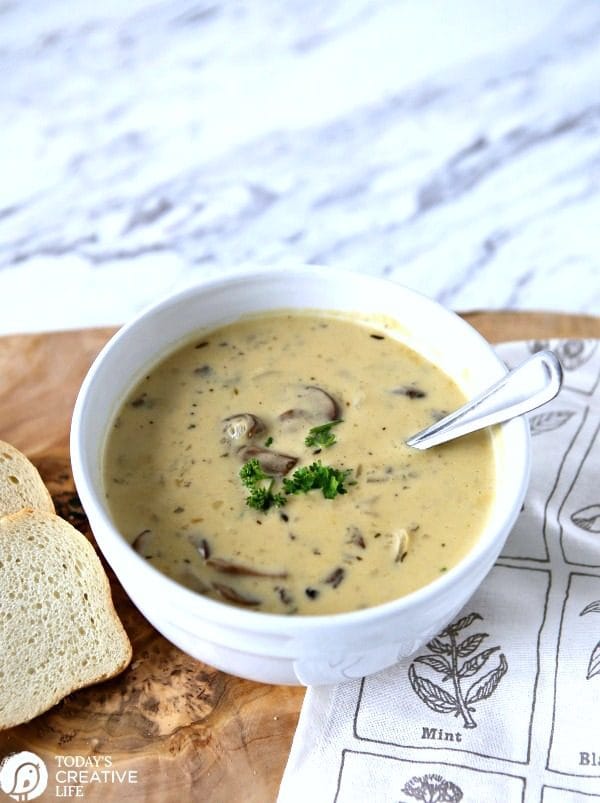 What to Serve with Homemade Mushroom Soup
I love serving with good bread and a side salad. Here are a few ideas.
If you make this homemade cream of mushroom soup recipe, please take a quick photo and tag me on Instagram @TodaysCreativeLife or on Facebook. I'd love to know what you think!
Follow along on Instagram | Pinterest | Facebook
Homemade Soup Recipes
Delicious homemade soups with simple ingredients.
Nutritious and delicious!
Serve with homemade cornbread!
Better than Olive Garden!
Healthy soup for anytime of year.
This is a family favorite! Perfect for when you need dinner on the table FAST.
Serve with a warm tortilla or tortilla chips!
Another great soup when you're craving Mexican food!