I've been making this Chicken and Wild Rice Soup recipe for a few years now. It's perfect for those cold rainy days we have here in the PNW when you can't seem to warm up. I can't remember where I got the recipe, but it's so simple! I love a simple and tasty recipe that's also fast! This soup allows me to get a healthy dinner on the table when I'm pressed for time. Add a salad and a whole wheat roll and these cookies for dessert and you're a rock star! My Bacon Avocado corn bread goes pretty good with this too.
Easy Chicken Soup
You may be surprised that this recipe starts with a box of Uncle Ben's Wild Rice.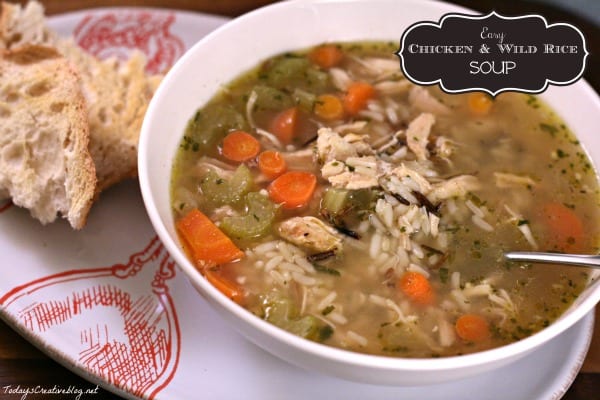 Sure you could just use wild rice from a bag, but this recipe makes it easy by using half the seasoning packet from the box. I suppose you could also season it yourself too and omit the Uncle Ben's all together. It would still be a quick meal. I'll do my best with the measurements. My recipe card that I follow only has the ingredients scratched out….I add the amount of each that I need. It's the way I cook. Just give me a guideline and I'm good to go.
Uncle Ben's Chicken & Wild Rice Soup
Ingredients
One box Uncle Ben's Original Wild Rice
3 or 4 cups total of the following mixture: Carrots, Celery, Onion
3 garlic cloves crushed
4 or 5 tablespoons extra virgin olive oil (or more if needed)
6 cups chicken broth
2 cups (or more) shredded cooked chicken
Instructions
In a large pot, saute carrots, celery, onion and garlic in olive oil. (about 3 min)
Add only the rice from the Uncle Ben's box to the sauteed veggies. continue to saute for another 3 minutes or so.
Add chicken broth to veggie mixture
Bring to a boil
Add chicken and 2 tablespoons of the Uncle Ben's seasoning packet.
Boil for approx 5-10 min
Enjoy
Variations: You can add any veggies you'd like or just more of what you're already using.