This Chicken with Wild Rice Soup made is an easy soup recipe made with chicken and a seasoned rice packet like Uncle Bens's. Adding vegetables and rotisserie chicken makes a simple soup recipe with homemade taste.
I've been making this Chicken and Wild Rice Soup recipe for a few years now. Using Uncle Ben's Wild Rice as your starter gives you a quick soup recipe with a homemade taste. It's as close to homemade chicken soup but a whole lot faster.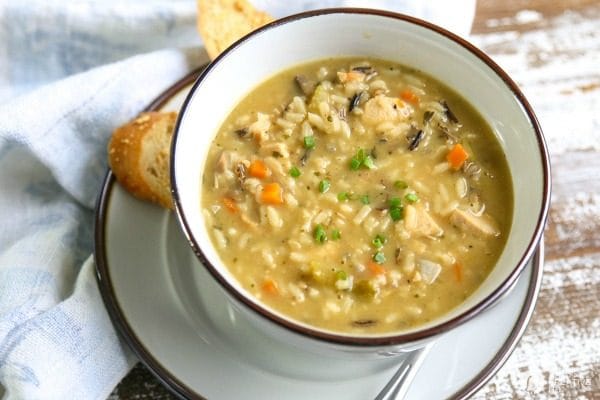 Chicken and Wild Rice Soup Recipe
It's perfect for those cold rainy days we have here in the PNW when you can't seem to warm up. I can't remember where I got the recipe, but it's so simple!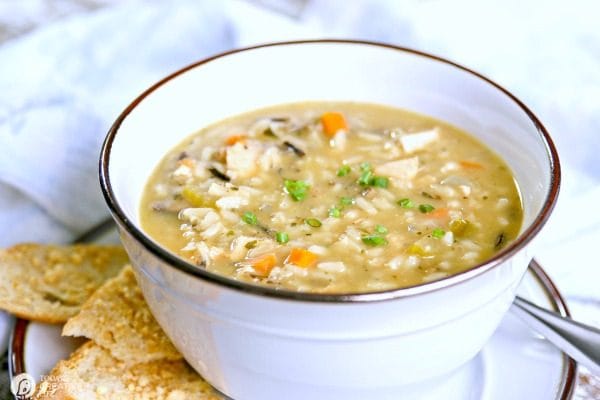 I love an easy and tasty recipe that's also fast! This soup allows me to get a healthy dinner on the table when I'm pressed for time. Add a salad and a whole wheat roll and these cookies for dessert and you're a rock star! My Bacon Avocado corn bread goes pretty good with this too.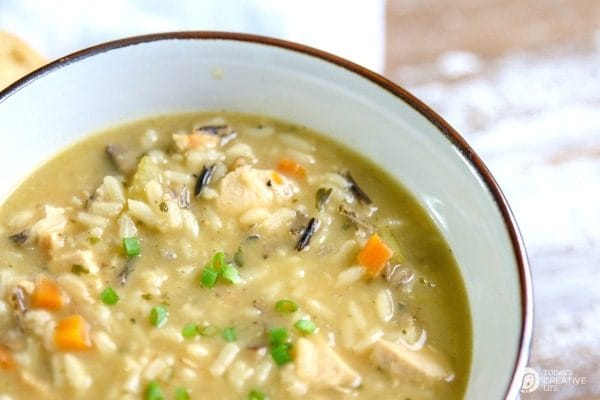 Easy Soup Recipe with Chicken
You may be surprised that this recipe starts with a box of Uncle Ben's Wild Rice. It saves time and takes the guesswork out for the perfectly seasoned soup. Sure you could just use wild rice from a bag, but this recipe makes it easy by using the seasoning packet from the box. I suppose you could also season it yourself too and omit Uncle Ben's altogether. It would still be a quick meal. But if you're a busy parent, just trying to feed your family quickly with a home-cooked meal, this is your recipe.
Try this Dill Pickle Soup recipe for another quick idea.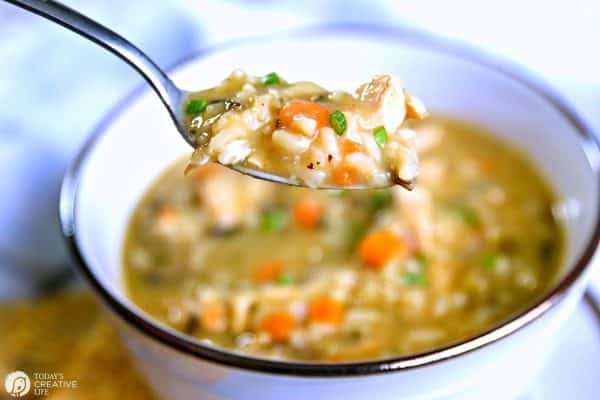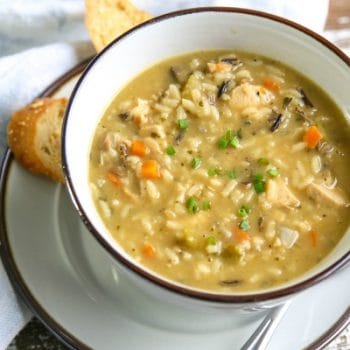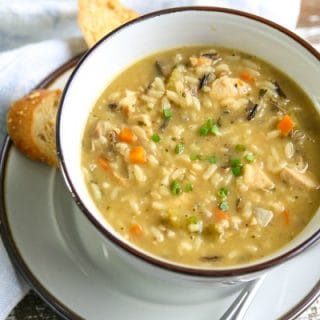 Uncle Ben's Chicken and Wild Rice Soup
Yield: 8
Prep Time: 10 minutes
Cook Time: 20 minutes
Total Time: 30 minutes
Easy chicken and wild rice soup with homemade taste!
Ingredients
One box Uncle Ben's Original Wild Rice - Chicken flavored is hard to find. Regular wild rice or any seasoned rice packet will work.
3 or 4 cups total of the following mixture: Carrots, Celery, Onion
3 garlic cloves crushed
4 or 5 tablespoons extra virgin olive oil (or more if needed)
6 cups chicken broth
2 cups (or more) shredded cooked chicken
Instructions
In a large pot, saute carrots, celery, onion and garlic in olive oil. (about 3 min)
Add only the rice from the Uncle Ben's box to the sauteed veggies. continue to saute for another 3 minutes or so.
Add chicken broth to veggie mixture
Bring to a boil
Add chicken and 2 tablespoons of the Uncle Ben's seasoning packet.
Boil for approx 5-10 min
Enjoy
Variations: You can add any veggies you'd like or just more of what you're already using.
Notes
This recipe can be made with any boxed rice product.
Nutrition Information
Yield 8
Serving Size 1
Amount Per Serving
Calories 355
Total Fat 13g
Saturated Fat 2g
Trans Fat 0g
Unsaturated Fat 10g
Cholesterol 24mg
Sodium 999mg
Carbohydrates 52g
Fiber 6g
Sugar 12g
Protein 12g
Nutrition information isn't always accurate.
Chicken Soup Vegetables
The beauty of this soup recipe is being able to add any type of vegetable you'd like or don't like. I love using mushrooms and broccoli in this chicken and wild rice soup too. It's a great "COTIN" Clean out the Icebox Night soup.
Here are a few veggies I've used in any simple soup recipe.
Carrots
Celery
Onion
Broccoli
Mushrooms
Brussel Sprouts
Potatoes
Corn
Green Beans
Peas
Spinach – I always add the last 15 min.
I like to saute many of these before adding the broth. If you're short on time, just use a bag of frozen mixed veggies.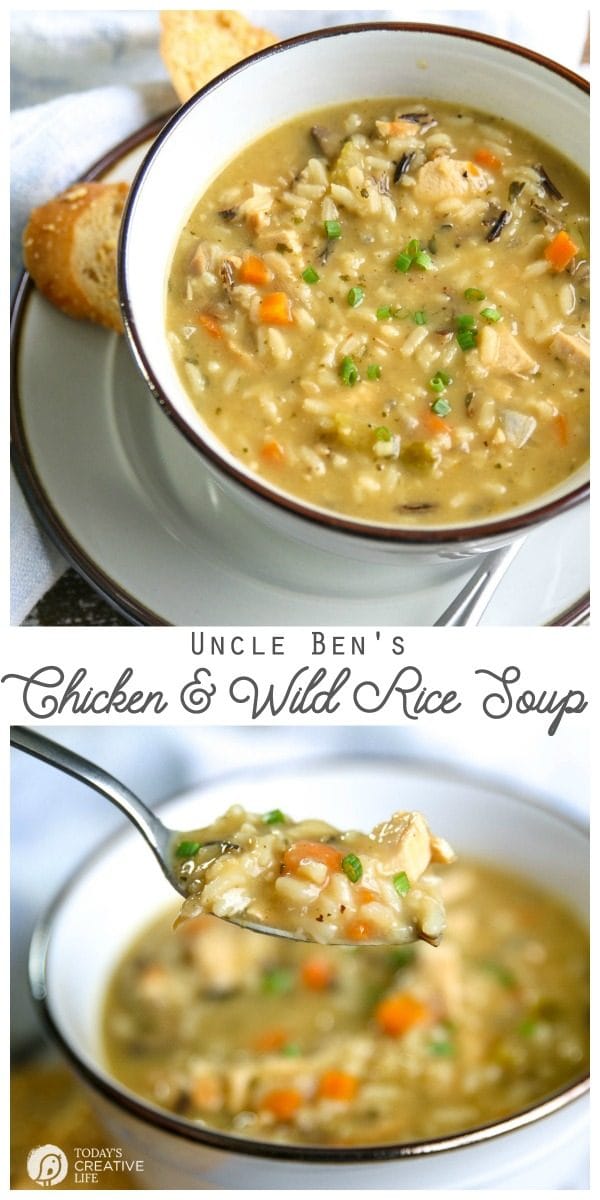 Homemade Soup Recipes
Delicious homemade soups with simple ingredients.
Nutritious and delicious!
Serve with homemade cornbread!
Better than Olive Garden!
Healthy soup for anytime of year.
This is a family favorite! Perfect for when you need dinner on the table FAST.
Serve with a warm tortilla or tortilla chips!
Another great soup when you're craving Mexican food!