Linen Closet Organizing just got easier with DIY elastic bed sheet label bands. Keep your bed sheets together and organized by size with wide elastic labels made with my Cricut Joy™.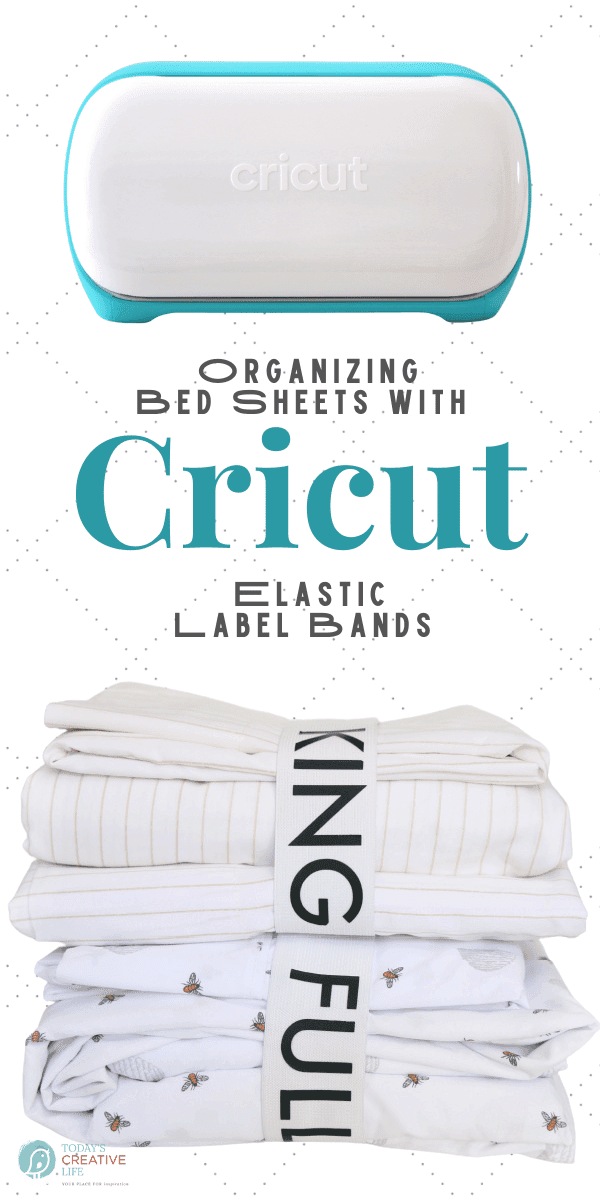 Linen Closet Organizing with Cricut®
I've organized other areas of my home by easily making labels with my Cricut machines, it was time to find a solution for organizing the linen closet and all our bed sheets. Between our home and a family lake property, we have several sets of sheets and all bed sizes, Twin, full, queen, and king. Trying to keep them organized for quick bed changing can be challenging. Because I have the same set of sheets, but in 2 different sizes, making elastic band bed sheet labels was one of my best ideas! I can keep all the sets together and ready for use when needed. Using a Cricut cutting machine makes it easy and quick.
How to Make Labels with Cricut
The Cricut Maker®, Cricut Explore Air®, and the Cricut Joy™ can all make labels. They have a wide variety of choices to choose from in their Cricut Access™ or you can create your own as I did with simple text.
The Cricut Joy is the star of quick label making with its pre-designed labels. I created labels for my craft space using one of the styles from the Cricut Joy, which made it so simple. All I did was type in what I wanted the label to say and it was designed and ready to cut.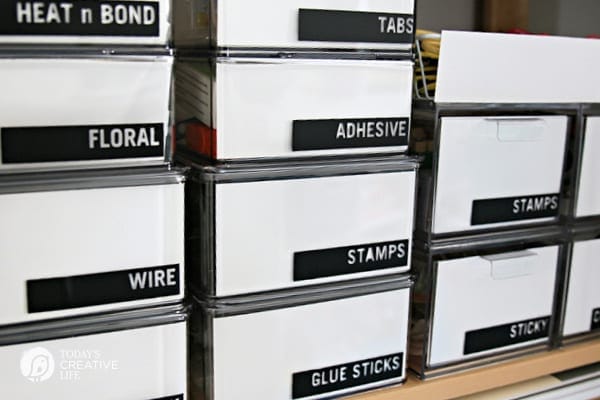 The hardest part was deciding which design I wanted.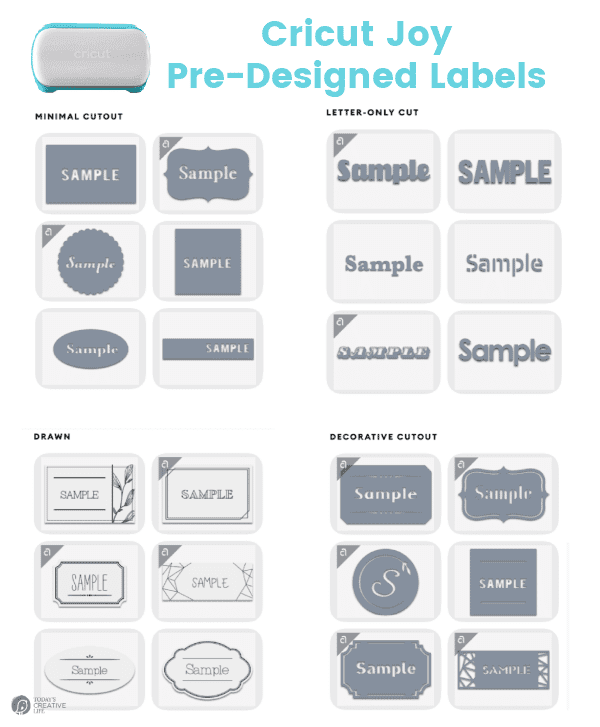 It's all done from the app on your phone.
After downloading, click and open the Cricut Joy app on your phone.
Scroll until you see the Quick Labels option for choosing your project.
Click Start Making or click the overview and tips below if needed.
Scroll and choose the label style you want.
Prep your Cricut Joy mat with the product you're cutting with. If you're using an iron-on, remember to place it shiny side down and use the Mirror Image.
Follow the rest of the prompts to finish your project.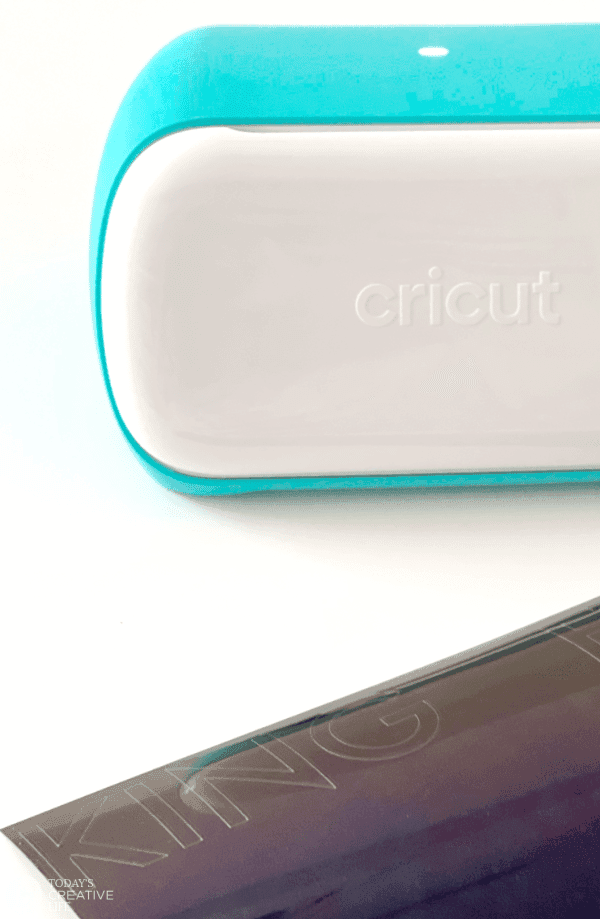 How to Organize your Closet with Bed Sheet Elastic Band Labels
This simple How To Tutorial below can be printed for your convenience.
Supplies Needed: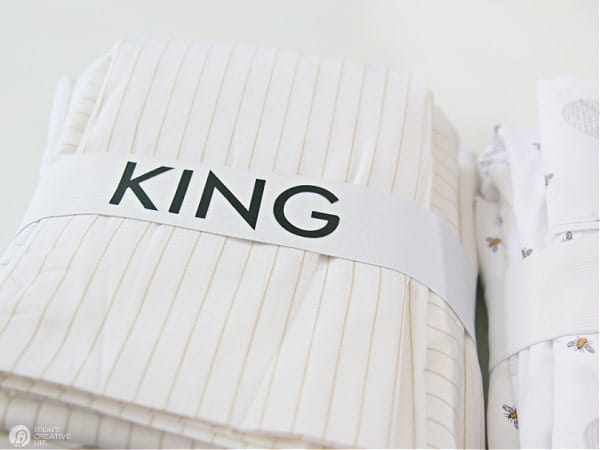 If you don't sew, you can always try using a heavy-duty staple gun, or maybe even fabric glue.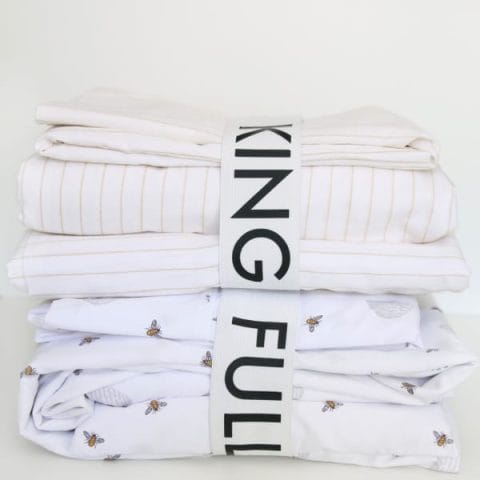 Bed Sheet Elastic Band Labels
Yield: 1
Prep Time: 5 minutes
Active Time: 45 minutes
Total Time: 50 minutes
Difficulty: intermediate
Estimated Cost: $25
Organizing your Linen Closet with DIY elastic band bed sheet organizing labels makes it easy to keep your sheets organized by size and sets.
Materials
2 Inch Wide Elastic
I sheet of Parchment Paper
Tools
Scissors
Cricut Weeding Tool
Ruler
Instructions
Gather your supplies.
Cut a 25 - 27 inch length of elastic. Length may vary for twin-size sheets.
I sewed the ends together with a machine. You can hand stitch, staple with heavy-duty staples, or try fabric glue. I have not tried the glue with elastic, so I cannot speak to its success.
Open your Cricut Joy App and Choose Labels. Choose your design and type in your wording. You could write names instead of sheet size instead.
Load your Cricut Mat with SportFlex Iron-on, shiny side down.
Once you've cut your design, remove the material from the mat and weed away on the dull side the portion you don't need, leaving the letters.
Place your design on the area of the elastic you want it to be.
Set the EasyPress for 305 degrees F. You can use an iron (no steam on the medium/high setting. Set the EasyPress timer for 30 seconds
Place your project on an iron safe surface. Place a piece of parchment paper over your parchment paper.
Press the EasyPress on the project firmly for 30 seconds. Allow it to cool and do a peel test to see if it's ready to peel. If it pulls up and doesn't seem to be sticking well, repeat the EasyPress for another 30 seconds.
After it's cool, slowly peel the top layer off.
Wrap around your sheets and get organized!
Notes
Because elastic is stretchy, you must use the Cricut SportsFlex Iron-on Vinyl for this project.
Text can be created on any Cricut Cutting Machine.
Recommended Products
As an Amazon Associate and member of other affiliate programs, I earn from qualifying purchases.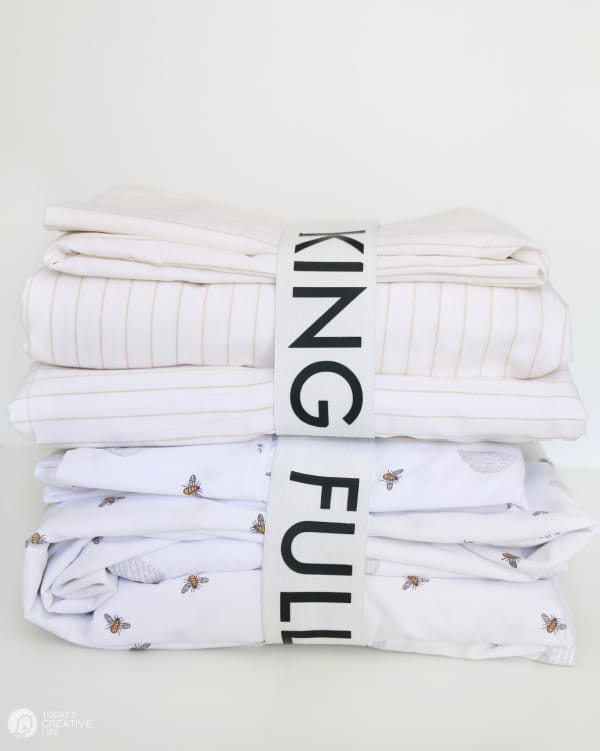 Linen Closet organizing just got so much easier! No more separated sheet sets searching for the matching top sheet or pillow case.
Instead of the sheet size, you can also make bed sheet organizers with a person's name.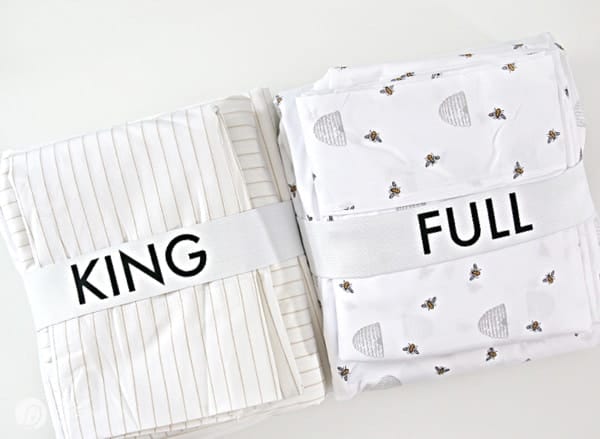 We all know elastic band sheet labels for organizing would make a great DIY gift for someone, you could include a set of sheets too. I don't know anyone who doesn't strive to have a better-organized linen closet.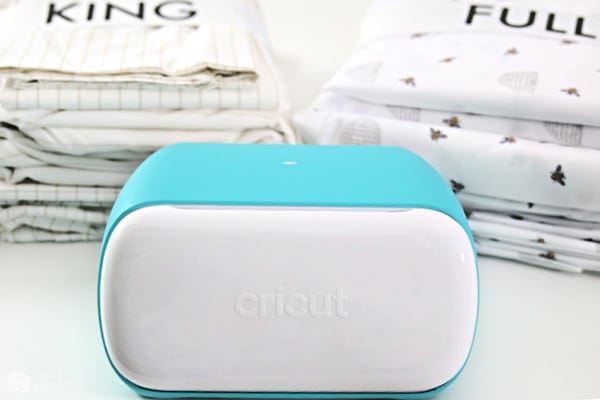 It's one of those things that makes me very happy. That's a gift idea right there! Make a few of these sheet organizers and give the gift of organizing someone's linen closet.
If you don't have a Cricut cutting machine yet, I have a full posting to help you decide which Cricut machine is best for your needs.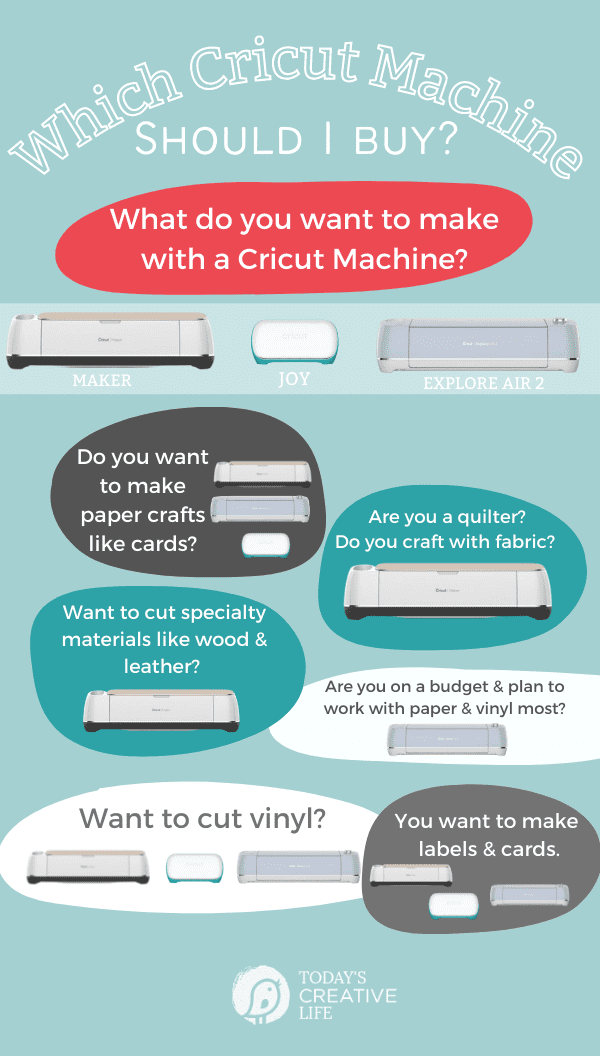 If this is your first time getting yourself a Cricut, you may consider buying a bundle. That way you have all the tools and materials needed to create the minute it arrives.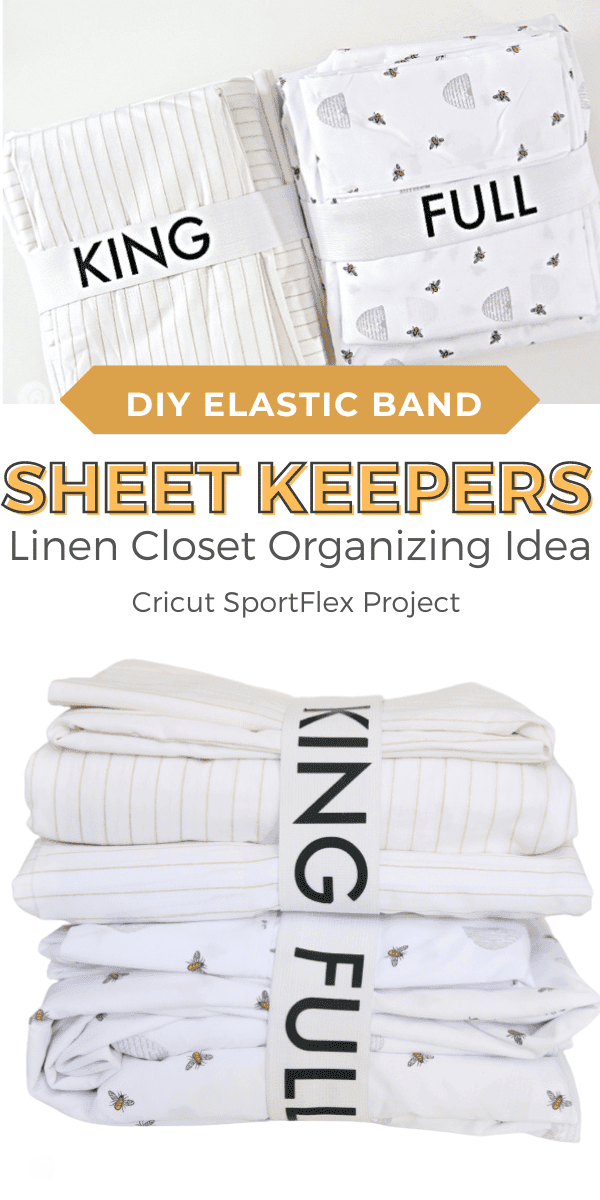 Cricut Projects for Organizing and Home Decor
Using your Cricut cutting machine to organize and decorate your home is brilliant, efficient, and always more creative. Find Cricut projects for inspiration below.
Hanging Wall Art made with a Canvas Drop Cloth & Iron-on Vinyl.
Organize your spice jar with labels made with your Cricut Machine.
Create custom home decor for any season in just a few minutes with iron-on designs.
Make this beautiful fall wreath using your Cricut cutting machine or hand-cutting paper leaves.
A beetle-shaped image, some iron-on vinyl and I've got the perfect Halloween pillow.
Use your Cricut Cutting Machine to make holiday snow topped paper houses.
Easy to Make Holiday Ornaments using chip board or cardboard
Make your dog treat bin more creative with Cricut vinyl.
Using a Cricut Cutting Machine makes creating DIY Home Decor or Homemade Gifts that much easier!
Ouch Pouch & Charged Up canvas bag organizers made using my Cricut Joy and Iron-on vinyl.