The common questions I get over and over are "What Cricut Should I buy?" and "how do you pronounce Cricut?" Choosing a Cricut® machine (pronounced like the bug) all depends on the type of crafting and projects you want to make. There is no clear answer as to which one is best, because they all have similar and different abilities.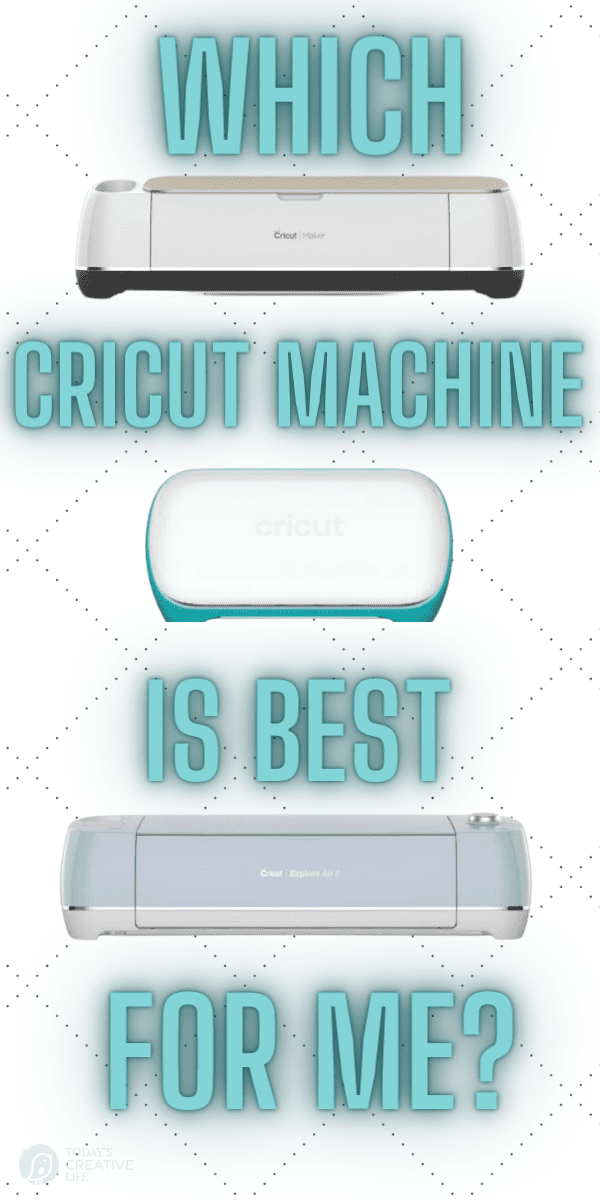 What Cricut Machine Should I Buy?
To get the best bang for your money, it really does depend on the type of projects you plan to make. The Cricut Maker, the Cricut Joy, and the Cricut Explore Air 2 are all great machines that have Bluetooth wireless technology and can all use the Cricut Design space which is a place to find projects and designs. I actually own all of them and love them all for different reasons.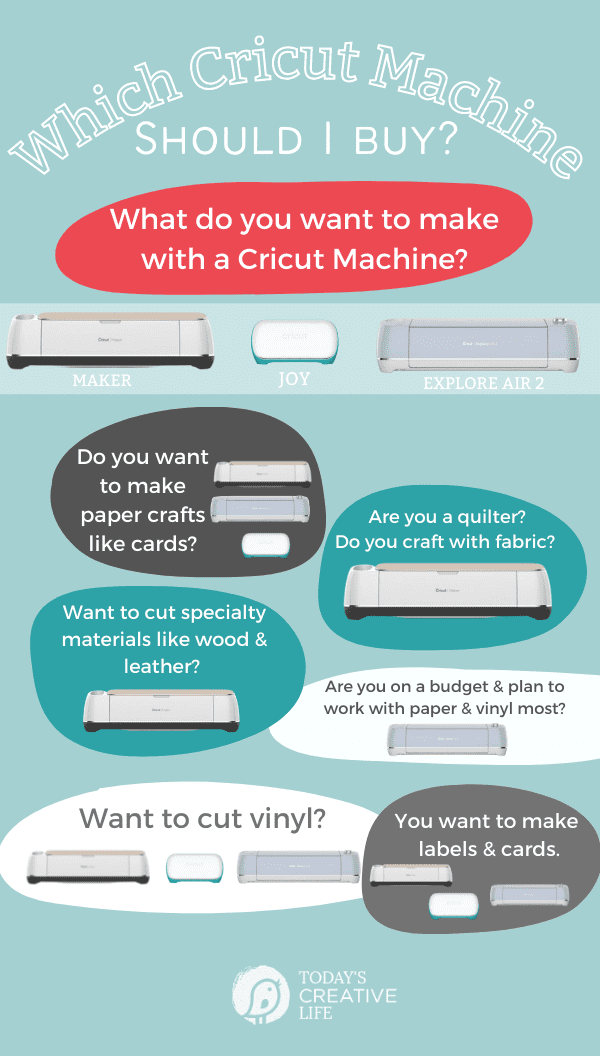 Questions to Consider When Purchasing a Cricut Machine
Do you have previous Cricut cartridges you will want to continue to use?
Are you working with mostly vinyl and paper? Or do you think you'd want something that could cut other specialty materials like leather, fabric, wood?
How often do you think you'd be using your Cricut machine and would you want it to be compatible with future tools?
What is your budget for a Cricut?
What Can a Cricut Explore Air 2 Do?
The Explore Air 2 is probably the most budget-friendly of the 3 and great for the hobbyist. If you think you're going to stick to mostly paper and vinyl crafts, this machine, with its abilities of cutting, writing, and scoring, it's the most economical.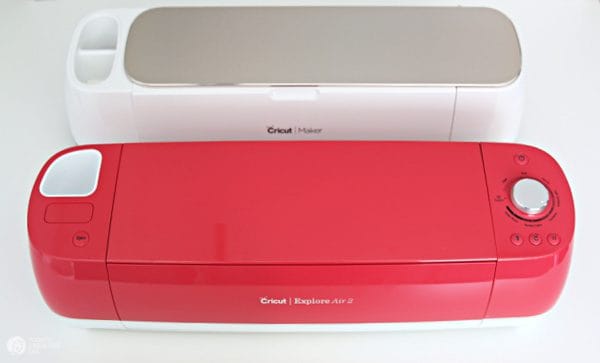 Great for cutting cardstock and vinyl.
Can cut bonded fabric.
You can use your original Cricut cartridges.
You can write or draw designs using a pen in the writing chamber. It also comes with a scoring pen for making foldable projects like my paper luminaries.
Works with the home printer to print then cut out the printed image perfectly with the Explore Air 2.
Bluetooth compatibility
I've used my Explore for many creative projects like this Pineapple glittered iron-on dish towel and this canvas wall art.
---
What Can a Cricut Maker Do?
The Cricut Maker is hands down the most advanced Cricut machine because of its adaptive tool system and versatility. It cuts up to 300+ materials.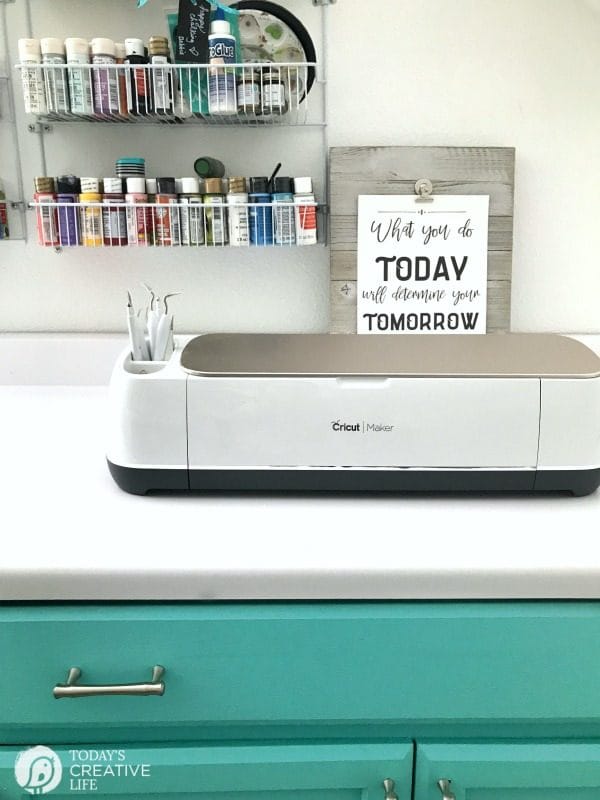 If you are a serious crafter and you want to cut all the things, this is the machine for you. The extra money spent is well worth it with evolving tool selections and capabilities.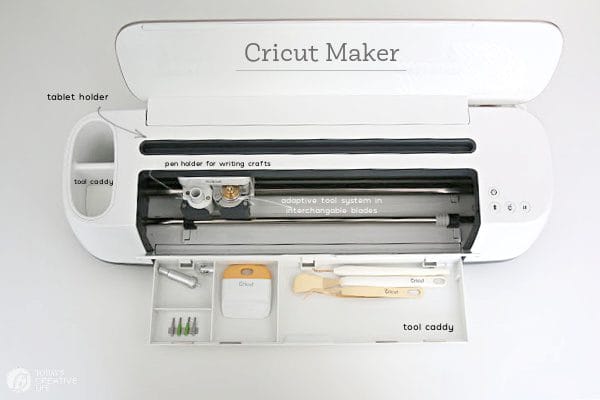 Cuts Fabric – The Maker comes with a special rotary blade that cuts virtually any fabric. This is great for quilters or cutting out small patterns. Clean cuts every time. No fraying.
Cuts Vinyl and Cardstock.
Cuts Leather & Balsawood- I made these leather cord keepers and the leather handles for my DIY wood tray.
Compatible with 13 tools for cutting, writing, scoring, foiling & embellishing debossing, engraving, wavy blade, and perforation. The QuickSwap™ Housing makes it easy to change the tip for a variety of cutting options.

Also works with the home printer to print your design then cut out the printed image perfectly with the Maker.
Bluetooth
I was able to whip up quick holiday paper houses with my Maker, using the scoring and knife blades. I found the house template in the Cricut Design Space. I also made the cutest gingerbread house ornaments or tags from chipboard.
---
What Can a Cricut Joy™ Do?
This was by far the easiest cutting and writing Cricut machine to use from start-up to finish. It's useable completely through Bluetooth from your tablet or phone. I found the pre-designed templates for labels and cards especially helpful. Their Insert Cards come in a variety of colors and make card making so easy! I created labels for organizing my craft supplies that look tidy and stylish. I also made this gorgeous paper leaves wreath.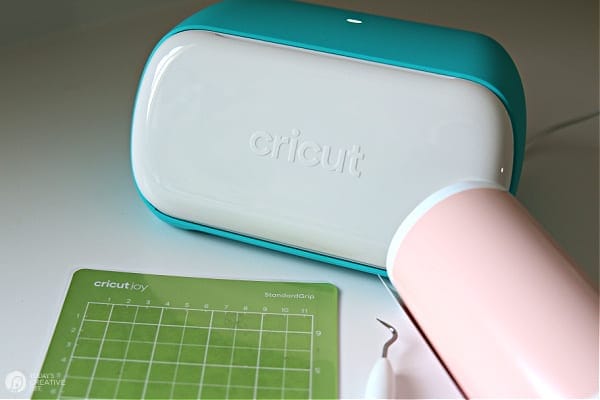 It's small and portable, making it easy to take with you for any crafting event and also easy to store.
Cuts 50+ materials, including iron-on, cardstock, vinyl, paper, and Smart Materials™ – super-easy, super-long cuts without a cutting mat.
Draws any shape and writes in a variety of styles.
Cuts individual shapes up to 4 ft long or makes repeated cuts up to 20 ft long*
Great for making cards and labels.
---
Which Cricut Machine is Best for Me? What Cricut Should I Buy?
Now that you have a quick rundown of what each machine can do, I hope it's easier for you to decide with the information I've provided.
If budget isn't an issue, my answer is always going to be the Maker. It will cover all your crafting bases. If you need something just for smaller projects and you need it to be portable or easy to store? The Cricut Joy is the one! If you're on a budget, but you still want to make a large variety of projects, then go for the Explore Air 2. Let me know if you have any questions!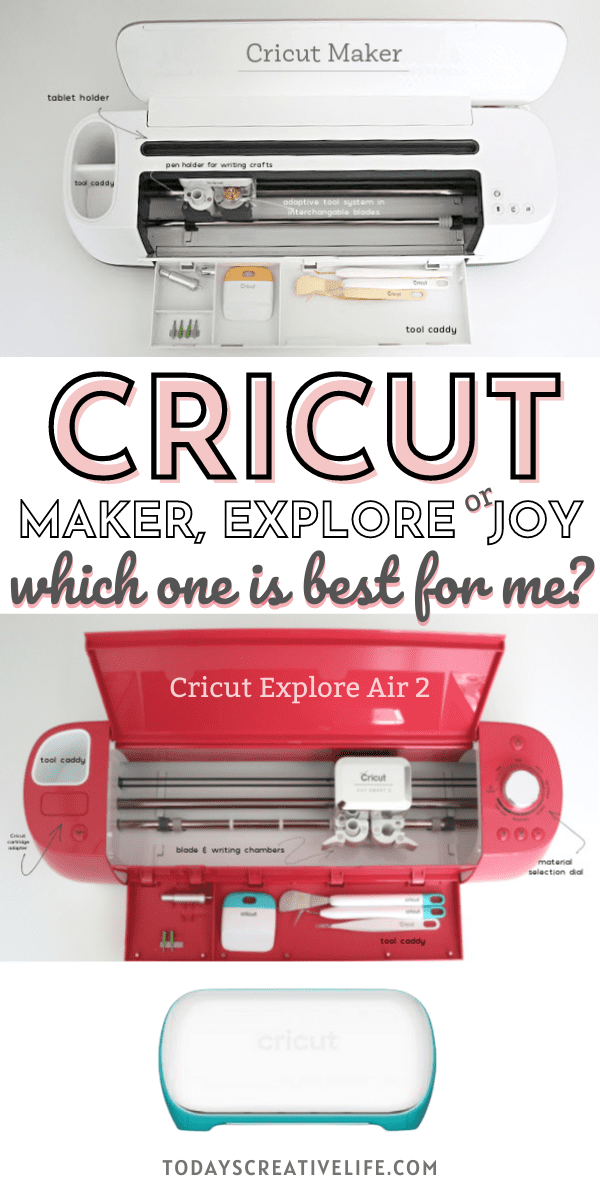 Easy to Make Cricut Projects
Find easy-to-make Cricut crafts and projects to make with your Cricut Maker, Cricut Explore Air 2 or Cricut Joy.
Make this easy iron-on craft with iron-on glitter. Great for a quick gift idea.
These luminaries were easy to make with a template from the Cricut Design space. Cut, score and glue.
Cut, Score and use double-sided tape make these gift boxes easy to make.
Another great gift box using specialty paper.
Owning a Cricut machine makes it easy to create homemade gifts people will enjoy.
Simple Cricut crafts are often my favorite.
Create a custom look for any holiday using your Cricut.
Cutting leather was easy with my Cricut Maker.
Easy DIY holiday decor to match any theme.
The Cricut Joy cut each leaf for this beautiful fall wreath.
Pre-designed labels with the Cricut Joy made organizing my craft supplies easy. I just typed in what I wanted it to say and cut!
Cutting chipboard with my Maker for fun holiday ornaments.
I made all-new pillow designs for my patio in one afternoon.
Using a drop cloth, my Maker, iron-on vinyl for DIY Wall Art for our lake place was the perfect addition.